WATCH
We test drove the Polaris RANGER Crew XP 1000 Texas Edition, and determined it amongst the best in class.
As the saying goes, I wasn't born in Texas, but I got here as fast as I could.
Seriously though, I'm well-informed of the amount of state pride that emanates from within these borders. It's a great, unique place to call home, and it's definitely something to capitalize on.
Which is why I think it's pretty smart to do what Polaris Off-Road has done, and dedicate an entire side-by-side model line to the Lone Star State. The 2021 Polaris RANGER XP 1000 Texas Edition is engineered for seriously tough performance, but maintains a refined edge with exclusive badging and aesthetics. Like any other Polaris UTV, it stands out in a really, really good way.
I took advantage of a generous opportunity to test drive the 2021 Texas Edition RANGER, and wasn't let down whatsoever. It stacks up nicely against the competition, and holds an important, flagship-worthy role within the Polaris UTV and ATV lineup.
When the six-person capacity Crew model arrived I immediately set about running it through its paces, and wanted to share what I came away with. Because even if you aren't a Texan, this RANGER will serve you well, and might be the machine that checks all your desired boxes.
Without the help of the Polaris team and the Polaris Fun Center of Bastrop, I wouldn't have gotten a taste of the awesome capabilities this side-by-side presents. A debt of gratitude is owed and I'm appreciative for the opportunity to share what's so great about it.
2021 Polaris RANGER Crew XP 1000 Texas Edition Specs and Details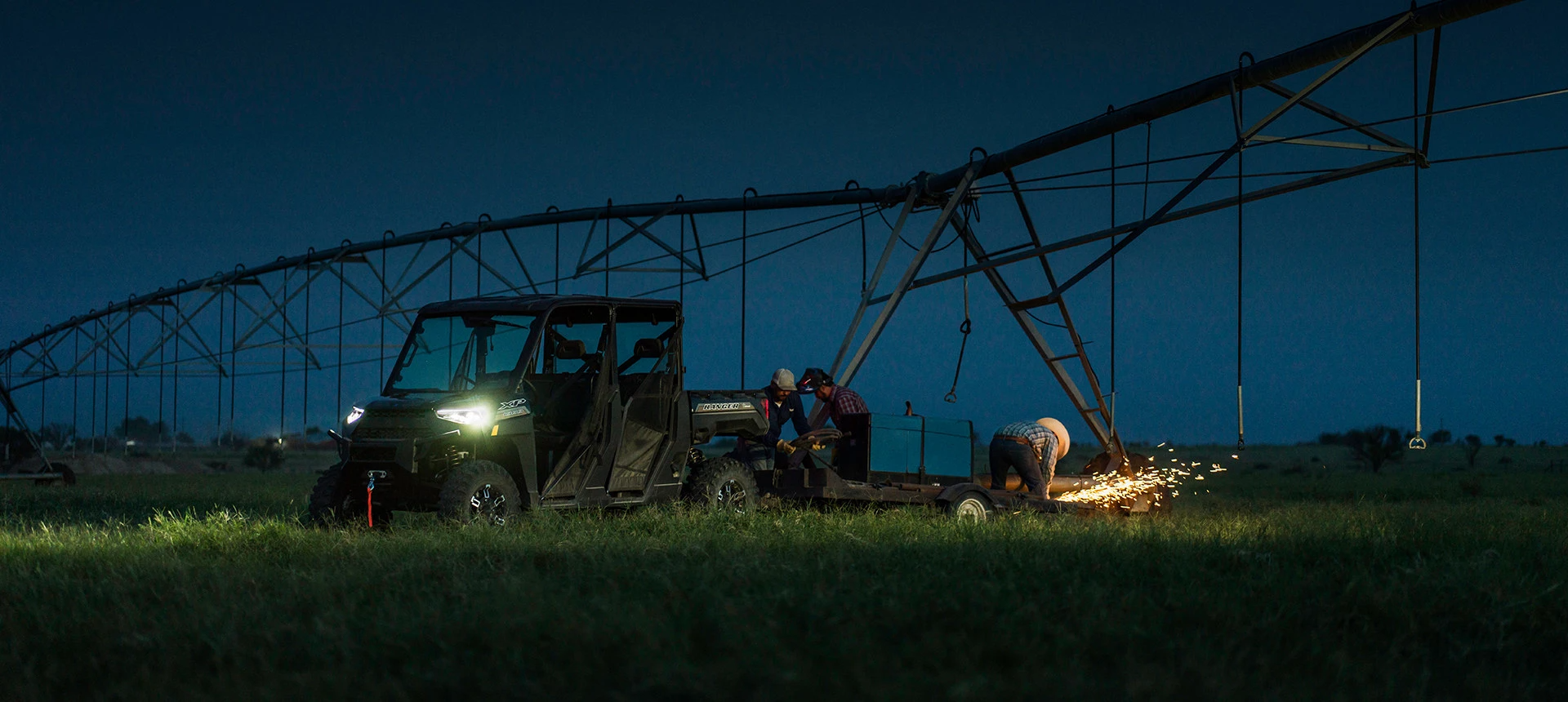 Under the hood of this exceptional RANGER is an 82-horsepower 999cc ProStar engine, which jumped to a start with every turn of the key. If I skip over the ease and non-worrisome method of starting the engine it would be an early miscue on my part. I experience absolutely zero engine issues with the Crew model I tested, and it started up immediately in a range of conditions, from a cold morning with near-freezing temperatures to an uphill park with a low amount of fuel in the tank. Situations that would give an older, less sophisticated side-by-side fits were handled without the slightest engine cough or mis-start.
I chalked that up to the electronic fuel injection and the reliability of the 4-Stroke Twin Cylinder DOHC engine. The drive system, with a High Performance On-Demand True AWD/2WD/VersaTrac Turf Mode, makes tackling nearly any terrain (and specifically trail condition shifts and changes) a piece of cake, and it couldn't be easier to transfer between modes.
The next noticeable feature of the 2021 RANGER XP 1000 Texas Edition has to be the ground clearance, which reaches 14 inches and is aided by the high clearance arched A-arms and class-leading 29" Maxxis tires. You should never take tires for granted on a UTV, and Polaris undoubtedly opted for some of the absolute best. The independent front suspension and rear suspension each allow for 10 inches of travel, ensuring a smooth ride with a machine that can get in and out of tough ruts and rocky Texas terrain without trouble.
Another feature that shouldn't be taken for granted is the Texas Edition RANGER's electronic power steering. By now it has become standard across side-by-side brands, but imagining what driving this UTV without it is like makes my head (and hands) hurt. The way Polaris has seamlessly integrated what was once such a luxury shouldn't be overlooked.
The Texas Edition RANGER's payload capacity is 1,730 pounds, with a 1,000-pound box capacity and a hitch towing rating of 2,500 pounds. That's some serious power, and though I didn't tow anything with this model, I know from past experience that it'll do the job. Add in a Polaris PRO HD 4,500-pound winch, and you've got a capable machine ready for tough work.
Dual LED headlights and taillights, plus a Polaris Pulse Electrical System for added accessories round out the RANGER.
Put the Texas in Texas Edition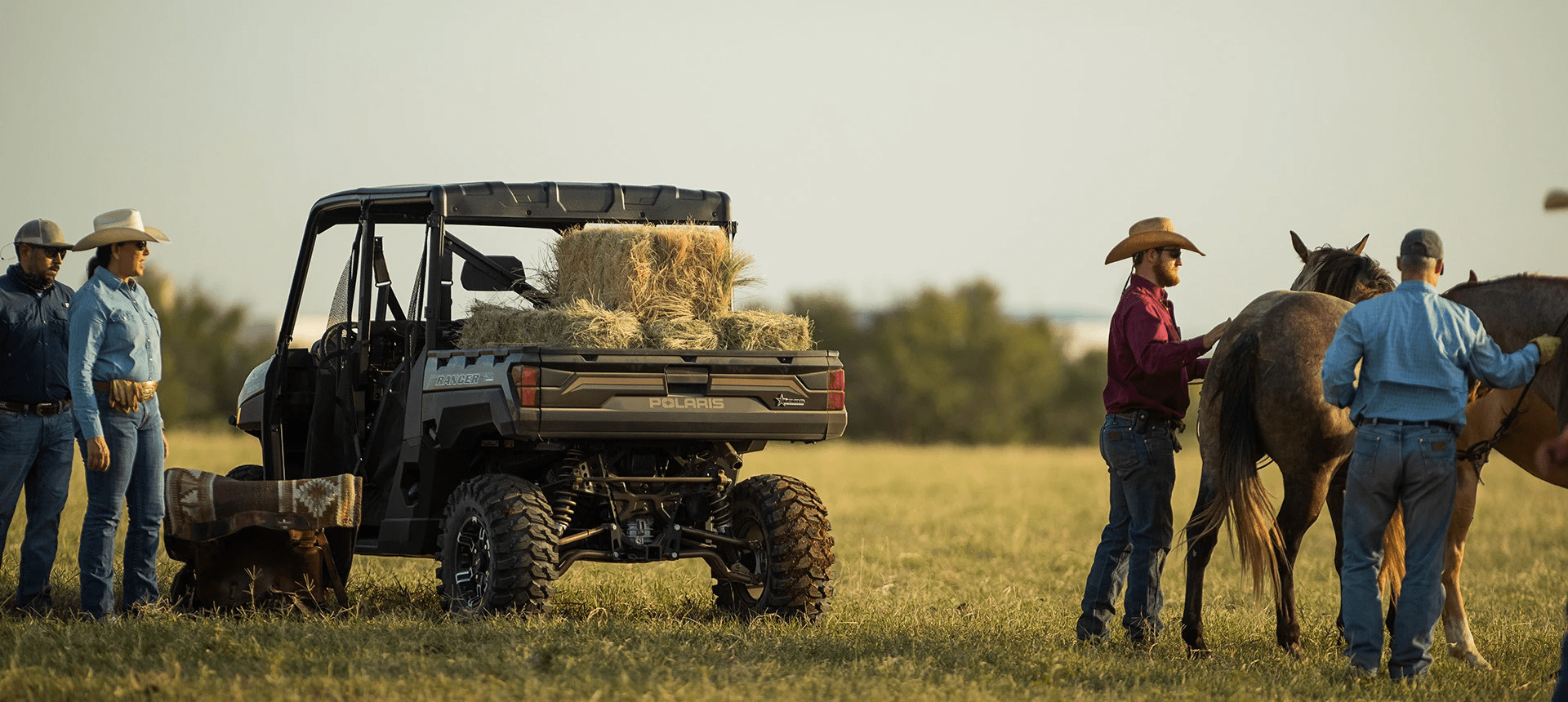 What exactly makes this side-by-side a "Texas Edition" vehicle? The black pearl color scheme is exclusive to this RANGER and plenty eye-catching, and the custom badge embroidered on the seats stands out nicely. In fact, the cut and sew seats are custom to this model too, and added a premium comfort level not regularly available in UTVs like this.
Also, the truck-influenced interior would make any pickup-owning Texan feel at home with its dual-sweep analog dials and 4-inch LCD Rider Information Center.
The 14-inch black aluminum wheels with machined accents also add a nice touch. They are some of the nicest-looking wheels I've seen on a side-by-side, and not just from Polaris. The Sport Roof provides relief from the Texas sun, and the adjustable driver seat and tilting steering wheel make it nice and comfortable for a range of driver shapes and sizes.
Concluding Thoughts
This side-by-side has everything you need, and I found it a joy to drive, ride in, and use for hauling firewood, dragging logs out of the way with the winch, and keeping tabs on the local deer herd that frequents my area. My kids and I found it super fun to take the Texas Edition RANGER through some of the busier deer highways and check in on a few of the bucks we repeatedly see near our place. I can see this RANGER serving even better purposes for ranchers, farmers, and rural homeowners with a good amount of land, all of which are common in Texas.
All in all, I was left really impressed with the Polaris RANGER Crew XP 1000 Texas Edition, and was sad to see it go when the time came to return it to the Polaris Fun Center of Bastrop.
With a MSRP starting at $20,999, the pricing of this side-by-side is worth the cost considering the value in the added features and Texas-inspired motif. There's a three-seat version as well that starts at $19,499.
A Texan, or really anyone who could use a beast of a side-by-side, would benefit from this RANGER XP 1000 Texas Edition. Of all the "work and play" vehicles on the market, it's making a strong case to be at the top.
It's also worth noting that this isn't the only thing worth getting excited about at Polaris, as their first all-electric RANGER UTVs are in prototype phase and on the horizon. The company is continuing its streak of innovation, presentation, and performance-driven value for the side-by-side crowd and beyond. The Polaris RANGER Crew XP 1000 Texas Edition fits in nicely among their broad lines of UTVs and ATVs, and it scored high points all around for me.
To find out more about Polaris powersports and learn how to customize and purchase your own Polaris RANGER, check out RANGER.Polaris.com.
NEXT: 2021 POLARIS SPORTSMAN: WE DROVE IT, OUR THOUGHTS ON THE LATEST ATVS
Enjoy the outdoors?
Sign up for daily stories delivered straight to your inbox.