I'm obsessed with soaking my body in hot water. If you tell me you don't like the feeling of the heat from warm pools penetrating your joints and muscles, I will likely look at you like you are crazy, like you just told me you don't like apple pie and don't think puppies are cute.
It feels so good to soak in hot springs. It may also be good for you. It turns out there is something in the water. Each hot spring's water has its own unique chemical makeup, including sulfur, silica, calcium, bicarbonate, boron, magnesium, and lithium. Soak it all up-it heals your body and soul!
I love exploring new hot springs, and thanks to Montana's geothermal activity and many fault lines, my home state has a lot of them. I try to work in a stop at a hot spring on pretty much every road trip I take, and those visits have been some of the most memorable times for my sons and me.
I think you should make hot springs a regular stop on your trips too. I'm going to share some advice and tips on how to visit and enjoy hot springs and my personal picks for some of Montana's best hot springs.
It's not a comprehensive list. These are hot springs I've visited and would recommend to my friends, so some well-known hot springs are missing (I'm talking to you about Chico Hot Springs and Bozeman Hot Springs). You should know my taste in hot springs tends toward rustic and quirky. I will always visit an out-of-the-way, funky rustic hot spring over a modern pool any day if given the option.
Keep an open mind when you visit a hot spring for the first time. Hot spring amenities span the spectrum, and first impressions are often wrong. Remember, "newer" and "fancier" does not mean cleaner. Some of the more expensive, newer hot springs can be the dirtiest, and some of the older rustic hot springs are the cleanest. Rustic hot springs are often worn down and show their age, but that does not dictate whether they are clean. There may be some chipped paint, crumbling concrete, gray wood, and faded colors, but those are often just beauty marks that tell a story.
What Kind of Hot Spring?
To help you understand each location on my list, I'll classify them into these categories.
Commercially Developed. This hot spring feeds modern new or highly maintained pools with treated water, usually attached to a higher-end lodging establishment with many amenities.
Developed. These are often in rural areas, with a hot spring that feeds a more classic or conventional pool in various stages of repair. These places often have lodging available with comfortable but limited amenities.
Rustic hot spring. My favorite. A hot spring that feeds some form of rustic pool, and the water is usually not treated. The amenities are straightforward, and the place is generally older and loaded with quirkiness.
Primitive hot spring. I will not list or recommend any of these in this story. Primitive hot springs are those hot springs often located in remote, off-the-grid places, usually accessible by trail. They have no 'improvements,' i.e., man-made modifications or infrastructure. These can be located in sensitive ecosystems. With more people finding their way into the outdoors for adventures, we can love a place to death.
Crowds of people visiting a primitive hot spring can impair habitat and directly impact wildlife. Please be thoughtful and responsible when considering a visit to a primitive hot spring. My suggestion for a kinder relationship with primitive hot springs is to focus your holidays on the developed type and select only one or two visits to primitive locations a year.
Rustic Hot Springs
Wild Horse Hot Springs
I said it before, this type of hot spring is my favorite! Funky, fun, and relaxing.
This hot spring is located on the Flathead Indian Reservation. Like all good hot springs is not on the way to anything or anywhere. Nothing fancy here. There are approximately 12 different pools that accommodate 4 to 8 people comfortably. Some of the soaking pools are huge water troughs that each have their own water valves so you can control the temperature and flow. Because they are all constantly flushing, you have fresh water regularly.
There are some rustic accommodations and camping available. The pools look over a prairie pothole, and the bird watching is out of this world. This hot spring experience is open 24 hours a day if you stay on-site. This is your opportunity if you have never watched the sunrise from a hot spring.
Elkhorn Hotsprings
Still my favorite hot spring in Montana thus far. I started taking my kiddos here very early on our road trips through Southwest Montana. It has two different temperature and depth pools and an extreme hot plunge in the building (hidden, so look hard). There are lovely little locker rooms, drinks for sale, and a lodge that offers meals. You can book a camp or a variety of cabins or rooms, which are very basic but comfortable and fun.
Developed Hot Springs
Spa Hot Springs Motel
This is by far my favorite soak in the developed category. It's the ideal combination of rural but with plenty of amenities. It's spotless and nice looking and located in a fantastic little ranching town. It is just a couple of blocks from some great food and beverage, including 2 Basset brewery (if you like IPAs, try the Anticipation).
The Lodge At Lolo Hot Springs Hotel
This is the location of the famous Lolo Hot Springs reference in the movie "A River Runs Through It." It's a great stop, though I don't think you will see Brad Pitt anywhere, and I don't know of any backroom poker games.
Jackson Hot Springs
Located in the amazing Big Hole River Valley, this hot spring was one of the Lewis and Clark expedition stops. There is one large pool attached to the lodge to get food and drinks. You can book a stay at one of their great cabins or park your camper.
Commercially Developed
Quinn's Hot Springs Resort
Newly remodeled and amazing. This will be your place if your taste runs more to the fancy. There is limited access to drop-in soaks, so booking a stay in their accommodations is best to experience it.
Fairmont Hot Springs Montana Resort
This is a large resort with great indoor and outdoor pools. There are plenty of accommodations and food and beverages on-site. If you have adventurous kids, they will keep themselves busy on the giant water slide while you kick back and relax.
Before you take off for your soak, remember one more thing: be friendly and talk to people. Most hot springs are large communal pools or a series of smaller pools, and you will end up soaking next to others. Soaking in hot water puts everyone in a great, friendly mood. While it is not required that you make new friends, I highly recommend you do. Hot springs attract people from every corner of the world, and each person has an exciting story. Oh, and stay hydrated, especially if you're drinking alcohol.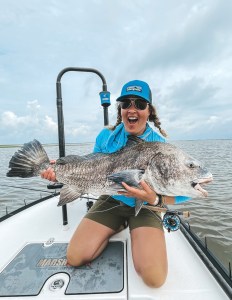 Though embedded like a tick in her hometown of Whitefish, Montana, Rachel Schmidt has spent her life adventuring across the continent. Her career spans a spectrum of the recreation industry and conservation work, with a pitstop for a term as the Directory of the Montana Governor's Office of Outdoor Recreation. Most of the time, she's fly fishing, camping, hunting, skiing, rafting, boating, drinking whiskey, and/or chasing her two teenage sons and Hal-the-bird-dog. Instagram @mtraerae.
Share your favorite hot springs trips on Wide Open Roads on Facebook!