Picture this, it's 5 pm on a Friday in Salt Lake City, and you're driving home from a long week of work. This weekend, the news calls for perfect weather conditions, and you realize you haven't taken a road trip in months. Excitement builds up as the thought of adventure slides across your mind, and instinctively you say to yourself, "let's do this!" The next step is figuring out where to go.
Utah is home to some of the United States' most epic scenery. With an abundance of natural beauty so close to the city, a few hours is all you need to satisfy your craving for adventure. Thrill-seekers from all over the world benefit from Salt Lake's ideal location. They frequently use the capital city as a home base for backpacking, hiking, mountain biking, base jumping, and our personal favorite, soaking in the pristine waters of Diamond Fork Hot Springs!
Take the Trip to Diamond Fork Hot Springs
This enchanting day trip to Diamond Fork Hot Springs (also known as Fifth Water Hot Springs) leads you on a beautifully kept 2.5-mile trail (5-mile hike roundtrip) through red-walled canyons along the alluring banks Fifth Water Creek. The result is a series of remarkably turquoise hot springs, each more colorful than the next. There are plenty of soaking pools, making it easy to enjoy yourself in peace even when other people are present. As you walk the trail, you can see the water becoming glacier-blue approaching the springs- - there is even a waterfall you can walk behind! I have based most of my travels around hot springs, and this is undoubtedly one of my absolute favorites!
Your Hot Springs Itinerary
RELATED: This 10-Day Road Trip Explores Utah's Natural Beauty
Breakfast and coffee are critical to a solid start when I set out on an early morning adventure. Our adventure begins at my favorite coffee shop in Salt Lake City, District Coffee Co. I am a sucker for a laid-back coffee shop with a delicious breakfast burrito, and their District Burrito won me over from the first bite. Grab a coffee and burrito, fill your water bottle, and let the adventure begin.
Directions to Diamond Fork Hot Springs from Salt Lake City, Utah
From Salt Lake City, take the I-15 South ramp towards Provo
Stay on I-15 South for 52 miles
Near Spanish Fork, take the US-6 E exit towards Price, follow signs for E/Price
Continue on US-6 for 11 miles
Turn Left onto Diamond Fork Road
In 9.8 miles, you will see a turnoff and parking area for the hot springs trail to the right.
The Trailhead
Don't get discouraged if you see a lot of cars near the parking lot upon your arrival. There is a more extensive trail surrounding the Fifth Water Hot Springs Trail, so they may not all be going to the springs. However, I recommend arriving as early as possible to avoid larger groups of people.
The hot springs trailhead follows Sixth Water Creek through the Spanish Fork Canyon and into Diamond Fork Canyon. Take the trail southeast along the east-hand side of the creek (do not take the first footbridge because that will lead you on a much longer 10+ mile excursion). After approximately one mile, you will see another footbridge where Sixth Water Creek and Fifth Water Creek Meet - cross that bridge and continue on the trail.
The water transitions from a clear-greenish hue into a baby blue color as the next mile passes. The smell of sulfur from the natural hot springs fills the air, and you're beginning to feel the elevation gain in your legs, but don't worry, you're very close!
In about100 yards, you see a single spring to the right. Keep walking another 50 yards, and there they are! There is a beautiful array of natural hot springs varying in color, size, and temperature. Pro-tip the waterfall to the far side of the springs is colder, which allows for a much-needed cool down when you've spent too much time in the hotter pools.
While there are nudity laws in Utah, and people have been ticketed and fined for lewdness at the springs, it is relatively common to see folks enjoying the springs in the nude. This is just a heads up for those who choose this location as their first hot spring adventure. If you decide to lose the clothes, be mindful of the social environment to ensure everyone is comfortable and enjoying the area equally.
Benefits of Hot Springs
Relaxes the mind and body
Promotes better sleep
Increases blood circulation
Alleviates joint and muscle pain
Temporarily cures your desire for adventure
What Should You Bring?
Enough water for the hike in, the time spent there, and then the hike back.
Environmentally-friendly sunscreen (no chemicals that are harmful to the environment)
A headlamp with extra batteries if you plan on soaking at night
A towel to keep you warm in-between dips
Snacks, of course! You never know when hunger will strike.
A trash bag. We are the stewards of the land. Always bring a trash bag to collect debris before it ends up in the water and carries downstream.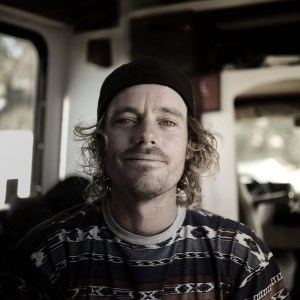 Raised in Butte, Montana, Josh Monthei is a nomadic photographer, skateboarder, and an over-caffeinated writer who has been traveling North America for over seven years. His travels have spanned over 100,000 miles and include a 3000-mile skateboard trip from Los Angeles to New York City. Instagram: @josh.monthei
Share your hot springs adventures on our Wide Open Roads Facebook!