He figured since she got the $6,000 ring, he was going to get a couple hundred dollars for the dress and buy some beer and a fishing rod.
For most men, life is simple. We need a few things, and those usually consist of beer and something to do with hunting or fishing.
This guy from Darwin is no different. Recently, he found his ex-wife's wedding dress. Instead of burning it and getting rid of it, he came up with a great idea. He posted it for sale on social media in an attempt to save someone money looking for a wedding dress. He claims the dress was originally $2,000, but he's only asking $200 for it. Why? Because $200 can buy a nice fishing rod and some ice cold beer.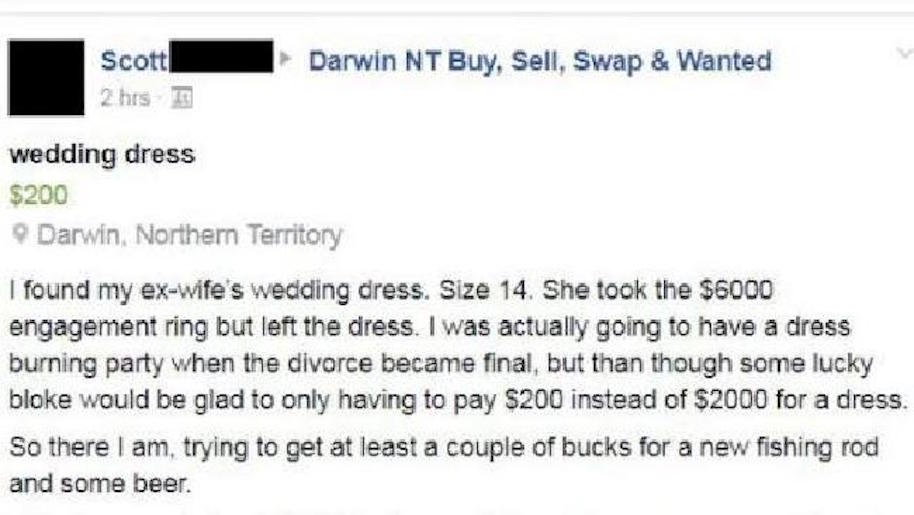 It appears as the post has since been taken down, and we aren't sure if he ended up selling the dress or not. All we can hope is that everyone benefits from this and of course, the man gets a chance at a new fishing rod and some beer. If you can't be happy in marriage, you can be happy and tipsy on the water!
Like what you see here? You can read more articles by Dustin Prievo here. Follow him and his hunting team, Top Pin Outdoors, on Twitter, Facebook and Instagram.
NEXT: HOLD MY BEER: ATV vs. FLIGHT OF STAIRS
Enjoy the outdoors?
Sign up for daily stories delivered straight to your inbox.