Therapy llamas and alpacas can now join you on your big day.
Mtn Peaks Therapy Llamas & Alpacas is offering to bring their llamas to your special event, and no, this isn't a "Portlandia" episode.
The Pacific Northwestern animal therapy nonprofit has brought their llamas to senior communities, children's hospitals, and other events in the past but have since added one more special offer...weddings. They first brought a llama to a wedding in 2011 but nuptial llamas have skyrocketed into the next new trend with 11 weddings scheduled last year.
"We have a dozen on the calendar this year and it's not even wedding season," Shannon Joy, the events coordinator, told Oregon Live.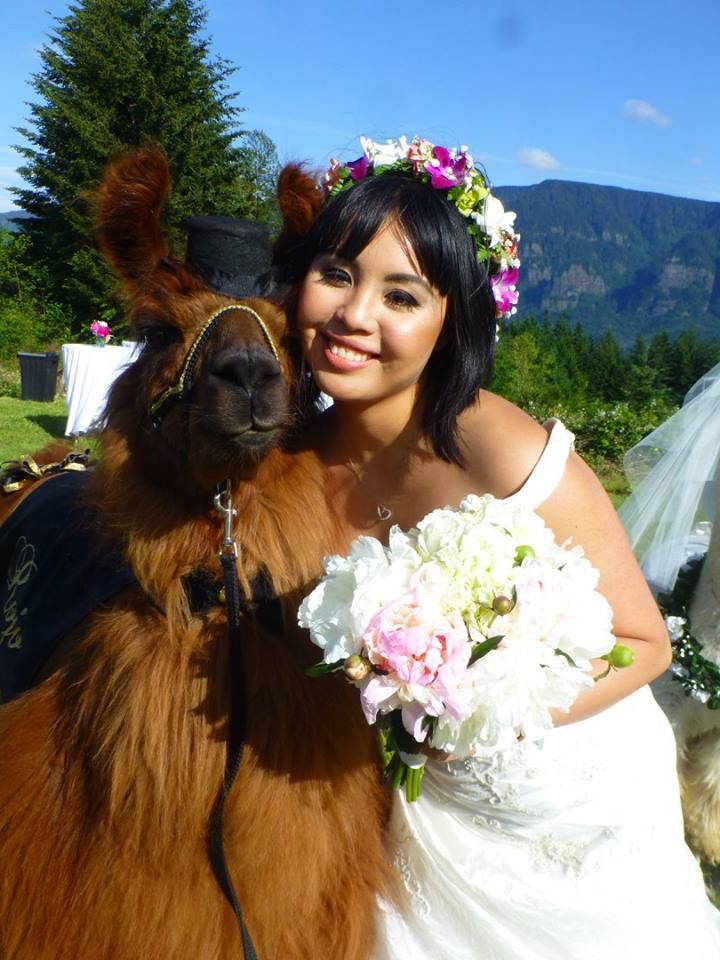 Weddings that have had the therapy llamas in the past have usually requested the most famous llama, Rojo, and an alpaca named Napoleon. They, of course, come dressed up as brides and grooms.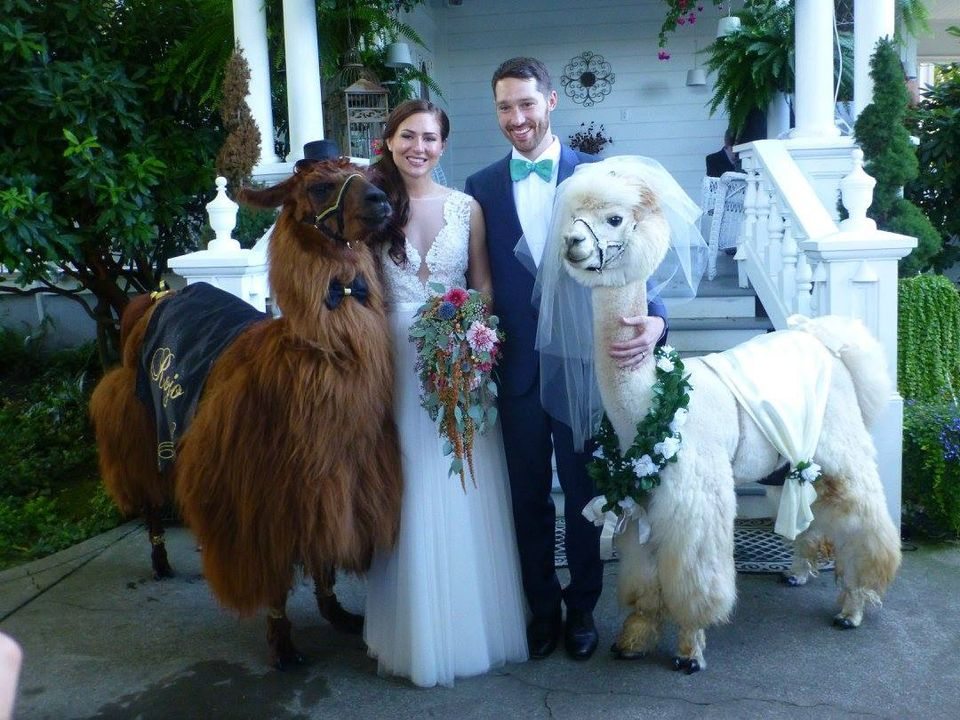 Their Instagram account, Wedding Llamas, is probably the reason behind this popularity spike. But animals in general have become more popular at fancy affairs.
Joy stressed that the popularity of their llamas at weddings is exactly what they are trying to accomplish at their nonprofit. They want their llamas to be sources of joy and happiness, and the weddings help fund their mission to "share the love of God through animal-assisted therapy and camelid education among all ages."
The llamas provide memorable entertainment and great photo opportunities at weddings.
"Every wedding varies in time," Joy said. "Most only prefer an hour as they are looking for an alternative to photo booths. Others have our animals greet guests, walk as ring bearer, take formal photos with the bridal party, and entertain during cocktail hour."
The llama packages are also affordable, starting at $200. Obviously the price goes up when adding llamas and the distance that the animals have to travel from their farm in Ridgefield Washington. Joy explained:
"We are confident in driving up to an hour and a half away. After that it's kind of hit or miss."
If you want llamas at your special event you can contact Mtn Peaks at [email protected] to check their availability.
Now you just have to add some chickens and maybe a donkey, find a gorgeous barn venue, and you'll find yourself with a true country affair!
Would you want llamas at your wedding? Tell us in the comments below!
All images by Lori Gregory via Oregon Live and weddingllamas/Instagram
READ MORE: 12 Amazing Horse-Themed Cakes Fit for a True Country Affair
WATCH NOW: Donkeys Make Great Therapy Animals
Enjoy the outdoors?
Sign up for daily stories delivered straight to your inbox.