LaCrosse Footwear is consistently releasing some top notch gear, specifically in the hunting and outdoors sector. When proposed with the opportunity to test out a pair, I've learned quickly not to say no. They're that good.
Never has a snake boot fit and felt like an athletic shoe as much as the LaCrosse Alpha Agility Snake Boot. These natural rubber boots with a 5mm layer of neoprene have the flexibility I'd expect from a sneaker but are built to be tough, durable, and most importantly, snake-proof.
I've had the chance to test out these boots over a couple seasons, and I must admit there's never been a more comfortable snake boot on my foot. I wore them as turkey hunting boots, as work boots in my backyard, and also as fishing footwear when on the banks of rivers well-known to be snake havens.
My Favorite Features of the Alpha Agility Snake Boot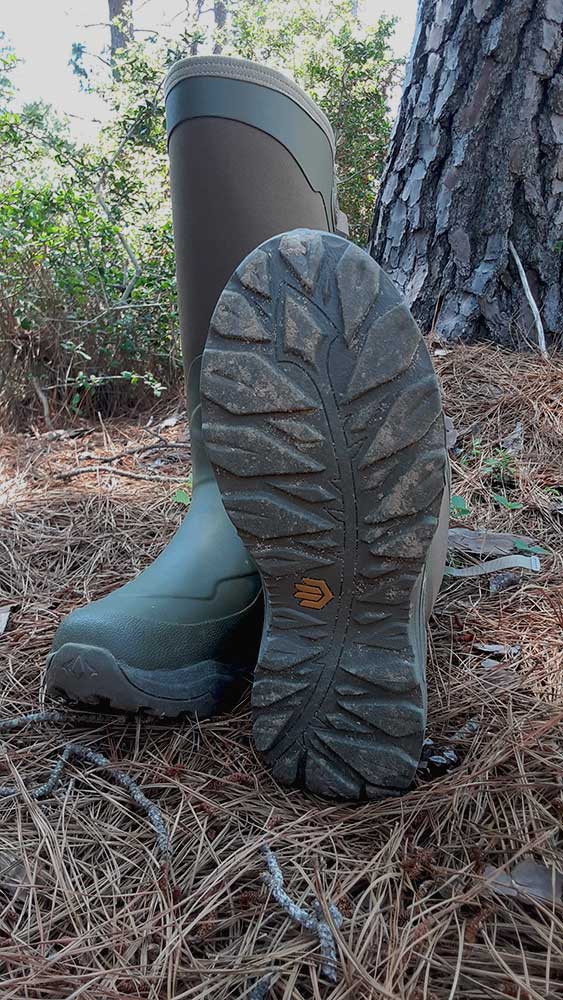 The active fit and unique Agility outsole are what make these boots so comfortable. LaCrosse says the rubber outsole of the Alpha Agility gets paired with a midsole constructed from a lightweight LXA compound, which results in optimal rebound. I don't know if I could play a pickup basketball game in these, but I'd at least be willing to try!
My foot always stays in place, no matter how fast I'm moving, and the Alpha Agility Boots are super easy to remove with the hands-free, kick-off heel plate.
The waterproof liner is made of a knit jersey material, which in my mind is among the best you can opt for. It's quick drying and moisture wicking, a major plus when crossing streams or standing in ankle-deep water to get in a better fly-casting position.
LaCrosse's signature adjustable gusset fits snugly on my calf without pinching, rubbing, or tightening, giving it a secure feel without being too constrictive. There's a plastic strap clip to hold the loose part of the strap in place, but one of my little complaints is that it hasn't done its job entirely. The strap often comes loose of the plastic clip and starts to bump against the other boot as I take steps, adding a little unnecessary noise to my stalking through the woods, and the potential of getting snagged on some greenbriar or other thorny plant.
LaCrosse Footwear's Snake Guard Testing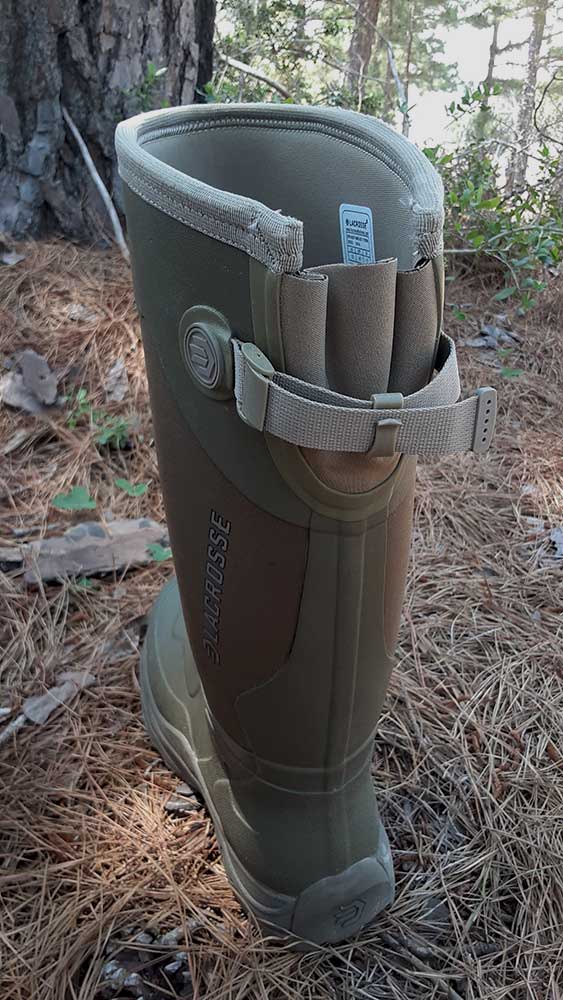 And of course, the biggest thing I like (and my wife likes) is that they're proven as a deterrent to snake strikes, at least the most common kind from the likeliest serpents you'll encounter. The protective fabric is in between the liner and the boot's exterior, and each boot style is independently tested by an "unbiased, third-party facility where they're subjected to a range of penetration tests," according to LaCrosse's website.
Like a smart company should, LaCrosse knows the world of venomous snakes can be awfully unpredictable, so they stop short of any sort of "guarantee" against snake bites. At the same time, I'm at least reassured by the test's explanation and appreciate the effort that went into making these boots as safe as they can.
The LaCrosse Alpha Agility Boots come in the Snake Guard version I tested, but also in several camo pattered or increasingly insulated models, upping the versatility in the Alpha Agility lineup. You can go with Mossy Oak Greenleaf or Realtree Edge if you'd rather conceal your feet a bit more. As of right now, the Snake Guard version has no camo patterns available.
Of particular note is the fact that LaCrosse has a women's version that features the Mossy Oak Obsession camo pattern. Bravo to LaCrosse for deliberately serving the female market, something they've made a point of doing in recent seasons.
Basically, my affinity for LaCrosse was enhanced by these impressive boots, and I know I'm going to recommend them to anyone else who's looking for a similar pair.