The only way to really know how well you'll appreciate a boot is by wearing them.
I have a couple pairs of boots, and find myself often using them for their unintended purposes; as in, I'm wearing my hunting boots to do garden work, or my old pair of rubber boots to do some ankle-deep wade fishing.
It's not ideal, and sometimes it's because I've forgotten, but a good, all-around work boot was something I knew I needed for some time.
When I got a new pair of LaCrosse Alpha Range boots, I was close to signing off on my mission almost immediately.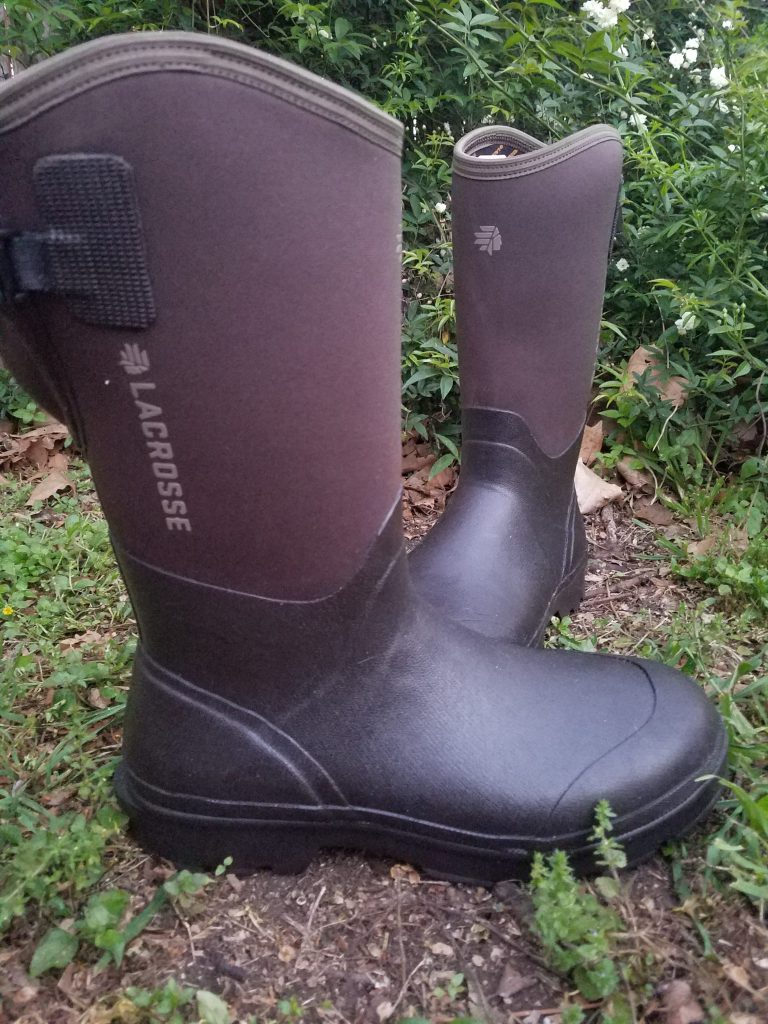 Here's what I thought of them out of the box, as well as after a few sessions wearing the heck out of them.
Alpha Dog
I noticed it right away; the construction of these boots is impressive. The sturdy rubber outsole seems like it won't give in too much. A strong poke of my thumbnail in the side of the toe left no visible marks, and the material had an interesting way of "springing back" after compressing it.
I came to learn this is thanks to the hand-laid ZXT rubber that LaCrosse is known for, and it's as tear- and ozone-resistant as they come.
The sole is aggressive-looking, which proved to be more than just aesthetics once I gave them a spin in some slick, muddy areas.
Upon further inspection, I couldn't help but notice something that I'd never seen on a rubber boot: an adjustable strap to secure the boot at the top, around your calf, with a neoprene gusset to "fill the gap" no matter how big or small your calves are.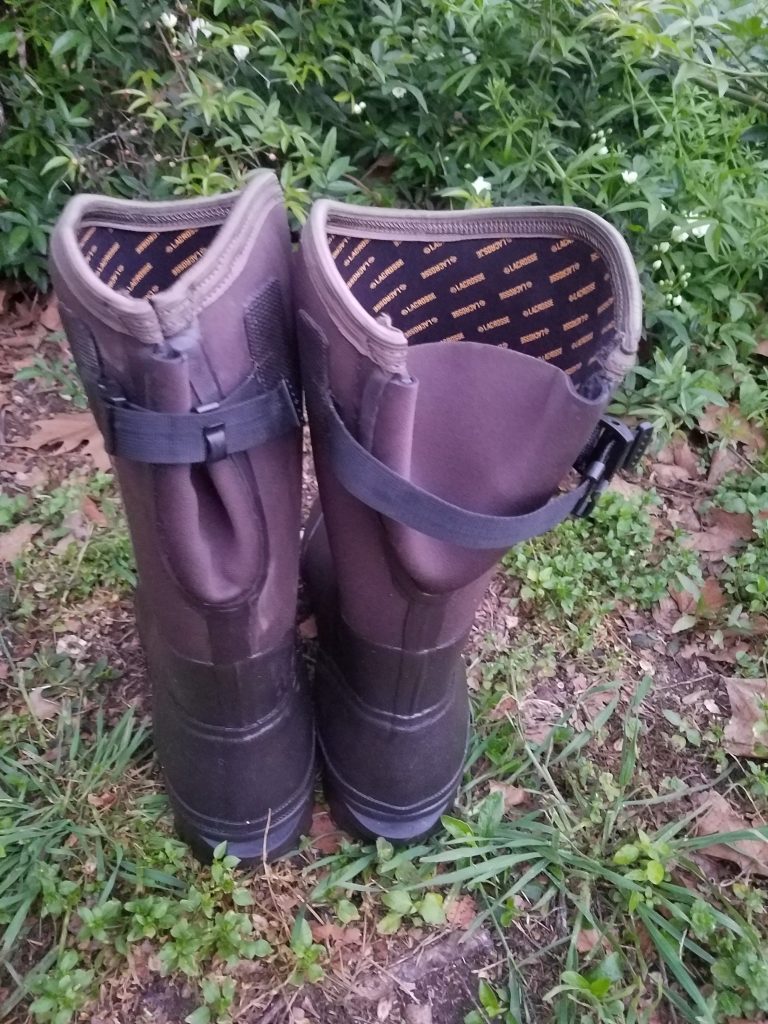 The strap can be locked down in place with a mini clip, and kept out of the way throughout the day.
This feature was important when some heavy rain started to fall during one of my first test sessions. Whereas my old rubber boots would have allowed rain to fall in through the top, that wasn't an issue with the Alpha Range.
This would prove one of my favorite features of the boots, because it ensured a great fit every time, and I even considered the benefit of my wife being able to fit into them in a pinch, too.
Given the Test
I mentioned I was in my garden, and the rain just happened to fall while tilling a small plot. The soil turned muddy fast, but the traction held up without concern.
Also, as anyone who's tilled a garden knows, it involves a lot of steps, back and forth, until it's done. The Alpha Range boots didn't give a hint of discomfort, even on the first few times wearing them, when new boots are prone to the need to be "broken in."
The flexibility and fit ("Active Fit," as LaCrosse calls it) didn't fail to impress.
I also wanted to bring these boots to where I knew there would be a real traction test: my local fishing creek, where algae accumulates in certain places and makes some rocks as slick as ice.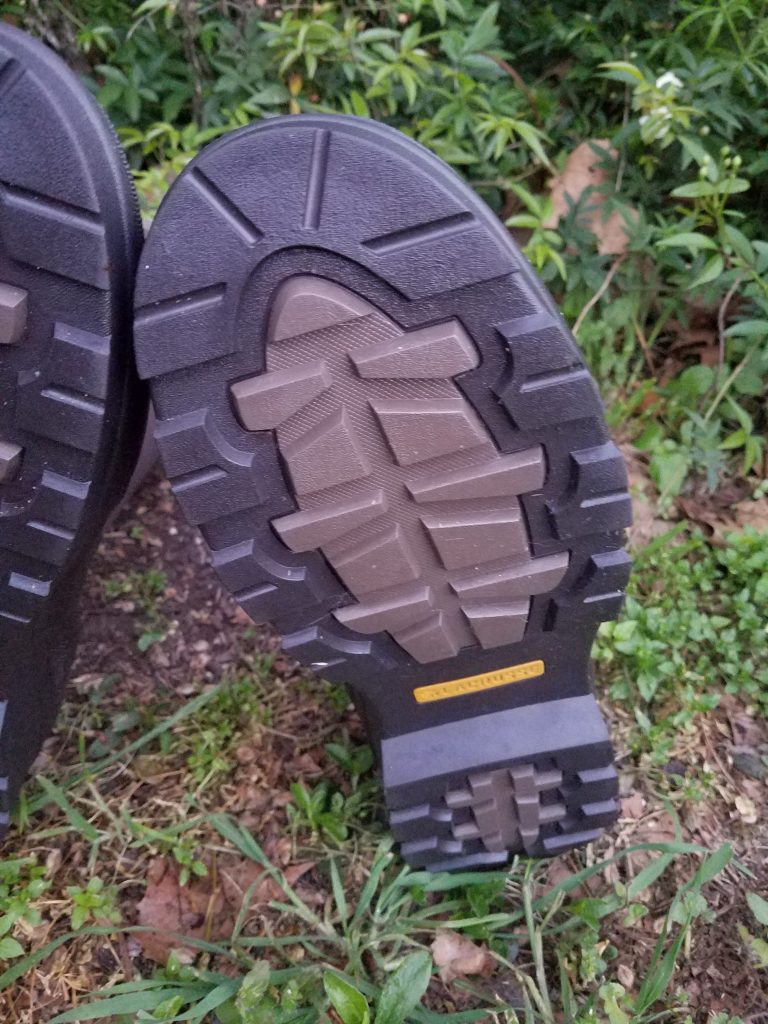 Though it wasn't a perfect non-slip experience (it never really is on this creek), I felt like I was getting as much traction as a high-quality pair of wading boots, and these were more breathable, impervious, and didn't even have laces.
Something else I appreciated was the easy-off factor with these boots. I always needed a place to sit down (or risk tipping over) to pull off my old pair, but these slipped right off after loosening the strap and stepping on the molded kick-off heel plate.
Overall Thoughts
My feet, shins, and calves were kept away from the elements, as they should be. I didn't have any rain or dirt slip through the top, which can be a real pain. I was even able to roll the boots down for my walk back to the house, starting the drying process before I took them off.
I'm not ready to ditch my hunting or wading boots, but as far as all-around, versatile work boots go, I've become completely satisfied with the Alpha Range. Though I haven't had them for the years a pair of good rubber boots should last, I'm pretty confident LaCrosse has set these up for longevity.
NEXT: 8 THINGS YOU SHOULD EXPECT FROM A GOOD PAIR OF BOOTS
Enjoy the outdoors?
Sign up for daily stories delivered straight to your inbox.