My ATN X-Sight 4K Pro and 6.5 Creedmoor rifle combo is a deadly duo for an affordable price.
The days of breaking the bank to have night vision for hunting are over.
Night hunting for predators and hogs has taken on a life of its own over the last decade. There is no secret about the advantages night hunting provides compared to day hunting. The issue for many consumers is that the common person had a hard time justifying the price it took to purchase night vision or thermal hunting gear.
That problem is now a thing of the past because of the quality and performance of the new X-Sight 4K Pro from ATN. It's way more affordable than competitors.
After hunting with my 4K Pro scope and my new 6.5 Creedmoor from Palmetto State Armory during our night hunting season in Illinois, I can now confidently point anyone towards a very affordable night vision and AR setup that won't hurt their pockets.
ATN X-Sight 4K Pro 5-20X
First thing's first; the best place to start with this new hunting setup of mine is the scope. I went with the 5-20X 4K Pro model from ATN because I figured $100 more to get the better zoom magnification was worth it for hunting situations. The 5-20X's MSRP is at $799.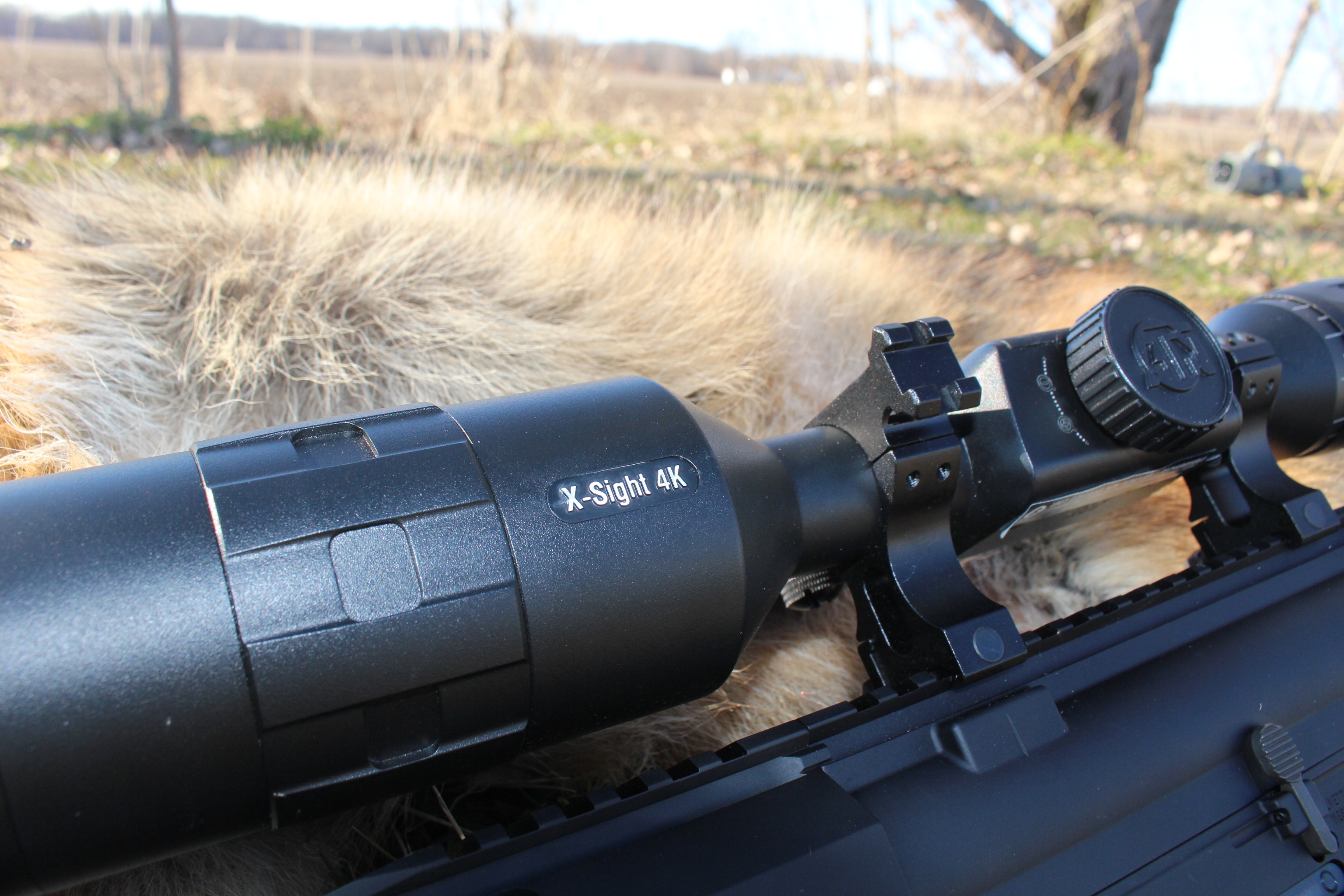 From videos I have posted using this 4K Pro scope, as well as some personal discussions I have been a part of, it always seems that other hunters are comparing it to some of the most expensive and high end night vision and thermal scopes on the market.
Just like with anything, the price tag will often times get you a higher quality product. Putting this scope up against a $6,000 optic is not logical or fair, and it wouldn't be comparing apples to apples by any stretch.
What I can say without a doubt in my mind is that this ATN X-Sight 4K Pro 5-20X, for its capabilities and features at a price well below a $1,000, is an ABSOLUTE STEAL. Quite frankly, it is the best bang for the buck in the night hunting market.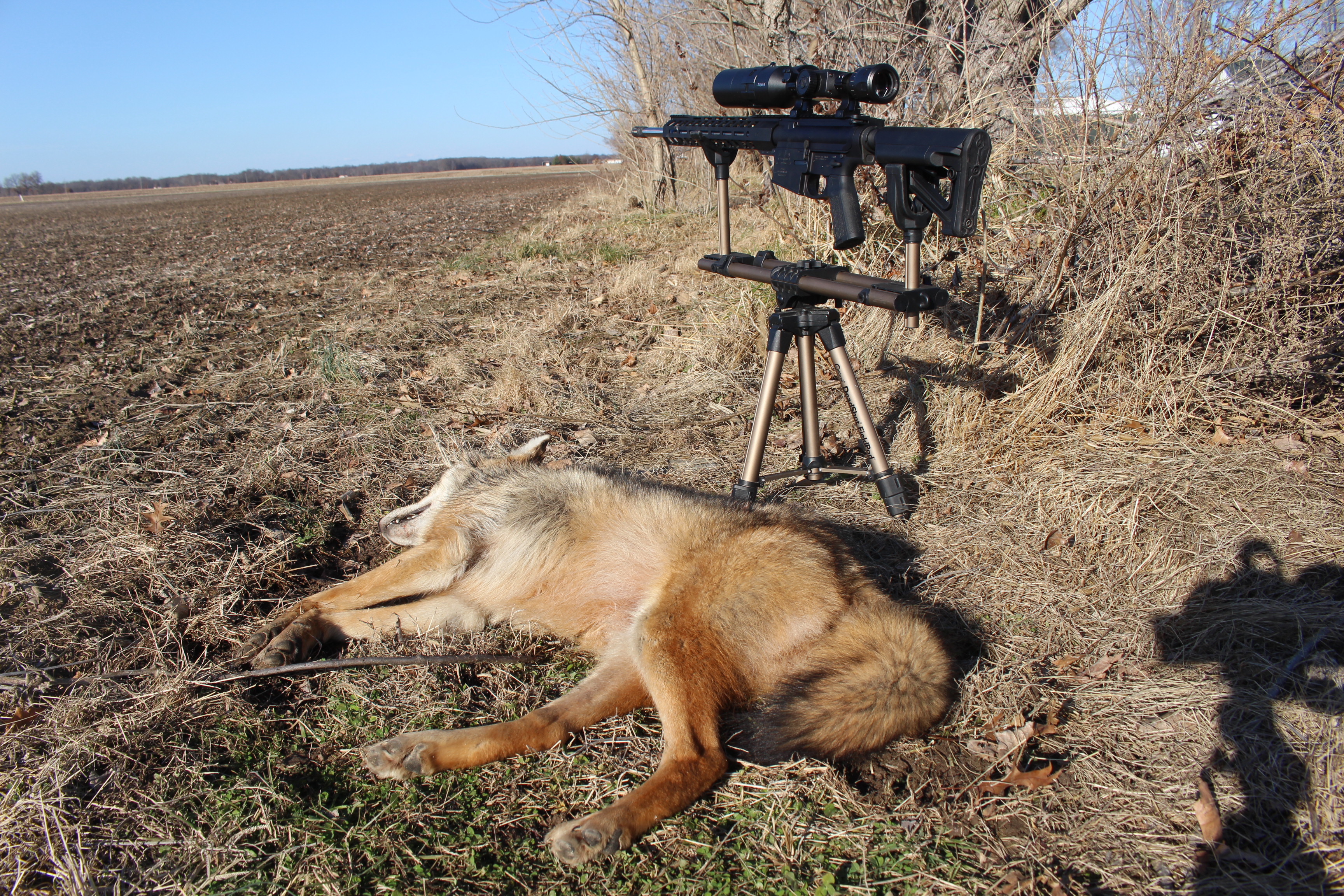 If you are wanting to jump into the night vision game, it can be intimidating if you aren't familiar with how they work. I was in that boat when I first opened up the box. I remember thinking to myself, 'This thing is like some high class computer that I really have no idea how to handle and it is all over my head.'
Once the scope was mounted onto my 6.5 Creedmoor, I quickly began to realize just how simple the interface is and how user-friendly it is, even for a novice night vision hunter.
With only five buttons to manipulate on the scope, you can easily navigate through all the settings without being overwhelmed.
Record Both Daytime and Night Hunts
One of the awesome features of this ATN scope is that it doubles as both a digital daytime optic as well as a night vision scope. With just a click of a button, you can change the scope into Night Mode from Day Mode and right back. There's no lagging on the switch, and it's instantaneous.
Obviously the night vision aspect is what makes this scope special and why I went this route, but it is nice to be able to use it in every hunting situation.
The icing on the cake is the fact that with another click of a button, you can film everything you are seeing through your scope and in 1080p. You don't have to drag cameras around or wish you could self-film your hunts. Your ATN 4K Pro will do it for you.
There is also an option within the scope called Recoil Activated Video (RAV). There were multiple predator hunting stands where I forgot to press the record button and missed the entire hunt. After shooting at a fox and realizing that I didn't record any of the hunt, I went in and activated the RAV. Essentially, the RAV takes away all worry of trying to get the footage of your kill shots.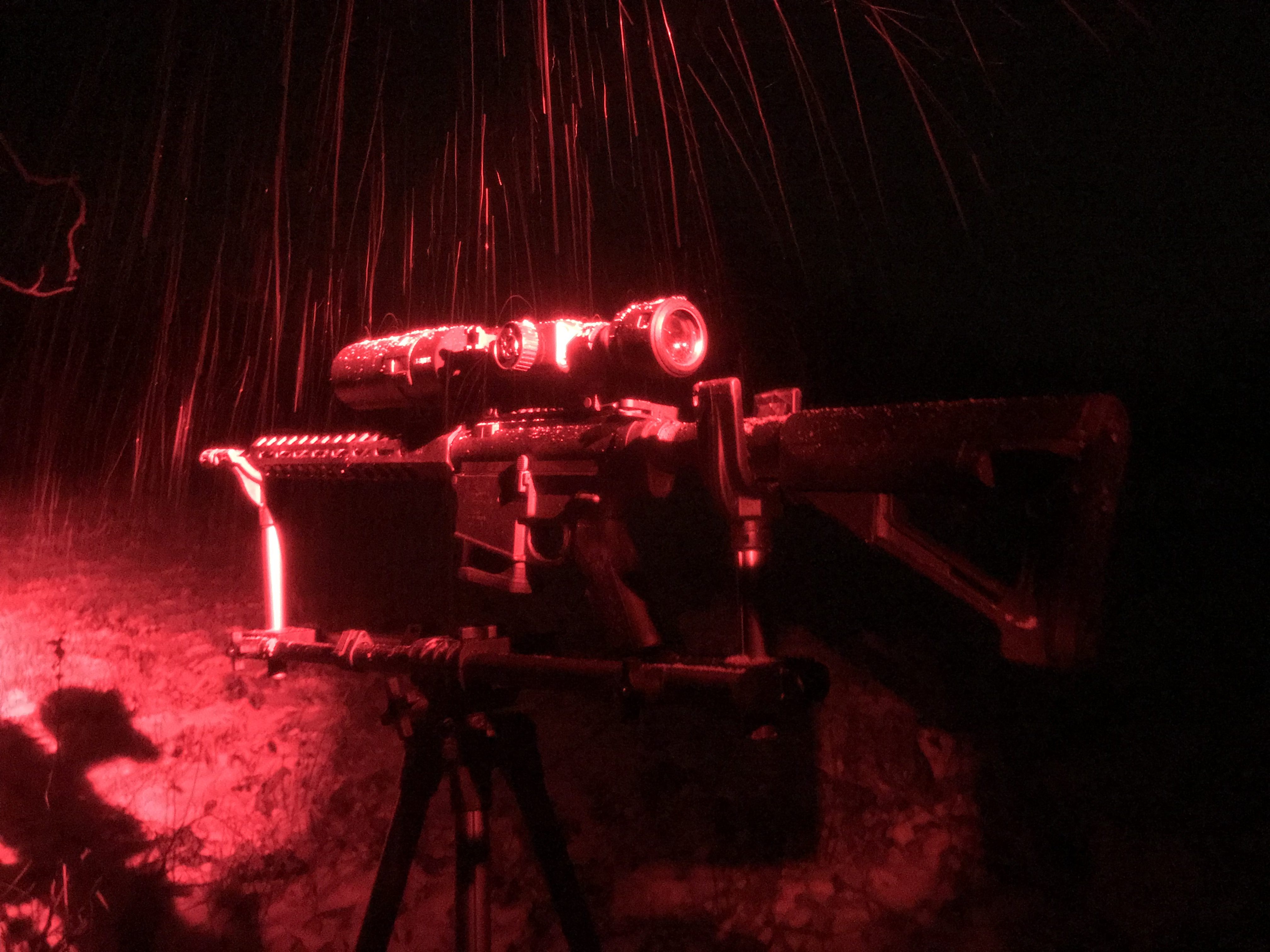 Once you pull the trigger, because of the RAV feature being turned on, it will automatically save the footage of a certain time period before the recoil and after the recoil of the shot, which will allow you to never miss out on reliving that hunting moment over and over again.
How cool is that? All you have to do is enjoy the hunt, pull the trigger, and then watch the footage.
With an 18-hour battery life, there has not been one trip where I was nervous that my scope might die in the middle of the hunt. I just make sure to charge it between hunts, and it's been good to go.
ATN IR850 SUPERNOVA IR Attachment
If you are not familiar with how night vision scopes work, they require an infrared light to allow you to see images at night. The 4K Pro scope does come with an IR attachment light, but upgrading to a better one is a good option.
The IR850 SuperNova from ATN made a world of difference in what I was able to identify and how far I was able to see compared to the IR light that came with my scope. Take my word for it: go ahead and purchase the SuperNova.
Below are a few photos of the SuperNova so you can get an idea of what I am talking about if you aren't familiar with IR attachments.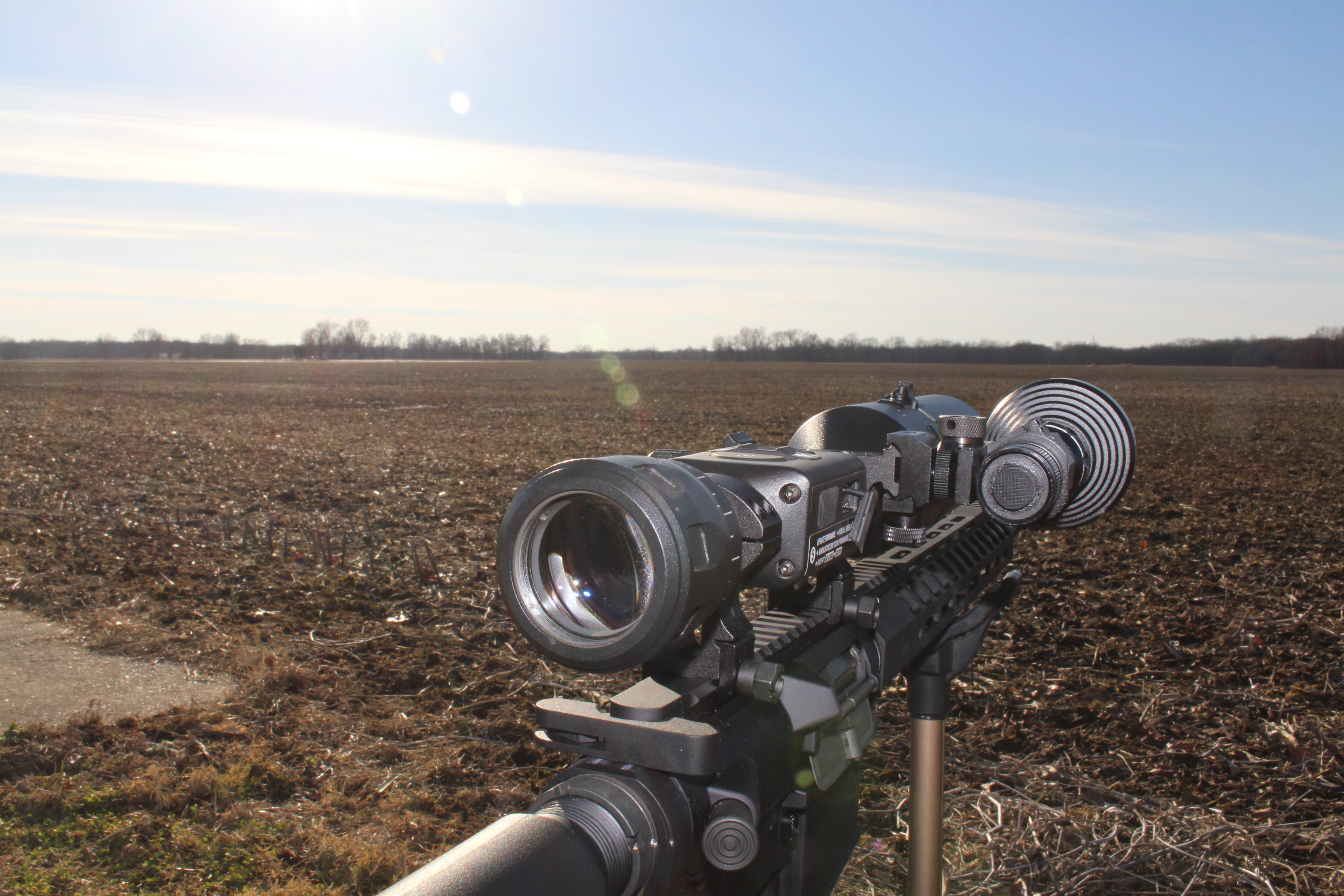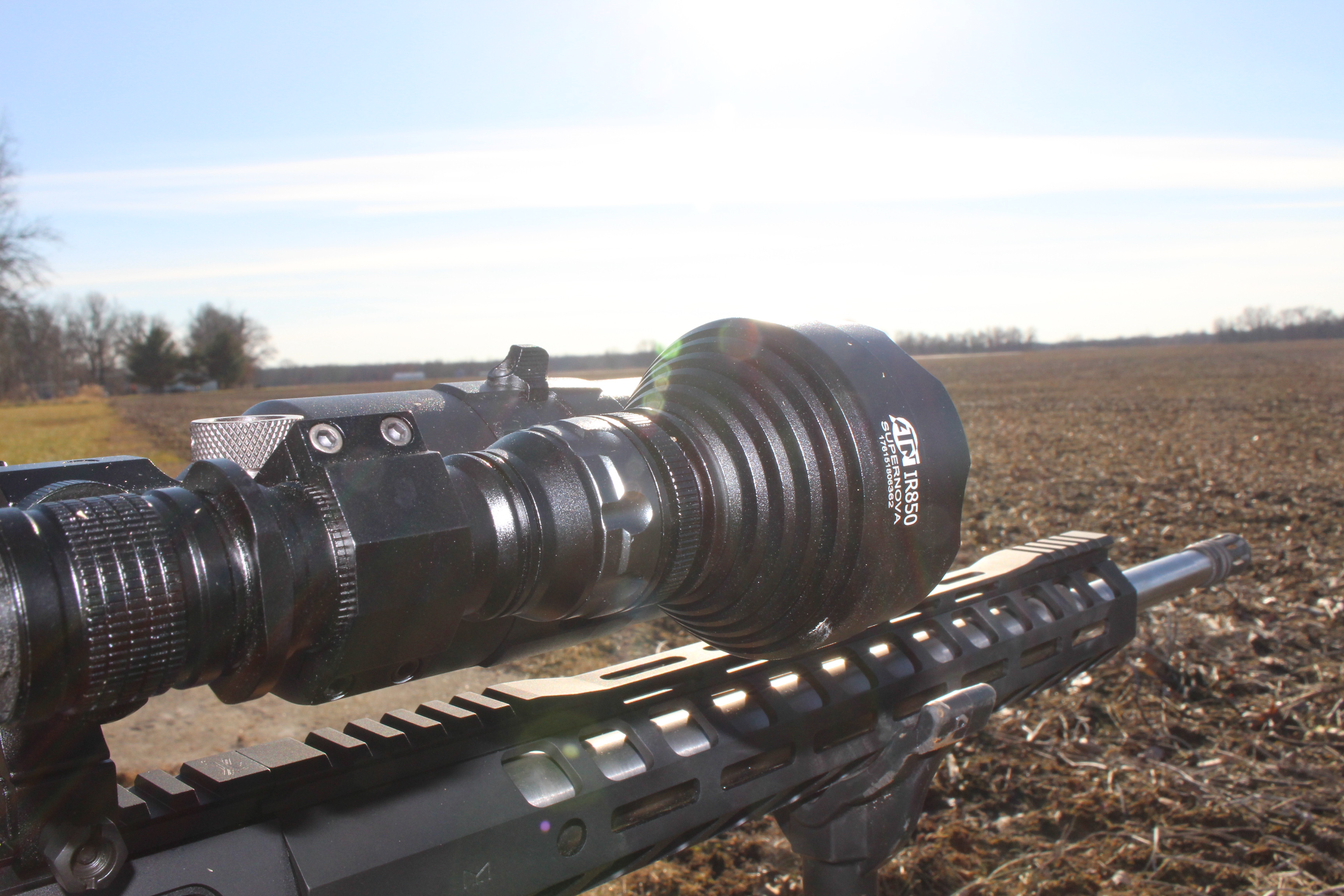 The SuperNova has four different output settings that change the brightness of the image you will be seeing through your scope at night. I'd advise you to buy back up batteries for your IR light, because the battery life on them is pretty short. Once your IR light dies, your night hunting fun is over. I found that out the hard way, and won't let it end another hunt in the future.
The IR850 SuperNova is a great option and a must-have attachment if you want to experience the best quality night hunting you can with the 4K Pro.
One Shot Zero
ATN markets the "one shot zero" feature, and it couldn't have been more true in my experience. I have sighted a lot of hunting rifles in with traditional glass scopes in the past, and have had some nightmare experiences.
The ATN X-Sight 4K Pro has a one shot zero option within the scope menu. I pulled up that section in my scope and shot at the 50 yard target at my range, just to make sure I was on paper. After two shots, I could see my Palmetto State Armory 6.5 Creedmoor was touching holes. So, since I wanted to zero it in at 100 yards, I moved the reticle in the one shot zero menu just a little above the bullseye on the 50 yard target and pressed enter. The scope then calibrates and sets a new zero for the reticle.
I then moved my gun and scope towards the 100 yard target, held true to dead center, and couldn't believe what I saw after squeezing the trigger. My first shot at 100 yards was as good as you could get, and my groups from then on out were the same.
That gave me confidence in my rifle as well as the scope. Here is proof of that first shot on the 100 yard target using Hornady Precision Hunter ammunition.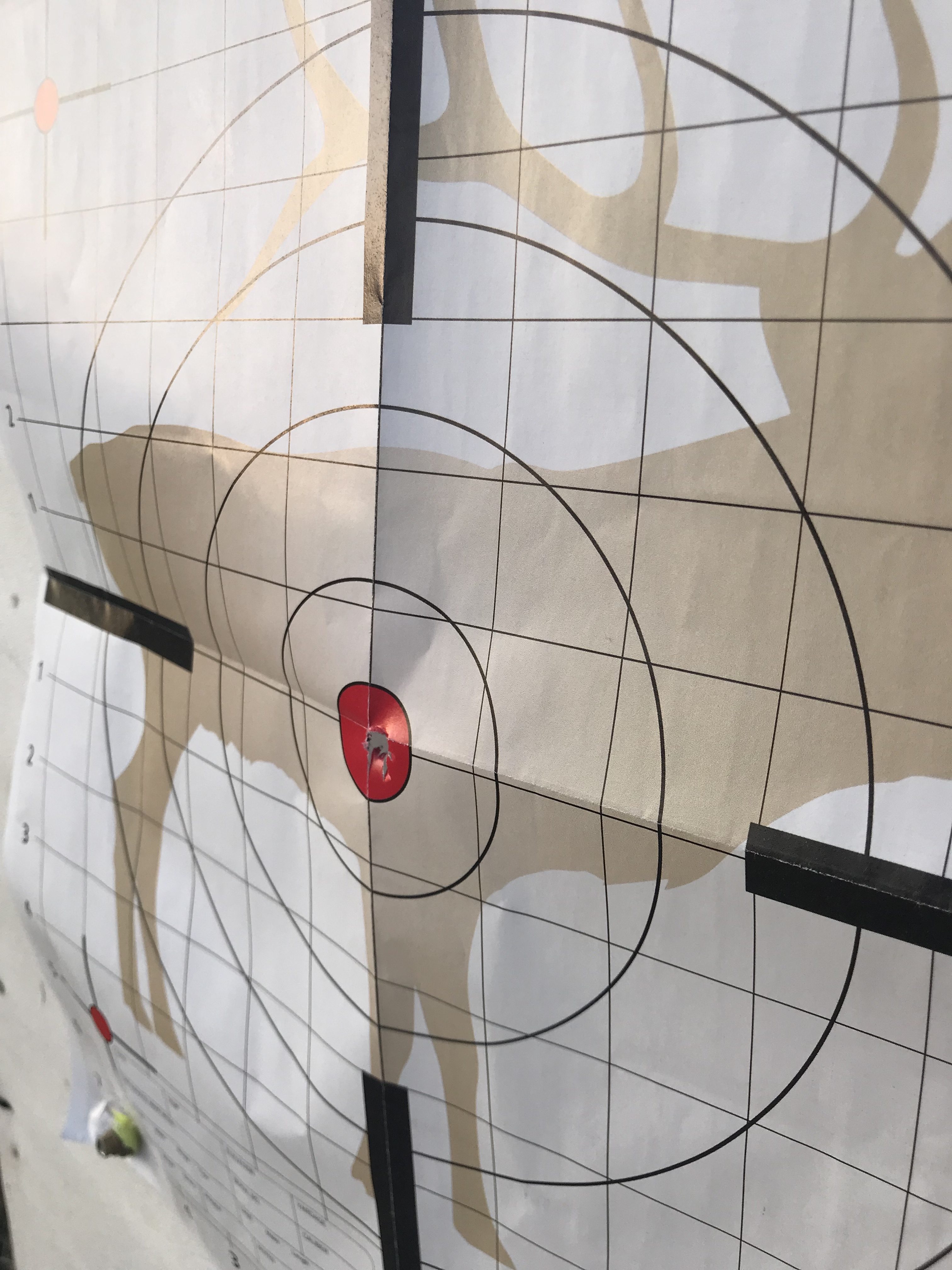 The one shot zero feature is definitely a great tool and it made for the most simple and headache free zeroing of a rifle I have ever experienced.
It was no shock to me that the next time I pulled the trigger, the coyote I shot at had dropped in his tracks.
Hunting Footage
If you research the 4K Pro scope, you will see just how amazing the footage is for the price point ATN has set on it. I wanted to include two short clips I had taken from my hunting adventures with it, just for a visual representation.
Unfortunately, the video quality suffers a little after downloading and upoading, but it will be enough for you to get the point. This coyote video below was my first hunt with my PSA 6.5 Creedmoor and the ATN scope. I was still learning the ins and outs and how to master the focus ring on the scope.
As coyotes always do, he tried to sneak downwind of me and I was forced to freehand the shot to keep from getting busted. That naturally resulted in some very unstable and footage. But at 197 yards, I was able to drop him in his tracks.
And the below in this next clip was from another calling stand when we had a raccoon come in hard charging to our call. This video is a better depiction of the quality of video resolution and content you can get with this ATN 4K Pro package.
Advanced Technology
There are more technology features jammed packed into the scope than just the night vision and recording capabilities. ATN also included smart phone streaming via wireless connection, a built in two-step process rangefinder system, and a ballistic calculator that you can set up to your own profile to accommodate the wind, weather, caliber, environment, and more.
I haven't used all of these features just yet, as most of my hunting locations don't allow me to shoot much farther than 300 yards.
You can visit the ATN website and dig into those detailed features more.
Palmetto State Armory 6.5 Creedmoor Rifle
You can have the coolest and most effective ATN night vision scope in the world, but if you don't have it on a quality rifle, it won't do you much good.
This 6.5 Creedmoor from Palmetto State Armory has been everything they promoted it as. Not to mention that the deals PSA has on them are always incredibly affordable.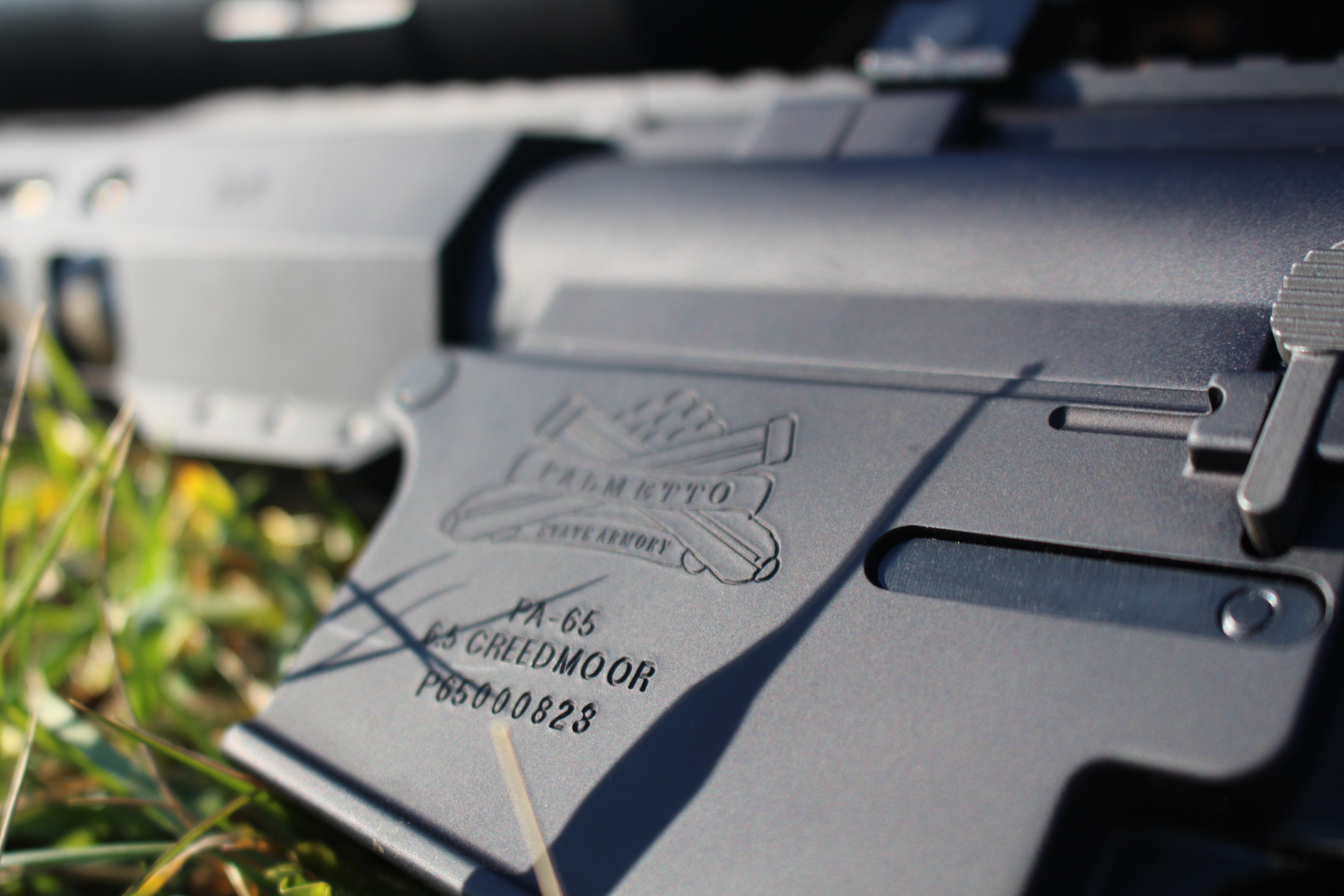 When it comes to coyote hunting, I am not concerned with saving pelts, and I wanted a flat shooting rifle for night hunting so I wasn't going to have to be guessing ranges and taking into effect bullet drops on the fly.
The 6.5 Creedmoor from PSA was a perfect fit for what I was wanting to do. It absolutely flattens the coyotes, and I can also take it with me hog hunting and reach out and touch them in any scenario that might come up.
I personally got the chance to travel with Palmetto State Armory to a shooting range in Wyoming early this winter, and while there I witnessed a factory 6.5 Creedmoor ring steel from 1,400 yards, right out of the box. It was an astonishing feet for a factory gun to say the least.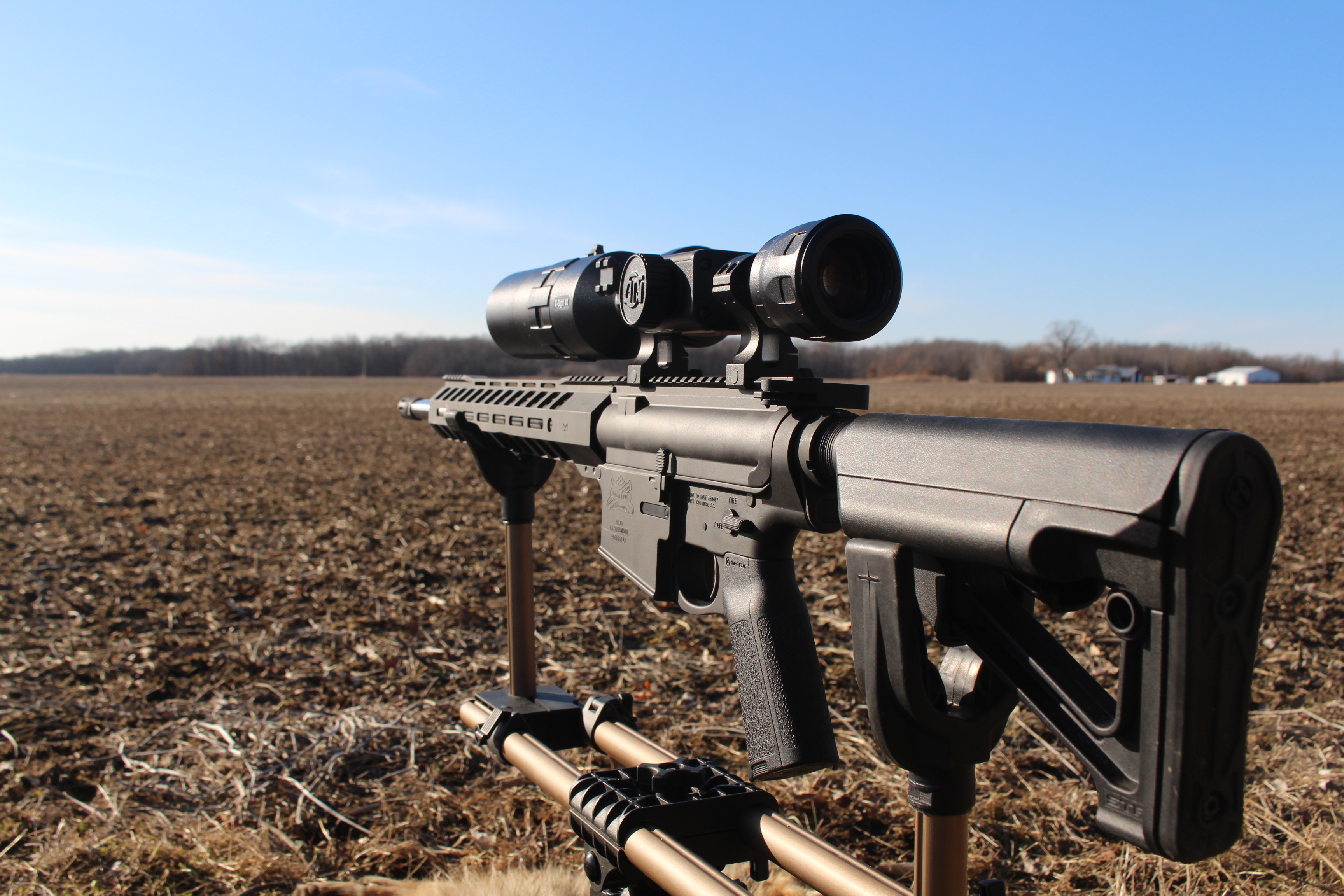 This 20" rifle model is a bit heavy, which can cause some issues on mobile hunts, but the accuracy and dependability override that characteristic.
All Palmetto State rifles are made completely in the US, and this 6.5 Creedmoor has been a tack driver for me. It's machined from 416R stainless steel, has a 1:8 twist rate, and includes a rifle-length gas system.
The upper is paired with a PSA 15" Lightweight M-Lok free float rail, .750 gas block, and an A2-style muzzle device. It's precision machined from forged 7075-T6 aluminum, then black anodize hard-coated to MIL-8625 Type 3 class 2.
The bolt carrier group is a 9310 steel bolt assembly that's nitride treated for durability. The lower is also precision machined from forged 7075-T6 aluminum, then Black anodize hard-coated to MIL-8625 Type 3 class 2.
There's an AR-15 style enhanced polished trigger (EPT), a Magpul STR Stock, and a Magpul Miad Grip.
Hornady Precision Hunter
My ammunition of choice for my hunting adventures with this night hunting setup was the 6.5 Creedmoor 143 gr ELD-X Precision Hunter line from Hornady.
The knockdown power of the 143 grain bullet is insane. The super flat trajectory that the 6.5 Creedmoor caliber is capable of allows me to take quality and ethical shots on the fly at up to 300 yards without a ton of guesswork.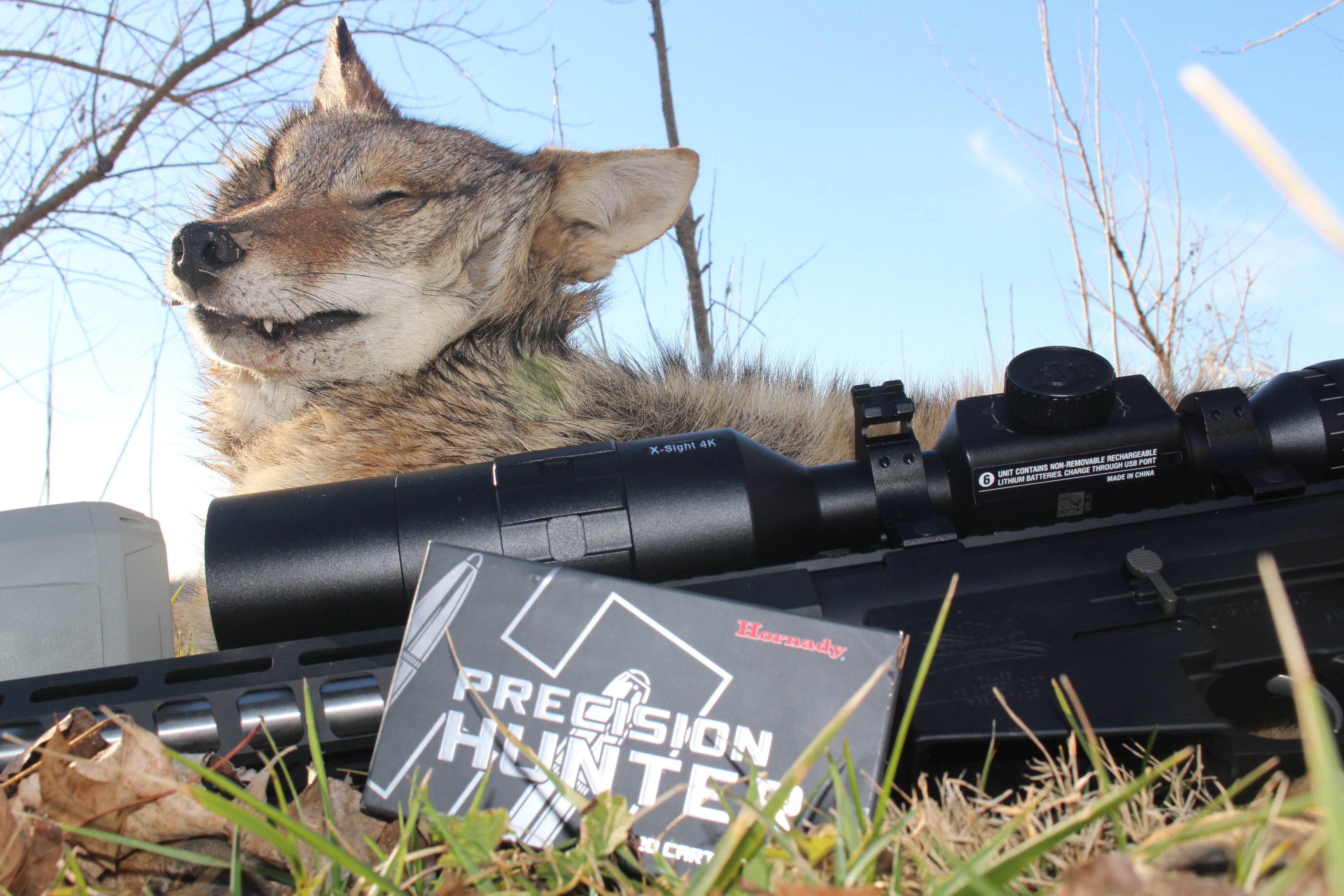 There is always a multitude of things to think about, and stuff can always go wrong when hunting. Whether or not my ammunition is going to consistently perform is one of those that I don't want to worry about.
That reason alone is why I always shoot Hornady every chance I get. Thankfully the one shot zero feature allows me to shoot less at the range and save more Hornady bullets for coyotes and hogs!
The Key Takeaway
All in all, there is nothing I would change on this hunting setup I have with the ATN X-Sight 4K Pro scope, Palmetto State Armory rifle, and Hornady ELD-X ammunition.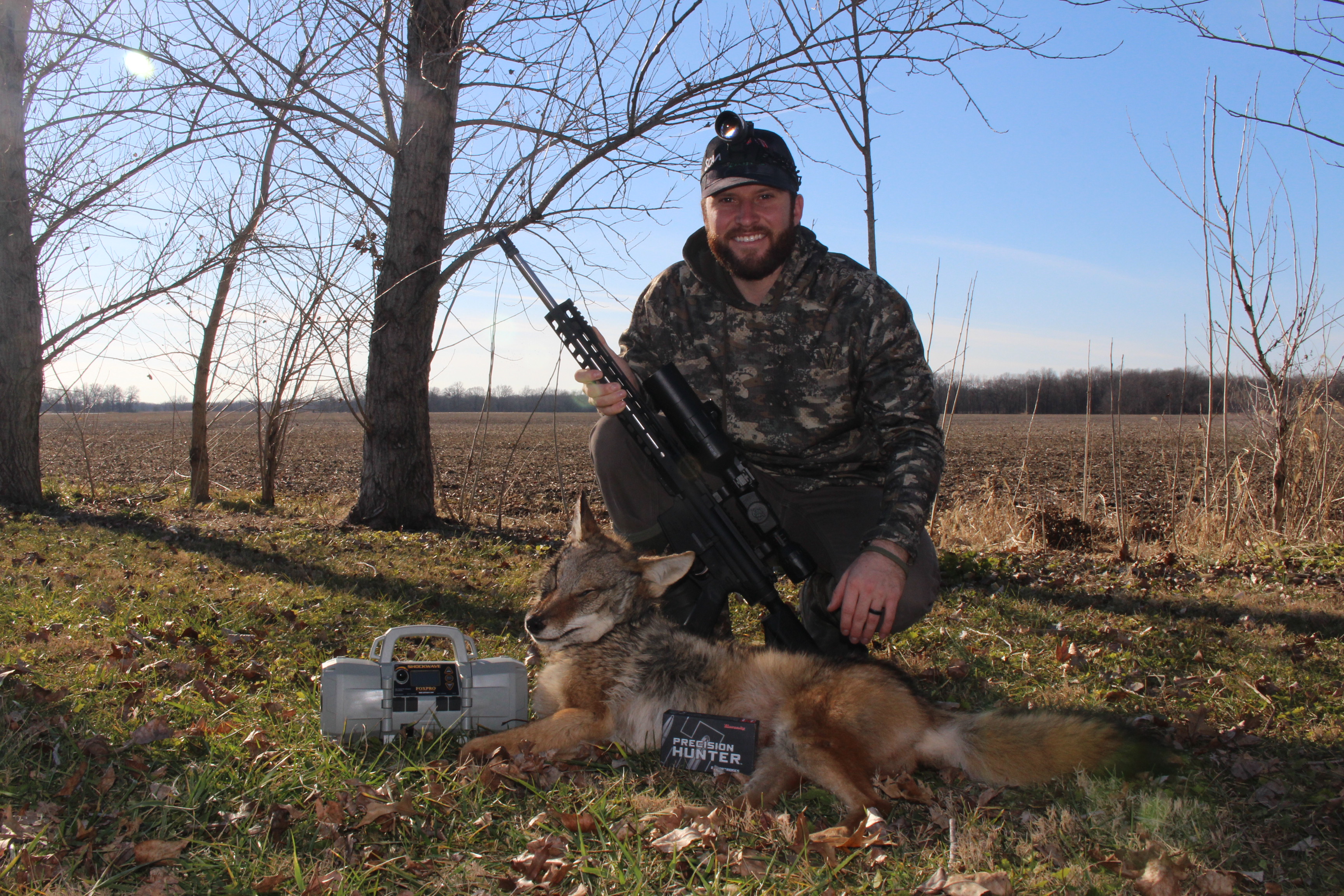 If you are wanting to get into night hunting, this ATN scope is the way to go. It's super affordable and beyond capable of helping you lay down some critters at night.
In my eyes, a scope like this available for less than $1,000 could be qualified as highway robbery, but I am not complaining. Be sure to invest in an upgrade for your IR light like the SuperNova, and you will be a happy hunter. I know I am.
NEXT: MAN RECEIVES BONE-CHILLING RESPONSE AFTER CALLING COYOTES
WATCH
Enjoy the outdoors?
Sign up for daily stories delivered straight to your inbox.