Support the Kevin VanDam Foundation and 'win' the ultimate fishing trip with the Master of Bass himself.
The name Kevin VanDam (or KVD for short) is synonymous with bass. With four Bassmaster Classic titles to his name, plus seven Angler of the Year awards, this tournament pro is arguably the best in the world. (Did I mention his career earnings of over $6,000,000?)
But KVD is more than just fishing. His extensive charitable work, especially involving children, is to be admired. Continuing an ongoing commitment to giving back, he and his wife Sherry founded the Kevin VanDam Foundation in 2015.
Bass Pro Shops has come up with the ultimate way to raise much-needed funds - and give one lucky angler the ultimate fishing trip with KVD himself. Here's the cool 'contest':
What you'll do
We hope you're all about that bass (the fish, we mean), because Kevin VanDam is reeling them in and you're going to join him! You and a friend are getting flown out to Memphis, where you'll stay at the Big Cypress Lodge at the world famous Bass Pro Shops at the Pyramid and meet Kevin for the ultimate outdoor experience. You'll talk about life, test the waters, maybe catch a few fishing tips. And, to top it all off, Kevin's sponsors are hooking you up with an incredible gear package worthy of a true fisherman (an $8,000 value!). What's the catch? There is none, unless you're referring to fish. In that case, we're sure you'll be satisfied. Flights and hotel included.
Who you'll help
Kevin and Sherry VanDam are passionate advocates for children. Following the premature birth of their twin sons Nicholas and Jackson in 1997 the VanDams have long been supporters of the March of Dimes, Bronson Children's Hospital and other related charities. The Kevin VanDam Foundation, founded in 2015, is a natural extension of Kevin and Sherry's continued commitment to charitable work and contributions that benefit children in the areas of health, education and conservation.
Campaign perks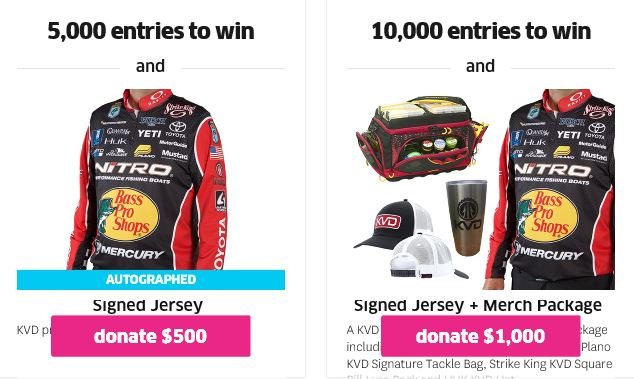 So what are you waiting for? Be sure to support this great cause and give yourself a chance to go on the ultimate fishing trip with the Master of Bass, Kevin VanDam. (Just think of how jealous all of your fishing buddies would be!)
The deadline to enter is May 1, 2017 and the winner will be announced May 5, 2017.
For full details, CLICK HERE.
Did you enjoy this post? CLICK HERE to view more articles by Justin Hoffman. You can also check out his Photography Site Justin Hoffman Outdoors, as well as follow him on Facebook Justin Hoffman Outdoors, Instagram hoffmanoutdoors, Twitter @HoffmanOutdoors, or subscribe to his YouTube channel Justin Hoffman.
NEXT: THIS 8-YEAR-OLD IS WISE BEYOND HER YEARS AT THE GUN RANGE
Enjoy the outdoors?
Sign up for daily stories delivered straight to your inbox.