Hunting deer in early season is a unique experience. Sitka's new Early Season Whitetail apparel makes it a better one.
You know that if you're hunting in the beginning of the season, you need camo that'ss breathable, stealthy, and odorless. I Was immediately impressed with I got to try out the Sitka Gear New Early Season Whitetail Line. I wanted to see how it does in the woods of early archery deer season in Ohio.
Most of us have experienced the heat of early hunting season for deer. If there's any breeze, it's usually a warm one. I've sat in treestands and ground blinds sweating profusely, which is never a good thing.
I am sure it's due in large part to the poor choices I made in clothing choices. I'm in Ohio, and the majority of the camo I owned was heavy, meant for much colder temps. That was before I knew about how bad of a decision cheap, cotton, insulated hunting clothes are in the early season.
When your top or bottoms start to sag with sweat build up, you know you've done yourself a disservice.
These hot and humid conditions are not how whitetail hunting should be. Your clothing should fit the conditions; and if you hunt as hard as we do, that includes times when the sun still warms the earth.
The Sitka Gear New Early Season Whitetail System addresses these issues head on. The warm-weather system is designed to maximize those three things I mentioned, and does it all in hot conditions with lightweight fabrics.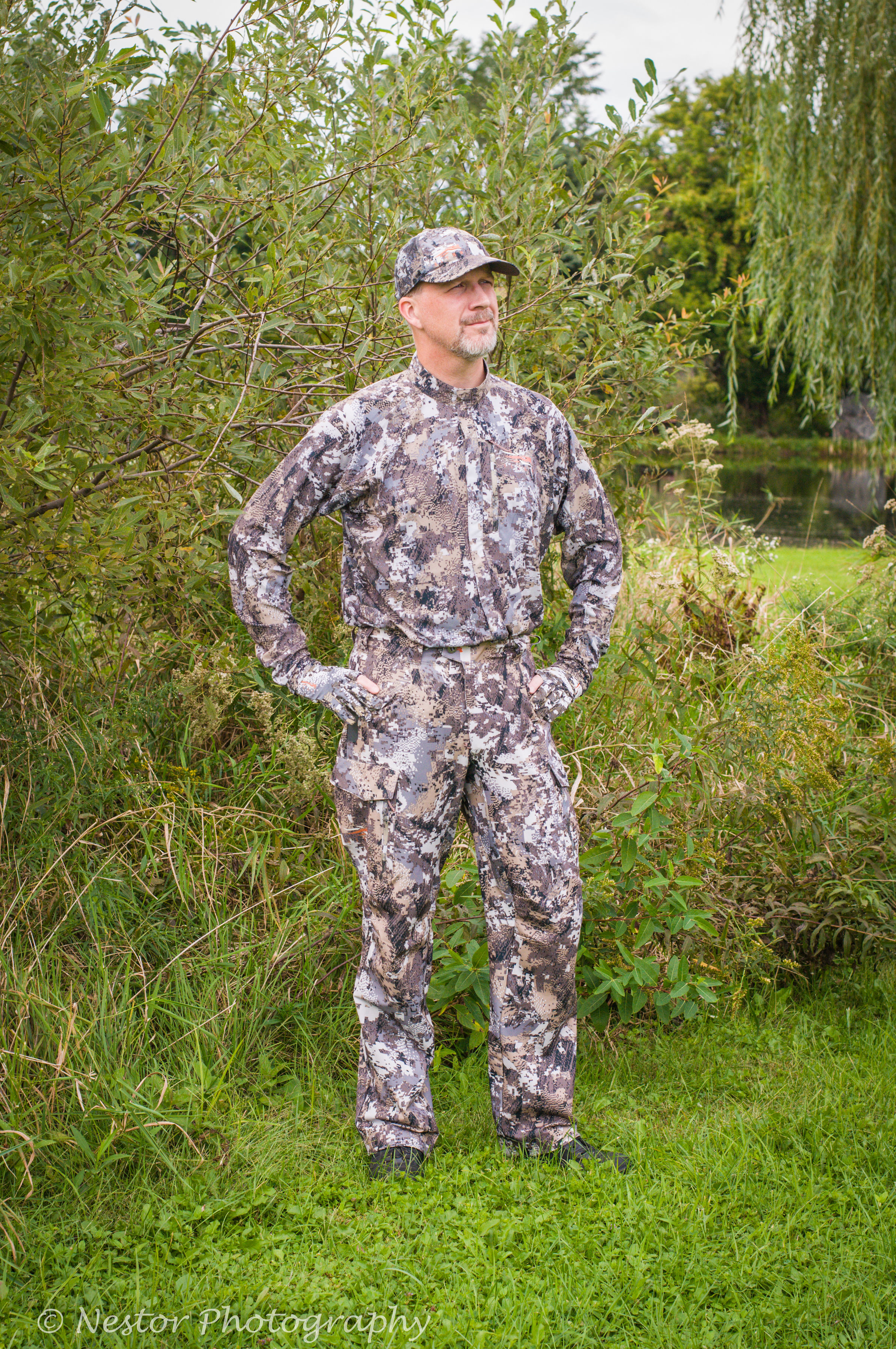 Let's first look at each piece I examined and what they can do.
ESW Pant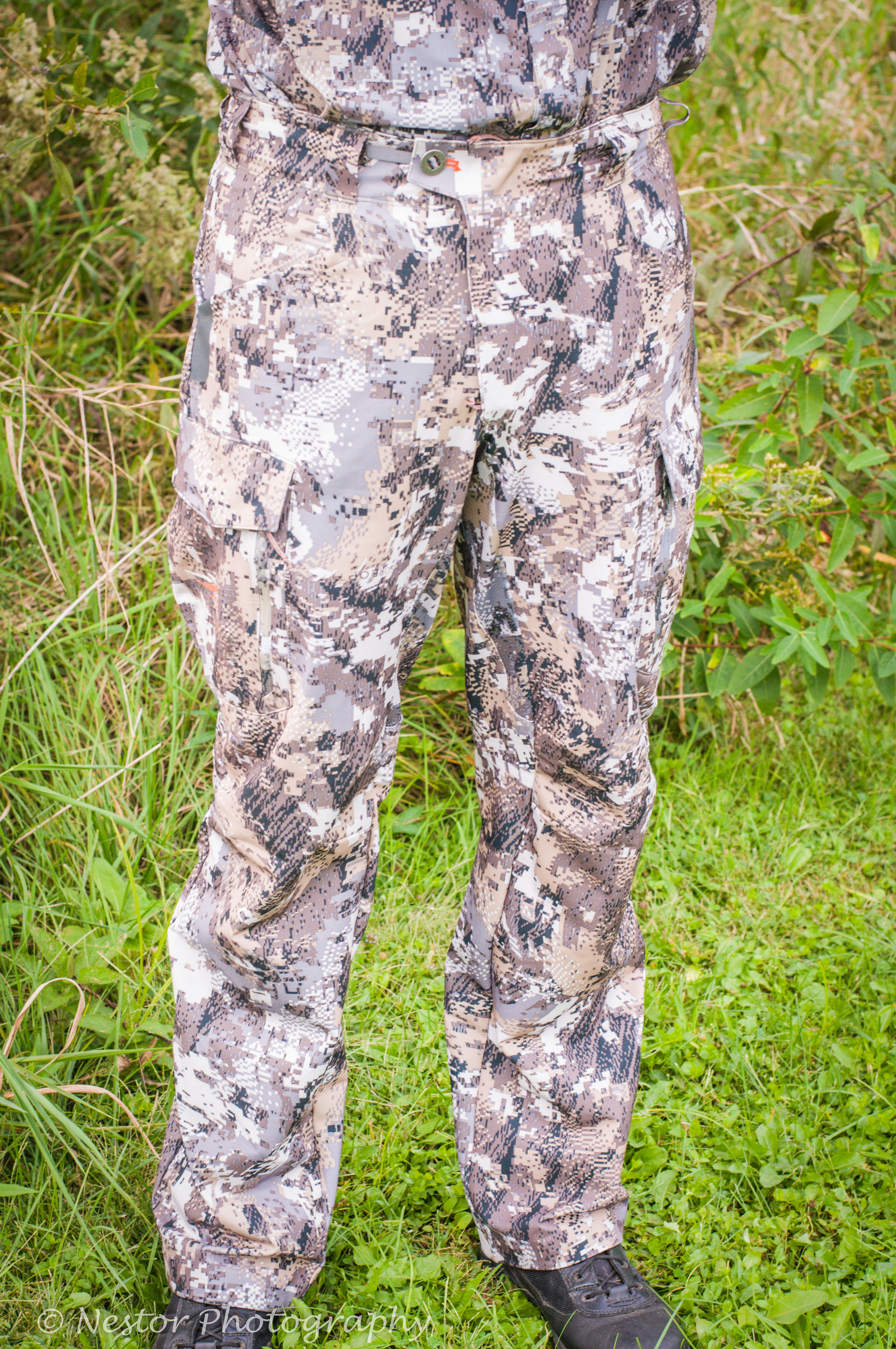 The pants had a very comfortable feel, and were very lightweight. They have mesh pockets and gusset, which I could tell gave them good ventilation. As far as odor control goes, the EWS line boasts Permanent Polygiene® technology incorporated throughout. There's a nice, seemingly very durable finish that's water repellant, and helps keep the pants quiet when stalking through the woods. The cargo pockets have silent snaps and gear dividers, too.
The biggest and most obvious advantage is the 4-Way stretch woven polyester material, which is stretchy enough to make me think it'd be strong no matter what kind of beating you give it.
My pants, and the rest of the gear I received, was in GORE™ OPTIFADE™ Elevated II Concealment Pattern, a particularly cool-looking and effective pattern that's become synonymous with Sitka's digi-camo styling. The pants have an MSRP of $149.
ESW Shirt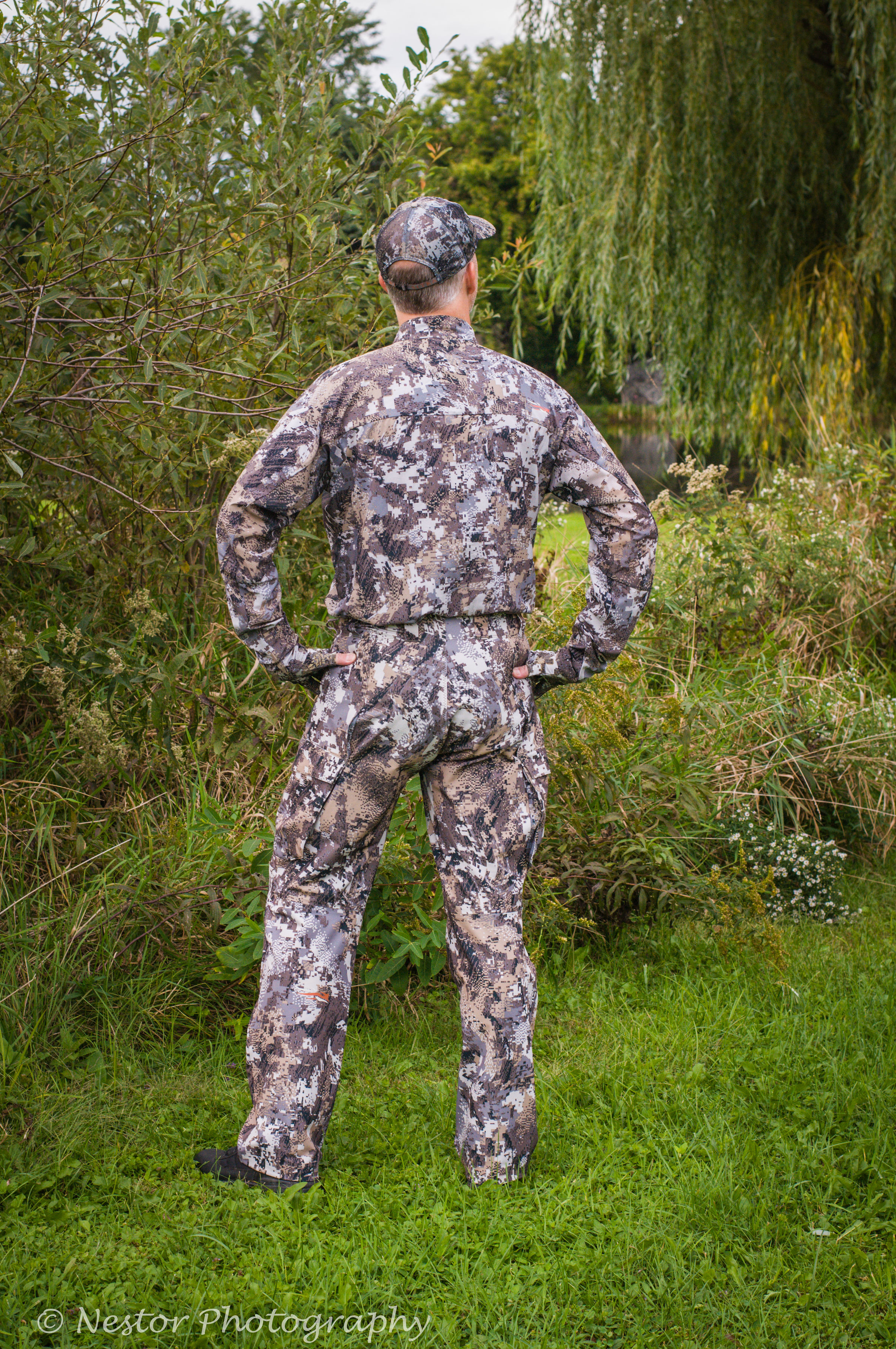 The ESW Shirt has mostly the same features as the pants, with a few extras tossed in. The button-up front includes silent snaps for stealthy operation. There are mesh armpit panels for ventilation and odor control, plus the same Permanent Polygiene® technology at work as well.
The 4-Way stretch woven polyester again makes it a cinch to reach up, bend over, or draw a bow without getting bunched or caught on your shirt sleeves. I can imagine this feature a welcome advantage for treestand hunters.
The ESW Shirt has a nice tall collar for added sun and bug protection, smart considering both of those nuisances are still strong in the early season. It goes for $129.
ESW Gloves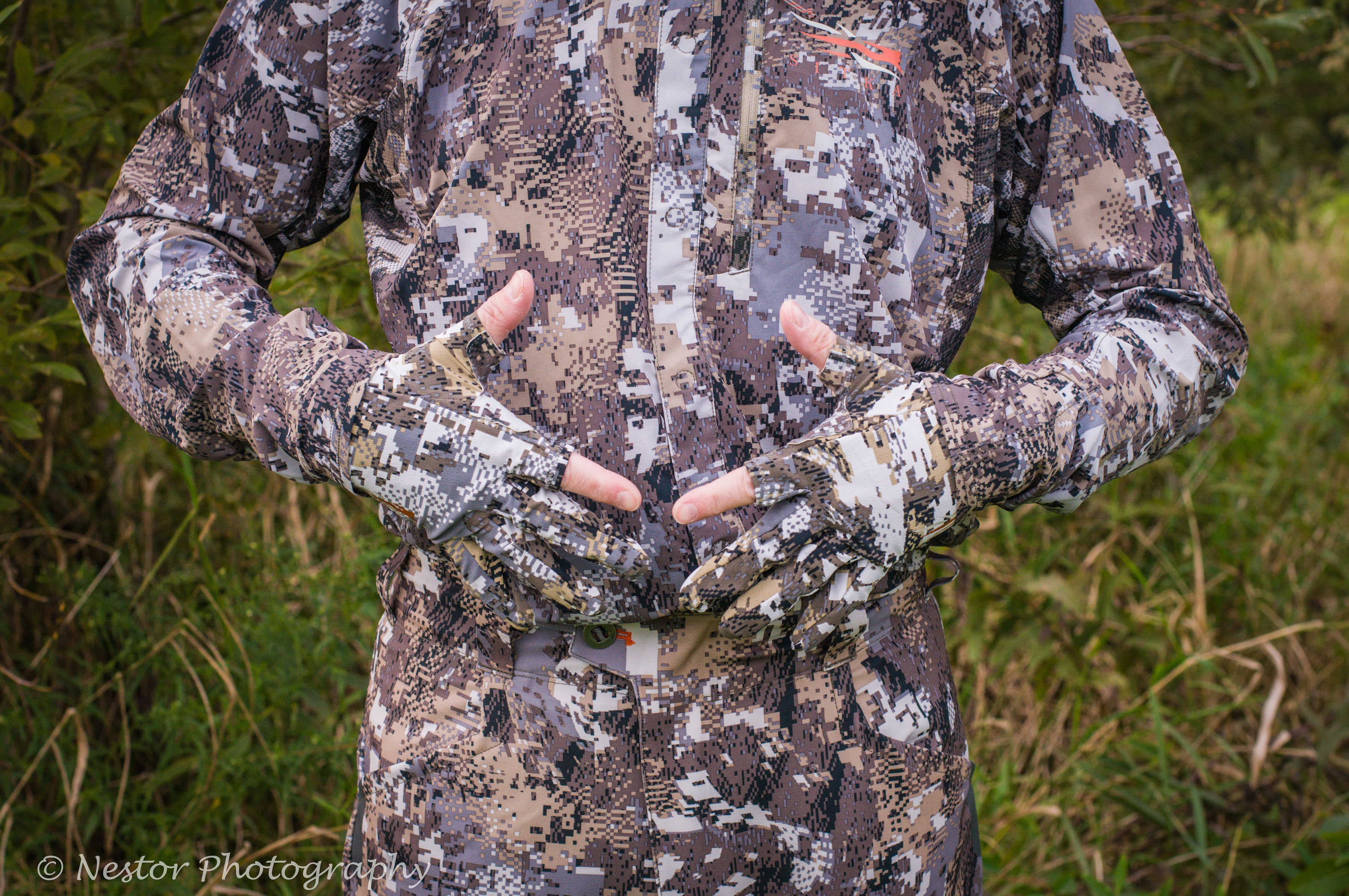 The ESW Glove is a technical shooting glove, customized for the bowhunter but really good for anyone shooting a gun, too. They are loaded with cool features, but most obvious is the exposed and reinforced thumb and forefinger. For me, it seemed to promote more precision shooting, which means Sitka is putting their expertise to good use.
The gloves contain Permanent Polygiene Odor Control Technology, and are made of nylon cordura with Ax-Suede leather palms.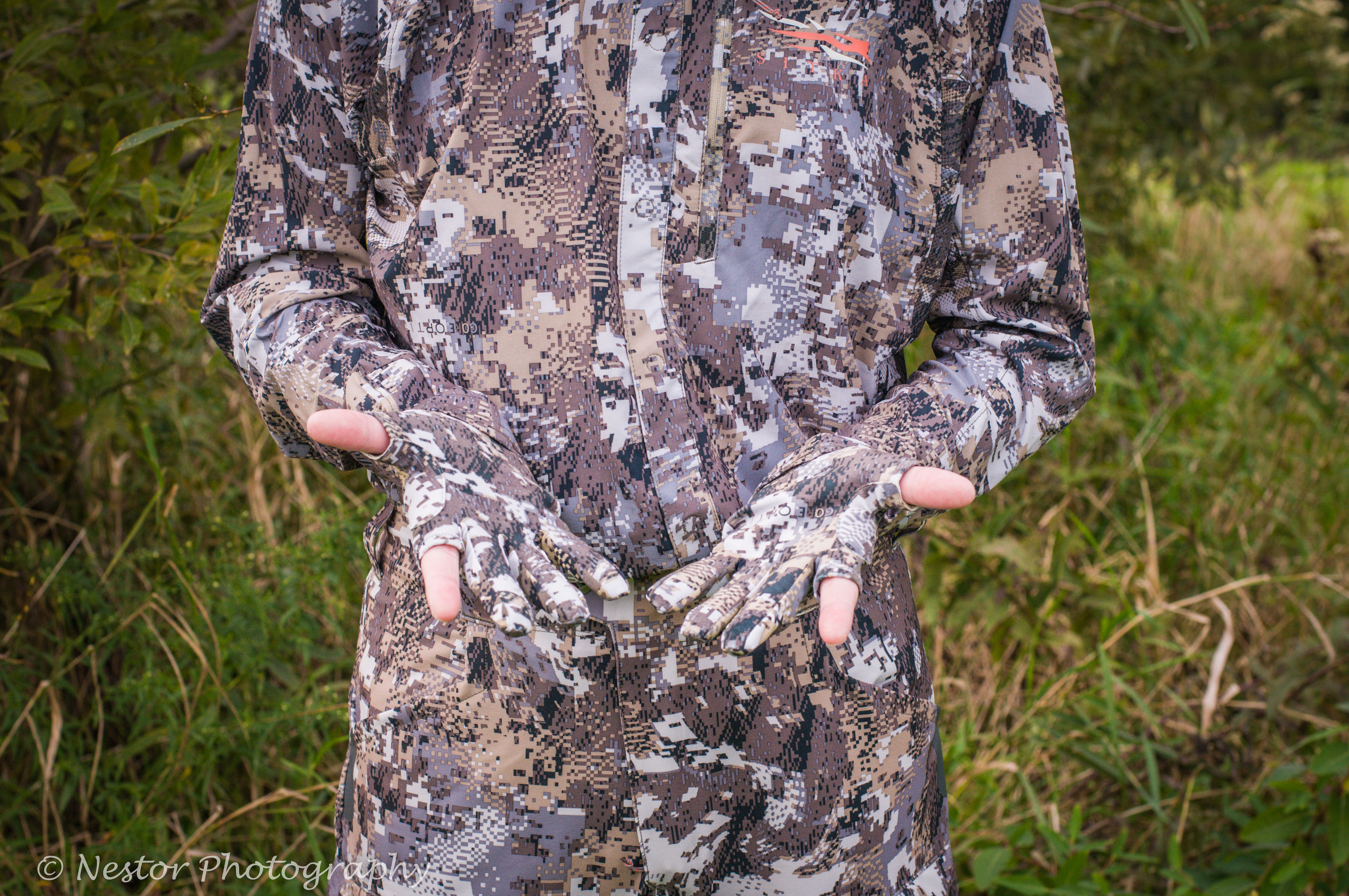 The same GORE OPTIFADE Elevated II camo pattern gives you the ability to seamlessly blend your entire arm, from shoulder to finger tip, into the rest of your clothing. This might sometimes go overlooked; how many times have you had gloves that don't match the rest of your camo?
The gloves go for $79, and the fit is as perfect as I've ever felt wearing a pair. They make me feel confident in handling any hunting weapon, especially a bow in early archery season.
ESW Hat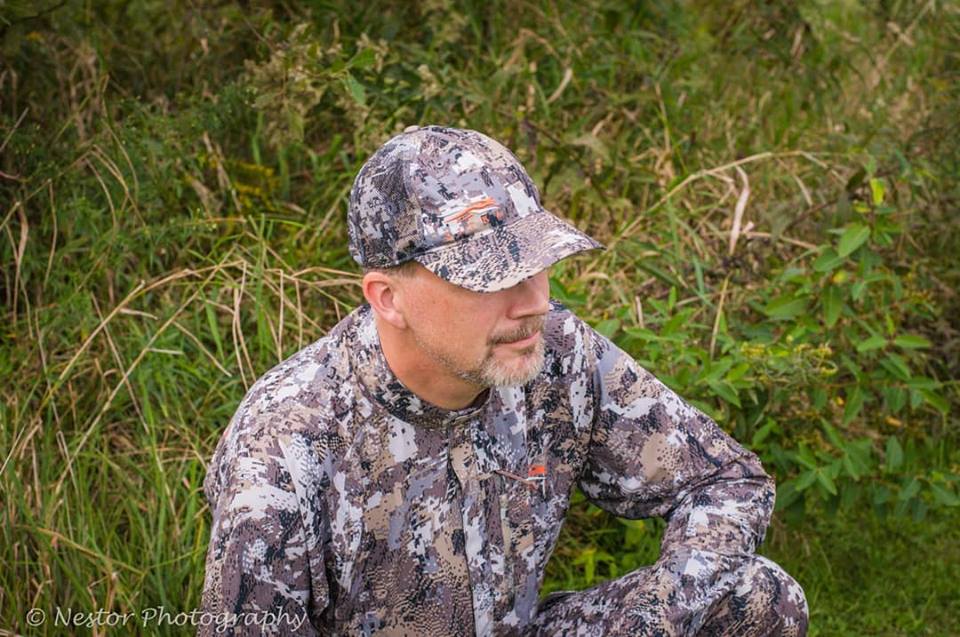 Sitka tops things off with a breathable, mesh back ESW Hat, which again makes use of the Permanent Polygiene odor control technology and the quick-dry attributes of the bi-component polyester knit front panels and mesh polyester back panels.
There's a low-profile closure in the back, and of course it's in the same GORE OPTIFADE Elevated II pattern. For a $30 hat, it's got everything you need for warm, sunny hunts.
The test
My first thoughts when I put on the new Early Season Whitetail Series went straight to the feather-light attributes. It's probably among the lightest hunting clothing available.
For later in the season, it can double as a base layer under your insulated clothing. I'd imagine there's a good multi-use there; it seems like it wouldn't bunch up or stick to your skin when worn underneath other, heavier clothing.
I must say, the camo pattern is absolutely brilliant for treestand hunting. I believe it's largely due to the mix of lighter and darker colors. It'd also be good for ground use in green backgrounds, where there's a lot of light, open colors. Any buck looking up would have a really hard time spotting you in the Optifade Elevated camouflage.
Though I can't say I started dripping sweat in these quite yet, the Polygiene odor control will almost certainly help. It's going to be a big advantage over the older, non-scent controlled gear, but it's said to stack up against any technology being applied in hunting apparel today.
Finally, the four-way stretch polyester can't be over-complemented. It blows the comfort level of the alternatives out of the water. Whitetail hunters will love how the lightweight stretch polyester of the ESW series makes movement a non-thought.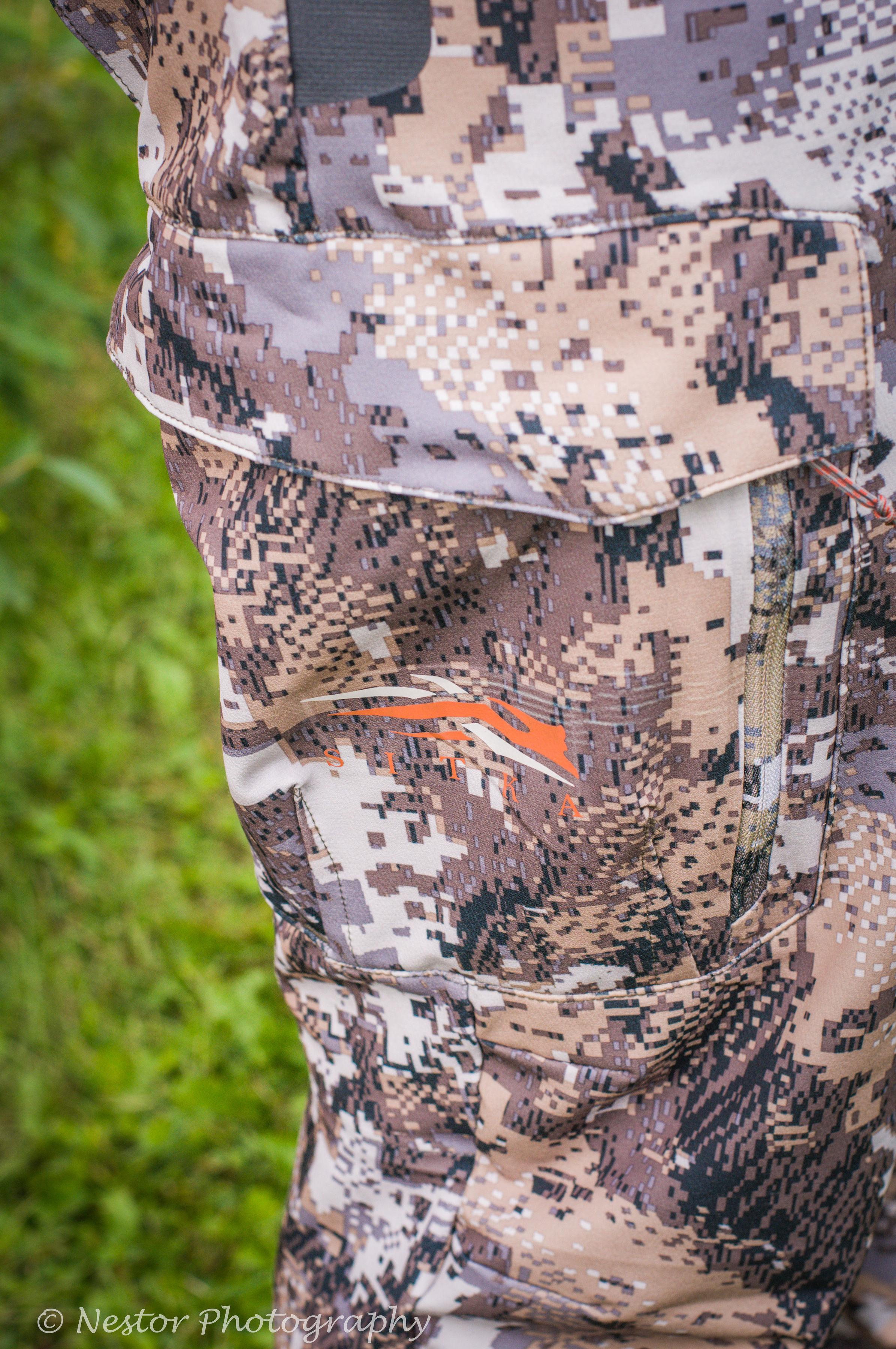 It's worth sharing what Sitka Gear says makes the new Early Season Whitetail Line stand out in this video:
Deer season hasn't started yet, here in Ohio, but to really see how it performed, I wanted to wear the ESW gear when it was legitimately hot. I did most of my testing in the heat of the Ohio summer, so there were considerable temperatures to deal with. Scouting and setting up scouting cameras can be hot and dirty work, and I suited up in the ESW gear to feel what it was like.
The fabric is lightweight and certainly keeps you cooler. I didn't work up a sweat at all, really. The lightweight material wouldn't necessarily stand up to thick or thorny vegetation, but it did seem durable and able to handle more than your basic usage over its lifetime.
It is not brush clothing you would wear in November while hunting rabbits, but for early season deer hunts it seems perfect.
I found the pockets to be both spacious and plentiful, but I did miss back pockets. I usually feel zippered or buttoned back pockets are a necessity on any pair of pants. However, I do see the reason they were omitted; sitting on something in your back pocket in a treestand for hours at a time certainly gets uncomfortable.
Finding clothing this cool and this well hidden is a hard thing to find. Sitka is really on to something, and I can see southern hunters really taking advantage of the ESW line.
To further help describe the camo, here are two versions of the same photo.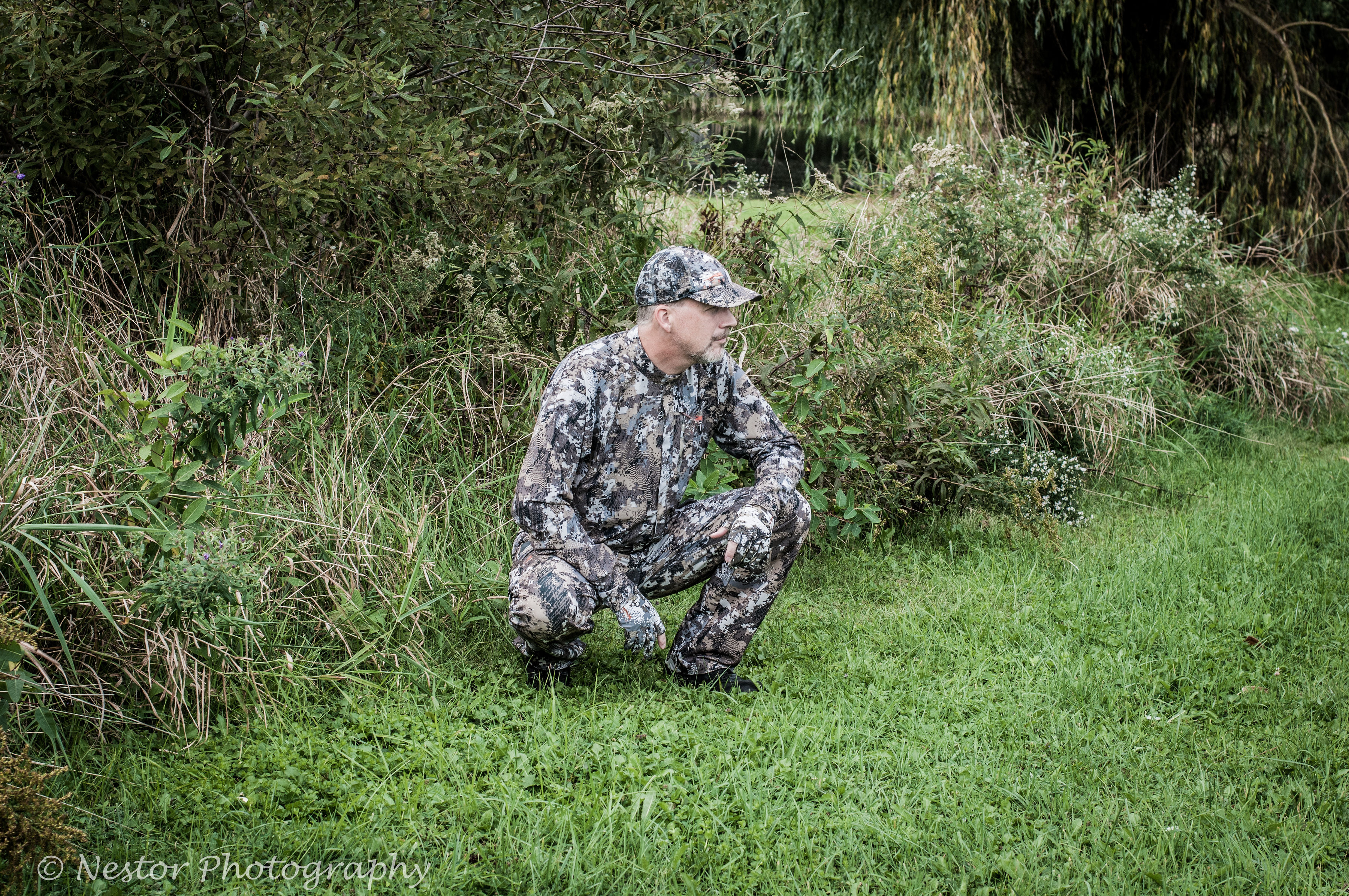 Below is a black and white image of the same photograph.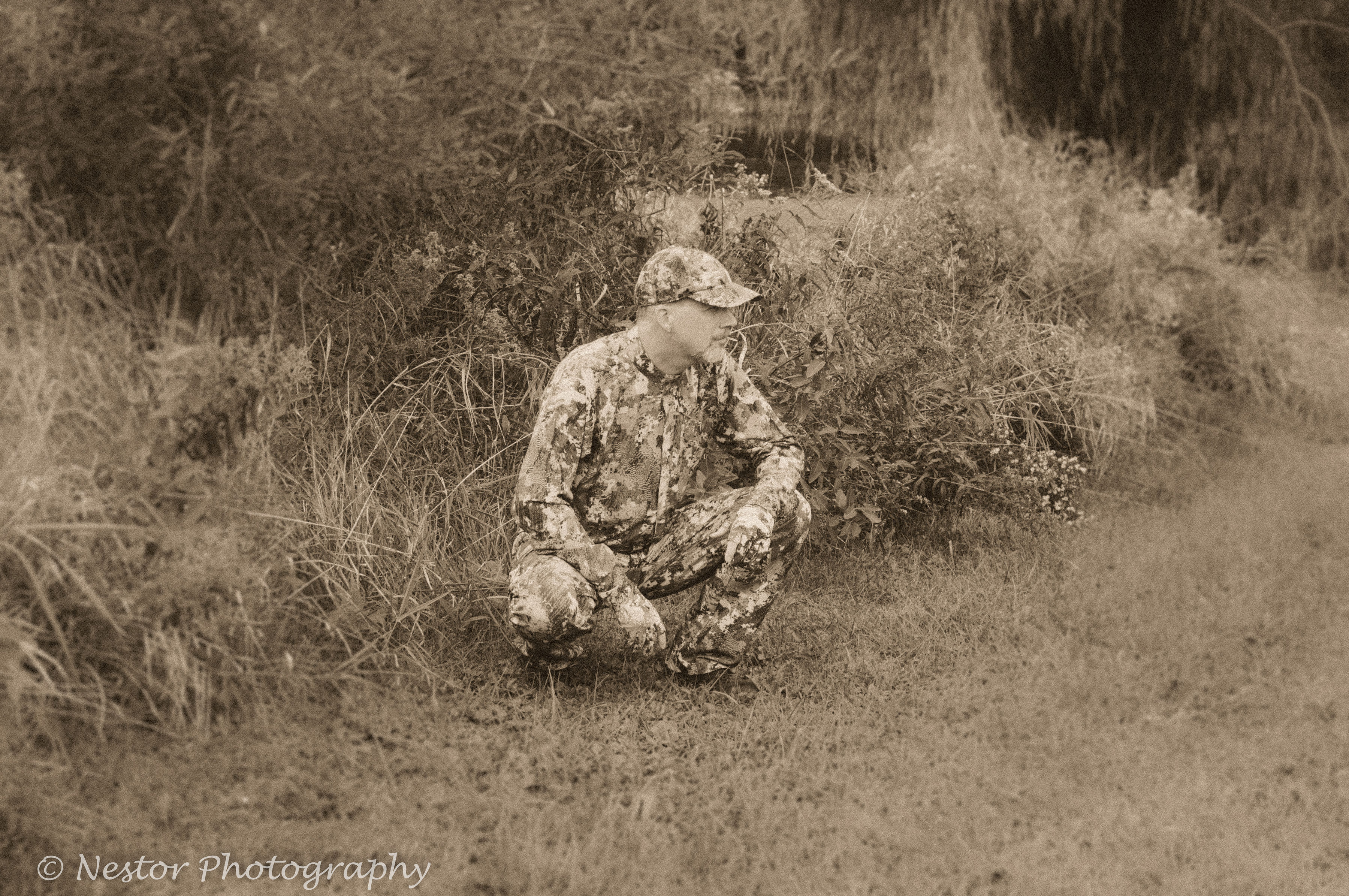 So far while wearing this gear, I have noticed animals often look right through me and not at me. They often see the human face like a neon sign, and I think I may have spooked a few deer because of it. While I did not test the Sitka Face Mask or the Core Lightweight Balaclava, those products would cover my face quite well and likely complete the camouflage package.
Overall, I can certainly say the Sitka Gear Early Season Whitetail Series is built for the heat and will keep you well hidden from deer. I'll be eager to put it to the real test once I start my first hunts of the season. Check this line and other great products at the Sitka Gear website.
Do you like articles about the outdoors? Click here to view more articles by Eric Nestor. You can follow him @ericthewoodsman on Twitter, The Classic Woodsman on Facebook, and @theclassicwoodsman on Instagram. You can view more Nestor Photography photos at Nestor Photography.
NEXT: SHOTS FIRED: SHORT LANE GUN ADAPTERS PATHFINDER SERIES
Enjoy the outdoors?
Sign up for daily stories delivered straight to your inbox.