Bear Archery has been a leader of the bowhunting pack.
Bear Archery is one of the foremost makers of archery hunting equipment in America today, and anyone interested in bowhunting should definitely give them a look.
Bear Archery was founded by Fred Bear way back during the Great Depression, when hunting was a vital way for many people to put food on the table. Even though today that might not be so pressing for many people, archery remains a superb sport that demands excellent equipment - which Fred Bear's company still produces.
Through time, the Bear name gained legendary status among sportsmen and women as a brand of quality, continually furthered by Fred's dedication to advanced design and workmanship.
The limbs on Bear Archery bows are impressive: the compression molded limbs are made with continuous, uncut fibers for an extremely durable and efficient to no end.
One of the great things about Bear Archery is that they can provide useful bows for the younger members of the family thanks to an extensive range designed for children. Some of their bows such as the Scout and Wizard are made for children as young as four or five, and they can graduate up to larger, more powerful bows as they grow.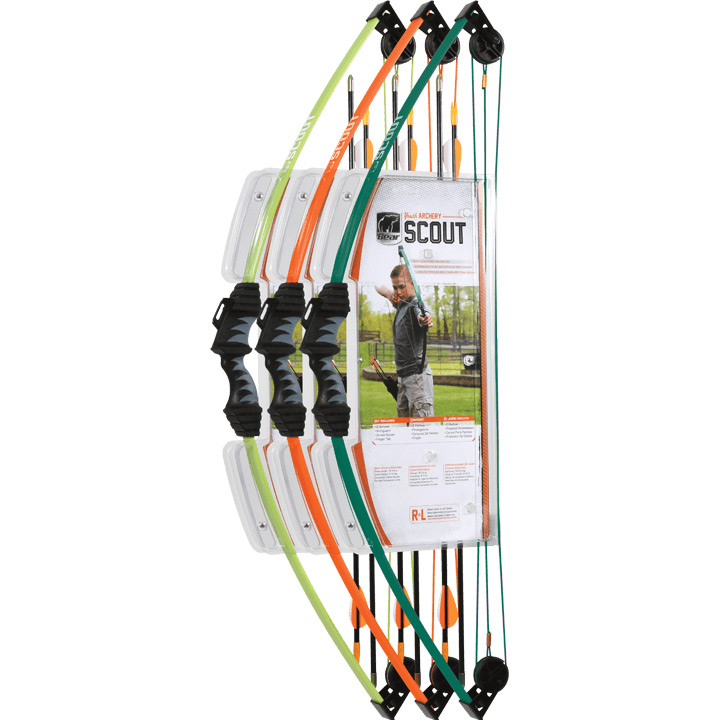 Not only does this mean they can enjoy the hunt and get practice from a young age, it also helps them develop respect for both their tools and their targets, both important things for any hunter to possess.
Once they have graduated to adult equipment (and for those already at that point), Bear has a wide selection of bows and other hunting paraphernalia. The bows come in two main types; compound and traditional.
Traditional is just as it sounds, with bows based on ancient construction methods but using modern equipment and materials to make weapons of tremendous potential rooted in the highest personal skill. One of the most refined of these bows is the Grizzly (named for an animal many of us dream of hunting with a bow), with a profile that would not look out of place in the army of King Edward III but built from strong modern materials for comfort, durability, and accuracy.
Compound bows are much more complex designs that are rooted in modern developments in archery and in bow construction. Though still recognizable as bows, they are powerful devices that use these modern developments (as well as modern materials) to create bows which are easier to wield and have enormous power for the hunter.
A bow such as the Kuma is the perfect example of this, combining all the elements modern bow hunters desire into a sleek, compact package of pinpoint accuracy and fatal power.

Hunting with bows and arrows provides different challenges to hunting with guns, but in both cases high-quality and reliable equipment is a must.
Bear Archery is one of the best makers of such equipment for bow hunters and it is hard to see how a hunter, whether novice or experienced, could go wrong with Bear equipment.
NEXT: BEAR ARCHERY INTRODUCES PERFECT INTERMEDIATE BOW
Enjoy the outdoors?
Sign up for daily stories delivered straight to your inbox.