If you're someone who prefers to have your furry best friend by your side for all your outdoor adventures, it can be a bummer to plan a trip only to find out your chosen spot isn't dog-friendly.
The good news is that while not all of the 63 national parks and 424 national park sites in the country allow dogs, many do! However, most have strict rules about where your pup can hike or stretch their legs mid-road trip. (Both for their safety and, in some cases, to protect endangered wildlife in the area.)
So, we've curated a diverse list (and some pro tips!) that will get you started, no matter where in the country you find yourself. Although this isn't an exhaustive list of parks that allow dogs, it is a list of ten popular national parks worth the trip that allow you to bring your dogs along for the ride.
1 of 10
Padre Island National Seashore, Texas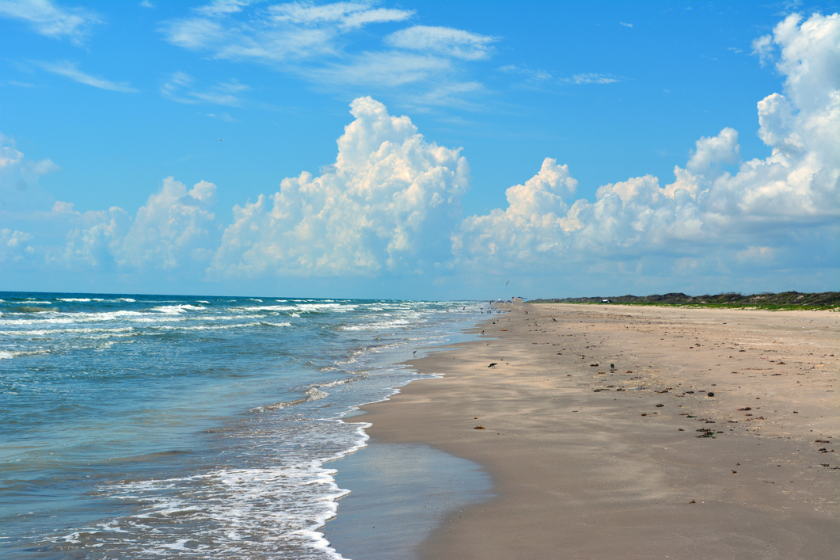 Located in southern Texas along the Gulf of Mexico, this national seashore offers over 60 miles of beaches where you can camp among diverse species of wildlife. However, all of those creatures do come with some important guidelines for pets: Protecting endangered animals in the area requires pet owners to keep their dogs leashed at all times.
Doggie life vests are recommended during playtime in the ocean, and be sure to pick times to swim when the tide is low and the water is calmer for pet safety!
2 of 10
Grand Canyon National Park, Arizona
The most recognizable of the national parks, Grand Canyon National Park is located in southern Arizona—and you and your pet are welcome to explore all 13 miles of the South Rim Trail. Although one of the most dog-friendly national parks in the country, the arid, dry climate should definitely be taken into consideration; make sure your pup stays hydrated throughout your excursions!
Pets aren't allowed on the shuttle buses and can't go below the rim, but are welcome at Mather, Desert View, and Trailer Village campgrounds. This park also offers pet-friendly lodging and a kennel where your pet can spend the day if you want to see parts of the park where pets aren't allowed, like at the Yavapai Lodge.
3 of 10
Great Sand Dunes National Park, Colorado
Just a bit further north in Colorado is a lovely array of grasslands, wetlands, alpine lakes, forests, and tundra just ready to be discovered by you and your four-legged friend. The star of the show is a tall ridge of dunes between the Castle Creek Picnic Area, High Dune, and the adjoining Great Sand Dunes National Preserve. Medano Creek is the perfect location to cool off after a romp in the sand with your pup!
Heads' up, though: Sand can often get hot in the summer, so pup booties could be useful to protect their paws.
4 of 10
Shenandoah National Park, Virginia
Where mountains meet the sky and the Appalachian Trail breaks out to scenic overlooks, there are more than 500 miles of trails to explore in Virginia. Dogs are allowed in and around forests and waterfalls just a few dozen miles from Washington DC. Only about 20 miles in the park are off-limits due to the potential difficulty that dogs may have in navigating certain trails safely, but you'll find that most trails have significant cover for shaded, peaceful hikes.
5 of 10
Indiana Dunes National Park, Indiana
Just 15 miles long, this park in middle America is a natural marvel formed by retreating glaciers. (It also gives you the benefit of a spectacular breeze off Lake Michigan!) This water wonderland is perfect for splashing around at the dog-friendly beach, and the various ponds, marshes, and creeks are also perfect for letting your puppy's nose lead! This ecosystem of diverse plant life is also a sight to behold. Just be sure to keep your pup leashed—even while swimming.
6 of 10
Yosemite National Park, California
Out west in California, all roads, sidewalks, and bike paths on the 11.5-mile Yosemite Valley Loop trail are open to dogs, as well as on the easier 2.25-mile Wawona Meadow Loop. Although dogs are welcome on select campgrounds, there's no pet access on shuttles or in lodges. The dog kennel in Yosemite Valley is available between late May and early September, and dog reservations are recommended if you'd like to backpack overnight.
7 of 10
Congaree National Park, South Carolina
A leash is all your pup needs to explore the campgrounds and trails at this park nestled in South Carolina. (Make sure it's six feet maximum, though!) This park features the largest intact area of bottomland hardwood forest in the southeastern region of the U.S.—and it's one of the least visited national parks, so you won't have to deal with as many crowds.
Because of the typically humid and hot climate in this area of the country, it's not advisable to leave pets in vehicles (even if it's your residence of choice), and pets can't be left unattended for any period of time.
8 of 10
New River Gorge National Park and Preserve, West Virginia
If you're looking for something lush, take a walk alongside one of the oldest rivers in the country located in West Virginia. Miles of trails with great views are the perfect backdrop for you, your family and friends, and pets. Commemorate the moment with stellar photography of Sandstone and Brooks Falls.
Your four-legged friends will love exploring the waterways, but be sure to bring extra water for your pet to drink. Streams may contain harmful bacteria or parasites such as Giardia. Water fountains are available at every visitor center.
9 of 10
Acadia National Park, Maine
Outside of specific areas that require opposable thumbs, pups are allowed on over 120 miles of hiking trails at this park located on the coast of Maine. Rocky trails meet periwinkle waterways, offering fantastic views just perfect for dogs in tow. Dogs are even allowed on shuttles in the park!
But keep in mind they can't explore certain trails due to difficulty in terrain (Sand Beach (June 15-Sept 8) and Echo Lake (May 15-Sept 15) are off limits to pets during those respective windows. Otherwise, if you clean up after your best friend and keep them on a leash at all times, you're free to explore.
10 of 10
Wrangell-St. Elias National Park and Preserve, Alaska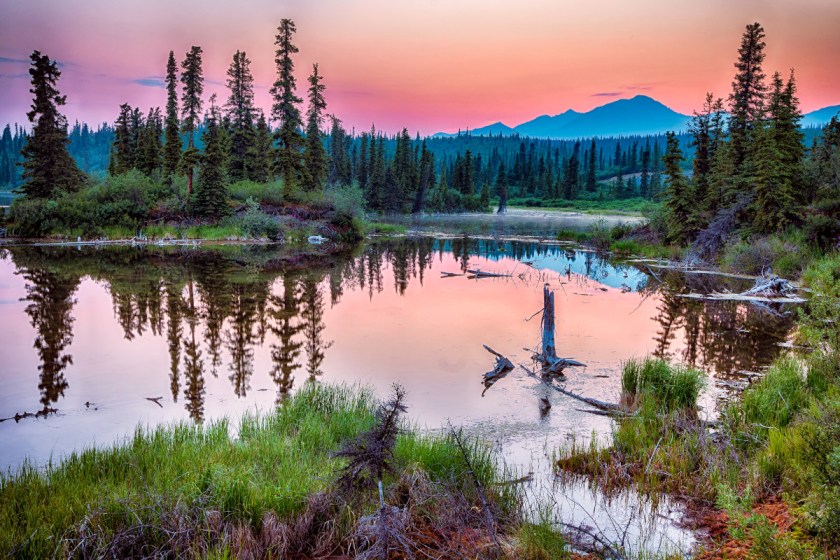 Yes, Alaska! This park could perhaps be a bit further to get to than most hikes, but well worth it. At 13.2 million acres, this is the largest national park in the country and has multiple mountain ranges capped with snow—we're talking postcard views, folks. Summer months are usually best to navigate the narrow roads that access the park, but once you're in you have carte blanche to explore with your leashed dog throughout the backcountry.
Tips to Make Visits Go Smoothly
Is my dog allowed at state parks? Dogs are allowed at all state parks as long as they are on an attended leash of no longer than 6 feet, are under the constant control of their owner, and are on pedestrian trails only.
Am I allowed to have my dog off-leash? As a general rule, keep pets on leashes that are six feet or shorter (none of those retractable ones!) Also, pets (unless they are service dogs) are almost never allowed in buildings at national parks.
Do I really need to carry waste bags? Yes, really. Cleaning up after your pet ensures natural preserves remain pristine for all who maintain and enjoy them.
I'm a van-lifer. Can I leave my dog in my van while I hike? As a general rule, plan to take your pets with you on your excursions, and never unattended in vans or tents. Even cooler climates don't necessitate leaving animals behind, and bystanders may have cause for concern and report unattended pets to authorities.
What if my pet is a service animal? Service animals are allowed to accompany owners wherever they go by law. Call ahead to park administrative personnel if you have additional questions.