National parks get a lot of buzz but there's another whole set of parks you should have on your list to visit: The best state parks in the United States are glorious, shiny gems flying just under the radar.
State parks are often far, far less crowded than their national brethren, and often there's one much closer to your home for quicker weekend adventures. As a bonus, state parks often allow you to bring dogs, as long as they're leashed.
Most of all, these state parks are every bit as worthy a visit as any of the national parks. There are the cascading waterfalls of New York's Letchworth State Park, the cool, misty caves of Ohio's Hocking Hills State Park, the secret sparkles encrusted in stone in Arkansas's Crater of Diamonds State Park, and so much more. Plus, state parks are often a little less tourist-packed and less pricey to visit.
With more room to roam and extra wiggle room in the wallet, time wasted rambling in any of these places is time well spent.
1. Alaska: Kachemak Bay State Park
If you're looking to absolutely get away from it all, Alaska is the place. And it doesn't get much more remote than the 400,000 acres of Kachemak Bay. One of the more unique things about this park is the opportunity to not only see the usual bears, moose, and wolves of many other state parks, but the opportunity to see sea life like whales and seals, too.
For those looking to really leave civilization behind, it'll be pretty easy. The park can only be reached via boat or airplane!
2. South Dakota: Custer State Park
Located in the beautiful Black Hills of South Dakota, this 71,000-acre park is chock-full of ambling bison and beautiful vistas. One could easily mistake parts of Custer for a National Park if they didn't know any better. It's a wildlife viewer's dream location, as elk and other animals frequent the park throughout the year.
As if the beauty of Custer wasn't enough, the park is in close proximity to Crazy Horse Memorial, Wind Cave National Park and Mount Rushmore. A trip to the area can make for one heck of a vacation!
3. California: Prairie Creek Redwoods State Park
Everyone should visit the California Redwoods at least once. It's not often you get to see 200-300-foot tall trees! Once you see them, you never forget them. There are also plenty of hiking and biking trails and opportunities to camp. In fact, this park is home to the world's most extensive old-growth redwood trail system, giving visitors a chance to see what a redwood forest looks like before it was ever logged. Even just a drive down the main road lined with trees as big as skyscrapers is enough to inspire awe in young and old at this park.
4. New York: Letchworth State Park
Huge waterfalls and stunning canyon vistas? If one didn't know any better, they'd swear they were in a more western state and not central New York. You'll definitely want to bring your camera along for this one as it is spectacular year-round.
There are also ample opportunities to take in the area's history and for hiking, biking snowmobiling and more in this park that is often also referred to as the "Grand Canyon of the East."
5. Tennessee: Falls Creek State Park
Packed with waterfalls including the 256-foot tall Fall Creek Falls, it's easy to see why this is the most favorited state park in Tennessee. There are also plenty of trails and camping opportunities in this 29,800-acre park that is the largest state park in the Volunteer State.
6. Texas: Big Bend Ranch State Park
You know what they say, everything is bigger in Texas. And that goes for their state parks as well! At 311,000 acres, this is not your average state park. There's a staggering 238 miles of trails for mountain bikers, hiking enthusiasts, and even horseback riding. As you can see from the picture above, it is also a great place for some stargazing. This is the perfect weekend road trip getaway from some of the more populated areas of the Lone Star State.
If you love remote desert landscapes, it seems Big Bend might be the place for you.
7. North Carolina: Chimney Rock State Park
This 6,807 acre park offers plenty of trails and spectacular views, but you can also take in some rock climbing here in this park that's signature features are a granite monolith balanced rock and 404-foot waterfall.
You may find you recognize parts of Chimney Rock even if you've never been there before. Parts of the film "The Last of the Mohicans" were filmed here in 1992 including some of the final spectacular final fight scenes up on the cliff edges.
8. Ohio: Hocking Hills State Park
This one is a bit of a hidden gem. Who would think southern Ohio would hide spectacular canyons, waterfalls and some very challenging hiking trails?
If you thought Ohio was a dull state, I can guarantee you'll never look at the Buckeye State the same way again after exploring the wonders of this cool park.
9. Arkansas: Crater of Diamonds State Park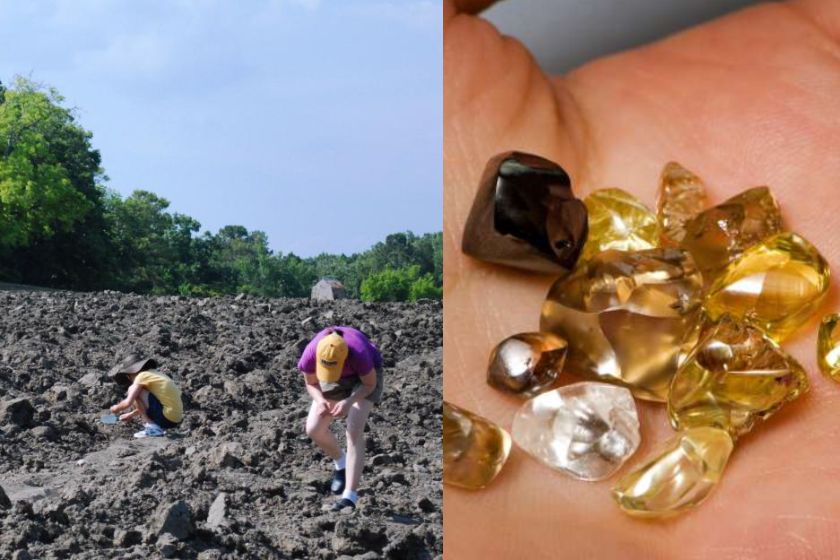 Most state parks offer camping and great views as their main points of attraction. But if you're looking for an outside-the-box type of experience at a state park, look no further than Crater of Diamonds. That's because you can actually hunt for diamonds at this park and if you find any, you get to keep them.
How many state parks can boast something like that?
10. Minnesota: Itasca State Park
This one is definitely one for the fishing enthusiast to look at. With 100 lakes within its 32,000 acres, anglers should have no issues finding something to do. Kayak and canoeing enthusiasts will also find a lot to love about the boating opportunities presented here.
While you are in Itasca, make sure to check out the headwaters of the mighty Mississippi River as it begins its long journey to the Gulf of Mexico.
11. Wyoming: Hot Springs State Park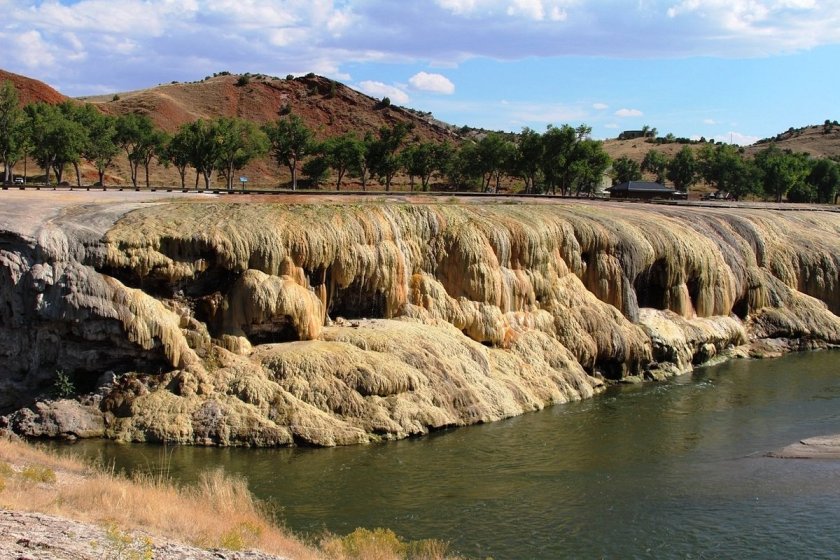 When it comes to thermal features, Yellowstone National Park is king in the U.S. and Wyoming. But there's another cool and lesser-known thermal area in Hot Springs State Park in Thermopolis.
This park, Wyoming's first, is unique in that it offers a mineral bath house, petroglyphs, and even a small bison herd. There's something for just about anyone to see at Hot Springs. This is a great day trip option from bigger tourist destinations like Cody or Jackson Hole.
12. Kentucky: Natural Bridge State Park
Natural Bridge State Park has just that: naturally-formed rock arch bridges, and they are spectacular. There's plenty of great hiking to be had on the 20 miles of trails and spectacular views to take in. If hiking isn't your thing, there's also a skylift that canprovide just as stunning of views. Don't forget to bring a camera or you'll be sorry.
13. Kansas: Kanopolis State Park
For both hunters and fishermen, there are plenty of opportunities afforded in this 22,000 acre desert park that includes a sizeable 3,000 acre lake. There are also plenty of places to camp and nature trails for those who simply wish a nice walk through the sandstone desert landscapes.
14. South Carolina: Hunting Island State Park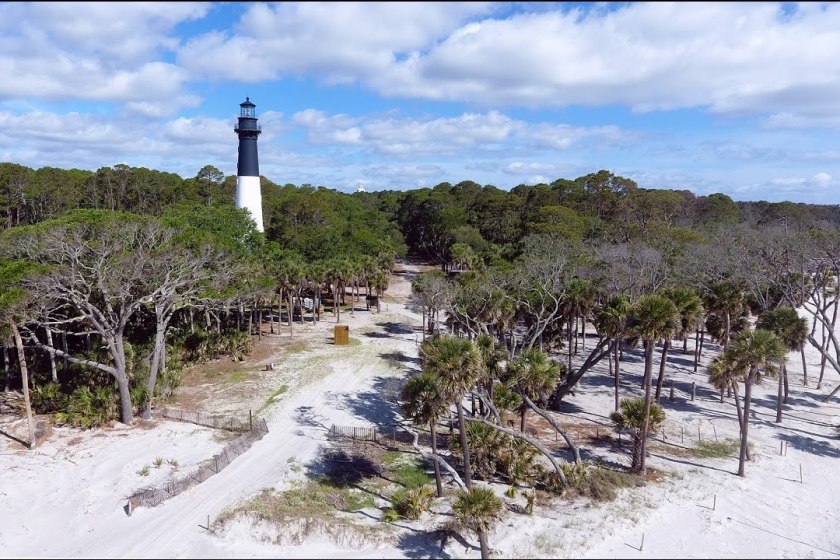 Beaches are the hallmarks of this 5,000 acre park that is the most-visited in South Carolina. There are plenty of fishing and wildlife viewing opportunities to be had as well.
As an added bonus, one can take in the history of the 19th century Hunting Island Lighthouse.
15. Alaska: Chugach State Park
It was an easy call to put two parks from Alaska on this list. Chugach is 500,000 spectacular acres of wilderness where one can very easily get away from it all. This is also a place where one can have a once-in-a-lifetime hunting adventure. It may be worth it to put Chugach on your bucket list someday.
16. Georgia: Tallulah Gorge State Park
Camping, hiking, fishing and whitewater rafting are all popular attractions at this 2,700 acre park. But the main attraction may be the spectacular Tallulah Gorge which hosts six waterfalls over the course of a mile.
17. Indiana: Turkey Run State Park
The Hoosier State is yet another place you wouldn't think of to look for big gorges and beautiful views, but that's what this park offers. This park features a number of sandstone gorges that stand in stark contrast to many of the surrounding areas.
Also make sure you check out the historic old Cox Ford Covered Bridge, it's a great photo opportunity.
18. Nevada: Valley of Fire State Park
Never heard of Valley of Fire? It's not surprising. This 46,000-acre park is considered to be a hidden gem by many. Spectacular desert red rock formations, natural arches, petrified wood, petroglyphs and more can be found in this park just Northeast of Las Vegas.
19. Illinois: Starved Rock State Park
The "Land of Lincoln" is another state you wouldn't think to host a cool state park. But you'd be wrong. This 2,630 acre park is relatively easy to access approximately 100 miles west of Chicago. The signature attraction is the canyons and waterfalls which stand in stark contrast to the mostly flat lands and cornfields just a few miles outside the park.
20. Oregon: Ecola State Park
Better known for it's iconic lookout spot Crescent Beach, Ecola State Park is the epitome of the Oregon coast. With one heck of a seaside view and really neat rock formations jutting into the ocean, this is an easy must-see. Also, if this place looks familiar, it's because you've probably seen in before in many movies including the cult classic kid's movie "The Goonies."
21. Montana: Makoshika State Park
This park's claim to fame is the many dinosaur fossils that have been discovered here. Montana's largest state park at 11,000 acres, there is also a small campground and many nature trails and cool rock formations to take in.
The area is also open to hunting for anyone seeking a monster Montana buck.
22. Utah: Dead Horse Point State Park
Utah is probably best known for its many popular National Parks. As a result, a park such as Dead Horse Point kind of flies under the radar even though it offers spectacular high desert views just as cool as some of its more popular counterparts.
23. Wisconsin: Devil's Lake State Park
Giant quartzite cliffs, glacial moraines, Native American mounds and more can be found at this 9,200 acre park. There's also plenty of kayaking, fishing and camping fun to be had in this big park. Little wonder it's also Wisconsin's most-visited state park.
24. Michigan: Porcupine Mountains State Park
The "Porkies" as most Michigan residents refer to them, are the only mountains within the Great Lakes state and are filled with majestic views and rich history. It's also one of the few places in Michigan where moose can be found. Hikers will some enjoy some of the best of Michigan's natural beauty exploring the miles and miles of hiking trails.
Fall is an especially popular time of year to visit Porcupine Mountains when the leaves on the trees begin to pop with bright colors.
25. Missouri: Ha Ha Tonka State Park
This Lake of the Ozarks park has a funky-sounding name, but it is rich in recreational opportunities and has some pretty crazy history. Not many state parks can claim to have the ruins of a castle built in 1905 like Ha Ha Tonka does. Take some time to explore the ruins before checking out the lakes, caves, sinkholes, and bluffs in this 3,700-acre park.
Honorable Mention: Virginia/Kentucky: Breaks Interstate Park
Located on the Kentucky/Virginia border, Breaks is a unique state park in that is administered by a compact between the two states. But beyond that, it also has some absolutely stunning views of the canyon in the area. And for a little bit of history, the Breaks were named by Daniel Boone in 1767.
State parks don't get quite the love the National Parks do, but as you can see by this list, there are some awesome locations just waiting for you to explore here in the U.S. Be sure to check some of these locales out on your next vacation!
Read More: The Closest National Parks for Every State Without One
Enjoy the outdoors?
Sign up for daily stories delivered straight to your inbox.