Don't ever give alcohol to dogs.
But do give them this toy that looks like a bottle of alcohol.
Tito's Handmade Vodka in Austin, Texas is known for their love of dogs, and 100% of the merchandise sold on site goes to their non-profit partners. One of the charities they benefit includes Emancipet which makes spay/neuter services affordable for pet owners and provides medical help to pets in need.
So, not only are dog lovers helping pets in need when they buy this new vodka dog toy, they are also including their dog in the party.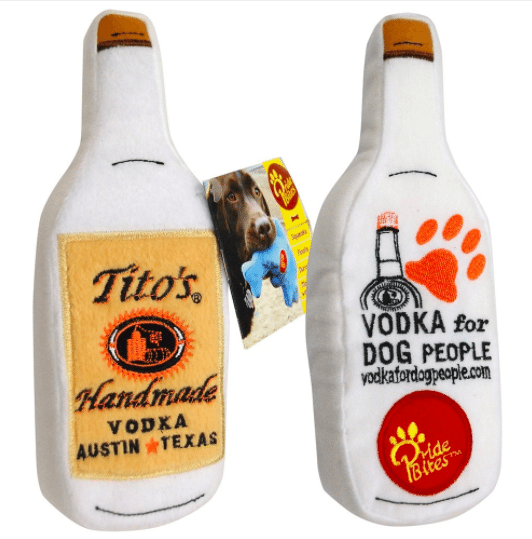 Tito's pawtnered with PrideBites to make the little vodka bottle plush dog toy that squeaks, floats, is durable, and machine washable.
The toy costs $10.00 which all goes to helping Tito's achieve their mission to create a world with fewer homeless pets. They even have a special Vodka for Dog People website complete with a doggy Spotify playlist.
Here are some Tito's pet owner fans enjoying the vodka dog chew toy.
https://www.instagram.com/p/BeWuYcwgUKm/
https://www.instagram.com/p/BaITbOEFtIX/
https://www.instagram.com/p/BZMt0dAAWCa/
https://www.instagram.com/p/BYb-k9nARg-/
https://www.instagram.com/p/BTFV2ypgDze/
Now, that's a toy we can get behind!
Follow Tito's Vodka on Instagram to see lots of cute dogs around vodka, but never drinking it, don't worry.
Will you buy this dog toy? Tell us in the comments below.
WATCH NOW: Major Dog Toys Are Built to Last
Enjoy the outdoors?
Sign up for daily stories delivered straight to your inbox.