He is considered by many to be the greatest harness racehorse that ever lived.
That's why, on Thursday, a Minnesota lawmaker introduced a bill to honor the great racehorse Dan Patch as the official state horse.
State Sen. Dan Hall, who introduced the bill, is a Republican whose district includes the city of Savage, Minnesota. He is a big fan of Dan Patch, the American Standardbred pacer, who was owned by Marion Willis Savage and made horse racing history in Minnesota.
Dan Patch was born in Indiana on April 29, 1896, and may have spent his life making deliveries if not for a local trainer who saw his potential.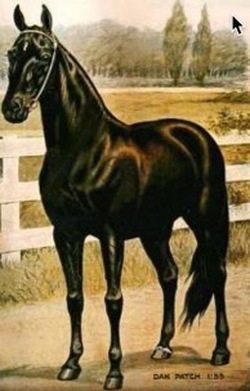 As his original owner, Dan Messner from Oxford, said:
"The only redeemable feature about the little fellow was that he was friendly and cute. I honestly thought the colt's future would be confined to hauling a delivery wagon."
But luckily his talent was noticed, and a few years later in 1900 he was sold to M. E. Sturgis of New York City for $20,000. His next owner, Marion W. Savage of Minneapolis, who wanted the horse to advertise his business, the International Stock Food Company, would buy Dan Patch for $60,000 in 1902 ($1,700,000 in 2017). It was with Marion Savage that Dan would make harness racing history.
Dan raced on the national circuit and set many speed records, the most impressive of which took place on Sept. 8, 1906 at the Minnesota State Fair race track. There, in front of 93,000 spectators, he set a new world record for pacers of a mile in 1:55. The record has been equaled just once since, but never broken. The harness horse became one of the most famous athletes of the United States in the early 1900's.
Though Dan passed away in 1916, Hall believes his inspirational story is worth keeping alive.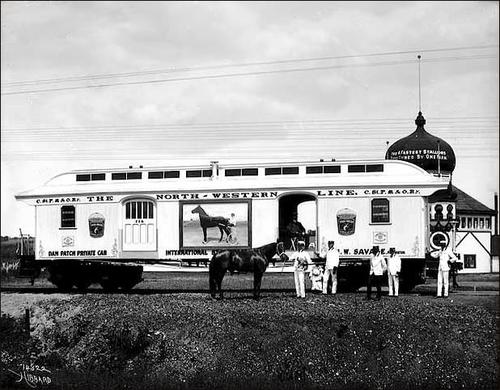 "I think it's a big enough deal for the whole state to take a look at Dan Patch being one of the greatest horses, the greatest pacer probably that's ever been out there."
This isn't the first of Hall's efforts to honor the famous horse. Last year he pushed through a bill to provide $75,000 from the state sales-tax fueled legacy fund to have a statue of Dan Patch erected in Savage. The great pacer already has his own street, Dan Patch Avenue, located on the Minnesota State Fairgrounds, where he once made history. The great Dan Patch is believed to be buried in an unmarked grave at his original stables, The Taj Mahal, but there is a memorial tombstone in Oxford.
You can learn more about this famous horse from the book "Crazy Good: The True Story of Dan Patch, the Most Famous Horse in America" by Charles Leerhsen.
Do you think Dan Patch should become the state horse of Minnesota? Share your thoughts below.
All images via Dan Patch Historical Society.
WATCH NOW: The Lollipop Was Named After a Racehorse