Dog owners know that water is made for doggie swimming all day long, especially during the summer. It is one of the best ways for humans and pups alike to keep cool when temperatures are soaring. Not to mention, water is incredibly relaxing. My pup loves swimming so much that she won't leave the water no matter what time of year it is! She loves to splash, play, and swim. It doesn't matter if it is in a pool or in a lake, she is all over it. If there are birds or something else to chase, even better. However, our mix-breed water-lover is equal parts dog breeds that are known for making a splash.
As all dog owners know, the love of water vs. being on dry land can vary by dog breed and size. Labrador Retrievers love spending time in large bodies of water, though there are always a few exceptions. But what about some of the small dog breeds that aren't really known for spending time in the water? Breeds such as dachshunds, chihuahuas, and other tiny-legged fur friends aren't really known for their swimming prowess. But, many doxie owners may wonder, can a dachshund swim in a pool? Dachshunds aren't known for their swimming prowess, but these cuties in a viral TikTok video, prove they really are hot dogs with their doggie paddle talents.
RELATED: 6 Heavy-Duty Pool Floats for Dogs That Love the Swimming Pool
While Dachshunds are not known to be natural swimmers due to their short legs. But these little doxies are having the time of their lives in the shallow water of this swimming pool. Set to the Bee Gees with a little In Da' Club thrown in for good measure, these little sausages are paddling almost perfectly to the song's beat.
The dachshund swimming in the pool near the end of the TikTok video looks like he is made for the water. Their long bodies wiggle through the water as the small dogs paddle through the fresh water. These wiener dogs prove that hot summer days are meant to be spent in the pool no matter your size.
How Do I Get My Dachshund Dog to Swim?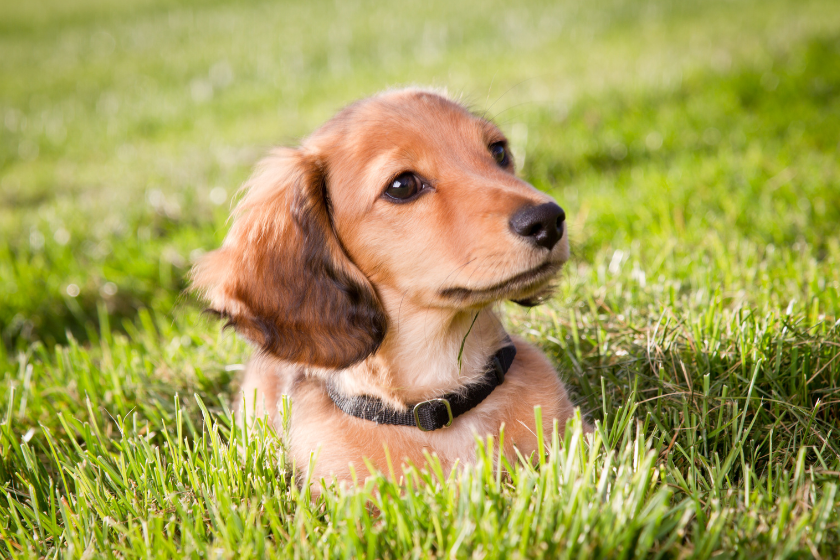 It's true that not all pups are good swimmers, and it's not just doxies. Bulldogs and Basset Hounds are not known for being the best in water. If you want to see your dog swim around in a pool like these cuties, keep in mind that they aren't really strong swimmers due to their short legs. The first time dachshunds swim should not be in deeper water. Water safety should be top of mind when giving your pup swimming lessons. Start in short spurts in a paddling pool to get your dachshund used to being in the water. It may take some getting used to, but your pup can learn to like being in the water, even though it might not be its favorite thing.

To keep your pup safe in the water, outfit them with a dog life vest. Vests like this one from Amazon will keep your pup buoyant until they nail that doggy paddle. It comes in a wide variety of sizes and colors, so your good boy can don a blue, bright green, or even camo. The vest is also adjustable around the neck and waist for pups who are slightly in between sizes. If your dog is a life vest first-timer, it may not be a fan. However, if you start using a life vest at a young age, your pup will get used to the feeling and swimming. Give older pups a little time wearing their new vest outside the water before jumping into the deep end.
Our editors independently select products featured on Wide Open Pets. However, we may earn a commission when you buy something through our link.
Does your dachshund love swimming? Show us some pics over on our Wide Open Pets Facebook page!
This article was originally published on July 1, 2021.
Enjoy the outdoors?
Sign up for daily stories delivered straight to your inbox.