?If you're a cat lover, you're in luck. Cat Person and their high-quality pet products are designed with cat owners in mind.
No one loves your feline friends as much as you do, except maybe for Cat Person, and their cat bed is crafted for your kitties' ultimate comfort in mind, but does it pass the sniff test from one temperamental tortie?
What Comes in the Box?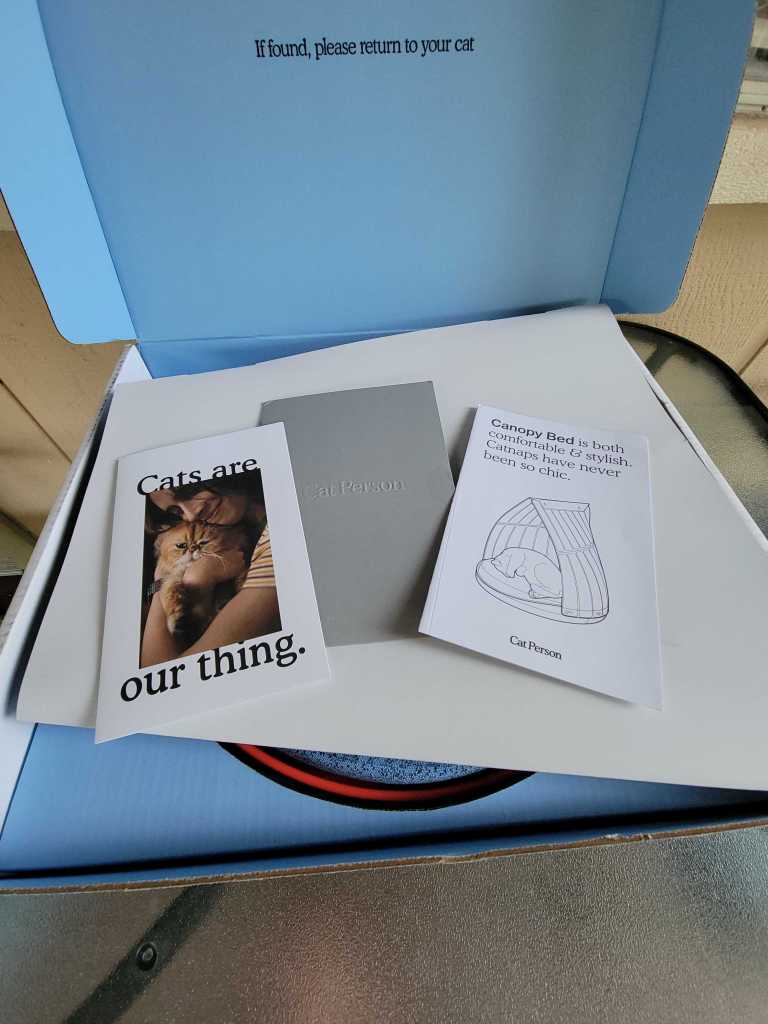 Needless to say, my tortie and I were excited to give the cat bed and its comfortable memory foam cushion a try. Bandit and I waited patiently for the box to arrive and were excited when a slim box labeled Cat Person was plopped on our doorstep. The slim box comes well packed and neatly organized upon delivery.
The box was well organized, with the canopy tucked securely into its own sleeve. It was nestled on top of the base, which was securely packaged on the bottom. The soft bed also came with ever-important instructions for putting the bed together and a pamphlet about the company.
How My Cat Felt About This Colorful Canopy Bed?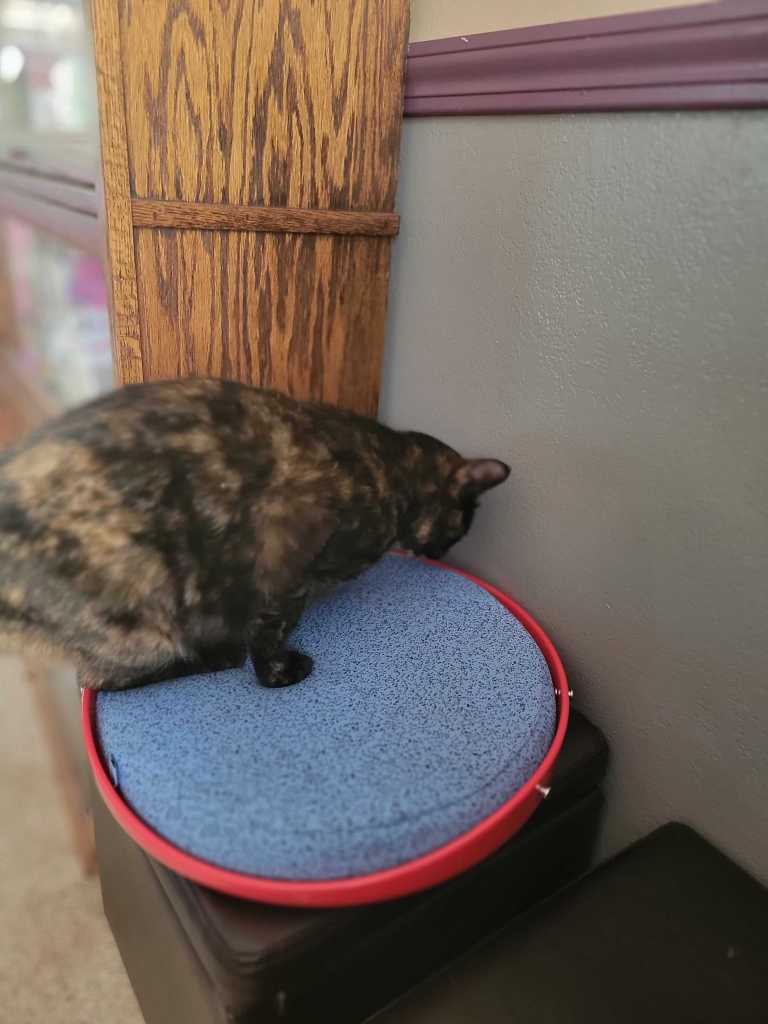 My six-year-old tortoiseshell feline Bandit got to experience the wonderful cushiness of the canopy bed in the Jungle color. For a pet parent FYI, it also comes in Tundra, a mix of ice blue and burgundy, and Savanna, a light gray and forest green.
As far as cat furniture goes, it is pretty cute. It fits in nicely with the decor in the house and even looks cute out on the porch for when our kitty goes out to sun herself. Its size makes it fit easily into any corner of your home and is relatively unobtrusive.
The sculptural design of the cat house can be adjusted to your feline friend's preferences. The felt piece attaches via grommets to the cat bed base and meets at the top for a kitty hide-out. If your cat prefers a more open-air design, the sides can fold down, giving them support around the sides.
If your kitty is like mine and wants to have a 360-degree view, the felt canopy can be completely taken off as they settle into their favorite sleeping position. The cover to the cushion has a zipper in the back for easy removal. If it gets dirty, it is effortless to slide off and is machine washable.
My clever kitty has taken to sleeping on the freshly placed patio cushions since they have arrived in time for summer, so it was tough to attract her attention to the new cat bed, especially with the canopy on top. She preferred the more open-air version and was less interested in a hideyhole. Thankfully, the canopy is pretty easy to take on and off once you get started. Those first and last grommets were a little more challenging than the ones in the middle.
Overall, my silly kitty preferred to return to her now claimed lounge chair between prowling in nature.
Cat Person, a Brand For Cat People
The brand has created a line of products especially for your furry four-legged companion in mind. The New York-based startup co-founder Jimmy Wu worked with design agency Layer's Benjamin Hubert to design a collection that would rival the most creative dog bed. The resulting collection has taken the cat parent community by storm, giving them modern options for their current lifestyles.
Cat Person was inspired by Lambert Wang and his experiences with his cat, Granola, as well as co-founder Jimmy Wu's with his cat, Pebbles. Wu and Wang felt like going into traditional pet stores did not work for many cat parents' needs. Cat Person was born.
What other products does Cat Person carry?
The company focuses solely on curating products for cat owners, from pet beds to cat food and everything in between. The mesa bowl is an innovative design made to keep cat's whiskers safe while they eat their food. The modular feeding station sits on a pedestal, keeping cats from straining their necks while they eat.
You can also sign your cat up for Cat Person's meal plan and choose from dry food and wet food, which they will deliver to your home. Start with the starter box and sign up for monthly delivery that will arrive on your doorstep every four weeks. You can adjust your flavors and delivery dates as needed. Cat Person also makes kitty treats and toys to keep your kitty healthy and entertained.
Interested to see their product line yourself? Check out the cozy canopy bed and other cateriffic products on catperson.com.
What do you think of the canopy bed's functional design? Tell us over on our Wide Open Pets Facebook page!
Enjoy the outdoors?
Sign up for daily stories delivered straight to your inbox.