The measurements are in, and the 'Tennessee Tucker Buck' is now the pending non-typical world record whitetail.
It took a panel of four Boone and Crockett judges nearly four hours to complete the measuring process, but once the numbers were tallied, Stephen Tucker's non-typical buck appears to be the new world record whitetail.
Tucker, who hails from Gallatin, Tennessee, shot the monster buck on his family farm with a muzzleloader on November 7, 2016. A sixty-day drying out process needed to take place to allow for shrinkage, so on January 9, 2017, the rack was officially scored at Tennessee Wildlife Resources Agency. Tucker was in attendance.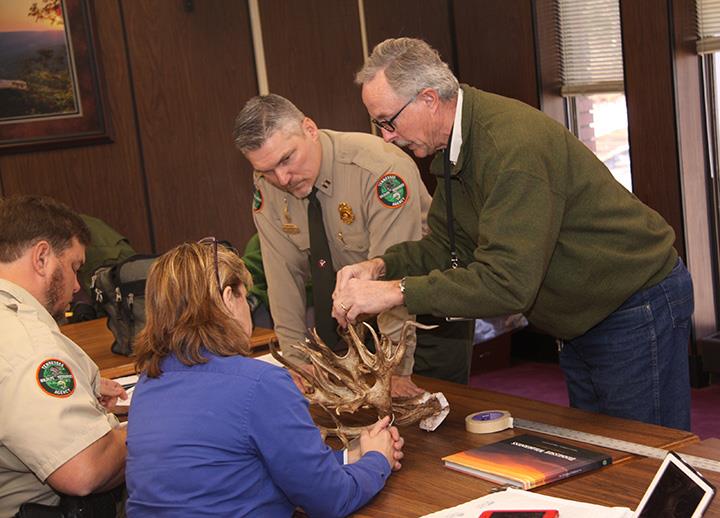 The 47-point rack received a score of 312 3/8, which beats the current world record of 307 5/8, held by Tony Lovstuen for a 38-point buck he harvested in Albia, Iowa in 2003.
"I figured it would take them a pretty good while to measure it," Tucker said. "The waiting wasn't too bad until they walked out of the room to go tally it up. That's when I realized it was close. We were about to find something out for sure."
Here is some footage showing the measuring process:
The world record is pending official certification, which will take place in the spring of 2019 at the Boone and Crockett awards banquet. A panel of two judges will re-score the antlers at that time. Boone and Crockett were notified of the pending world record score on January 9.
The Tennessee Wildlife Resources Agency also declared Tucker's deer a new state record today, eclipsing the current record of 244 3/8 shot in 2000 in Sumner County.
As for what will happen with the rack: "I'm just going to go with the flow," Tucker said. "To be honest, I was waiting for this (score) before I put a lot of thought into it. I don't have any specific plans for it at this point. All the phone calls and stuff had slowed down quite a bit in the last couple of weeks. I'm sure it will pick back up again after this."
Images and Video Courtesy of Tennessee Wildlife Resources Agency/Facebook
NEXT: WHEN THE HUNTER BECOMES THE HUNTED
Enjoy the outdoors?
Sign up for daily stories delivered straight to your inbox.