Toyota has been named the world's most valuable car brand in a BrandZ study. Now if it could get people back in sedans that would be great.
According to the BrandZ study by Kantar Millward Brown, Toyota is worth approximately $30 billion, up 5 percent from 2017, keeping its place as the world's leading car brand for the sixth consecutive year. In second place is Mercedes Benz, valued at $25.7 billion, rounded out by BMW, Ford, and Honda in the top five.
In total, it applies its methodology and scoring criteria to award the entire automotive category a seven percent rise in value due to increased crossover and luxury vehicle sales, as well as overall increase in sales worldwide for Toyota vehicles. The big model winners? The surefire hits like Camry, Corolla, Tacoma, Yaris, Rav4, and 4Runner all have top marks.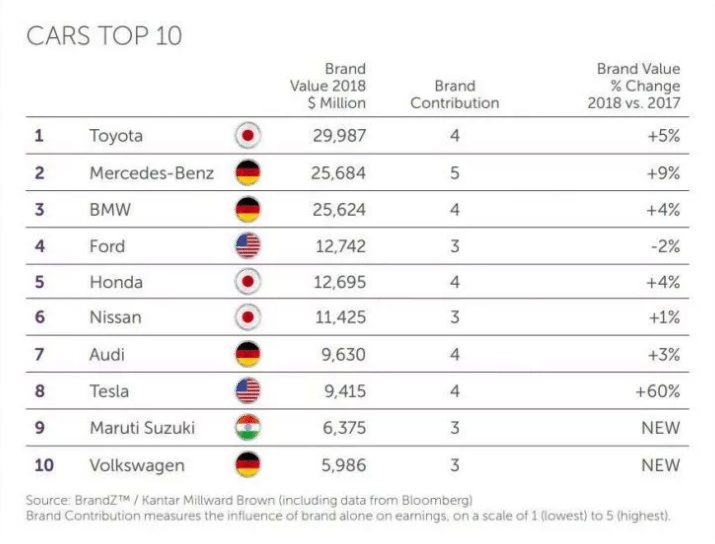 To determine the rankings featuring Toyota, BrandZ has offered the following explanation:
"In order to identify the dollar amount a brand contributed to the overall value of a corporation, BrandZ combines measures of brand equity based on interviews with over three million consumers about thousands of brands, with rigorous analysis of the financial and business performance of each company (using data from Bloomberg and Kantar Worldpanel)."
In terms of rising stars, Tesla rose the most, with a 60-percent increase in valuation to $9.4 billion. Surprisingly, Suzuki made the list, coming in 9th place.
Kantar Millward Brown is a brand research firm that delivers advertising and media insights, using proprietary databases, consulting brands on their value proposition and marketing strategy.
NEXT: Tesla CEO Elon Musk to Start New Journalist Rating Website
Watch