People might think festival season is over when spring ends, but summer brings even more incredible events worth checking out. There are so many options to choose from, that you can pick which festivals you want to go to based off what kind of music you like, what kind of atmosphere and vibes you're into, if you feel like camping or not, and where you might be interested in traveling to. So if you don't know where to start looking, check out our summer festival guide below.
EDM Festivals
Electric Forest
Rothbury, Michigan
June 23-26, 2022
Electric Forest is one of the most prominent camping festivals of the year because attendees will spend four days walking amongst illuminated trees, checking out pop-up art installations, lounging on one of the hundreds of hammocks dangling around, forming new friendships and communities, and listening to the best in electronic and jam band genres. Artists such as Disclosure, Sylvan Esso, Louis the Child, Toro y Moi, the Knocks, and many more will be performing in the depths of the magical and mystical Sherwood Forest, and it's highly recommended that you camp on site. But there are also options for luxury camping, cabins, log homes, and even hotel suites if the idea of tent camping in a forest for four days is too daunting. Single-day tickets are not available for this event, but there is a day parking lot option if you decide not to stay on festival grounds.
HARD Summer Music Festival
San Bernardino, California
July 29-31, 2022
Unlike Electric Forest, HARD Summer captures the essence of a wild summer party. The crazy three-day electronic music festival will be held at the NOS Events Center featuring big-name headliners including Zeds Dead, Porter Robinson, Nghtmre, Alison Wonderland, Madeon, and Tchami. If you want to go even harder for the event and buy VIP tickets, you'll get access to an exclusive pool where you can watch performances from, along with express entry, private viewing decks at each stage, and Wi-Fi. And if you're trying to go as hard as you possibly can during your pool party, book a Skydeck Cabana to get the best stage views and private bottle service.
Country Music Festivals
Country Music Awards Fest
Nashville, Tennessee
June 9-12, 2022
The biggest fans of country music will make their way to the honky-tonk town of Nashville, Tennessee, for the one of the most highly acclaimed country events of the year. With four days of live country music by the best of the best, the Country Music Awards Fest is the longest-running country music festival in the world. From Thursday- Sunday, downtown Nashville will be filled with large crowds of people who have traveled from all over the country to see big names such as Jason Aldean, Carrie Underwood, Parker McCollum, Keith Urban, and Darius Rucker. What makes CMA Fest great is that along with the great experiences that come with buying four-day passes, there are also free shows featuring 100+ artists, games, and activities.
Country Summer Musical Festival
Sonoma, California
June 17-19, 2022
If you're looking for a country music festival that's going to be just slightly less tumultuous, then take a trip to the West Coast to Sonoma, California for Country Summer Musical Festival. On Friday-Sunday, Sonoma County Fairgrounds will have performances by other big name country artists including Kelsea Ballerini, Blake Shelton, and Chris Young. But this event's worth is no less than CMA Fest. The festival has been voted "Best Annual Festival" and "Best Music Festival" by The Press Democrat Readers Choice 2019 awards, and recognized by Nash Country Weekly, Taste of Country, and Wide Open Country.
If you're brave enough, maybe you'll hit both fests.
Hip-Hop Music Festivals
Rolling Loud
Miami, Florida
July 22-24, 2022
The largest hip-hop festival in the world, Rolling Loud, is happening on Friday-Sunday, in the vibrant city of Miami, Florida. This is an event hip-hop lovers won't want to miss with. The most popular artists in the genre will be performing including Kanye West, Future, Kendrick Lamar, Don Toliver, Gucci Mane, and Saweetie. Elevate your experience and get away from the chaotic crowds by booking VIP, where you'll have your own festival entry, private decks for better viewing, parking and valet options, and designated hang out areas where you'll have your own waitress and busser. You might even meet a celebrity.
Made in America
Philadelphia, Pennsylvania
September 3-4, 2022
Made in America Festival is a great way to spend your Labor Day Weekend if you're a hip-hop, rap, and R&B fanatic. Although specific details on the lineup haven't been released yet, you might want to keep your eyes peeled for it since the event was founded by music legend JAY-Z. As a long-time respected tycoon in the music industry, JAY-Z is expected to curate a top-notch lineup this year as he's always done in years past. So if you like his music and trust his taste, then this is event for you.
Alternative Music Festivals
Mo Pop
Detroit, Michigan
July 30-31, 2022
After the pandemic shut it down in 2020 and 2021, Mo Pop is back for all the hipsters who have missed going to festivals that aren't overcrowded and popularly known. The diverse lineup consists of big names and rising artists, ranging from Big Sean and Jhené Aiko to Mariah the Scientist and the Marias. There will also be a craft market and flea market to check out local handmade goods made and unique vintage and collectable finds. The festival also offers a throwback-themed arcade called the Mo Arcade, where you and your group can play all your favorite classics to win prizes. Check out the website for more information on what COVID-19 precautions the event might be taking.
Day In Day Out
Seattle, Washington
August 12-14, 2022
Another hipster's dream event, Day In Day Out not only brings the best in indie in its lineup, but also other local contemporary artists coming from Seattle. Hometown artists, DJs, and bands will get to share a stage with the most popular in indie music, including Mac DeMarco, Mitski, the National, Turnstile, Cherry Glazer, and more. The event is relatively new, just kicking off its first year in 2021, but is highly anticipated by Seattle natives who plan to attend to have a successful turnout this year.
A Little Bit of Everything
Although these genre-specific festivals offer a great time for their respective enthusiasts, what makes other festivals great is that they can offer a little bit of everything. So if you're looking to watch a variety of live music, then check out these events below.
Boston Calling Music Festival
Boston, Massachusetts,
May 27-29, 2022
The northeast is perfect to visit in the summer because the weather can be ideal for standing in the middle of a big crowd. From Friday- Sunday, Boston Calling Music Festival will be held at the Harvard Athletic Complex and offers a variety of artists to see. Nine Inch Nails, the Strokes, and Metallica are the main headliners, but there will also be performances by Rufus Du Sol, Black Pumas, Earthgang, Weezer, Glass Animals, and Modest Mouse. The festival will also feature some of Boston's best local foods, varying from burgers and barbecue to international cuisines including Cambodian sandwiches, South American foods, and Middle Eastern halal. There are also plenty of savory vegetarian and vegan options that will be worth trying, even if you're neither of those.
Summerfest
Milwaukee, Wisconsin
June 23-25, June 30- July 2, July 7-9, 2022
As the largest music festival in the world, Summerfest actually runs for three weekends because of how big it is. Its lineup will feature the biggest artists in the music industry across 12 stages, including Justin Bieber, Machine Gun Kelly, the Backstreet Boys, Third Eye Blind, Barenaked Ladies, Boyz II Men, Taking Back Sunday, and hundreds more. Because of how sizable the event is, you have multiple ticket options. You can buy individual tickets to the concerts that will be held at the American Family Insurance Amphitheater, and that will also get you admission to the actual festival on the day of your show. You can also buy multi-day passes or single day passes, but these do not include the concerts that will be held at the amphitheater.
Lollapalooza
Chicago, Illinois
July 28-31, 2022
Although Lollapalooza is an incredibly popular festival to attend, navigating through the massive crowds and chaos is worth it for this year's lineup. The huge event will feature headliners such as Metallica, Dua Lipa, Machine Gun Kelly, J. Cole, Kygo, Kaskade, Green Day, and Doja Cat. However, pushing your way around Grant Park to see all the great artists on the lineup for four whole days might not sound that appealing, so there are options to buy single day tickets. But if you're not too concerned about who you want to see and you just want to enjoy good music, veterans recommend that you alternate the days that you attend and don't attend, so that you can give yourself a break in between and have enough energy for the days that you go.
Pickathon
Happy Valley, Oregon
August 4-7, 2022
While many festivals have at least a few popular names on their lineups, Pickathon actually focuses on showcasing up-and-coming artists who are worth checking out. Held at the beautiful Pendarvis Farm, the event will have multiple stages set up in its gorgeous forests, meadows, and woods, featuring rising musicians such as Valerie June, Wet Leg, Goth Babe, GZA, Faye Webster, and Sampha the Great. You'll have options to camp on festival grounds, and the event is all ages with free admission for children under the age 12 who come with a family. Discover new music and camp with your family for a lovely summer vacation in the Pacific Northwest.
Burning Man
Black Rock City, Nevada
August 28- September 5, 2022
If you're really interested in escaping reality for a week, then head to the desert in Black Rock City, Nevada, for Burning Man. This festival isn't just about the music. It's also about community, art, self-expression, and self-reliance. For over a week, around 70,000 attendees will come together to live in a different realm that not only celebrates creativity and acceptance, but also emphasizes self-awareness and community building. And it's not as simple as just booking tickets online to attend. Burning Man's ticket portal quizzes you on what you think the event is about, making sure that everyone who participates understands what it means to actually attend.
What're your favorite summer festivals to attend? Share your suggestions with us on our Wide Open Roads Facebook!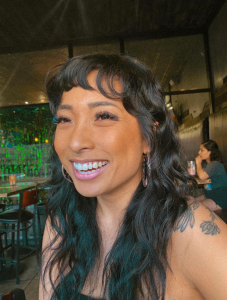 Lauren Pineda is based in Austin, Texas, and found her love for writing in local music journalism. She now enjoys writing about all the hilarious mishaps and adventures that happen when traveling somewhere for the first time and prides herself on being a budding traveler with an ambitious drive to learn more about the places she visits. Instagram: @lt.jpeg