DIY build kits from Ground Zero Precision offer a slick way to complete your custom AR15 or AR10.
Welcome to the craze. You're finally doing it, building your own custom AR-style rifle from the ground up. Now, you're facing that inevitable first question: with so many options, where do I start?
Let me introduce you to the gang at Ground Zero Precision. Like most AR parts retailers, GZP offers a full line up of parts and pieces for your next build. What separates the GZP gang, however, is their Do-It-Yourself complete build kits. Grab a lower from your favorite local gun shop and pick up one of their kits and you're good to go. Better yet, grab a lower directly from Ground Zero Precision and you've got a complete start-to-finish build kit for a custom AR, delivered to your door.
Some assembly required, of course. As CEO Philip Bennett says: "We make the world's coolest jigsaw puzzles."
The beauty of Ground Zero Precision is that the everyday consumer is able to take advantage of the buying power that a large provider offers. The kits employ parts from many popular manufacturers and some of GZP's own components. These parts are all combined into a single kit and made available at a price that's nearly impossible to beat if the average consumer were to purchase parts separately. All the way down the correct roll pins.
For this most recent build, I purchased a 10.5" Pistol Kit in 300 AAC Blackout caliber. Three days later, I was greeted with everything needed for the build delivered to my door in one magnificent little package.
A slight modification to coat a few parts in white and I was off. The kit is complete. The parts are high quality. The project was a blast. Pun fully intended.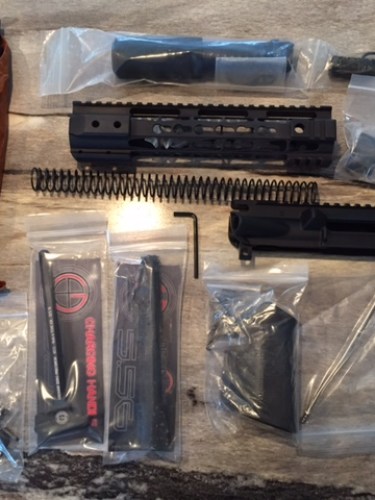 Perhaps the single greatest benefit of the AR platform is the endless lineup of options and accessories. With virtually unlimited possibilities, there's no reason any AR should be the same as another. So how can a kit actually promise that? Great question.
These DIY kits come with loads of options for you to truly create your own custom masterpiece. For example, there are 140 kit options on the GZP site for AR-15 rifles. That does not include their AR-10 options. And they make the process incredibly easy. So easy in fact you'll likely want to order your next kit right away. Like I said, welcome to the craze.
Like what you see here? If so, click here to read more great hunting, outdoor, and shooting articles by Reid Vander Veen. Also, check him out on Twitter @ReidVanderVeen and on Instagram.
https://rumble.com/embed/u7gve.v3trit/
NEXT: THIS TARGET WILL TELL YOU HOW TO IMPROVE YOUR SHOOTING