When muskies decide to not play along, things can get frustrating in a hurry.
I was recently on a Wisconsin muskie fishing trip specifically to chase fish using a combination of fly rods and traditional gear. We knew it was a challenge already since we were mostly going to be fly fishing, but otherwise, we were all in. We weren't chasing world records. Instead, any muskies that we could catch on the Vilas and Iron county lakes we were fishing were good enough for us. Unfortunately, things don't always go as planned.
Northern Wisconsin is home to some of the biggest muskies that swim in America. Minnesota likes to brag about their numbers, but the big fish always seem to hail from the central part of the Northwoods from the tip of Lake Superior, down to Hayward, along the Wisconsin River and sprawling down to Green Bay. Knowing where these fish are is one thing, but getting them to eat is something entirely different.
During the very first two days of our Wisconsin muskie fishing trip, we saw tons of action. Overall, we fished two different lakes showing activity from 15 different fish. Out of those 15, 10 were follows, with the rest being short hooks-ups and missed fish. Then, the super moon came and the primetime waters we were fishing went dead. It was at that point the real fishing began. So, what do you do when the muskies stop wanting to eat? You have to get creative.
Go Shallow
If muskies quit moving all of the sudden, something changed. Now, these fish aren't like smallmouth bass. They aren't always readily there to eat. Getting action throughout the day shows a pattern, but when things go cold, you know it. So, most likely, the fish might've gone more shallow. Their pattern changed and so you have to adapt, too. We were fishing deep weeds beds in around 10 feet of water. Most of our action was on big muskie flies and bucktails. Upon going shallower, though, we had to downsize to be able to manipulate the weeds a little better. After spending a day doing that, all we found were northern pike in abundance. However, that's how muskie fishing goes sometimes.
Go Deeper
When the fish aren't shallow, the only other possibility is that they went out a little deeper. We were experiencing some periods of high skies and bright sun. The weed beds weren't holding them, so we figured they must've gone down to the depths. We moved out to 25 feet of water off rock bars and where the weed beds transitioned into main lake. Yet again, though, no fish. By this time, we were several days into no action at all. We talked to a DNR guy at local bait shop and his report was the same from all the muskie fishermen he talked to over the week: it went dead. There were a few follows here and there, but just no fish being reported. So, it was time to try something else, again.
Open Water
With the moon phase happening the way it was, we started thinking these stupid fish must've just gone to deep water and suspended somewhere down around the thermocline stalking cisco schools. So, there we went. Most people who muskie fish either love or hate open water. It's a like casting in a desert. There's no structure, no weeds, no rocks...just water. The graphs were showing plenty of baitfish, but yet again, we just couldn't get muskies to move. We spent a day out there. One follow from a big fish did get us excited, though, but it wasn't enough to keep out there.
Start Back at the Beginning
Now the frustration starts to take over. This is what muskie fishing is all about. They don't call it the fish of 10,000 casts for nothing. On day five of getting nothing but a few follows here and there, we went right back to the drawing board. The fly rods were all but put away at this point. We switched colors on the bucktails, started throwing crankbaits, chucked some twin-double-bladed stuff, and still nothing. We did catch some northern pike back in the weed beds, but we weren't after them. So, after all that, there was still one more thing to try.
Night Fishing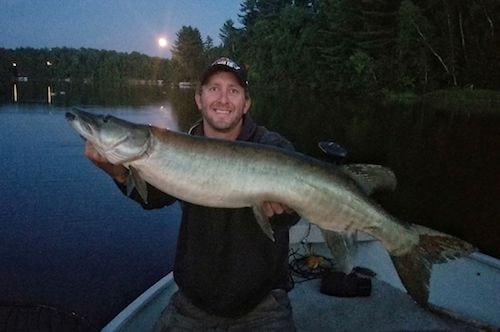 If you've never night fished for muskies, this is a special kind of torture you really need to put yourself through. The constant anxiety of a 20-pound fish blowing you up boatside is enough to make you start, then stop smoking. However, that's where we found the fish. With the huge super moon in effect, we found some action at night. They were there in about 8 feet of water right off deep weeds, just like how they were before the full moon, only in the daytime. The only problem we faced is that it was the last night of the fishing trip. After all that, we found the pattern, but it was time to leave. Wisconsin Muskie fishing just has a special way of really screwing with you sometimes.
It's no wonder muskie anglers are such a strange breed.
NEXT: REMEMBER THE MUMMIFIED HUNTING DOG FOUND INSIDE A HOLLOW TREE?
WATCH
https://rumble.com/embed/u7gve.v3tsgf/
Enjoy the outdoors?
Sign up for daily stories delivered straight to your inbox.