Once you put all the pieces together, you'll see how far Leupold is ahead of the game.
Establishing yourself as a reputable optics company isn't a simple (or fast) task. The way to do it involves time, dedication, and a way to set yourself apart from the multitude of others trying to do the same thing.
For many outdoorsmen, the name Leupold has earned that reputation. They've done it by following that formula, and consistently giving hunters and shooters exactly what they want, and precisely what they need.
The technical advancement of Leupold's optics speaks for itself, but it's the extras that put Leupold at the top of the list.
Custom Shop
Giving optics owners a customized product isn't necessarily new, and lots of companies will give buyers a choice between a couple different colors or configurations. Laser engraving and adding different finish options is cool, and Leupold does that, but what really makes their Custom Shop stand above others is the level of detail they can reach.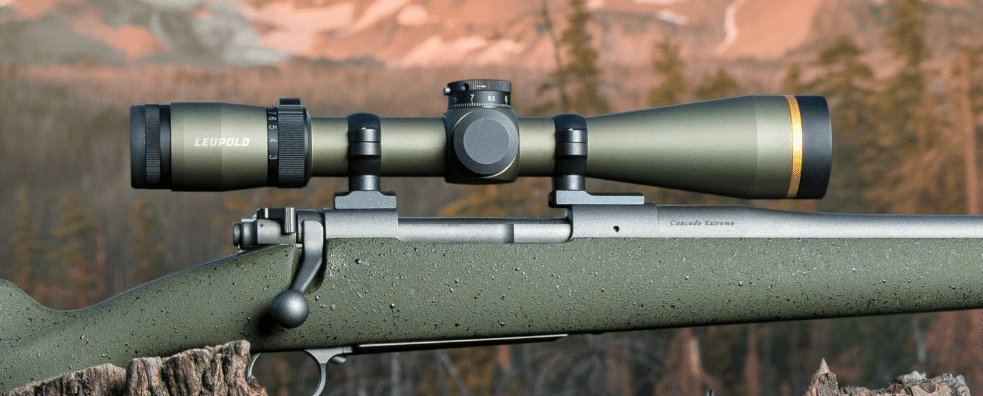 You're the one who knows your gun and how it performs with certain loads. Leupold believes you should be able to choose the intricacies of the adjustment dial and reticle that goes on your riflescope. Not only that, but Leupold can ballistically match those features to your own ballistics data, giving you the most precise and accurate operation. That leads to much more accurate readings of bullet drop at even longer distances.We're talking about custom laser engraving the adjustment dials, so that you're getting as close to guaranteed precision as possible.
Even considering all that, we think the coolest part of Leupold's Custom Shop is that they'll retrofit just about anything they make, meaning you don't have to buy brand new to get these options. Talk about an upgrade...
Warranty
Let's face it: if a company isn't offering a substantial warranty with their optics, it's an instant red flag. Customers want to know that their back is covered before buying something as important as a riflescope, binocular, or spotting scope.
Leupold takes their warranty policy very seriously, whether you're the original owner or not. With or without a warranty card or proof of purchase, they'll repair or replace a product that doesn't perform, period. There's no time limit, either. When they say "for life," they mean it.
More importantly, a warranty like that helps distinguish the quality inherently built into the products. In many ways, Leupold offers the warranty you'll never have to use.
Don't take our word for it, just read what Bruce Pettet, the company's President and CEO, explains himself.
"Actions speak louder than words. It's a simple statement that we stand behind every single day. Because when you're eight miles deep into the backcountry, a promise on a piece of paper is worthless unless the product in your hands performs when you need it most. That's why at Leupold & Stevens, we guarantee a lifetime of performance first, and then back it up with a warranty you'll never have to use. We can do this because we use superior craftsmanship to create superior optics, and we're confident your Leupold won't let you down at a crucial moment. That's the power of our company: we stand behind our work."
Leupold electronics, like rangefinders and thermal products, have a two-year warranty. It's really easy to register a product on their website, and the repair or replacement process is pain-free.
If you want to put a customer's mind at ease when they're making a big purchase, that's how to do it.
Even More
Need some more reasons to look at Leupold as the standard setter in the optics business?
Know this: Leupold works and partners directly with wildlife conservation, tactical shooting, military and veteran, observational, and gun rights organizations to help promote a better present and future for the hobbies we love. If you participate in hunting, own firearms, love wildlife, appreciate being American, or all of the above, it's good to know Leupold does too. And it's not just that they care, but they're actually doing things about it.
Beyond that, the sense of community that Leupold encourages is second to none. You're initiated into the Leupold Core, as they like to call it, and they show their appreciation in some pretty cool ways. If they choose a photo you share on social media, they'll send you a hat as a thank you. If you follow along with their tutorial and informational content, you'll learn how best to use their gear to get the most out of your time and effort. If you need service or repairs, they're on the spot. Being a loyal Leupold customer is like joining a full-on membership to a group that's in your best interest.
Once you get a good idea of what Leupold is and does, you can see what makes a good sporting optics company.
There's a required sense of trust you can't earn easily when people consider investing in these sorts of things. That's what makes a big difference, and what sets Leupold apart as deserving of that trust.
NEXT: RELENTLESS CLARITY: LEUPOLD'S BX-5 SANTIAM HD 8x42 AND 10x42 BINOCULARS
Enjoy the outdoors?
Sign up for daily stories delivered straight to your inbox.