Relentless isn't an adjective to be used lightly — quite the opposite.
To be called relentless means you're incessantly dedicated and have a grit that differentiates you from the pack. Diehard hunters and outdoorsmen often display these traits and typically demand the exact same kind of dedication from their gear, optics included. Leupold has long answered that call, and for 2018, is further redefining its binocular line with new BX-5 Santiam HD 8x42 and 10x42 models.
You can't shoot what you can't find — something hunters know full well — and if you're going to settle your crosshairs over a 360-class bull elk or that bighorn sheep you've waited decades to draw a tag for, you'll probably have to spend hours glassing first.
That kind of scouting calls for binoculars that deliver the kind of elite clarity that's both easy on the eyes and capable of helping you differentiate antler tines from the surrounding brush in low-light conditions. This type of optical clarity isn't easy to come by. Fortunately, the 8x42 and 10x42 BX-5 Santiam HD models deliver it in spades.
Redefining Elite Optical Performance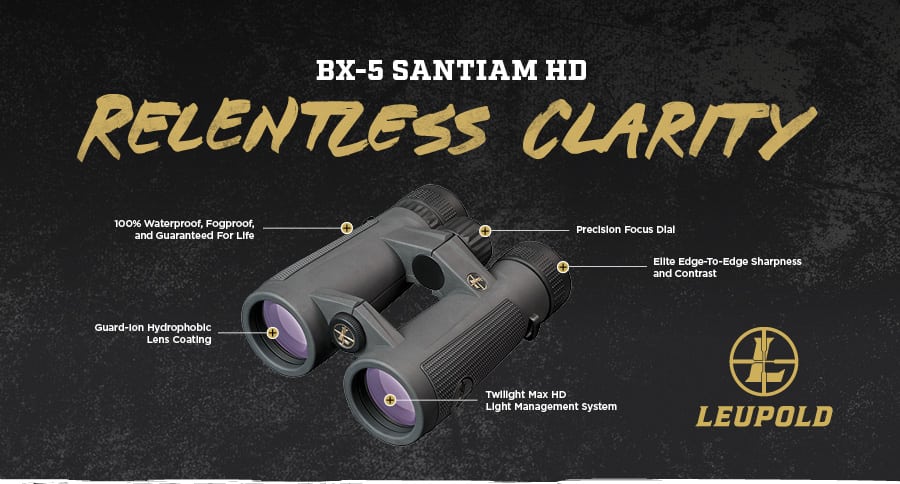 The BX-5 Santiam HD line features a lightweight housing that is shrouded in a rubber armor coating that helps protect the binoculars and ensure they're easy to grasp. A large, tactile focus dial is easy to use and find, even with gloved hands. A diopter focus paddle is included to allow consumers to precisely focus the binoculars, compensating for differences between their eyes. They look good, they feel good, and they're designed to deliver the very best in optical performance.
See the Unseen
The heart of that game-changing optical clarity? Leupold's Twilight Max HD light management system, which is featured in the entire BX-5 Santiam HD line. Twilight Max HD — the same system associated with the company's award-winning VX-5HD and VX-6HD riflescopes — allows users to glass longer during the early predawn hours to well past dusk.
Twilight Max HD combines exceptional light transmission and glare management to provide vivid images and top-of-the-line optical performance in low-light conditions. Even optics that transmit a high percentage of light won't produce a detailed, usable picture if glare obscures the target — and Twilight Max HD successfully minimizes that, ensuring that the maximum amount of usable light reaches your eye. It's engineered to be the industry standard for performance and provide vivid, bright, and high-contrast images during the hours that big game is most likely to be on the move.
It's an optical breakthrough that allows you to hunt earlier, hunt longer, and find that once-in-a-lifetime trophy.
A Lifetime of Performance
The Santiam HDs are designed to serve you well for as long as you continue going afield. The sturdy, durable frame is as rugged and relentless as you are, while its lens coatings shed dirt, oil, and fingerprints. Should you run into any trouble, you can rest easy knowing that the BX-5 Santiam HD line is backed by Leupold's legendary Full Lifetime Guarantee.
Do your worst — this is a binocular that's built to take a beating and keep performing at the elite levels that the most relentless among us demand.
NEXT: RESET: A LEUPOLD AND DRURY OUTDOORS ELK ADVENTURE
Enjoy the outdoors?
Sign up for daily stories delivered straight to your inbox.