¿Quieres visitar Puerto Rico? ¡Sí!
Suppose you've been feeling the itch to travel to a tropical destination but want to stay within the familiarity of the United States. In that case, you may want to consider Puerto Rico. Located east of the Dominican Republic, Puerto Rico is the smallest island of the Greater Antilles in the Caribbean. And although it's an island, Puerto Rico receives over 1,300 weekly non-stop flights, with only an average of several hours to get there.
What makes Puerto Rico a stand-out travel destination is its 300 miles of coastline, beautiful beaches, and comfortable 4-6 hour routes around the island. It offers a diverse climate to explore the tropical mountains, beautiful beaches, waterfalls, and its nearby coral reefs through snorkeling, water sports, and more.
So what are you waiting for? We mapped out all the best stops starting at the island's capital, giving you an easy clockwise itinerary. Grab your ID (you can leave the passport at home), rent a car, and let's go explore this American hidden gem.
Land Acknowledgement
Puerto Rico was first discovered more than 500 years ago. The Taínos were the island's first inhabitants, a group of indigenous people who lived on the island for hundreds of years before the Spanish arrival to the Americas. Once the Spanish arrived in 1493, they called it Puerto Rico, or "rich port," due to a large amount of gold found in its rivers.
However, once the Spanish started taking over, the Taínos began to lose territory and, under Spanish rule, became extinct. Puerto Rico still celebrates the Taínos today.
Start in Old San Juan
As the capital of Puerto Rico, San Juan sits on the island's Atlantic coast. This is most likely where you'll first arrive, giving you many options to start your island adventure. The city of San Juan boasts the island's most prominent population, offering tourists local and chain restaurants, hotels, beaches, and tropical city living. But we suggest visiting the historic neighborhood of Old San Juan. Known as "San Juan Antiguo," this neighborhood is known for its rich history, five-century-old forts, and undeniable romantic ambiance.
Once you arrive, you'll walk among narrow cobblestone streets adorned with brightly colored, Spanish-style houses and shops. Old San Juan will give you that and more if you want a cultural and historical immersion in Puerto Rico.
A must-see is the San Juan National Historic Site and La Fortaleza. Here, you'll step back in time by 500 years. Explore the old forts of Castillo San Felipe del Morro, Castillo San Cristóbal, most of the city walls, the San Juan Gate, and Fort San Juan de la Cruz. Old San Juan also offers some of the island's best food tours and distillery tastings. This makes it a fun way to walk around and sightsee the historic neighborhood simultaneously.
Cap off your day with a dreamy meal at Marmalade. Nestled in the heart of Old San Juan, this might turn out to be one of your best culinary experiences. Consider dishing out the funds for the five-course meal and wine pairing. You definitely won't be disappointed.
Lush Adventures in Fajardo
Located a short 40 minutes east of San Juan, Fajardo boasts breathtaking views and pristine nature reserves. Its half-dozen marinas make it the Caribbean leader in sailing and parasailing, so if you're looking for some water adventures, look no further. What really makes Fajardo a must-see travel stop is its three bioluminescent bays.
The best way to experience these beautiful phenomena is to take a guided nighttime kayaking tour. Here you'll learn about the tiny organisms that make these waters glow and shimmer. It's truly a magical experience to float through the Fajardo Bio Bay, where you'll enter through a protected nature reserve and mangrove forest.
Fajardo also offers up one of the best hikes on the whole island, La Zanja. Meaning "The Trench" in Spanish, La Zanja is a unique swimming pool created when the Atlantic waves crash into the nearby rocks. Starting at Seven Seas Beach, it's about a 20-30 minute hike. The beautiful secluded cave location will be your most "liked" Instagram post on your whole feed!
Last but not least, make sure you visit El Yunque National Forest. As the only tropical rainforest in the national forest system, you'll explore 29,000 acres boasting a biologically diverse ecosystem. Take a daytrip to El Yunque Rainforest to experience the breathtaking scenery, clear waters, and outdoor recreation activities, such as an ATV tour among the foothills.
Swim in Vieques
You can't visit Puerto Rico without making a visit to its offshore Caribbean island, Vieques. Located a short 7 miles off the east coast of Puerto Rico, you can arrive by air or by ferry. Isla de Vieques is home to one of the brightest bioluminescent bays in the world, Mosquito Bay.
Here you'll experience the "magic" of this natural wonder, especially during a New Moon when the sky is at its darkest. The Vieques National Wildlife Refuge is the largest National Wildlife Refuge in the Caribbean, offering wildlife sightseeing, hiking trails, scuba diving, horseback riding, fishing, and more.
Visit Ponce
Once back on the main island of Puerto Rico, keep your clockwise travel route, and you'll end up at Ponce. Also known as "La Perla del Sur," Ponce is one of the island's largest and most popular cities, abundant in history and Puerto Rican culture.
Like Old San Juan, you'll fall in love with Ponce's public square, Plaza Las Delicias. Adorned with colonial buildings, shops, and homes surrounding lush, tropical flora trees, you'll get a rundown of this southern city's history and culture. Make sure to take yourself on a walking tour of Parque de Bombas, the old fire station that is now a museum. Don't forget the mayor's residence, Fuente de Leones, and the Cathedral Of Our Lady Of Guadalupe.
Next, take an afternoon to explore Museo de Arte de Ponce. This famous museum has gained international recognition for its 4,500-piece international art collection, including paintings, sculptures, decorative arts, ceramics, photos, and sound installations. Consider taking a guided tour for an immersion in the culture and art.
Finally, cap off your day in Ponce at La Guancha. Located right on the beach, this boardwalk faces the Caribbean Sea. It offers a scenic seaside stroll full of restaurants, boutiques, and more for a perfect nightlife atmosphere.
Toro Verde Adventure Park
Located in the island's center, Toro Verde Adventure Park is a little off our clockwise travel guide but is a must-attend during your Puerto Rico travel plans. Nestled in the mountains of Orocovis, Toro Verde has one of the world's longest and fastest ziplines, a 1.57-mile adrenaline-pumping adventure called "The Monster."
The ecological adventure park boasts some of the most breathtaking mountain views or "vistas" on the island. You'll see flying beneath you on its many zipline courses and suspension bridges. It also hosts Toro Bikes, which currently holds the Guinness World Records record holder for the world's longest cable bike circuit.
With its panoramic views of the mountains and coast, consider spending a full day or afternoon here with the family.
Rincón
Often overlooked, this small and relaxed town rests on the far West side of Puerto Rico. Ponce offers visitors and locals some of the island's best beaches and world-class surf waves. If you're into water sports, make sure you make a stop here. With more than 8 miles of coastline, the beaches of Rincón can be crowded or secluded, so there's something for everyone. Here you can find the perfect spots to surf, snorkel, swim, paddleboard, dive, and more. Our favorites include Sandy Beach, Domes Beach, and Maria's Beach.
While in Rincón, make sure you stop to see The Punta Higüera Lighthouse. This historic lighthouse stands over 100 feet, helping boats navigate the waters. This is technically a park, so you'll also find ample room to set up a sunset picnic and scout some local vendors.
Of course, what would be taking a tropical vacation without some wildlife? While in Rincón, Tres Palmas Marine Reserve offers a vibrant collection of marine life. Through scuba diving and snorkeling, visitors will often see parrotfish, surgeonfish, bottlenose dolphins, blue tangs, and sea turtles among its 3 white sand beaches.
Lastly, conclude your epic island vacation with a quick trip to one of the best waterfalls, Gozalandia Falls. Located less than an hour from Rincón, this "locals only" spot features a 60-foot tall waterfall for picturesque views, swimming, and rope jumping.
Wrap it up at Rincón's best sunset view dinner spot: The Beach House. I highly recommend eating at this local restaurant. All ingredients are sustainably sourced and local, meaning the seafood is caught fresh daily and ...
*chef's kiss* SO GOOD.
So there you have it. Once you travel through our clockwise island adventure, you'll feel like a local (and might even become one due to falling in love with Puerto Rico). Stay present and soak up as much of the fantastic Puerto Rican sun, fun, culture, food, and natural beauty the island offers. See you under the sun!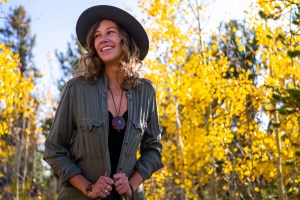 Mikala Lugen is an avid adventure lifestylist, rooting her life around music, mindfulness, and travel. She's currently based in Salt Lake City, Utah, where she works among the mountains every day, writing about some of the country's best musical events and hiking, skiing, rock climbing, and playing with her dog Jameson in-between all of her adventures.
Tell us what you love about Puerto Rico on Wide Open Roads Facebook!