Did you know that Utah has the third most national parks of any state after Alaska and California? Amid its Mighty Five National Parks, its famous Great Salt Lake, and Wasatch Mountains, Utah is home to some of the country's most epic scenery, boasting an abundance of red rocks, mountains, and desert landscapes. Its location also makes it a good base from which to explore some iconic destinations in neighboring states. It's no wonder so many outdoorsy people make Salt Lake City, the capital in the north-central part of the state, their home base. But you don't live there to make it your starting point for adventure. SLC airport is a major hub with many flight options, so it's a perfect starting point for an epic national park road trip. This six-day itinerary will take you through two states, canyons and mountains, and some of the most iconic destinations in the West. Let's get going.
Day 1-2: Bryce Canyon National Park
Start packing your car, we're heading south. Start your road trip with a leisurely four hours to one of the country's most scenic national parks, Bryce Canyon. Sitting at 9,000 feet, Bryce Canyon is known for its crimson-colored hoodoos and spire-shaped rock formations. You'll be able to start your epic road trip with incredible viewpoints, hiking, biking, horseback riding, and camping under the stars.
My favorite spots include both Sunrise Point and Sunset Point, followed by dipping down into the Queen's Garden Trail to hike among the hoodoos for an easy 3-mile round-trip adventure. Depending on the year you go, the park offers two reserved campgrounds, Sunset Campground and North Campground. I recommend two days at Bryce Canyon National Park to fully enjoy all of its offerings.
Days 3-4: Zion National Park
Next on the itinerary is Bryce's close cousin and hiker's paradise, Zion National Park. Thankfully, Zion sits just a short 1.5 hours south of Bryce Canyon, so you can leave in the morning and still have a full day of hiking and adventures at Zion National Park. Zion sets itself apart from other parks with its expansive, 2,000-foot-deep canyon, which draws an average of 4 million people worldwide every year to gawk at its glory. Because of its popularity, vehicles are not permitted to enter or drive through the park from April through October to prevent an overflow of traffic.
Instead, the park has instilled a seasonal shuttle system where visitors will park in the closest town of Springdale and take the shuttle into the park for the day, dropping you off at different overlooks and hiking trails. I know- what's a road trip without your car, but you should embrace the shuttle. The service was created to help make your adventure better, so you can spend more time completing epic hikes and less time sitting in traffic. If you must have your wheels, take your road trip from SLC during the winter to drive at your own pace through the Zion Canyon Scenic Drive.
I recommend trying to secure permits for two of Zion's most famous hiking adventures, Angel's Landing and the Narrows. Honestly, you really need to schedule out a minimum of two full days here to fully immerse yourself in the beauty this park has to give.
Day 5-6: Page, Arizona & the Grand Canyon
RELATED: Utah's Best State Parks for Camping, Hiking & More!
Your final leg on this epic road trip is a trek south into the neighboring state of Arizona. Once you pass over the border, make a quick one-hour stop at Horseshoe Bend, located in Page, AZ. Known as the "east rim of the Grand Canyon," this is an iconic, beautiful scenic sunset viewpoint directly on your path. From Page, continue 2 hours south to one of the world's most famous national parks, the Grand Canyon. We've come this far, so it would be a shame to skip miss it, only a total of 7 hours from SLC.
Going to the Grand Canyon from Page gives you a choice. It's 2.5-hour drive to the Grand Canyon's more remote and less visited North Rim, or a 2-hour, 10-minute drive to the popular South Rim. Think carefully about which one you want to visit, because it's a 4.5-hour drive between the two.
Only 10 percent of Grand Canyon visitors go to North Rim, so this is your spot if you looking for solitude and a wilder experience. It's remote and has fewer services than the South Rim. The Grand Canyon Lodge is the only in-park lodging at the North Rim, and there's not a lot of out-of-the-park options either. The higher elevation on this side of the canyon creates a totally different ecosystem, much more forested and colder. In the fall, you'll see spectacular colors that you will not see on the South Rim. Because of winter conditions, the North Rim is only open from mid-May through mid-April. There are also fewer overlooks on the North Rim, but more isn't always better. Point Imperial, Bright Angel Point, and Cape Royale all give you spectacular and unique views of the Canyon's layered bands of red rock, revealing millions of years of geological history. The North Kaibab Trail is the best hike down into the Canyon. You can turn around at any point in the trail, but if you're feeling adventurous, hike all the way to Roaring Springs (the NPS recommends not hiking past this point). This is strenuous, 9-mile roundtrip hike. It's take all day and tax you, so be prepared.
The South Rim is open all year, has more lodging options, and many more overlooks. Some you shouldn't miss are Mather Point, Yavapai Observation Station, Lipan Point, and Desert View Watchtower. You have a lot of options for hiking trails as well. The South Kaibab Trail is good pick due to its easy access to popular features. You can find the trailhead at Yaki Point, but you can't park there, so take a quick shuttle from the nearby visitor's center. Hike 3 miles to Skelton Point, where you'll have a 360-degree view of the canyon and is where day hikers should turn around. I can't see how you can spend less than a full day at the Grand Canyon, and two is even better.
If it's time to go back to the real world, it's an 8-hour drive back to Salt Lake City from the South Rim, 6 from the North Rim. It's doable in a day, but if you don't want your adventure to end, remember that Utah has three more National Parks that weren't on this itinerary. Just saying.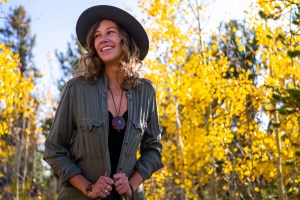 Mikala Lugen is an avid adventure lifestylist, rooting her life around music, mindfulness, and travel. She's currently based in Salt Lake City, Utah, where she works among the mountains every day, writing about some of the country's best musical events, as well as hiking, skiing, rock climbing, and playing with her dog Jameson in-between all of her adventures.
Where are your favorite places to visit in Utah? Share your answers with us on our Wide Open Roads Facebook!
Enjoy the outdoors?
Sign up for daily stories delivered straight to your inbox.