Fishing on the West Coast is some of the best in the United States, whether you are a saltwater or freshwater fisherman. From Alaska all the way down to Southern California, the West Coast is packed with world-class coastline, rivers, and lakes, and it has angling adventures for everyone. Book a charter into the waters off Southern California to target tuna, sea bass, halibut, rockfish, or dorado. Pack your waders for a salmon and trout fly fishing adventure in Alaska. Or head to the lakes of the Pacific Northwest for some world-class bass.
With this much variety available year-round, one thing is for certain: The West Coast should be your next fishing destination. We've rounded up five of the best spots on the West Coast for fishing. Now, all you have to do is plan your trip.
1. Alaska
The entire state of Alaska is renowned for its fishing, and with good reason.
The state is famous for its salmon runs. Head to the Kenai Peninsula for the easiest access and best concentration of salmon throughout the spring and early summer. If salmon isn't your thing, there are plenty of grayling and trout in the lakes and rivers as well. Head north to Bristol Bay if you'd like to try your hand at Arctic char.
Ocean fishing is also a good bet; catch a charter out of Homer to try your hand at massive halibut, lingcod, rockfish, and even king salmon. Charter captains taking clients out to deep-sea fishing areas also routinely see whales, sea otters, orcas, and other ocean creatures. If you'd rather keep your feet on land, there's also some of the most exciting surf fishing anywhere in the world, from the Alaskan Panhandle to the Alaskan Peninsula.
While you may think of summer as the best time for a fishing trip, don't skip out on a fall fishing adventure to the far north. By going in the fall, you'll miss most of the busy tourist season, with plenty of places to stay and lower prices. Be aware that winter comes early that far north; it's not unheard of for people to start skiing in the mountains in October. Pack plenty of warm and waterproof clothes, and aim for an early-fall trip, unless you plan on ice fishing.
2. San Diego, California
If Alaska sounds too cold for you, head to the far south: San Diego. San Diego is home to the world's largest fishing fleet and has excellent fishing opportunities year-round in a mild, warm climate.
The city's lakes and reservoirs are filled with trout and largemouth bass. If you're looking for more variety, head to the coast. The ocean waters off Southern California have a dizzying number of fish species to try your hand at: dorado, albacore, marlin, yellowtail, wahoo, sand bass, barracuda, halibut, sea bass, rockfish, and bonito.
With so many fish to be had, it's easy to see why the city boasts such a huge fishing fleet. Many charters out of San Diego are of the long-range variety and can make amazingly long runs up and down the coastline, giving you an unparalleled array of fishing opportunities.
If surf fishing is more your thing, check out some of the beaches, including Coronado Beach, Mission Beach, Blacks Beach, and Torrey Pines State Beach.
3. Puget Sound, Washington
Puget Sound, at the far northern end of the Lower 48, is often the last stop on many anglers' wish list, but it should be their first. Centered on beautiful Seattle, the Sound offers excellent fishing opportunities year-round because of its proximity to both freshwater and saltwater fisheries.
Salmon abound in the Sound, and fishermen can expect to catch coho, pink, chum, and king salmon. Make sure you double-check fishing regulations, because there are certain times when retaining salmon is not allowed. You can still catch and release salmon during these closures, or try your hand at flounder and lingcod. Crabs and sturgeon can also be found.
If you prefer freshwater fishing, the nearby Skykomish and Snoqualmie rivers are known for their steelhead and salmon; and lakes in the Seattle area have rainbow trout, cutthroat trout, kokanee, and largemouth bass.
Keep in mind that spring, fall, and winter are quite rainy in the Pacific Northwest. Make sure you have a good set of rain gear before heading out for a fall fishing trip there.
4. San Francisco Bay, California
The San Francisco Bay is the largest estuary on the Pacific Coast of both South America and North America, and the shallow flats support one of the world's greatest fisheries.
The Bay is a great year-round destination if you are targeting king salmon, striped bass, rockfish, halibut, or lingcod. San Francisco has numerous ocean charters to choose from, and charter captains routinely fill their boats with many of these species.
Surf fishing enthusiasts can find great striper fishing on Ocean Beach by casting or by live bait fishing. Check any fishing regulations for limits.
If you have some extra time, make a day trip to the famous Monterey Bay Aquarium just two hours south of San Francisco.
5. Columbia River Gorge Area, Oregon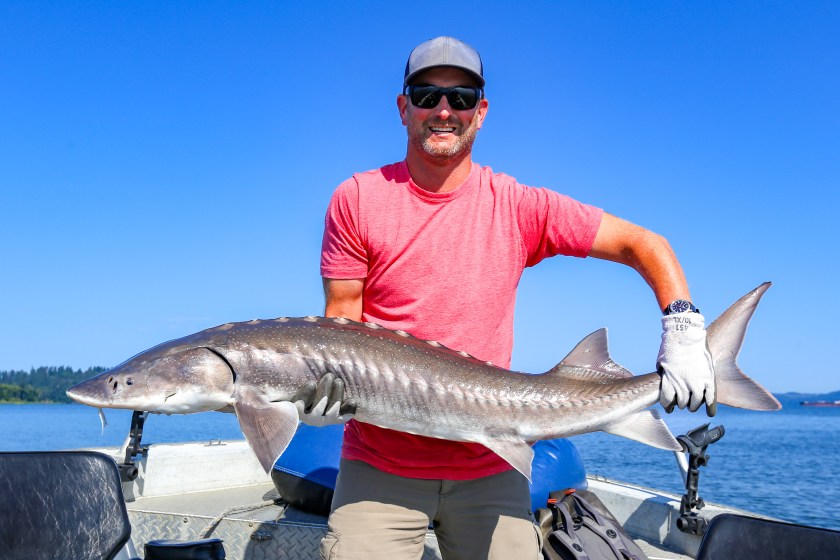 The Columbia River Gorge is a spectacular National Scenic Area, the largest in America. At 80 miles long and up to 4,000 feet deep in some places, the gorge is renowned for its incredible vistas.
The gorge and the surrounding area are also famous for their fast-paced fishing. Both king (or chinook) and coho salmon can be caught. Absolutely massive sturgeon can also be found year-round (though particularly in the spring), and there is great steelhead fishing.
If you're looking for saltwater fishing, greenling, rockfish, lingcod, and perch can be caught from the jetties where the Columbia River meets the ocean. Crabbing and razor clamming are also phenomenal. If you're looking for a charter, boats along the northern Oregon coast will take you out for salmon, tuna, and halibut.
NEXT: MOST POPULAR HUNTING DESTINATIONS IN AMERICA
Enjoy the outdoors?
Sign up for daily stories delivered straight to your inbox.