Ever wish a universal holster would fit your pistol with a tactical light attached?
Uncle Mike's wished this too, and they built one of their own for their amazing product line. We give the Uncle Mike's Spyros Holster System a full test, and discovered some pretty cool things.
Let's get this straight out front: The Spyros is an American-made holster than will accept over 200 semi-automatic pistol models with a mounted tactical light. That in itself is pretty impressive.
The ambidextrous polymer holster can be worn either on your right or left hip. All it takes to swap between sides is a quick adjustment. It can be adjusted to ride at different heights, and the belt slide accommodates 1.25" to 2" belt widths.
The real key to the whole system is the rail mounted light that can be applied to a bunch of full-sized handguns, and still be concealed.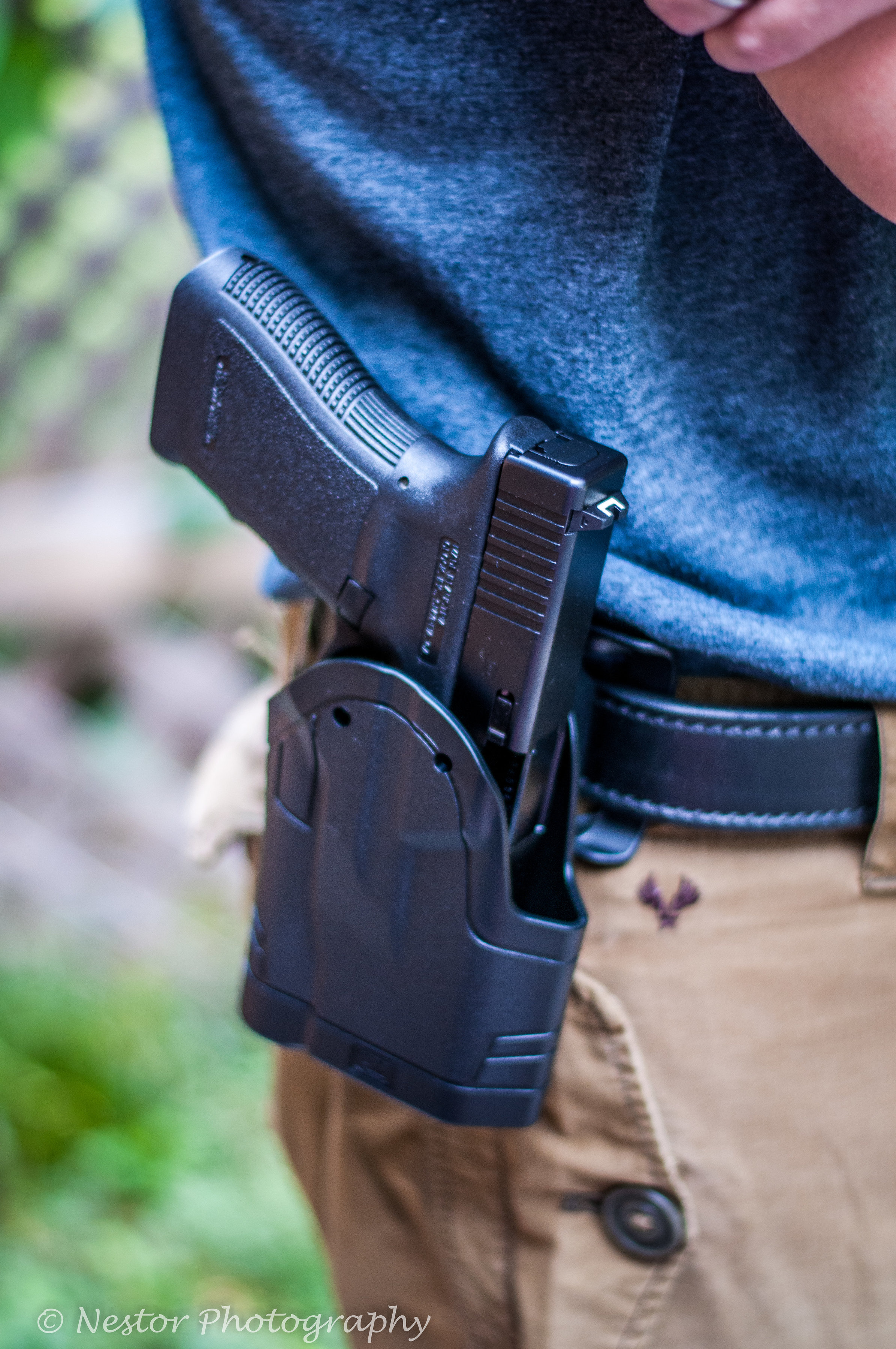 I've always had a hard time finding a correct holster to fit light-bearing pistols, but Uncle Mike's gun holsters made me rethink that problem. It appears to stand up well to the kind of normal wear-and-tear holsters typically see. The light is imported to the U.S. from China, which means it isn't the absolute greatest you can find, but it's convenient and I haven't seen any issues with it yet.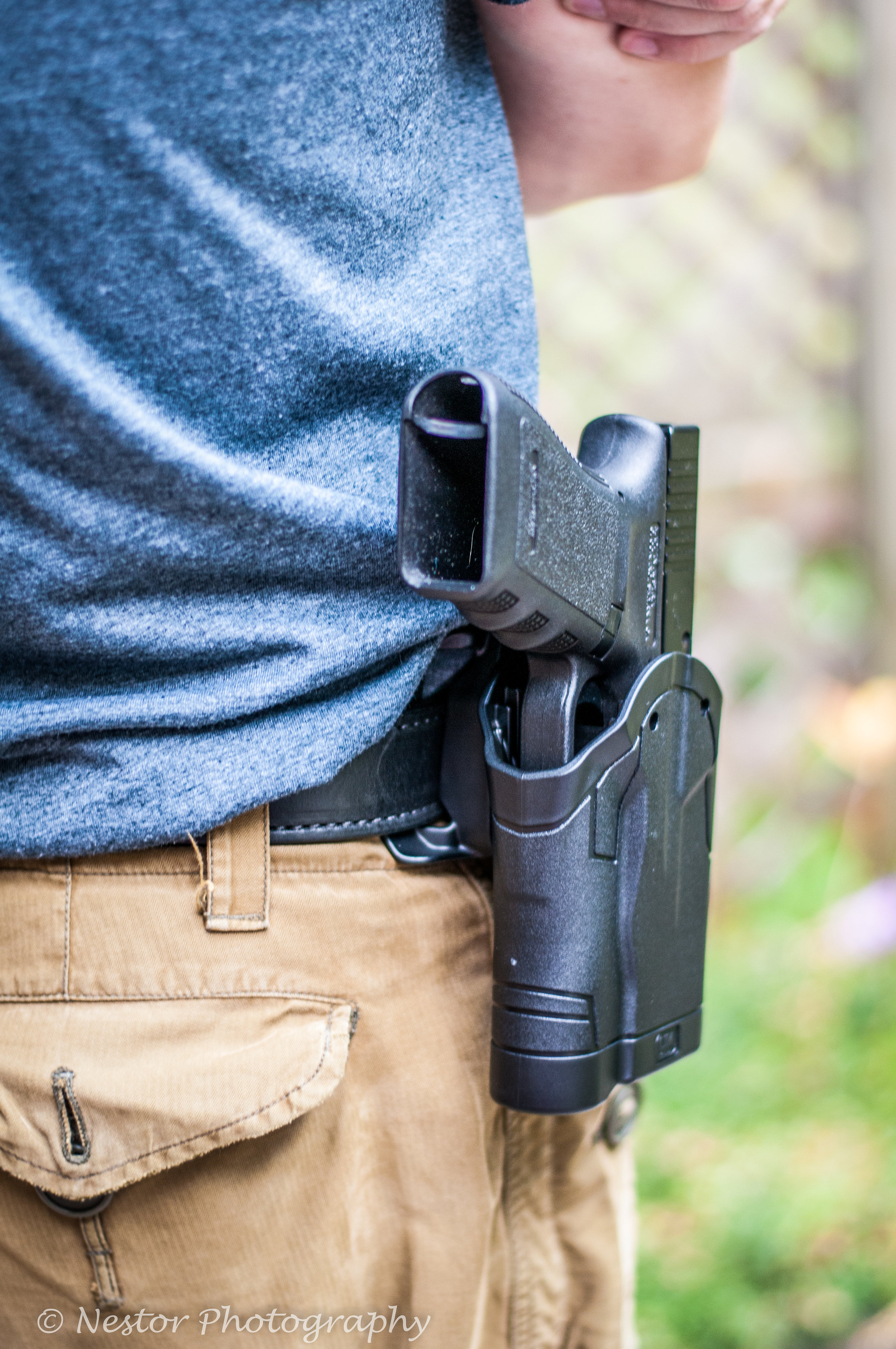 The tactical light has an aluminum body and sports a max output of 150 Lumens. The LED light is quite small but adequately bright. It also uses a standard CR2 3 Volt Lithium Battery, which comes in the box.
If you consider most self-defense engagement distances, this high-lumen light could even momentarily blind an attacker, allowing you more time to engage with force if needed.
While there is no pressure switch for quick on or off, your non-shooting hand can push the small button quickly with some practice.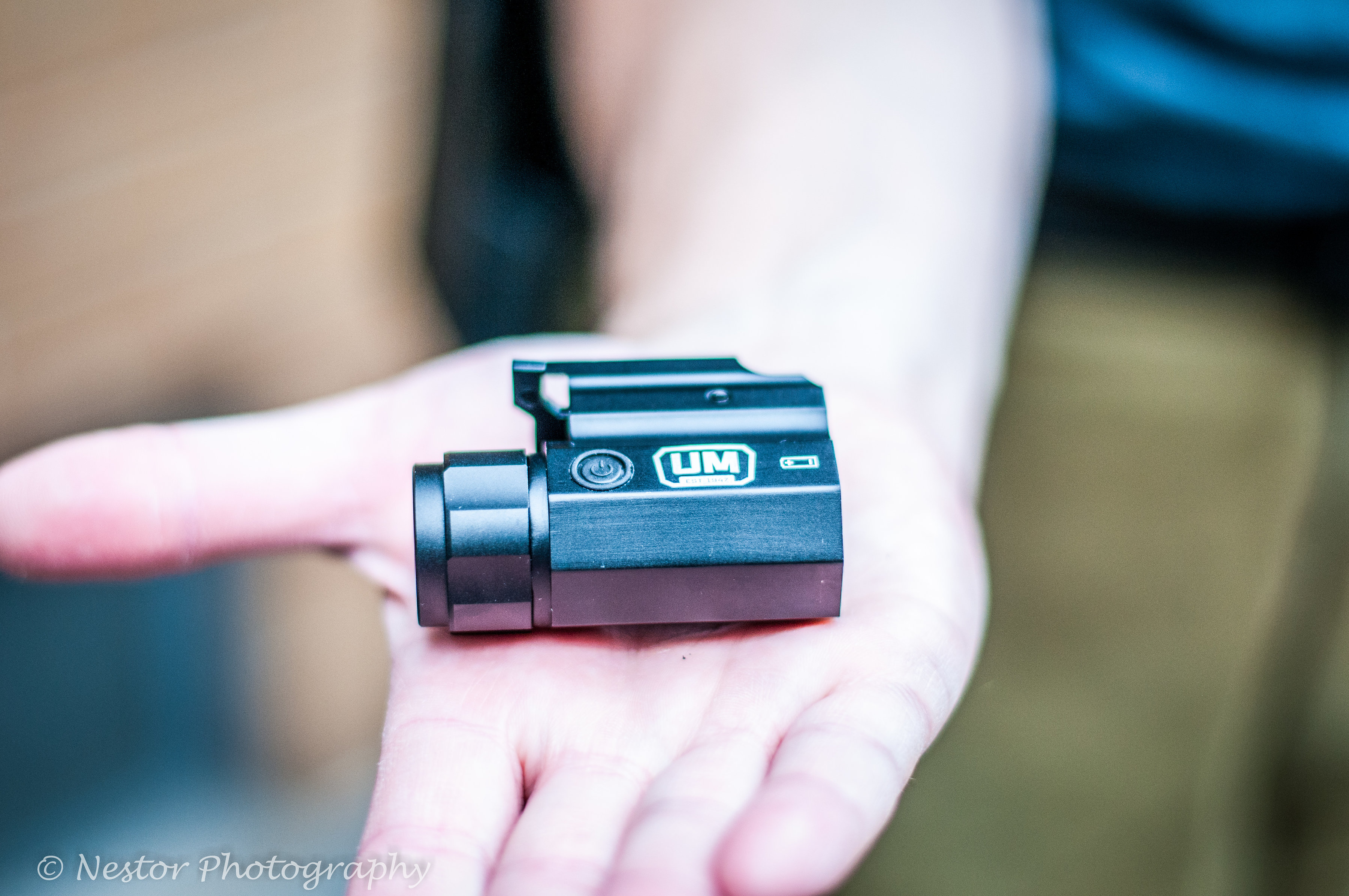 I got a chance to try out the Uncle Mike's Spyros Holster System with a full-sized Glock 21 Pistol complete with an accessory rail. The tactical light attached to the pistol in the blink of an eye. I chose the height of adjustment for the belt loop assembly, and secured it with hand tightened Phillips screws.
The pistol was well secured in the holster with the tactical light attached. There was minimal wiggle room, and the retention was good. Sometimes I feel like I would like more retention, but the Spyros was right on the edge of personal acceptability. The ambidextrous hip holster itself is no small unit, but with the correct jacket it would not be noticeable.
All in all, I can say the Uncle Mike's Spyros Holster System has a lot going for it. Whether you intend to use it for concealed carry or open carry, it's a nice option with a legitimate advantage.
If you find yourself walking in dimly lit areas, a large semi-automatic with a tactical light attached makes perfect sense. Hunters or campers coming back late from the woods could load up a light-bearing semiautomatic pistol and be ready for anything that might pounce. It's ideal for law enforcement, and civilian carry is made a lot more versatile with the Spyros System.
In other words, this holster just makes sense.
Do you like articles about the outdoors? Click here to view more articles by Eric Nestor. You can follow him @ericthewoodsman on Twitter, The Classic Woodsman on Facebook, and @theclassicwoodsman on Instagram. You can view more Nestor Photography photos at Nestor Photography.
NEXT: GUN REVIEW: SDS IMPORTS LYNX-12 SEMI-AUTOMATIC SHOTGUN
WATCH
Enjoy the outdoors?
Sign up for daily stories delivered straight to your inbox.