Making deer jerky is not nearly as hard as it seems.
Many hunters enjoy a good venison jerky. Here in Michigan, it's one of the most popular things produced by commercial deer processors who cut up people's harvests every season. The downside is commercial processors charge a lot of money for making chewy jerky and sticks over other forms of deer meat.
Which is why we're here to break down some of the barriers on making your own venison jerky. Even if you get your deer processed, prepping your own wild game jerky will save a lot of money.
Really the only downside to making your own jerky at home is the lengthy prep time. However, it's worth it because homemade jerky is usually much tastier than the kind you get from a store or a processor. Here's everything you need to get started.
Necessary equipment.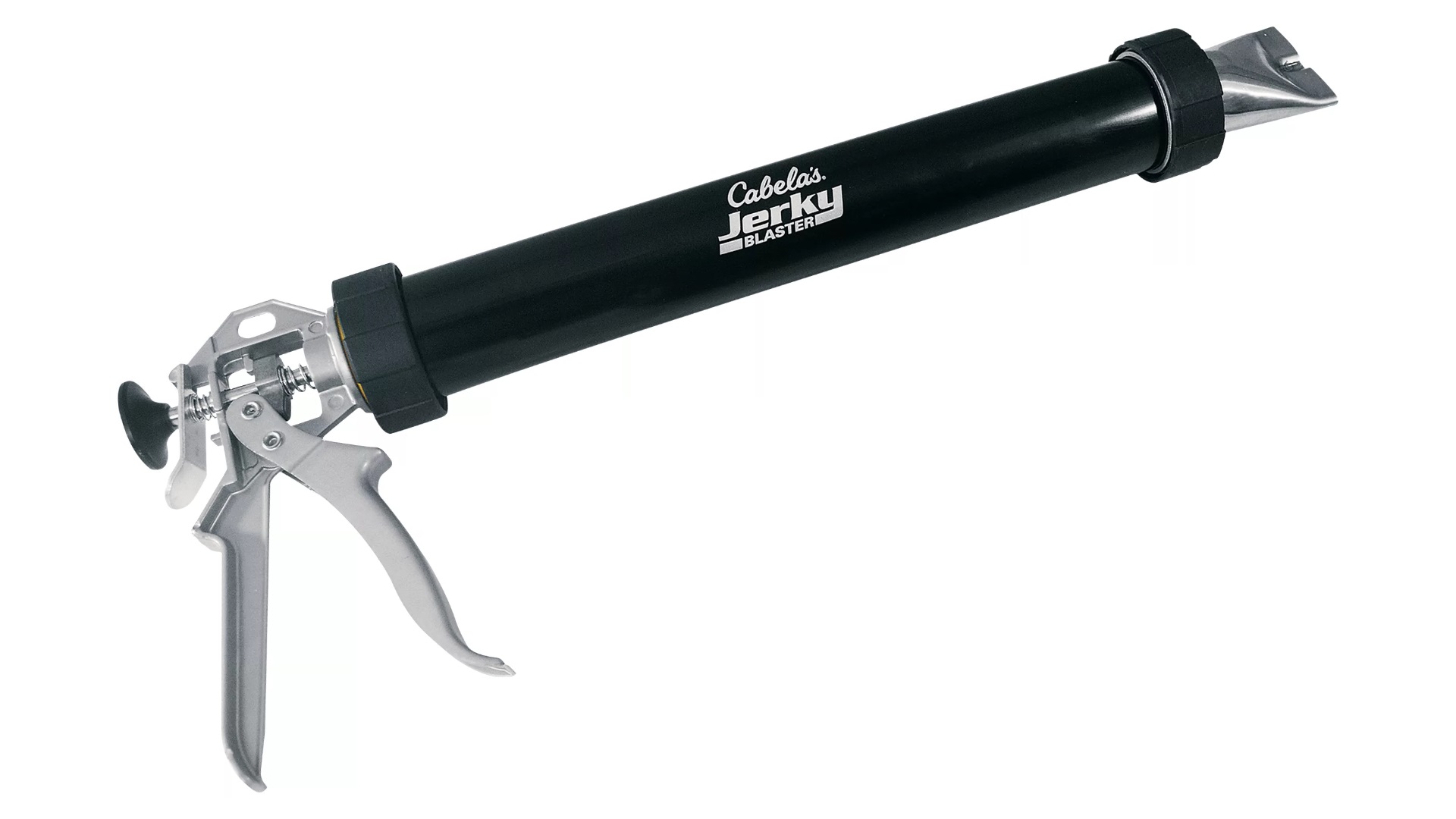 Many hunters may mistakenly think you need a lot of specialized equipment like a food dehydrator and a vacuum sealer to make venison jerky or sticks at home. In truth, you only really need a jerky shooter. And most shooters are relatively inexpensive these days. For $40, you can get a simple manual jerky shooter like the one above from Cabela's with multiple nozzles, a meat loading funnel, and a brush to clean it. Making jerky is a messy process.

If you want to get serious about your jerky later down the line, consider something like the Chard electric jerky shooter, which is what I use. It offers a larger tube and makes the actual shooting process much faster than a manual gun. Which is helpful if you are making more than a few pounds of jerky at one time. Or if you have arthritic problems in your hands that may make the use of a traditional manual shooter difficult.

Some people prefer to cook their jerky or sticks on the grill. A dehydrator does a good job too. I use the Chard 16-tray dehydrator, which is a bit overkill for my purposes. Four pounds of jerky filled approximately five trays, but it's good to know I have the extra space in case I ever need to make a larger batch.

There are much smaller dehydrators available for under $100 that will also do the job if that's what you prefer. However, I have found simply using the oven to cook the jerky on standard baking sheets works well too. The dehydrator is probably best for the people who love cooking and have several projects going at once. The dehydrator allows you to prep your jerky or sticks without taking up extra space in the oven for other meals. Unless you want to store your jerky for long-term consumption, a vacuum sealer is also not necessary. Jerky can be kept fresh in a plastic container or even a plastic bag if you plan to consume it short-term. If you make manage to nail the recipe, odds are it's not going to last very long anyway. Because everyone will be eating it as quickly as it is made!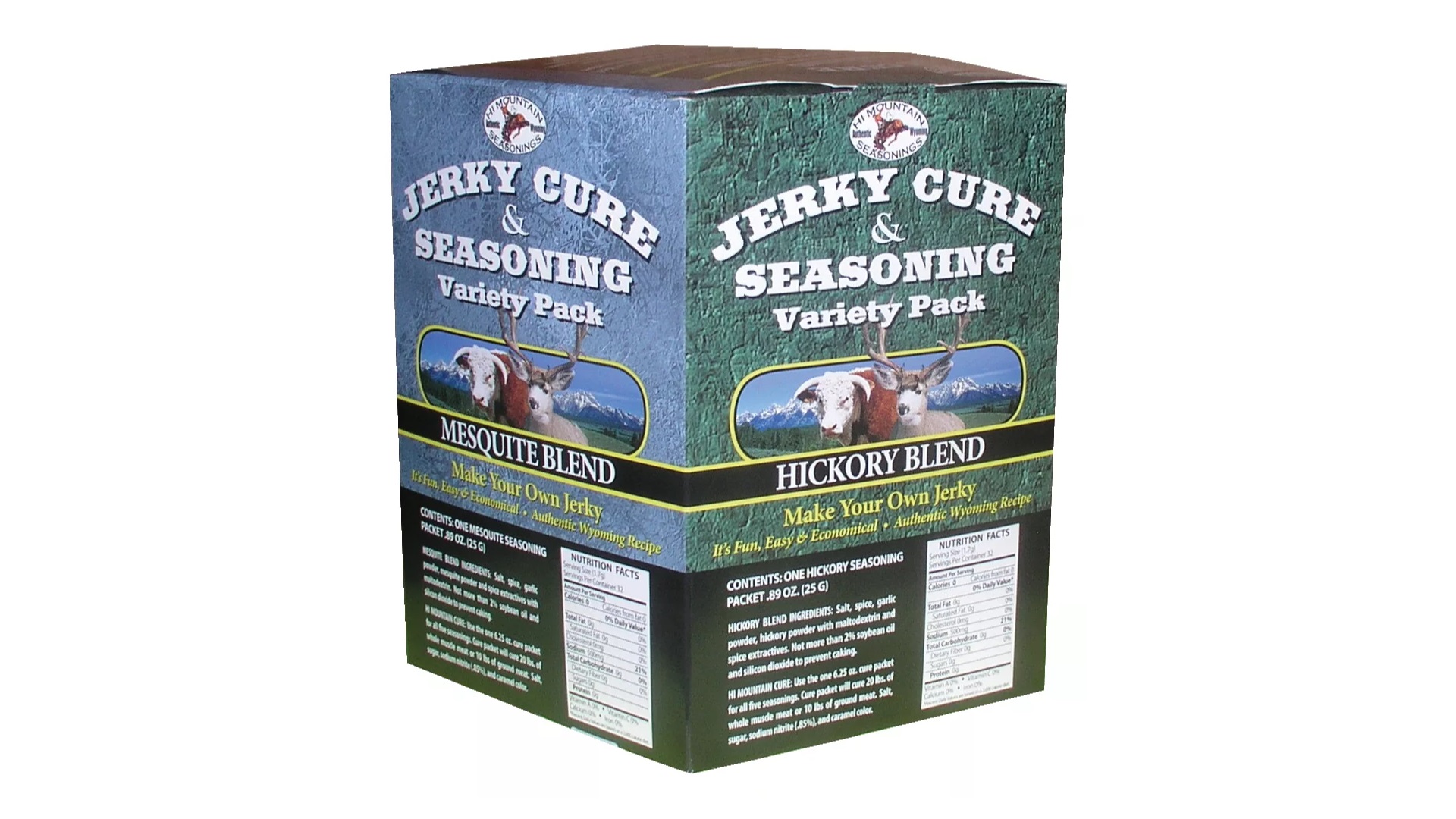 If you are like me, and are not very talented in the kitchen, you might consider purchasing a jerky seasoning package from the store. You can collect and combine all the raw ingredients yourself, but these packages simplify things quite a bit. The nice thing about buying one of these packs is you can pick and choose exactly what flavors you want in your jerky. From black pepper, to hickory, jalapeno, sweet & spicy, teriyaki, and more are available in one of these pre-packaged jerky seasoning packs. The last thing you might consider is some liquid smoke if you want that smoke flavor but do not have the budget or space for a dedicated smoker.
Making jerky
Making the jerky is easy. The hard part is setting aside enough time to work on it. Because most venison jerky recipes call for you to mix the ingredients and then let the mixed ground venison refrigerate for 24 hours before you go about shooting it and then cooking it. The prep time is the easiest part. However, in total, expect to spend 16 to 24 hours in total time just to produce a few servings from a few pounds of jerky. That is where most of the costs come from in having someone do it for you.
Most deer jerky recipes call for one to two pounds of ground meat. Some people like to add a little ground beef to their venison. It adds a little extra fat and enhances the flavor just a bit. It can also help if you have some especially gamey venison.
In any case, the first step is to mix the ground meat and ingredients in a mixing bowl. Store-bought seasoning packs will tell you exactly how much you need for a designated amount of meat. Most base the amounts on around two pounds of venison. So, you'll be mixing things like brown sugar, garlic powder, ground black pepper, red pepper flakes, with marinades like worcestershire sauce, and soy sauce with water, and other ingredients in with the venison. What you put in there will depend on the recipe. It must be done by hand, and it can be quite messy. Have paper towels handy. Once everything is mixed, put it all in a plastic bag and refrigerate it overnight. This gives the jerky cure time to set.
The next day you can finally put the jerky shooter to use. Shoot the jerky out into strips and place them in the oven, dehydrator, or grill to cook. Depending on your heating method, it usually takes between two to three hours to cook jerky or snack sticks. The internal temperature of the meat should be around 165 degrees when they are done. Monitor the cooking carefully. Because if you cook them too much, the jerky will be tough and dry. Don't cook it enough and it could be unsafe to eat.
Venison jerky recipes.
To wrap things up, we'll link to a few of the best recipes we've found for venison jerky over the years. For those who like their jerky spicy, try the recipe in the video above. Here are some others that are worth your time and effort.
Once you get comfortable making your first batch of jerky, you'll feel comfortable experimenting with other flavors and styles. That's the other great thing about making your own. You can tailor the taste to your exact tastes season after season. I saved probably an extra $100-$150 last year by making my own instead of having the processor do it for me. Try it out this season, you'll likely find the homemade variety is much more satisfying than any beef jerky you can buy in a store.
Products featured on Wide Open Spaces are independently selected by our editors. However, when you buy something through our links, we may earn a commission.

For more outdoor content from Travis Smola, be sure to follow him on Twitter and check out his Geocaching and Outdoors with Travis YouTube channels.
NEXT: THE AXIS DEER AND HOW THEY'RE IMPACTING PARTS OF THE UNITED STATES
WATCH