Got the itch to fish some big Texas bass? We have all the information you need to know for targeting these fish in the largest state of the Lower 48. From the best bass fishing lakes to spawning times and how to get your fishing license, this is our complete guide to angling for largemouth and smallmouth bass in Texas.
Fishing license requirements
We'll cover the legal stuff first, because if you're planning to come in from out of state, it's important to know the requirements before you cast your first jig or crankbait. Texas requires fishing licenses for almost everyone except those under 17 years old, or a person born before Jan. 1, 1931. The Texas Parks and Wildlife Department requires a fishing license for all nonresidents who plan to go angling in public waters. So, if you plan to fish anywhere in public you'll need to buy a license.
Texas keeps things nice and simple. A nonresident freshwater package is $58 and lasts from the date of sale until Aug. 31. So, the earlier in the year you buy, the more you'll get for your money.
A Texas resident package costs $30 and the TPWD offers a senior package for residents who are age 65 and older for $12. To qualify for a Texas resident package, anglers must live in the state for six months before they can buy a resident license. See the TPWD's site for more information and to purchase a fishing license online.
When is the bass spawn in Texas?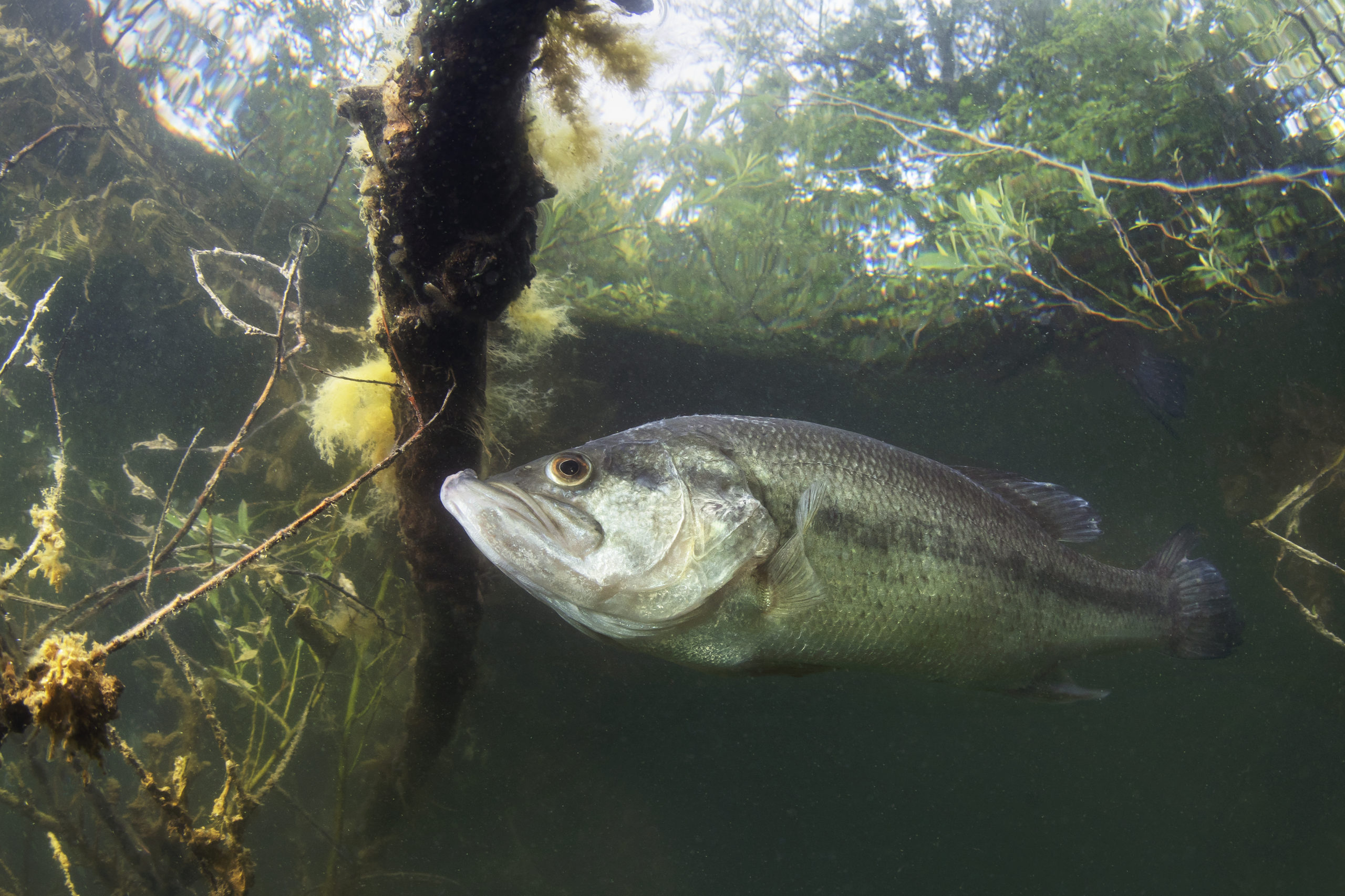 One of the first things most anglers want to know is when the spawn takes place in most Texas Lakes. And why not? Most of the big fish tend to be caught during that spawn or pre-spawn period. According to the TPWD, you will be looking for that sweet spot where water temperatures hit 60 degrees. Because Texas is so warm, it's common to see that pre-spawning behavior in January or early February. If things are toasty enough, the spawn could happen in February. That makes Texas a great getaway state for anglers from Northern states that are snowed in and won't see any spawning in their local fish until almost June.
Start off with lipless crankbaits, suspending jerkbaits, and large spinnerbaits for the pre-spawn period when the fish are holding offshore in deeper water. As the water gets warmer and warmer, they'll be fattening up for the spawn, which makes this the best time to catch an aggressive, trophy-sized fish. Once they move into shallow water, you can start slowing things down a bit with plastic worms and jigs to sight fish the lunkers right off their beds.
Normally, the latest in the year that the spawn can occur in Texas is around May. For most of the big, popular fisheries, you'll find it happens earlier than that. If you're planning a trip from out of state around the spawn, call up the local tackle shops to see what the weather conditions and water temperatures are and adjust your approach accordingly.
Techniques for Texas bass
Many of the techniques utilized in the Lone Star State are similar to ones used elsewhere. And, on that same note, the technique that an angler uses should be adapted to the specific lake they are fishing.
A general rule is to consider what bait the bass are eating in the water you'll be fishing and try to emulate that. Bass feed on a variety of bait, including insects, crayfish, shrimp, and smaller fish.
Although weather does play a big factor for fishing in Texas. Temperatures can often become sweltering, slowing bass activity to a crawl. When water temperatures become high, that's the time to slow down your presentations. Big jigs and Texas-rigged worms fished slowly through standing timber and other cover can be highly effective when the fish get sluggish.
Morning and evening hours are often the most effective times to switch to faster crankbaits, spinnerbaits, and topwater. The fish will briefly go into more active feeding modes before the more sweltering heat hits during the middle of summer. You can still catch fish during the heat of the day, just know it's going to be a little more difficult. Also, if you've never been to Texas in the summer, be warned the heat can be overwhelming the first time you experience it. We recommend good long-sleeve fishing shirts and face protection from the sun's rays.
Keep an eye out for sudden overcast weather or incoming storm fronts in Texas. A sudden change in air pressure, coupled with the oppressive sun being hidden behind the clouds can spur a short, but fruitful feeding frenzy that can yield fast action if the angler is in place to take advantage.
Speaking of the weather, one other thing to keep in mind is that water levels can be in constant flux in Texas. What was once a dry creek channel can disappear into a flooded deluge overnight in some spots. This is where it pays to study satellite views of the area you are fishing. It will help you spot the hidden ledges and structures the fish may be holding on. Having quality electronics, especially when the fish are holding in deeper water, is a plus, too.
One last consideration is to possibly up the size of the lures you are using. Texas is home to larger, Florida-strain largemouth bass. Sometimes bigger is better when it comes to presentation, especially if you are looking for a larger-than-average fish.
The top bass lakes in Texas
The Lone Star state is studded with top tier bass fisheries. The following lakes have earned reputations of reliably delivering big bass time after time.
Sam Rayburn Reservoir - 114,500 acres of pristine bass habitat in the eastern part of the state, Jasper County. Clear waters with plenty of vegetation for cover. Fish over 10 pounds are common here. The lake record is a 16-pounder caught in 1997.
Lake Fork - Approximately 27,000 of pristine bass habitat. This lake has a good mix of natural fish cover in hydrilla and flooded timber combined with man-made docks. An extremely popular destination and there are plenty of guides for hire. The state record was caught here in 1992 and weighed a whopping 18.18 pounds.
Lake Conroe - This is a popular catfish lake, but every year it produces largemouth bass weighing in the double digits. It has plenty of standing timber and man-made brush piles for cover. The lake record is 15.93 pounds.
Lake Alan Henry - One of the smaller lakes on this list at 2,880 acres, the waters also hold spotted and smallmouth bass. However, largemouths are king here with the shallow waters regularly producing fish weighing in the double digits. The lake record is a 15-pounder taken in March of 2006.
Choke Canyon Reservoir - situated conveniently between San Antonio and Corpus Christi, it is 25,000 acres of trophy bass fishing goodness. Double digit fish are not uncommon, and the lake record is a hefty 15.45 pounds.
Falcon Reservoir - Part of the Rio Grande River just south of Laredo, this reservoir straddles the border between Mexico and the United States. It dips to depths over 100 feet deep and sprawls over 83,000 acres. The lake record is 15 pounds.
Toledo Bend Reservoir - This gigantic 181,000-acre reservoir sits on the border between Texas and Louisiana and sprawls across three Texas counties. Make sure you're licensed for both states if you cross to the other side. The lake's biggest largemouth is a 15.32-pounder taken there in 2000.
Amistad Reservoir - Another reservoir on the U.S.-Mexico border, this one is 65,000 acres of clearwater fishing for largemouths and the occasional smallmouth. It also holds white bass and striped bass if you're looking for a change of pace. The biggest largemouth ever caught there is a 15-pounder.
Lake Texoma - Located north of Dallas, this 75,000-acre reservoir spills over into Oklahoma. Largemouths, and spotted bass can be caught here. Most notable here are the smallmouth bass. This lake produced a 7-pounder in 2006, which is nothing to sneeze at no matter where you go.
The Share Lunker Program
One last thing we wanted to mention about Texas is their amazing Share Lunker selective breeding program for big bass. It's run by the TPWD and is sponsored by Toyota each year and it recognizes any angler who catches a bass weighing 8 pounds or more. To qualify to enter, catch a bass weighing at least that amount or is 24 inches long. See more details on how to enter your catch at the Share Lunker website.
The program uses a tiered system where you can earn a higher recognition for catching larger and larger fish. The "Elite" level is for anyone who catches a bass weighing 10 pounds or more. The "Legend" level is reserved for anglers who catch a bass weighing 13 pounds or more. You'll get a "catch kit" of prizes for each entry. Everyone who enters a bass in Share Lunker is eligible to be included in a drawing for a $5,000 shopping spree. Those who catch a Legend-class fish are entered in a drawing for an additional shopping spree.
One of the cooler aspects of this program is the "Lunker Legacy Class." If you catch a 13+ pounder and turn it over to the TPWD, they'll use it for their selective breeding program. This allows Texas to stock the offspring of truly giant fish all over the state. Many of the Share Lunker program fish that have been studied by TPWD have had their parental lineage traced back to the program.
In addition to special recognition and a chance at shopping sprees, one of the biggest reasons to enter a fish as a legacy class lunker is simply because you'll get a free replica of your catch. You can't beat that!
For more outdoor content from Travis Smola, be sure to follow him on Twitter and check out his Geocaching and Outdoors with Travis YouTube channels.