Hunting is a tradition sewn deep into America's fabric for countless reasons, but one could make the argument that its pass-it-down rituals are the oxygen on which it survives. A father and son—and an increasing, exciting number of mothers and daughters nowadays—taking to the deer woods for the first time is akin to a kid riding a bike without training wheels or getting a learner's permit. It's a moment of immeasurable significance, as we only get to watch our children reach each milestone once. With hunting season on the horizon, parents from every corner of the country are anticipating the ceremony attached to opening day, and their first opportunity to pass it down.
A moment that carries such weight deserves the proper preparation, however, which is why we have made life easier on you by compiling what we believe are the most practical youth rifles for first-time deer hunters. Built to reduce recoil and fit comfortably to the smaller frame of a child, these rifles made our list for a variety of reasons, but each brings consistent performance and a reasonable price tag to the table.
The Best Youth Rifles for Deer Hunting
Savage Arms Axis XP Compact
Remington Model 783
Ruger American Ranch
Mossberg Patriot Youth Super Bantam
Thompson/Center Compass II Compact
1. Savage Arms Axis XP Compact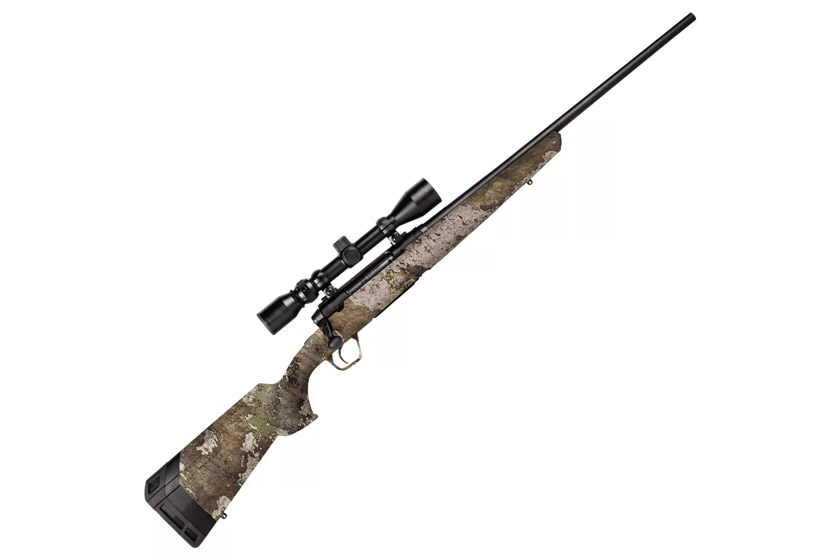 This is the first gun I bought my son once he became a qualified apprentice hunter. Available in .243 or .30-06 caliber, it offers first-timers a great deal, as it comes with a 3-9x40mm Weaver scope that's already mounted and bore-sighted. All you need is a couple trips out to the range, some fine tuning, and you'll be ready to go for whitetail season. The Savage Axis XP Compact features 20-inch carbon-steel barrel, a rugged synthetic stock dipped in TrueTimber Strata, a detachable box magazine with a four-round capacity, and a lightweight design at only 7.32 pounds.
2. Remington Model 783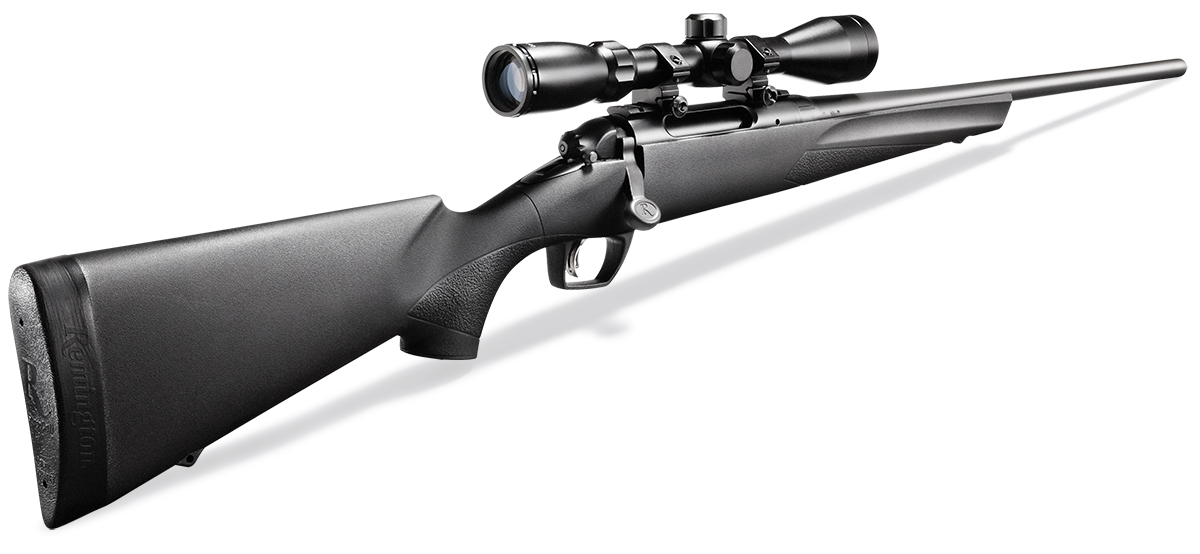 Affordability leads the way with the 783. There's simply no way to ever know if your child is going to fall in love with hunting the same way you did, so you don't want to go breaking the bank on his or her first rifle. Additionally, whether or not they hunt much out of the gate, as they grow, they'll want to move up in size anyways. So this option offers new hunters something they can grow into as they continue hunting, or something they can pick up down the road when they decide they may want to give the deer woods another shot. In terms of catering to the smaller-framed youth hunter, it does feature a nice recoil pad and a nice variety of calibers, including .243 Winchester, perhaps the most popular choice for young hunters. You can also buy this rifle with a 3-9x40mm scope already mounted and bore-sighted.
3. Ruger American Ranch

The scaled-down Ruger American in .223 Remington would make for a smart youth rifle, even though it isn't marketed specifically as one. The 10+1 detachable box magazine offers a nice reprieve at the range, and its shorter, 16.12-inch barrel comes suppressor ready. It uses a Ruger Marksman Adjustable trigger, which offers a crisp release with a pull weight adjustable between 3 and 5 pounds. Its lightweight design only burdens hunters with 6.1 pounds, as it employs an ergonomic synthetic stock. When you add these features up, you have an extremely accurate rifle that's wildly fun to shoot, and extremely proficient in the field.
4. Mossberg Patriot Youth Super Bantam

Mossberg has a top-tier reputation for building high-quality shotguns at an affordable price. However, their Patriot series has continued to garner more and more attention from hunters for all the same reasons, as these bolt-action rifles offer elite bang-for-your-buck appeal. A set of spacers allows hunters to adjust the length of pull, which allows youth hunters to grow with their gun. It features a 20-inch matte-blue barrel, a black synthetic stock and a 5+1 capacity box magazine, all of which comes out to a 7.5-pound rifle.
5. Thompson/Center Compass II Compact
Though it isn't much different from their updated Compass rifles other than the shorter stature, the Compass II Compact bolt-action from T/C has all the benefits of a smaller gun without sacrificing much else. It comes with a two-piece trigger, a threaded muzzle, synthetic stock, and can be combined with a Crimson Trace scope for the ultimate one-two punch. It also uses a flush-fit rotary magazine with a five-round capacity in standard calibers and a four-round capacity in magnum calibers.
There you have it: five great youth guns to get any new hunter out in the woods for some deer hunting this fall.
Enjoy the outdoors?
Sign up for daily stories delivered straight to your inbox.