You know you love orange chicken. Orange duck just might be better, especially when you make it at home.
My family loves Chinese takeout a little too much. We all have our favorites, but if there is one dish we all can agree on, it's orange chicken.
With that in mind, for this week's recipe we are putting a little spin on the chicken part and using duck breasts instead.
Literally, the hardest part of this whole entire recipe is crisping the duck breasts, but once that is done, you are working with some dang good food that might put the takeout place down the street out of business.
Orange Duck, Chinese Takeout Style
Ingredients
Two duck breasts
1 bottle of sweet barbecue sauce
1 bottle of orange marmalade
Ground ginger
Soy Sauce
Yeah, five ingredients is all this takes. However, if you want to add in rice and broccoli like I did in the final product, it's technically seven, but I'm not about splitting hairs.
First off, the orange sauce is absolutely incredible. There are various recipes found all over giving high praise to the taste of combining orange marmalade and barbecue sauce to make an orange sauce. So much in fact, I had to try it.
For this recipe, I used Stubb's Sweet barbecue sauce. Any sweet sauce should work though. Regardless, it tastes fantastic and so authentic, it's hard to tell it didn't come from a takeout place.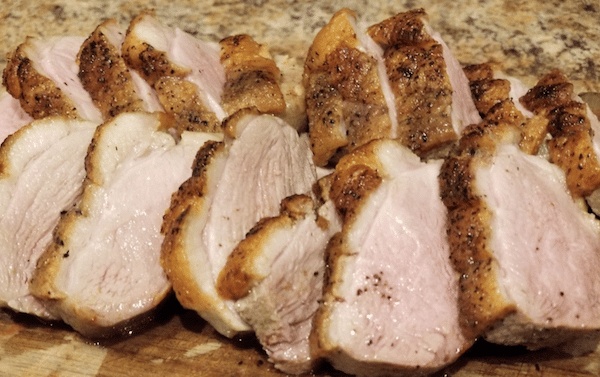 To get this recipe started, simply add your scored duck breasts skin side down in a cold pan. Turn the heat to medium high and let the pan gradually heat helping render the fat.
After 10 to 15 minutes, flip the breasts and keep on the heat for up to five more minutes, or until your desired doneness.
From there, remove from the heat, slice into thin pieces, and set aside.
Now for the sauce! To make this incredible orange sauce, simply combine orange marmalade, barbecue sauce, one tablespoon of ginger, and a few tablespoons of soy sauce into a sauce pan. Mix it all up and heat until bubbling. Now, mix it together with the duck and serve with rice, broccoli, or whatever side you like.
We ate the entire pan in one sitting. It was that good.
NEXT: THIS SLOW COOKER RECIPE USING DR. PEPPER AND A VENISON ROAST IS FANTASTIC
WATCH: 7 Classy Food Pics of Venison Cooked to Perfection
Enjoy the outdoors?
Sign up for daily stories delivered straight to your inbox.