Just when you thought sedans were on the out, Nissan introduces the new-and-improved 2019 Nissan Altima.
The 2019 Altima was officially revealed at the New York Auto Show, and since then, we've been receiving more information about the flagship sedan.
This all-new model is the sixth generation, and it's better than ever. According to Denis Le Vot, chairman of Nissan's North America management committee, "we decided to shake up the midsize segment in terms of design, driving enjoyment and technologies that are advanced and affordable."
How exactly did they shake things up? There are three main areas.
Performance
The 2019 model year offers two new engines. The standard powertrain is a 2.5L inline four-cylinder that boasts higher horsepower and torque from the previous generation's and offers improvement in driving feel and efficiency.
The Altima also offers the first production-ready variable compression turbo (VC-Turbo™) inline four-cylinder engine. It supplies the power of a V6 while retaining the efficiency of a four-cylinder. This engine is designed to physically change shape to alter compression ratio for optimal output and MPG.
And for the first time ever, the Altima offers intelligent all-wheel drive on all trims equipped with the four-cylinder.
Le Vot comments, "Of the top three selling midsize sedans in the U.S., only Altima will offer all-wheel drive. We expect this to be a key sales driver, especially for customers in the northern part of the country."
Design
Nissan is no stranger to concept cars, and we'll finally get to see some of that futuristic design come to life. The 2019 Altima's body is lower, longer and wider than last year's model and takes style cues from the Vmotion 2.0 concept.
Inside, the "gliding wing" dashboard takes center stage and features standard NissanConnectSM on an eight-inch touchscreen. This system incorporates both Apple CarPlay™ and Android Auto™.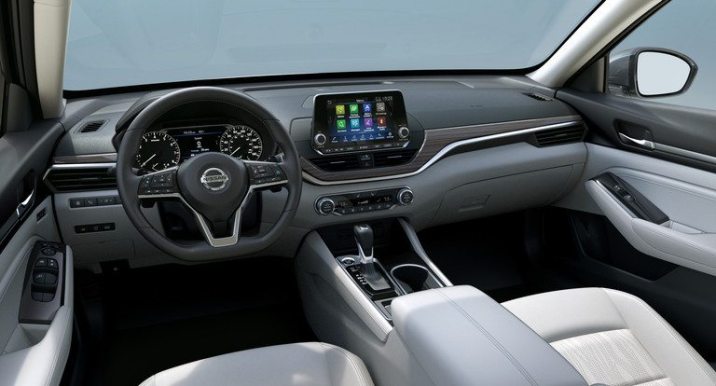 Safety
The new Altima implements Nissan Intelligent Mobility, the technology that helps create a safer and more protected ride. It features amenities like intelligent cruise control and automatic emergency braking.
There are two new entities—rear automatic braking and ProPILOT™ Assist. The latter system is one of the most anticipated innovations from Nissan; the Altima is the second model to incorporate it after the new Rogue. ProPILOT Assist™ must be "activated," and it will then help with basic driving functions such as keeping a set distance between you and the car ahead and coming to a full stop based on traffic flow.
One thing is for sure—the 2019 Nissan Altima is certainly a step up from last year's model. According to Le Vot, "This new Altima builds on 25 years and more than 5.6 million Altima sales to date - but to us, this is just a starting point."
The 2019 Nissan Altima will be available at dealerships by fall 2018.
NEXT: SUBARU OFFERS A FRESH PERSPECTIVE ON AUTONOMOUS VEHICLES
WATCH