Take a first look at the new Prowler Pro side-by-sides from Textron.
Textron just announced the addition of three new vehicles to its Textron Off Road Prowler™ Pro lineup, and we're pretty impressed with what we've gathered so far.
The new, six-passenger Prowler Pro Crew XT brings quiet power and performance to the multi-passenger market, while the new three- and six-passenger Ranch editions offer premium accessories and a custom Atomic Copper color for a more customized look.
Take a close up look at the new Prowler Pro Ranch Edition in this sweet video:
https://youtu.be/HM_cFlODxlc
"We continue to develop state-of-the-art Textron Off Road vehicles that meet a wide variety of enthusiasts' needs," said John Collins, Vice President, Consumer for Textron Specialized Vehicles. "The new Prowler Pro XT Crew builds off of the innovative Prowler Pro platform and continues the legacy Textron has instilled in all of its highly engineered brands."
Just like its three-seat counterpart, the Prowler Pro Crew XT offers quiet gas power and unmatched reliability, with the added benefit of a second row of seats. The vehicle is powered by a 50-horsepower, 812cc EFI engine that offers plenty of power; hauling six people should be no problem, and carrying cargo or harvested game animals is a cinch.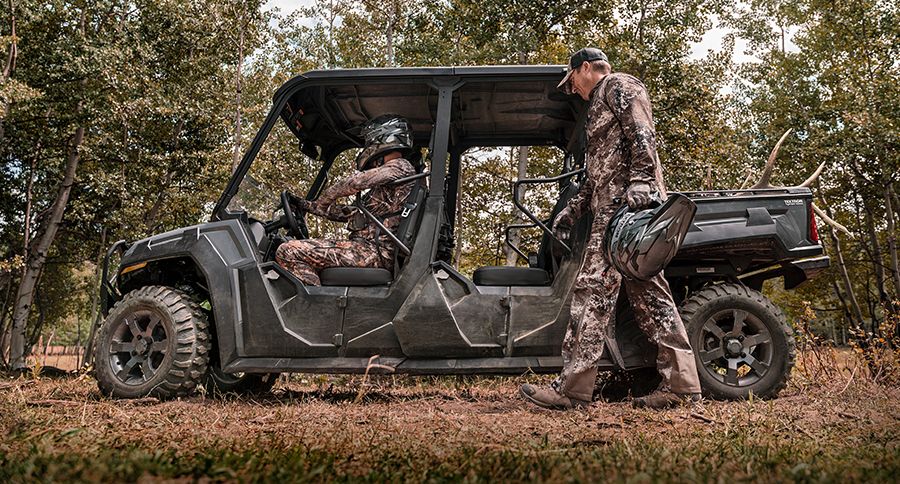 The Prowler Pro Crew XT has 10 inches of front and 9.5 inches of rear suspension travel, 10 inches of ground clearance, and 26-inch Pro Terrain tires. All that translates to an extremely comfortable ride.
It has a 2,000-pound towing capacity, 1,500-pound payload, and 1,000-pound cargo box capacity, meaning the vehicle can haul six people along with all the gear needed for a long day on the hunt or in the field.
The vehicle's six-person bench seating also features removable passenger seats for additional storage space inside the cab. Its customizable and password-protected speed control can be set to ensure ranch and farm hands, not to mention kids or beginner drivers, will stay safe while behind the wheel.
The Prowler Pro Crew XT has toolless service components with easy-access panels, meaning the vehicle can spend more time in the field or at the hunt camp and less time in the garage, being worked on and maintained.
The Prowler Pro Crew XT joins the three-passenger Prowler Pro XT as part of the lineup's electronic power steering (EPS) offering. Both vehicles are available in Dynamic Charcoal and Fire Red.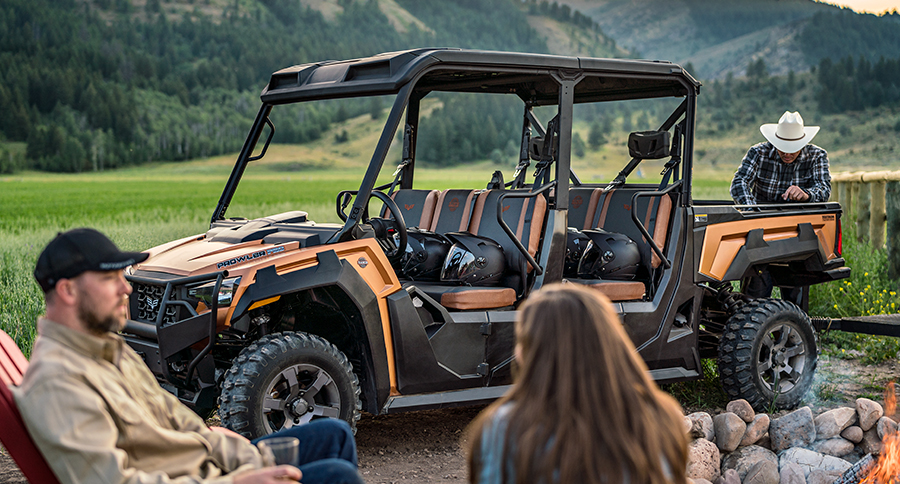 In addition, the new Prowler Pro Ranch Edition and Crew Ranch Edition feature Atomic Copper paint, premium cut & sewn seats, hard top, halogen headlight with LED accent, HD front and rear bumpers, 27-inch Maxxis® Bighorn 2.0 tires, and a 4,500-lb WARN® winch. The lineup is rounded out with a non-EPS Prowler Pro in Marsh Green.
The Textron Off Road Prowler Pro line is built in Thief River Falls, Minnesota, and all Textron vehicles are sold with a 12-month warranty. These models should arrive in dealerships this fall, and we're already anticipating a test drive.
NEXT: RIDE OVER EVERYTHING...IN COMFORT
Enjoy the outdoors?
Sign up for daily stories delivered straight to your inbox.