We all have that one dream gun that will never be ours.
These expensive guns are far out of reach for many of us.
Check out these six expensive guns you will never own.
German WWII Cased Luftwaffe M30 Drilling Survival Combination Gun
The absolute king of all survival rifles. Chambered with two barrels in 12 gauge and one barrel in 9.3x74 caliber, this Sauer JP & Son drilling combination gun could allow a downed German pilot to survive in the wilds rather lavishly. Vintage ones with the original carrying cases fetch top dollar.
Theodore Roosevelt's Suppressed 1894 Winchester .30/30 Rifle
This particular rifle was custom made so Mr. Roosevelt could dispatch pests and not disturb the neighbors. The rifle is ultra cool and if it were ever put up for auction it would be quite pricey. Well, at least we can dream...
Purdey Double Rifle
When a cape buffalo or freight train is about to smash you into oblivion, this Purdey large caliber double rifle would come in handy. First, you better start saving lots of pennies...
Parker Double Barreled Shotgun
If you are a fan of doubles, Parker is one of the top end shotguns you dream about. The stock alone is a work of art with beautiful natural lines.
Hand engraved Smith & Wesson Revolver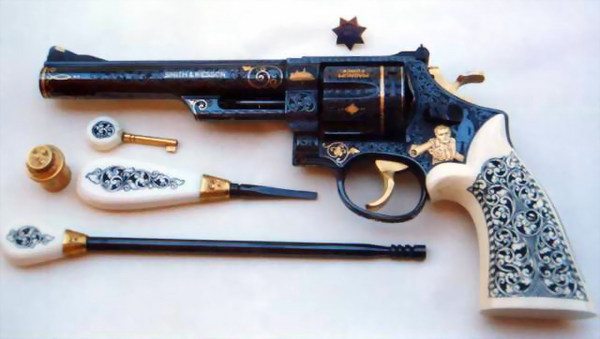 Oh yes, the value is said to be $225,000. Worth every penny right? I think this revolver is just a bit too showy for Detective Harry Callahan (Dirty Harry) don't you?
Any gun Elvis ever owned
Elvis was a well known gun collector. He valued a fine gun and many of those same firearms are snapped up at auction on occasion. They are always attracting high prices. If it is an authentic weapon that the late Elvis owned, it will go for big money.
Do you like articles about the outdoors? Click here to view more articles by Eric Nestor. You can follow him @ericthewoodsman on Twitter, The Classic Woodsman on Facebook, and @theclassicwoodsman on Instagram. You can view more Nestor Photography photos at Nestor Photography.
NEXT: SUNDAY GUNDAY: 7 SKETCHIEST GUNS EVER
WATCH
https://rumble.com/embed/u7gve.v3v8jz/
Enjoy the outdoors?
Sign up for daily stories delivered straight to your inbox.