A South African big game hunter was killed on Friday when an elephant shot by a member of his party fell and crushed him to death.
In 2017, a South African hunter was crushed to death in an encounter with a herd of elephants in Zimbabwe. Theunis Botha, age 51, was leading a hunting party when his group walked among a breeding herd of elephants and were immediately attacked.
Botha's party was hunting at the Good Luck Farm near Hwange National Park when the incident occurred. According to a report from the Telegraph, three of the cows charged Botha's group. Shots were fired by Botha but he was surprised by a fourth cow who came at him from the side and grabbed him with its trunk.
One of the group of hunters fired at the female elephant, but when the animal fell it collapsed on top of Botha, crushing him.
Botha was a highly regarded houndsman whose business, Game Hounds Safaris, had its beginnings hunting problem lion and leopard for the government around Kruger National Park and the surrounding cattle farms.
The hunter leaves behind five children and his wife, Carike Botha.
Mr. Botha had also attained the rank of sergeant in the South African infantry when he served during the Angolan War in the 1980s. He returned home following his service and earned degrees in Psychology and Anthropology from the University of Pretoria, where he met his wife.
Botha's company's website states,
"Theunis embraced his heart's passion and engaged in full time big game hound safaris in and around South Africa..."
His daughter Carmen, now age 21, posted the following photograph of herself with her father on her facebook page: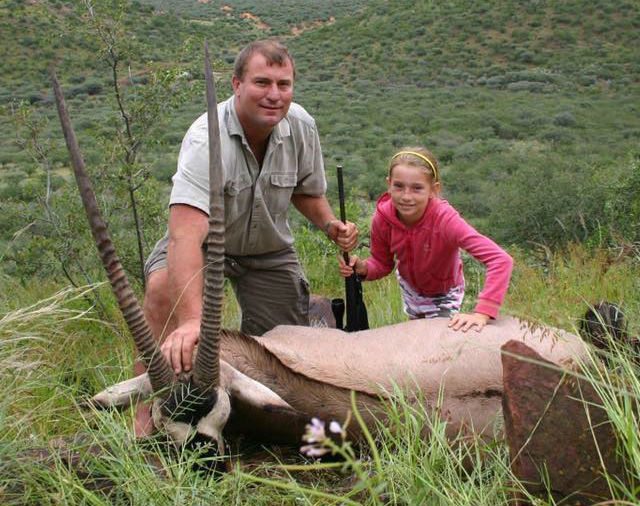 While apparently hundreds of people who knew and hunted with Botha offered their condolences, anti-hunters took to social media to express their predictable and sick glee that a person lost his life in such an incident as occurred with Botha.
It goes without saying that these people are an unfortunate lot with more time on their hands than courage or thoughtfulness concerning a family who just lost their father and husband. We express our condolences to Botha's family.
Botha was also a friend to Scott van Zyl, who was killed by crocodiles while hunting in Zimbabwe on April 7. Two Crocodiles were shots during the search for van Zyl and DNA samples taken from contents found in the stomachs matched van Zyl.
Like what you see here? You can read more great articles by David Smith at his facebook page, Stumpjack Outdoors.
NEXT: Scientist Who Studied Cecil the Lion Supports Trophy Hunting
https://rumble.com/embed/u7gve.v3tron/
Enjoy the outdoors?
Sign up for daily stories delivered straight to your inbox.