The Starship, a Class 8 electric truck by the Airflow Truck Company, is set to beat the fuel economy record with a cross-country trek from San Diego to Jacksonville.
The trip will be sponsored and fuel tracked by the North American Council for Freight Efficiency (NACFE) with Airflow Truck Company founder, Robert Sliwa, behind the wheel.
Partnering on the project is Shell Lubricants, providing technical expertise on its drivetrain and oil.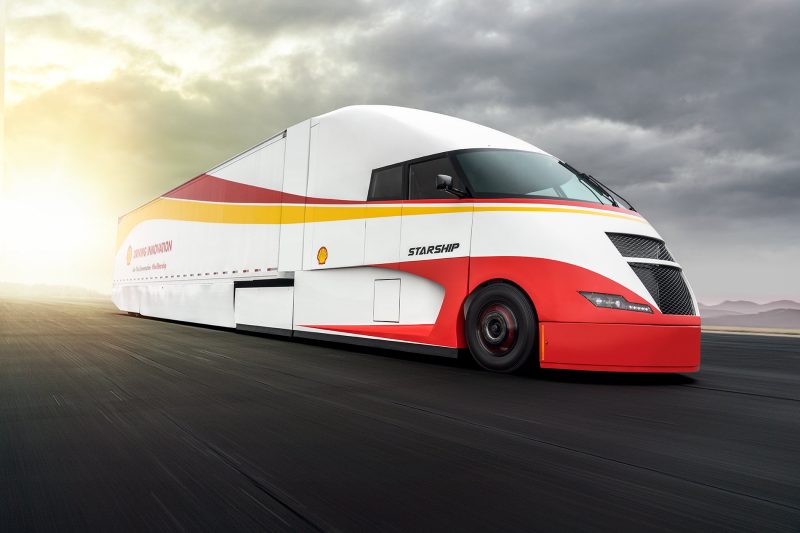 "We seek projects such as the Starship initiative to keep Shell at the leading edge of technology development and energy efficiency," said Robert Mainwaring, technology manager for innovation at Shell Lubricants. "Working with AirFlow Truck Company and other suppliers gives Shell Lubricants the opportunity to align with innovative companies to explore what is really possible in fuel efficiency."
The massive 18-wheeler will carry 50,000 pounds of cargo, powered by Cummins X15 six-cylinder diesel engine contributing 400 horsepower and 1850 pound-feet of torque with an 18-speed automated manual transmission. For the trip, it may be equipped with a hybrid electric axle system.
No word on the range or fuel economy, or if the new axle will be ready in time for the trip.
On the exterior, its front cab mimics the Tesla and Nikola One semi's with a massively curved, wind beating aerodynamic body, as well as a lightweight carbon fiber chassis, active grille shutters, a downside axle configuration, a 5000-watt solar panel roof configuration, and side skirts.
NEXT: INTRODUCING THE WORLD'S LONGEST LIMO
WATCH