The CDC is warning pet guinea pig owners about the fact that they may have been responsible for a recent salmonella outbreak.
According to the Centers for Disease Control and Prevention (CDC) and the US Department of Agriculture Animal and Plant Health Inspection Service, the cause of a recent salmonella outbreak may be right in your own home. The likely source of the outbreak has been traced back to pet guinea pigs, according to Tuesday's announcement.
Nine people became sick with salmonella, and the cases were reported between July of 2015 and December of 2017. The strain of salmonella bacteria was traced to pet guinea pigs, though the individual salmonella cases were spread across eight different states. Four of seven patients that the CDC interviewed reported that they were in contact with guinea pigs within a week of experiencing their initial symptoms. Additionally, genome sequencing revealed that the strain of bacteria that caused the multistate outbreak was similar to bacteria that was collected from a sick person's pet.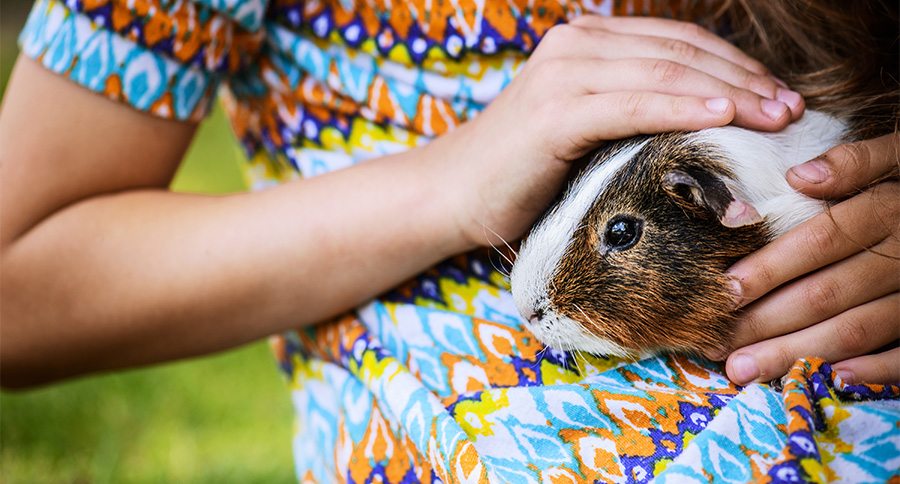 Salmonella is a bacterial infection that can become a life-threatening illness in rare cases. Pet rodents can carry and transmit salmonella, though humans usually contract the infection by eating or drinking contaminated food or water.
One person affected by this latest outbreak was hospitalized, though there have been no deaths reported. People infected with salmonella experience symptoms that include diarrhea, fever, and abdominal cramps and the person infected will likely show signs of salmonella 12-72 hours after handling an infected guinea pig.
According to the CDC, if you have pet guinea pigs, you should take extra precautions to thoroughly wash your hands after you handle the guinea pigs or clean their cages. The CDC also stresses the importance of playing with the guinea pigs carefully so that you won't get bitten. Keep guinea pig food and water bowls out of kitchens where food is prepared. Tell your health care provider if you experience any of the symptoms after handling a guinea pig in order to ensure prompt treatment.
Guinea pigs can make great pets, but as with all pets, it's important to understand the diseases they can carry and take steps to protect yourself. Children, pregnant women, and elderly adults with weakened immune systems are at greater risk of becoming infected. Rodents should not be kept in places with children younger than five years old including classrooms, child care centers, or other facilities.
If you have to relinquish your pet, do not release them into the wild. Your local animal shelter, animal rescue, and even your local pet store will likely take in unwanted pet rodents to find them new homes.
Did you know that guinea pigs can carry salmonella? Tell us what you think of this outbreak in the comments below.
WATCH NOW: Guinea Pigs 'Popcorn' When They're Happy
Enjoy the outdoors?
Sign up for daily stories delivered straight to your inbox.