RVing is camping on steroids. You get to spend quality time with your family outdoors while sleeping in your home away from home. While we love tent camping, pulling the RV trailer into a spot and camping for a few nights is nice. If you're camping with kids, the setup is easier, cleaner, and much shorter. However, it only works if you have a great packing system. Some items solely live in the trailer, while others come and go. We find it's helpful to have an RV packing list that can be checked off before every trip. That way, we can make sure we have everything we need and not overpack. Of course, the last thing you want to do is go over your weight limit.
Kitchen Essentials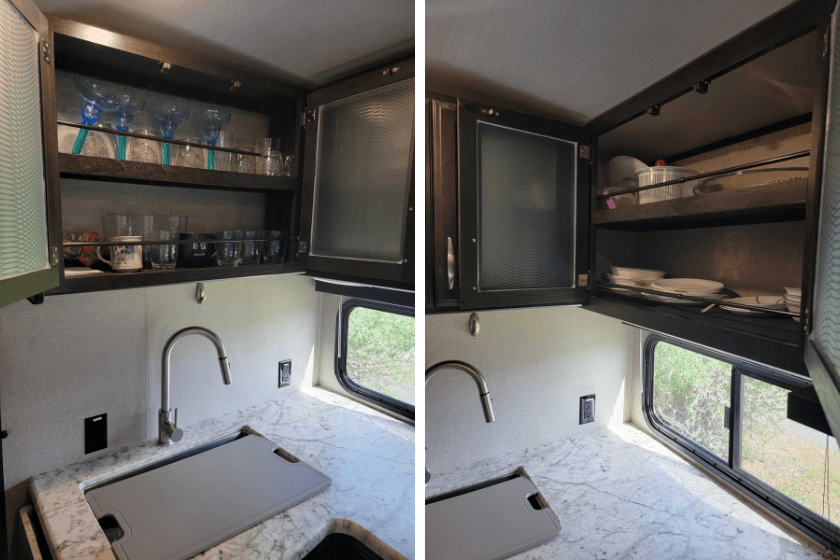 We leave our trailer pre-packed with a lot of our kitchen essentials. However, if you don't want to have two sets of kitchenware or like to use a specific skillet, you'll have to pack them in and out every time. If you don't own a trailer and are renting, check with the owners or company to see what it includes. Some companies provide many of the basics, while others don't provide anything at all. If you're like me, you might want to bring your own stuff either way. Our kitchen essential must-haves are:
Coffee maker
Electric griddle
Large pot
Oven mitts
Foil
Mini blender
Plates (service for four)
Silverware
Water cups
Coffee mugs
Wine glasses
Bottle opener
Spatula
Pizza cutter
Can opener
A knife or two
A set of paper plates
Skillet
Stainless steel pan
Roll of paper towels
Kitchen towels
Dish soap
Cutting board
Water filter
Our pantry staples only stay in the trailer if we are planning back-to-back trips. Otherwise, we take them out. Some essentials to pack are:
Cooking oil
Spices
Condiments
Coffee
Water bottles
One organization hack we've found to be necessary is lining the shelves with non-adhesive drawer liners to prevent shifting, and using expandable tension rods to prevent housewares from tumbling out of the kitchen cabinets.
Depending on your trailer, you may not have a very large oven, making cooking challenging. Meal prepping ahead of time makes life a lot easier.
For us, breakfast is always eaten at the campsite. Foods such as coffee, cereal, oatmeal, waffles, pancakes, eggs, and bacon are simple to whip up even in the smallest RV kitchen. The pancakes, waffles, and even sausage can be made beforehand.
Lunches are another easy meal. You can make grilled cheese, sandwiches with deli meat, peanut butter, and jelly, or even salads with leftovers from the night before. For dinner, I like to pre-make chili, soups, and casseroles. Sometimes, I'll even pre-make a pork tenderloin or a roast, which can be used for multiple meals. With kids on board, we always have easy meals that they love to eat, such as mac and cheese, hot dogs, and hamburgers. Sticking to favorites ensures that everyone is happy and fed. No one needs to be hangry on a long RV trip.
Bathroom and Bedroom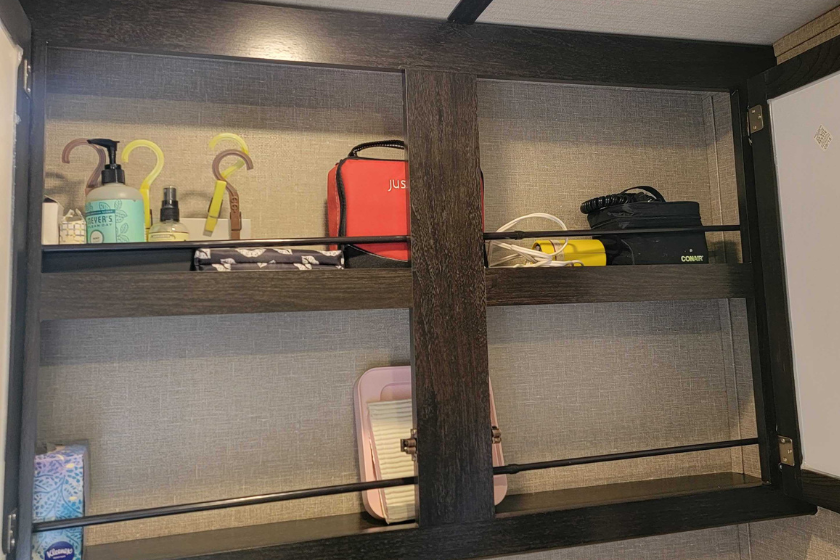 Much like with the kitchen, we stock our RV with essentials that stay no matter what. Our RV has two sets of linens and one to two sets of towels in the drawers, and anything non-perishable stays in the trailer as well. However, there are some things we take in and out, such as:
Shampoo
Conditioner
Soap
Shaving cream
Razors
Pony tail holders
Lotion
Q-tips
Hairbrush/comb
Blowdryer
Skincare items
Makeup
Sunscreen
Tylenol
Advil
Bug repellant/anti-itch cream
Prescriptions
Small space heater
Clothes
RV trips involve a lot of driving and outdoor time. Pack comfortably for travel with plenty of clothes you don't mind getting dirty as you take on your new adventures. Since most RVs have limited closet/drawer space, you want to maximize your packing with a few pieces that can be worn repeatedly. Also, pack a sweatshirt or a sweater for sitting around the campfire or under the awning in your lawn chair; even in August, the temperatures at night can dip.
One or two pairs of shorts
A pair of hiking pants
A T-shirt or tank top per day
One pair of underwear per day (pack a few extras)
One pair of socks per day
One or two pairs of sweats/leggings
A long-sleeve shirt
A sweatshirt/zip-up hoodie
Bathing suit
Towels
Tennis shoes
Sandals
Most campgrounds have laundromats available. Check with yours just to make sure, so you can wash your clothes as needed. Bring detergent pods for washing and a large stash of quarters for laundromats.
Outdoor Gear & Games
Ensure you leave room in your trailer or truck for all your outdoor gear and games. Camping chairs are vital for sitting by the campfire or under the awning. Remember to leave room for any recreational gear. If you are heading somewhere with a lake, you may want to take rafts, inflatables, paddleboards, or kayaks if you have room. Some RVers like to take their fire pits. Keep in mind that some campgrounds do not allow wood-burning fire pits. Check ahead of time so you don't add extra weight that you don't need. Games are fun for the whole family on quiet nights, and DVDs can be helpful when you don't have a great signal for your devices.
Camping chairs
Foldable side table
Outdoor rug
Camp stove
Fire pit (propane and wood burning)
Propane tank (5 gallons)
Generator
Firestarter
Extra gas can
Wood (if permitted)
S'more sticks
Kayak
Inflatables
Card games
Board games
DVDs
Books
Magazines/crossword puzzles
Puzzles
Coloring books
Toys
Tools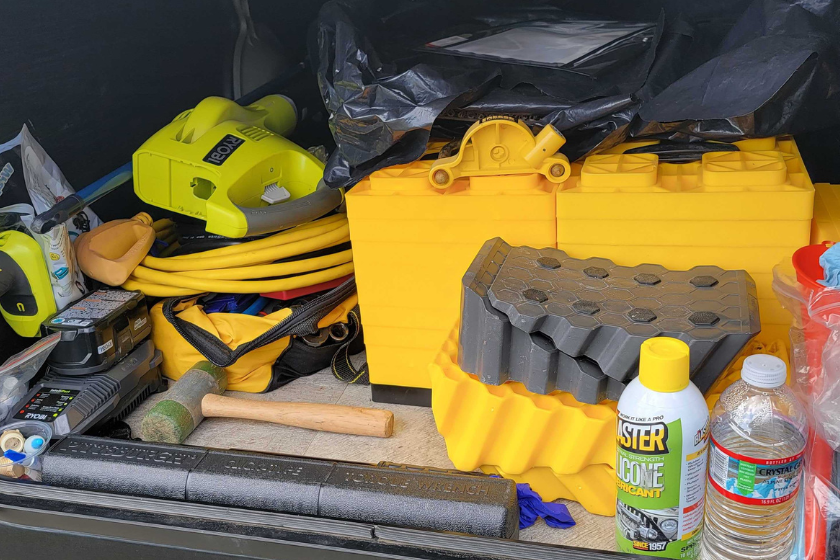 There is a lot to do when prepping the RV for the road, and you never know what may come loose as you drive. Having a set of tools handy should do the trick for any trip length. Here are a few things to stow away in your hull storage:
Stacking blocks
Duct tape
WD-40
Set of socket wrenches
Torque wrench
Screwdrivers (Phillips and slot)
Hammer
Headlamp
Scissors
Pocket knife
Rope
Tarp
Drill motor plus battery charger (optional)
A drill motor is optional but is the most efficient to lower your stabilizing jacks. If you are heading out on a lengthy trip, the torque wrench is handy for checking your lug nuts and sway bar bolts.