Camping doesn't have to be cold, wet, and uncomfortable. Nothing puts a damper on your fun week in the woods like miserable conditions you're unprepared to deal with. By planning ahead and taking a few precautions, you can guarantee a fun, comfortable time for all. Any camping trip can be an incredibly enjoyable experience with these tips.
Invest in the Right Gear
Choosing the correct gear — and enough of it — can make or break your camping trip. Most importantly, your tent should be large enough to accommodate the number of sleepers and well suited for the season and conditions you'll be camping in. Depending on your group and the time of year, look for features such as inner partitions, all-season ratings, and waterproofing as well as a rain fly and mosquito net.
Some type of sleeping pad or mattress will put a layer of comfortable protection between you and the cold, hard ground for a cozier night of sleep. A sleeping bag or bedding designed for the right time of year can also provide warmth or keep you cool. Don't forget a pillow! This one piece can make a huge difference in your quality of sleep and prevent soreness the next morning.
Buying all this gear for the first time will be expensive, but resist the urge to skimp on quality to save a few bucks. You can still find solid choices at a good value, but don't be too cheap.
Set Up in the Best Possible Spot
Don't set up camp in just any spot. Even if you're limited to a designated camping area, search for a dry, flat area at least as large as the base of your tent without protruding rocks or roots underneath.
Position your tent so the morning sun won't beat down directly on you and wake you at the crack of dawn. If you're camping in the summer, try to find a spot that's completely shaded so your tent doesn't bake in the sun all day long.
Make it Feel Like Home
You won't spend the entire trip inside your tent, so create a great basecamp hangout space. Set up some camp chairs and maybe a hammock to kick back and read.
Bring a folding table for prepping food, eating meals, and playing games around.
If you're in an area where you can build fires, create a designated space far enough away from your tent, trees, or other structures.
Set up some string lights for a fun, relaxed atmosphere you can enjoy after sundown or add some other source for much-needed light and ambiance.
Eat (and Drink) Up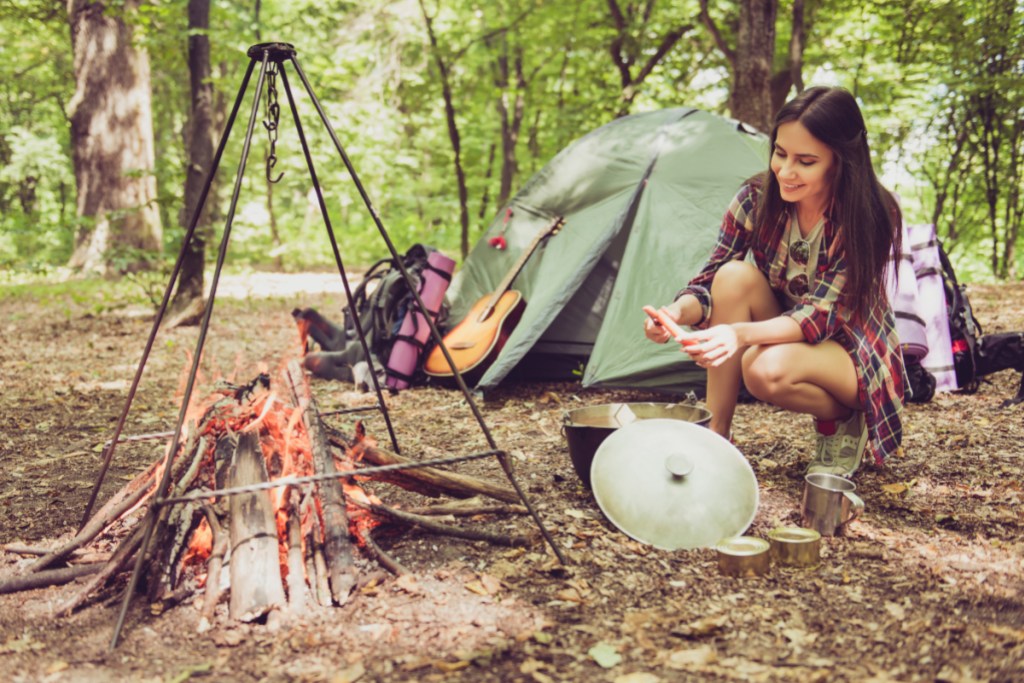 Stock up on plenty of good, hearty food that will fill you up and give you energy for the daytime adventures. If you're camping while it's cold outside, feasting on hot food fresh off the fire can keep you warm.
Coffee, tea, cocoa, or other other hot beverages are great for a warm-up too. Be sure to bring plenty of bottled water, have access to clean water, or pack some type of water purifying device so you can stay hydrated.
Don't forget the cooking essentials, depending on your menu and fire situation, such as a cast iron skillet, kettle, cookware, camping stove, and roasting sticks. And pack enough plates, bowls, cups, and flatware for your entire crew.
Keep all food outside of our tent, preferably elevated and/or in a bear-proof container to avoid losing your supply to a hungry critter.
Dress for Success
If you don't have far to lug your camping gear from the car, it's better to overpack than to underpack — particularly when it comes to the clothes you'll be wearing.
Bring plenty of layers so you can add and shed them as temperatures shift. Bring extras in case you get wet or muddy and don't forget rain gear.
Even if you don't have access to a real shower throughout your camping trip, putting on a clean set of clothing before you crawl into your sleeping bag for the night will be refreshing.
Come Prepared for Mother Nature
No matter what the forecast says or what weather you plan for, Mother Nature will likely throw you a curve ball at some point. Come prepared for anything so you can still be comfortable when things go haywire.
Even if it's scheduled to be cold and cloudy, bring plenty of sunscreen. No chance of rain? Pack that rain gear anyway.
Itchy — and even dangerous — bug bites can ruin your trip, so load up on bug sprays and maybe even a Thermacell unit.
Pack a first aid kit in case of any accidents and bring a few hand warmers just in case. You might need a knife for any number of jobs, and a fire starter is always a safe bet.
Extreme heat, frigid cold, slippery mud, torrential downpour, blustery wind — be prepared for any elements.
Pack Portable Power
Even if you're planning to stay unplugged, packing some type of portable power source is a great idea. You never know when you'll need to make an emergency phone call or give your car a jumpstart in the middle of nowhere.
It can also help keep you comfortably cool or toasty warm if you need to charge up a portable air conditioner or heater in extreme weather.
Plan for Bathroom Alternatives
If you won't have access to running water for drinking, bathing, and doing your business, plan ahead so you can still stay reasonably clean.
Bring plenty of wet wipes and hand sanitizer to wipe off dirt and kill germs. And load up on toilet paper — but be sure to follow campground guidelines for disposing of any waste.
Keep it Clean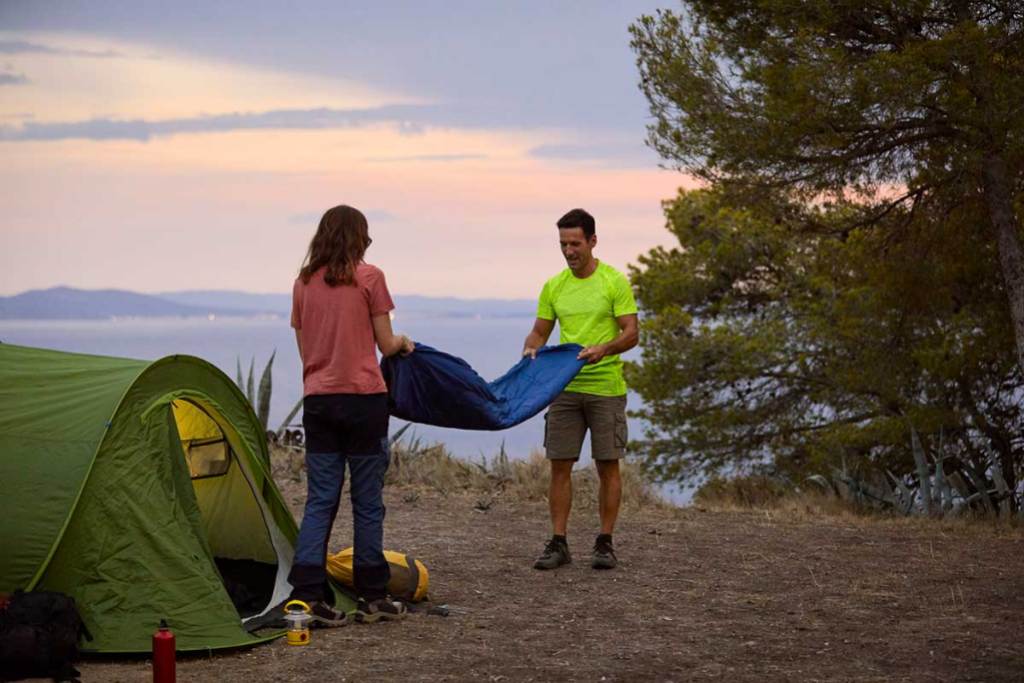 Keeping camp tidy will make the experience more pleasant and prevent pests and wild rummagers from coming around. Sweep pine needles, leaves, pebbles, dirt, and other debris from your tent so you have a clean, comfy place to sleep. Clean up cooking tools and residual mess immediately after you eat. Collect every piece of trash you make to dispose of when you leave — this will make camping more comfortable for the next group too.
Stay Safe
You can't stay comfortable without peace of mind, so pack some bear spray if you're camping in an area that holds these predators. Securely store all your food in the proper ways. Perhaps most importantly, let a trustworthy friend or family member know where you're going, when you're leaving and planning to return, and be sure to check in with them after the trip.