Let's get into some redfish! Here are the best red drum fishing tips for when you're ready to get started.
The red drum (or as its widely known, the redfish) is one of the most important inshore gamefish. Found from Texas to Florida and up the Atlantic coast to the Carolinas, this highly-prized fish species is known throughout the Gulf of Mexico region as one of the favorite saltwater fishes targeted by anglers.
Redfish begin to spawn around estuary inlets and barrier islands in the fall when the females can lay over one million eggs. Young red drum between the ages of three and five years of age can grow to around 25-30 inches in length and can be found around rocky outcroppings including jetties and manmade structures, even areas such as oil rigs and bridges.
These areas are accessible to many fishermen, even those who don't have a boat. Wade fishing accessibility helps make them the incredible popular sport fish that they are. In fact, they're so coveted that on October 20, 2007, President George W. Bush signed Executive Order 13449 giving both striped bass and the red drum federal protections.
While this order states that they may no longer be commercially harvested in U.S. federal waters (or in most state waters), they are still readily available to licensed sport fishermen and women. Redfish are regularly caught and enjoyed as table fare, and it's in large part thanks to the ethical fishing rules devised by the powers that be.
If you're preparing for your first redfishing experience, or trying to find out if it's worth it to try, these pointers and tips should help.
Fishing for Red Drum
The obvious starting points include determining where you should target redfish, learning the best red drum fishing techniques, and acquiring the tackle and gear needed. For anglers who have regular access to saltwater regions where the red drum is found, the barrier of entry is less steep. For those without the experience or gear, as well as those who wish to travel to one of these great redfish locations, there's still plenty of hope.
What we'd suggest, especially for total beginners, is to find and book a redfish guided trip. The men and women who become guides have spent a good portion of their lives learning to fish this great species, and are experts at extending their knowledge, even to novices of redfish angling. It's a great environment to learn the ropes, ask questions, and soak up the know-how from a seasoned angler.
Even lifetime fishermen with experience in all types of angling can benefit from fishing with a legitimate guide service. It can make you a better angler and ultimately help you fill a cooler full of redfish.
Locations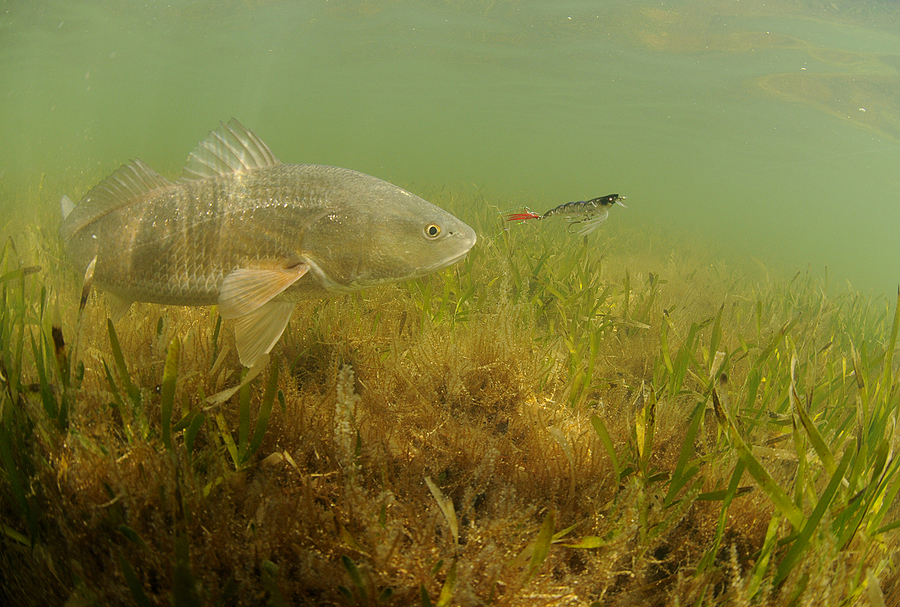 Some of the favorite hangouts for redfish include marsh creeks, grass flats, shallow bars, and jetties. Depending on the season, big redfish will use these different areas at different times and in differing ways. For instance, inshore marsh fishing can afford an angler a high concentration of fish to target since significant food sources for the redfish (croakers, menhaden, shrimp, crabs, mud minnows, and mullet) use the tides to search for their own food.
While live bait is typically the best bet, jigs tipped with a fluke tail bounced near the mouths of creeks is an exciting way to entice a hard strike.
Fishing the grass flats, especially on a flood tide, is when sight fishing becomes the style of choice. With the right conditions, this type of angling can be epic. Once multiple types of crabs and shrimp move into the shallower water, spotting bull reds tailing (breaking the surface with their tails while feeding) becomes the main goal. It is the stuff of legend for sight fishermen everywhere.
Of course, fishing redfish around jetties is one of the most popular and successful means of red drum angling. Jetties are manmade rock piles that separate harbors and coastlines from the open ocean and protect them from damage. These form channels that are awash with currents that carry many types of forage that redfish love, causing them to not only use these areas, but linger there for long periods. Jetties are great for both drifting live bait and casting your favorite artificial baits.
Bar fishing may just be the most popular method for fishing redfish since anglers rarely need a boat. Many of these bars are accessible by foot from shore, likely using a pair of waders, and anglers can walk right in the water and fish. The downside is that these areas often get hit hard and the fishing pressure is heavy. A good technique is to fish with mullet or a topwater lure across the surface of the shallow channel bars.
Red Drum Fishing Gear
Redfish fans can argue over their favorite style of fishing, but it really comes down to personal preference. Fly fishing is certainly a learned technique, but conventional means are just as at home in these waters, and just as successful for redfish.
Generally speaking, a medium-action spinning or baitcasting rod rated for 10 to 40-pound-test line with a good quality reel to match is the simplest and easiest to use for redfish anglers everywhere. There isn't a ton of redfish-specific gear required, which bodes well for the angler; odds are they have a setup like this and know how to use it.
Many veteran red drum fishermen will attest to the fact that (depending on location and conditions) 10- to 30-pound test braided line is a good choice, although 15- to 40-pound test fluorocarbon works quite well too.
When using live bait, a 5/0 circle hook is the go-to choice. This classic hook sets almost automatically in the corner of a fish's mouth, ensuring a better chance at landing the fish. For folks that like to be more proactive, paddle-tail soft plastics that are rigged weedless style can be great for targeting fish on the shallow grass flats. You can also consider ripping crankbaits and stickbaits parallel to jetties, which can cause bone crushing redfish strikes.
Liberal use of liquid fish attractants or baits that are already impregnated with scent is a great idea since redfish rely on their sense of smell more than their eyesight when detecting prey.
Red Drum Tactics
Whether you have the means to catch your own bait or you get them from the bait shop, one of the best techniques is to use blue crabs on a circle hook near drop-offs near jetties or barrier islands, especially for bull redfish. While some anglers like to dangle the whole crab, others prefer to cut them in half to create more scent in the water.
If you're wading the bars and other shallow water edges, a live shrimp fished under a popping cork with a two-foot leader of 15-pound fluorocarbon is a good choice. If you're fishing with other anglers, have another of your group try a topwater stickbait or a soft plastic until one of you garners a strike. Then, go with the winning result.
Once you know that fish are in the area, stealth is the key to keeping them there. Try not to cast directly into a group of redfish that you are aware of to avoid spooking the entire school, but instead cast beyond them and then allow your bait to settle. Then retrieve it with the goal of letting the fish find your offering.
In the case of fishing in a current, cast towards the flow and let your bait or artificial come back at you in a natural way. As with any fishing, work with what you know and have had success with in the past, and try to eliminate the obvious things that don't work.
Redfish Recreation
Whether you want to fish nearshore or in deeper water, there is a place and a tactic for you. Many folks have dreamed about fishing for redfish yet haven't gotten the chance to try it. Remember, as accessible and seemingly easy it is to do yourself, there are many top notch and highly-rated guide services waiting to take you on your first redfishing trip.
Red drum fisheries have come a long way since the days of that Presidential Order, and now anglers all along the southern East Coast from North Carolina down to the Gulf in Louisiana can catch redfish to their heart's delight. They can find success with everything from natural bait to artificial lures. It's a versatile, enjoyable species to fish for.
The time to move past "beginner" status has come, because it doesn't last too long. Try it and you'll see, it's a worthwhile, rewarding kind of fishing.

Looking for a little more or even hot lunch for your hunting blind? Follow my webpage, or on Facebook and YouTube.
Products featured on Wide Open Spaces are independently selected by our editors. However, when you buy something through our links, we may earn a commission.
NEXT: FISHERMAN HAULS IN A RARE WOLF EEL
Enjoy the outdoors?
Sign up for daily stories delivered straight to your inbox.