An Illinois tiger musky may make the record books and keeps the train rolling on what is turning out to be a tremendous year for record fish in the state.
When the DNA test results return Terry Livingston Sr. will very likely hold the top spot in the Illinois record books for tiger musky. All they're waiting on is confirmation that the musky is indeed a tiger, but from the photo of Livingston cradling the big fish it looks like a foregone conclusion. A tiger musky is a hybrid of a pure musky and a northern pike.
Livingston and his fishing buddy Tom Dolan were enjoying a lazy day casting for bass on an unspecified lake in the Goose Lake Township, south of Joliet. They were fishing from a pontoon boat when they spotted the musky.
Livingston quickly tied a Rooster Tail to his 10 pound mono and cast close enough to the big fish that the beast reacted and hit the lure. The pair's net was too small for the 50.25 inch long, 25 inch girthed water wolf, so Livingston gilled and boated it by hand.
The duo contacted the Illinois DNR and Conservation Officer Dave Wollgast responded. Wollgast and the anglers went to the Morris post office and commandeered their certified scale to weigh the trophy.
The musky topped out at 36 pounds and 4 ounces, easily beating the current tiger musky state record of 31 pounds and 3 ounces caught in 2004.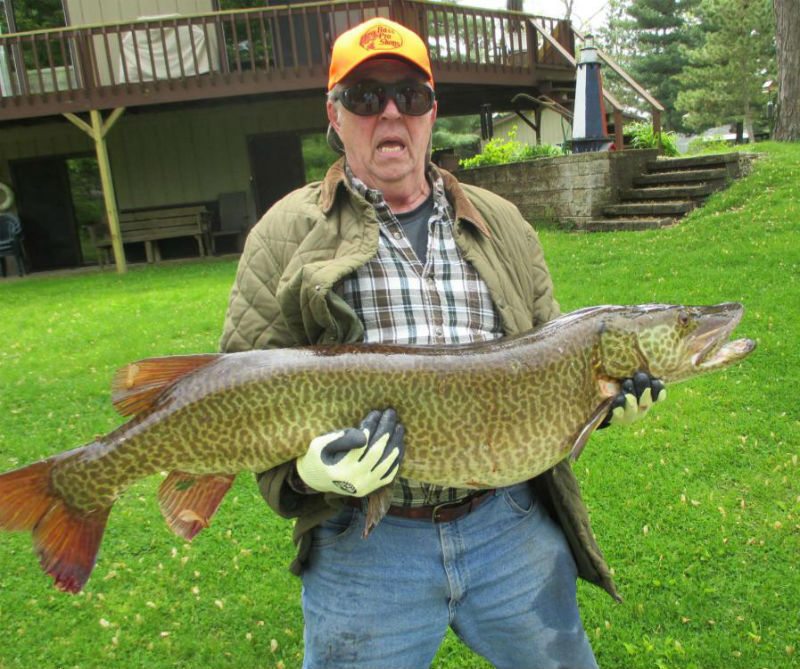 Wollgast figured the fish was a tiger but they needed verification before the record could be officially broken. So a trio of fish biologists took the next steps in the verification process. Biologist Rob Miller clipped a fin for analysis, biologist Frank Jakubicek provided samples of pure musky and northern pike for comparison, and biologist Marc Davis from the Illinois Natural History Survey in Champaign is analyzing the samples.
The final results should take about a week. The 69-year old Livingston is nonplussed. "I don't lose either way,'' he said. ''I will be happy, and my buddy will be happy. Either way, I have a fish of a lifetime.''
Livingston's fish is only the latest in what is proving to be a banner year for Illinois record fish. The same week that Livingston caught his tiger a record brown bullhead was registered. Also, the burbot, whitefish and hybrid crappie records were broken earlier this year.
Like what you see here? You can read more great articles by David Smith at his facebook page, Stumpjack Outdoors.
NEXT: Man Stands in Cold Water for Hours Waiting for His Record Musky to be Verified
Enjoy the outdoors?
Sign up for daily stories delivered straight to your inbox.