Now that my phone's photo gallery is at max capacity with pictures of my dogs, CanvasPop is fueling my addiction in more creative ways.
It doesn't matter whether my dogs are drooling on my new sofa or hunting lizards in the backyard, everything they do is worth photographing. They're not always the most photogenic of creatures, but when I get a good shot, I want to make the most of it.
Thanks to a company called CanvasPop, my dog's face is now a part of my home's decor—and I love it.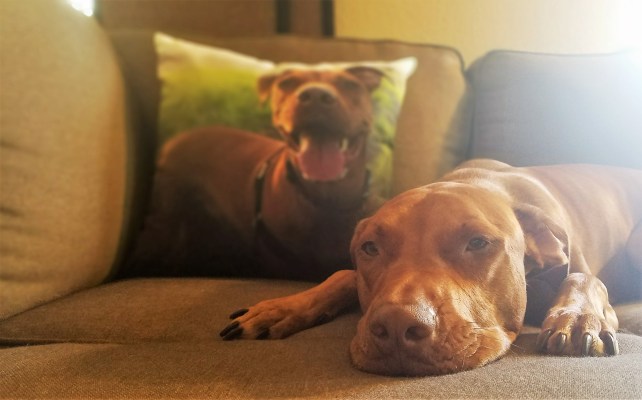 CanvasPop is one of the web's leading photo art and photo gifting companies. They're best known for their canvas prints, but their newest product is both decorative and functional. Their photo pillows are American-made using Picture PerfectTM technology that automatically enhances and sharpens images. The pillows can be completely customized and come with a 100% Love Guarantee. Each one is an 18" x 18" comfy canvas to highlight all the best parts of life. For pet owners, it's only natural to want to use this opportunity to showcase the furriest members of the family.
Choosing a picture was the hardest part when it came to creating my photo pillow, but even that was relatively easy. I was told the photos that transfer best are high-quality and mostly square in shape. I was also advised to choose a photo that had empty space around the focal point to allow for the printing process to cut off about an inch on each side of the pillow.
Unlike requirements from other photo printing companies, I felt the guidelines given by CanvasPop were easy to work with. I didn't feel like my choice was constrained by strict specifications, and I was free to pick the picture I liked best—not the picture that best fit a long list of requirements. The online photo pillow maker helps you perfect your design before placing your order.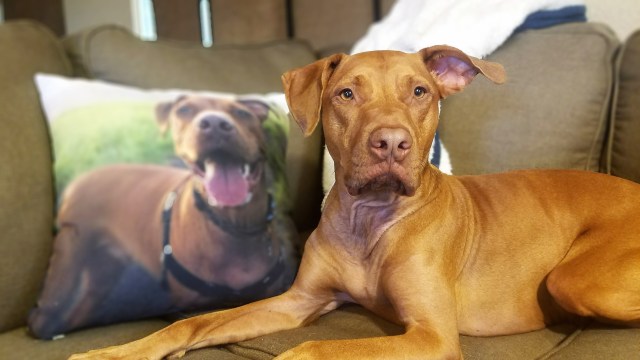 I ended up choosing a picture of my pup, Copper, because, come on, look how handsome he is. I took the picture on my phone, and despite how great it looked on screen, I was worried it would come out pixelated on a pillow. I have a disappointing history when it comes to printing phone pictures, but I was pleasantly surprised with CanvasPop.
When I opened the package left conveniently on my porch (shipping to Hawaii is another reason to like CanvasPop), I was honestly thrilled with what I uncovered. The picture is perfectly clear and vibrant. Even though the pillow is a 3-D object with rounded sides, it's not in the least bit distorted. The picture is printed on both sides (something I wasn't expecting), and the pillow itself seems to be well-made and durable. Copper also seems to think it's pretty comfortable.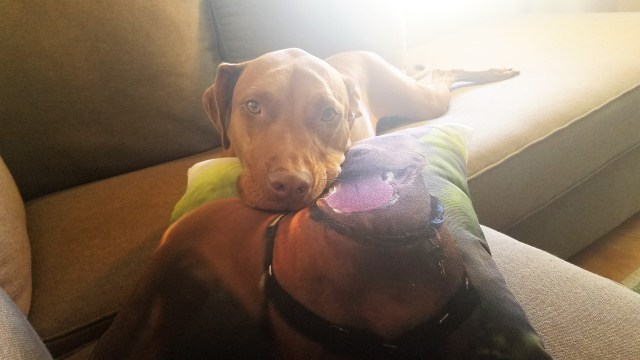 My only worry is that my mischievous dogs will find a way to stain the white portion on the top, but I have my choice in picture to blame for that. Thankfully, the cover is easily removed thanks to a zipper, and cleaning shouldn't be hard. The only thing it's missing is washing instructions. I'm hesitant to put the pillow cover in the washing machine, but spot treatment should be enough to keep it looking good.
For $39, the photo pillows from CanvasPop are a great way to personalize your home. The website is user-friendly, and my photo pillow was delivered picture-perfect. CanvasPop also offers canvas prints so your walls as well as your furniture can feature the best pictures of your pets.
Are you going to order a photo pillow from CanvasPop? Let us know in the comments.
All images courtesy of Amber King
WATCH NOW: Photos on Dog Toys Helps Millie Miss Her Dad Less
Enjoy the outdoors?
Sign up for daily stories delivered straight to your inbox.