This handy, lightweight travel bottle lets you take food and water for your dog anywhere you go!
The Poochables to Go is a pretty ingenious product! For instance, when I go backpacking with my dog I usually bring him his own water bottle that I can fill up along the way and a separate bag of food. The Poochables to Go is the perfect answer since it is a built-in water bottle, water dish, and food bowl, all in one.
Boone and I hit the trail sporting the Poochables to Go and we both enjoyed it!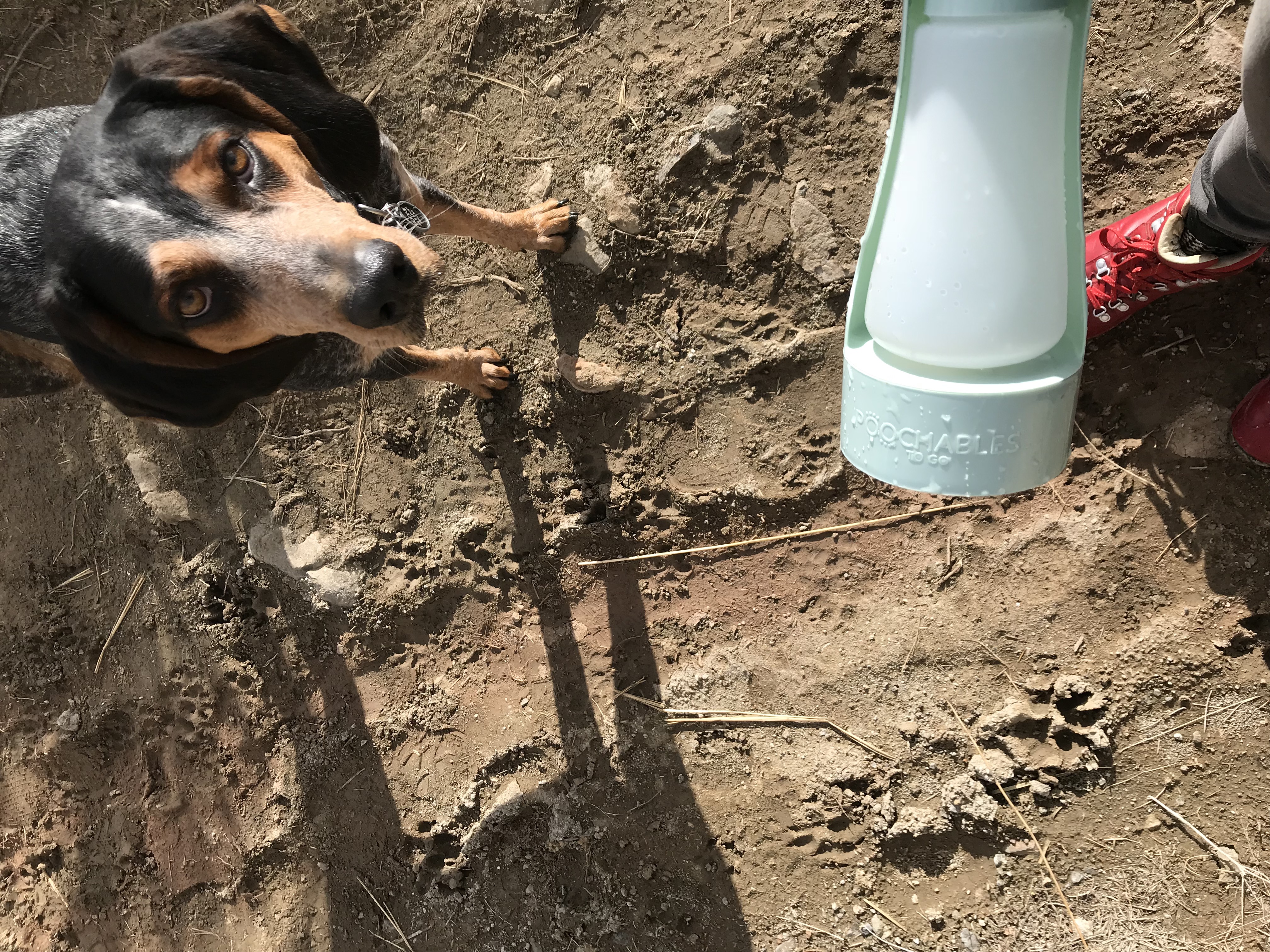 First of all, the fact that the bottle is so lightweight, even with pet food and water inside, is a huge plus. The bottle didn't feel cumbersome at all just holding it in my hand. The convenient carrying handle is super comfortable to grab. But for longer excursions, it could easily be clipped onto the back of a pack with a carabiner.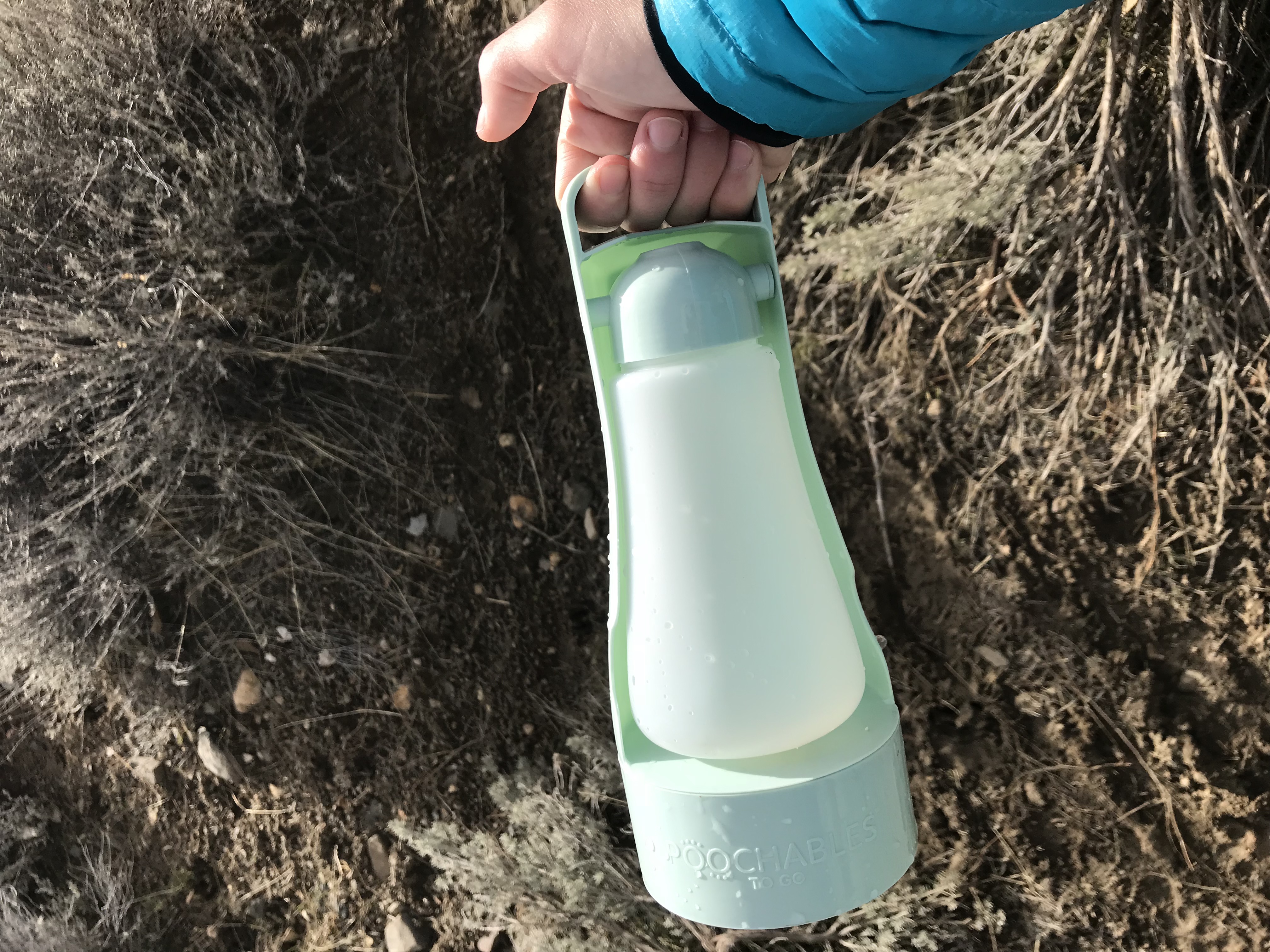 The compact bottle fits inside the bowl, so when you flip it up you can squeeze the water out of the water dispenser right into the attached dog water dish. The detachable food bowl is screwed onto the bottom.
The Poochable to Go bottle was easy to carry on our day hike. Boone was happy to have water and a little dry dog food snack in the detachable dog food bowl on the way.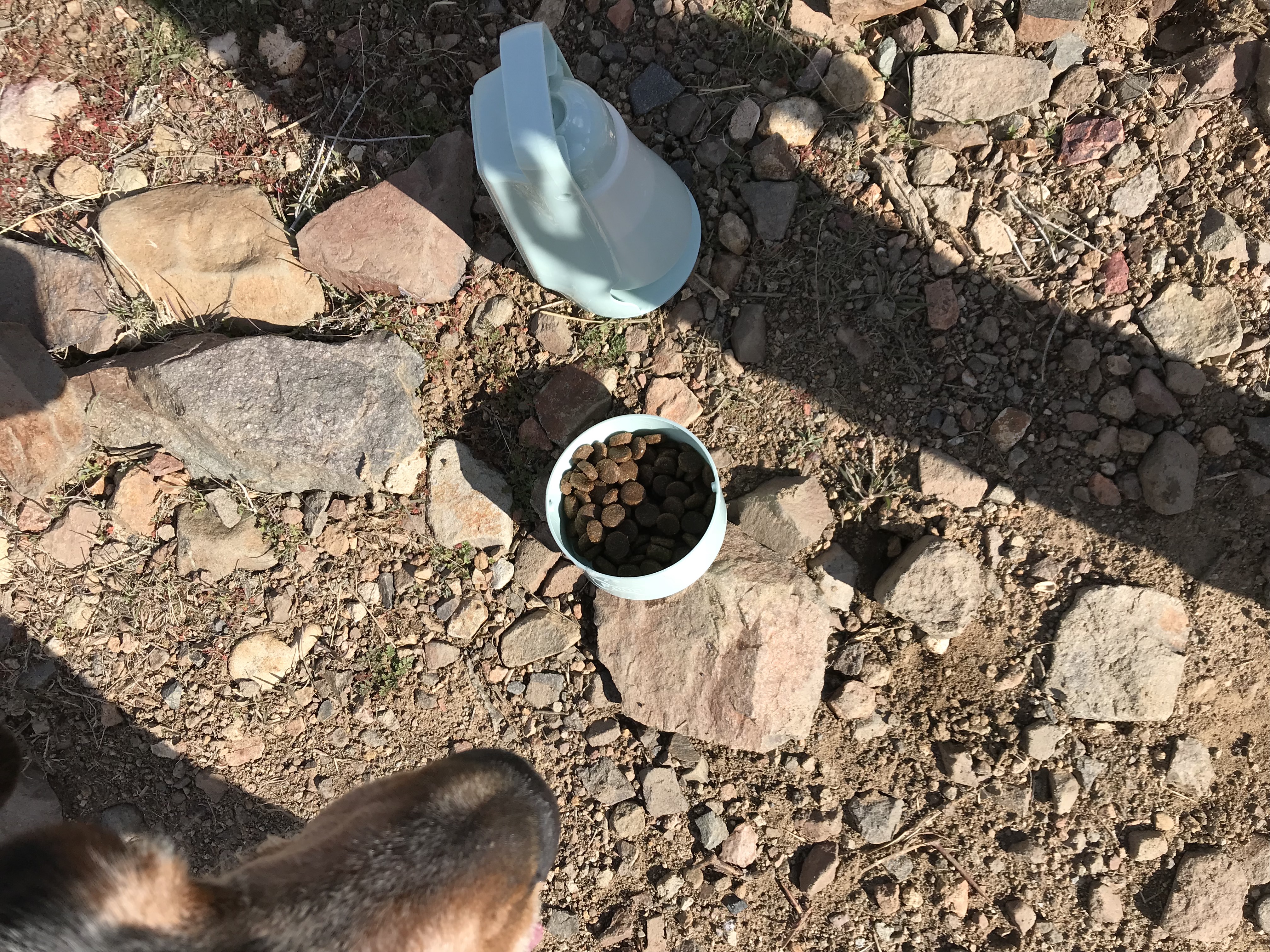 We even took a pitstop along the way at a mountain stream to fill up the bottle with fresh water.
The dog water bottle is leak-proof with the help of a small washer in the water bottle nozzle. There is an instructional insert that will come with the product for ease of use. Just make sure you don't lose it, as it is separate from the water travel container.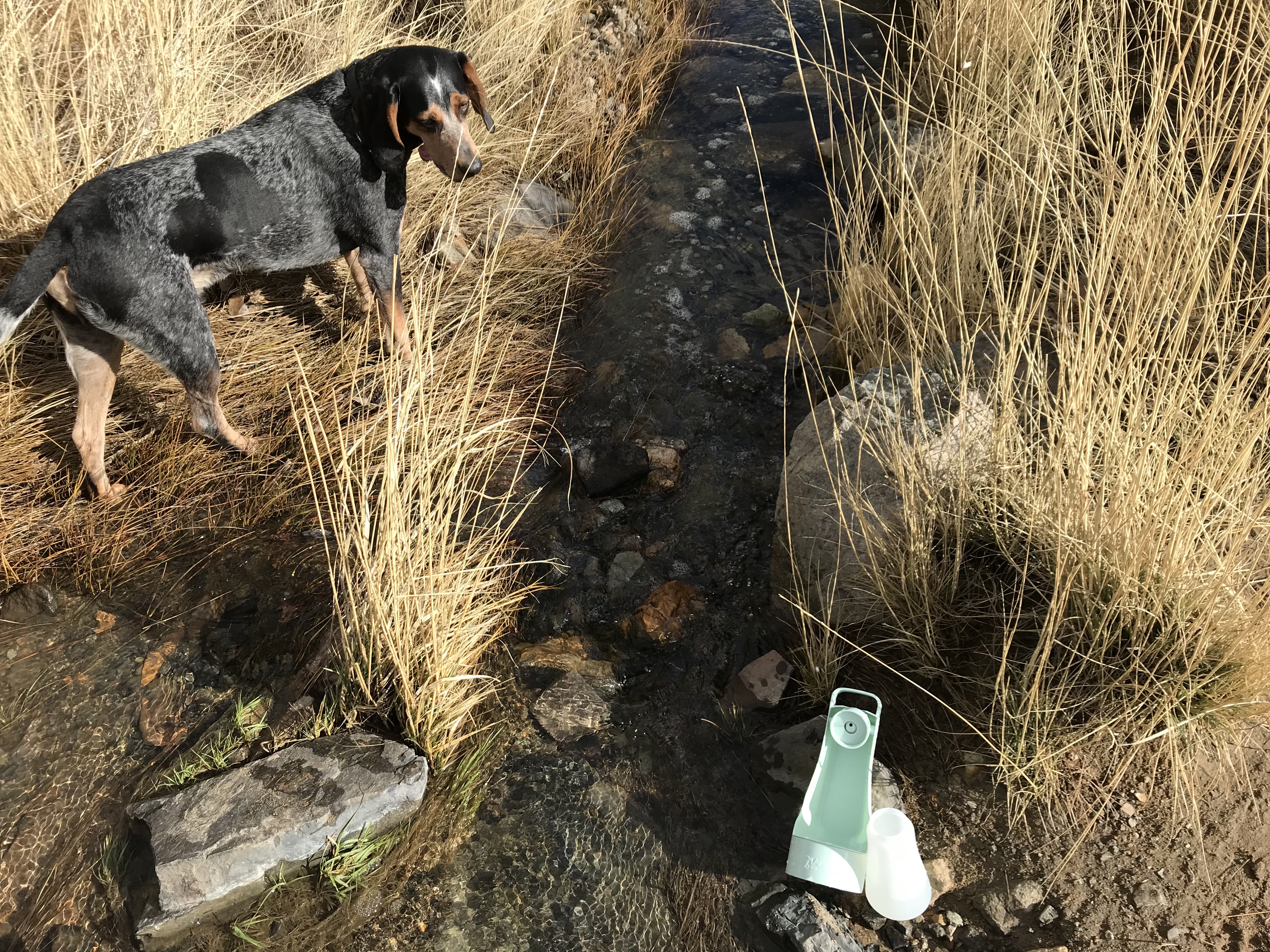 We took the Poochables to Go on a day hike but this puppy travel accessory can be used for a day trip to the beach, the dog park, a road trip, a boating trip, and so much more. Do you take your dog to work? Don't forget the Poochable to Go for office visits! Are you going on an airplane? The Poochables to Go is pretty perfect for pet travel too! Are you going to grab a cup of coffee and read a book outside? You should bring your dog a snack too!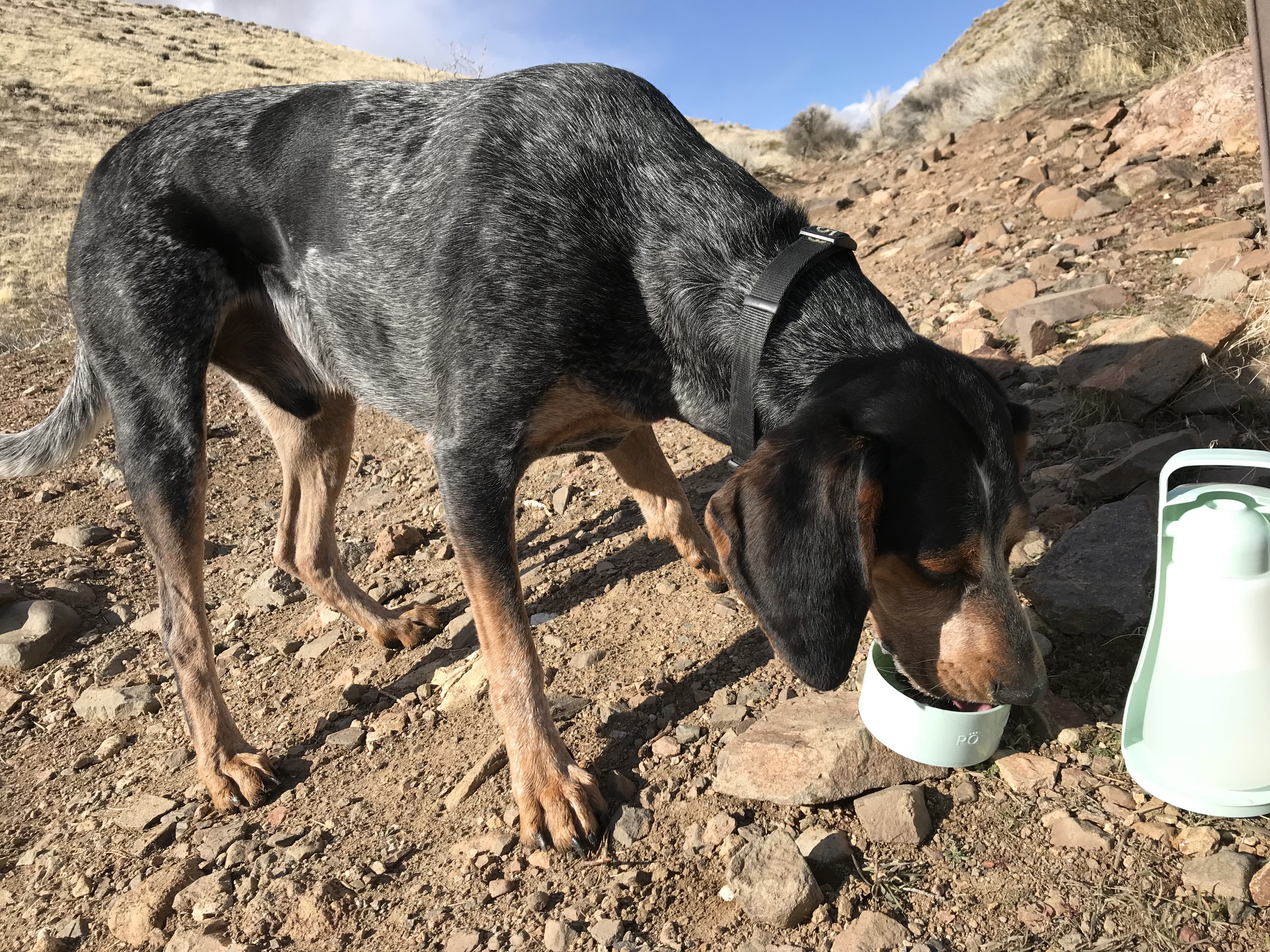 The durable BPA-free plastic bottle costs $19.99 and comes in three colors: Industrial Grey, Palm Springs Sky, and Belle Rose.
Wide Open Pets readers can get the Poochables to Go for 15 % off with the code wideopenpets!
https://www.youtube.com/watch?v=bb0xACxUu3E&feature=youtu.be
The Pooch Company is the brainchild of Gina Brucato. She saw the need to compile all the extra stuff all dog owners bring for their pets on outings. When she would take her dog Huxley out on a hike, or to a cafe, she found herself packing a water bottle, a bag of treats, and dog food. She realized this could all be packed into one travel container and the Poochable to Go was born!
Keep in touch with The Pooch Company on Facebook and keep an eye out for more ingenious pet supplies! Check out their website for more product details.
What do you think of this great product? Will you buy one? Tell us in the comments below.
All photos by Mateja Lane
WATCH NOW: 8 Things to Bring When Camping with Your Dog
Enjoy the outdoors?
Sign up for daily stories delivered straight to your inbox.