The three ponies were originally abandoned.
The ponies were first seen roaming around loose on Christmas Eve in Bishop Auckland, a town in northeast England. It seems the horses were abandoned in a park nearby before Christmas but every time the Royal Society for the Prevention of Cruelty to Animals (RSPCA) and the British Horse Society (BHS) were called to take the horses in, they would be gone.
RSPCA equine rehoming officer Jacqui Wilson told the Sunderland Echo:
"It's really irresponsible to abandon horses, but sadly, it's something we see so often now as a result of the horse crisis which has been going on for many years, but showing no sign of stopping."
Finally, welfare officers were called on December 29 when good Samaritans managed to round the horses up and trap them in a tennis court. The horses, now named Rafael, Andre, and Pancho, have since been dubbed "The Tennis Court Trio."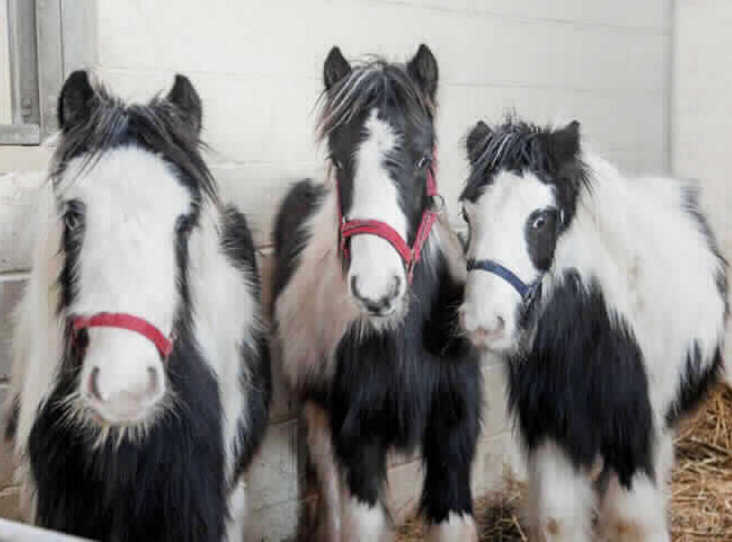 The horses were lured into the court with the help of hay and lots of coaxing after seen trudging through the snow. The BHS were the first to arrive and supplied fresh hay and water. A padlock was put on the tennis court gate so the ponies couldn't escape again before transportation was arranged.
The cute piebald cobs were then taken to nearby boarding stables to be examined and spend the night somewhere warm.
The Tennis Court Trio will be up for adoption on the RSPCA website as soon as they're gelded. No owners have come forward to adopt the three young ponies and it is believed that they were bred but abandoned after they didn't prove useful.
Wilson has described the handsome colts as "lovely" and "friendly." And that the horses "have a great future ahead of them" even though their "previous owners thought it was okay to just let them loose when they decided they didn't have any use for them."
The BHS and the RSPCA do a lot of great work for abandoned and abused horses in England. BHS regional manager Wendy Suddes said:
"We would encourage everyone touched by this story, to donate whatever small amount they possibly can, to help secure a future for these poor little boys."
If you would like to donate, you can do so at the RSPCA website and help the 129,602 animals rescued by the organization over the year.
What do you think about the Tennis Court Trio? Tell us in the comments below!
WATCH NOW: Ginny's Incredible Adoption Story
Enjoy the outdoors?
Sign up for daily stories delivered straight to your inbox.