The justice system dealt out some huge punishments for these poachers.
There is probably nothing that disgusts law-abiding hunters and fishermen more than wildlife crime. It's frustrating because the men and women who choose to commit such crimes are robbing the rest of the public of precious natural resources. They also soil the good names of sportsmen and women everywhere at the same time.
Worse, many poaching cases start out with huge potential fines before being pleaded down into lesser charges or simply community service. It's easy to get discouraged about the work wildlife agencies are doing to combat poachers when you see something like that. A while back, we did a round-up of 12 poachers who ended up with larger punishments than usual and many of our readers were relieved to hear that sometimes the system does work.
As big as those punishments were, they didn't deter all crime. In fact, we now have enough cases for a second list, which is what we're providing today. The poachers in these high-profile cases all got fines or restitution of at least $10,000, imprisonment, or in some cases, both. Each one can be counted as a victory for conservation and a warning to potential criminals that their acts will not go unpunished.
Jason Bradley Hutt, 3 Years in Prison, 1 Year Community Custody, Washington
Somehow, this case flew a bit under the radar, and we didn't learn about it until months after the sentence had been handed down. In any case, authorities say 29-year-old Jason Hutt allegedly poached a little of everything. Remains of multiple animals were found in his home at the end of a one-year investigation by Washington Fish and Wildlife. He allegedly poached elk, ducks, bobcats, bears and otters across both Clallam and Jefferson Counties.
This was his second time facing consequences for wildlife crime, as the Peninsula Daily News reports he had prior convictions in 2016 for unlawful hunting and fishing. He was originally charged with 24 poaching counts. He eventually pleaded guilty to 11 counts, including five for first-degree unlawful hunting and one for possession of methamphetamine. According to the Peninsula Daily News, he did admit his actions were wrong before the sentencing. "I'm just here to man up. What I did was wrong. I'm here to deal with it," Hutt told a judge. Make of that what you will.
Mobanzo Mobembo Gérard aka: "Guyvanho," 30 Years in Prison, $68,000 in Fines, Congo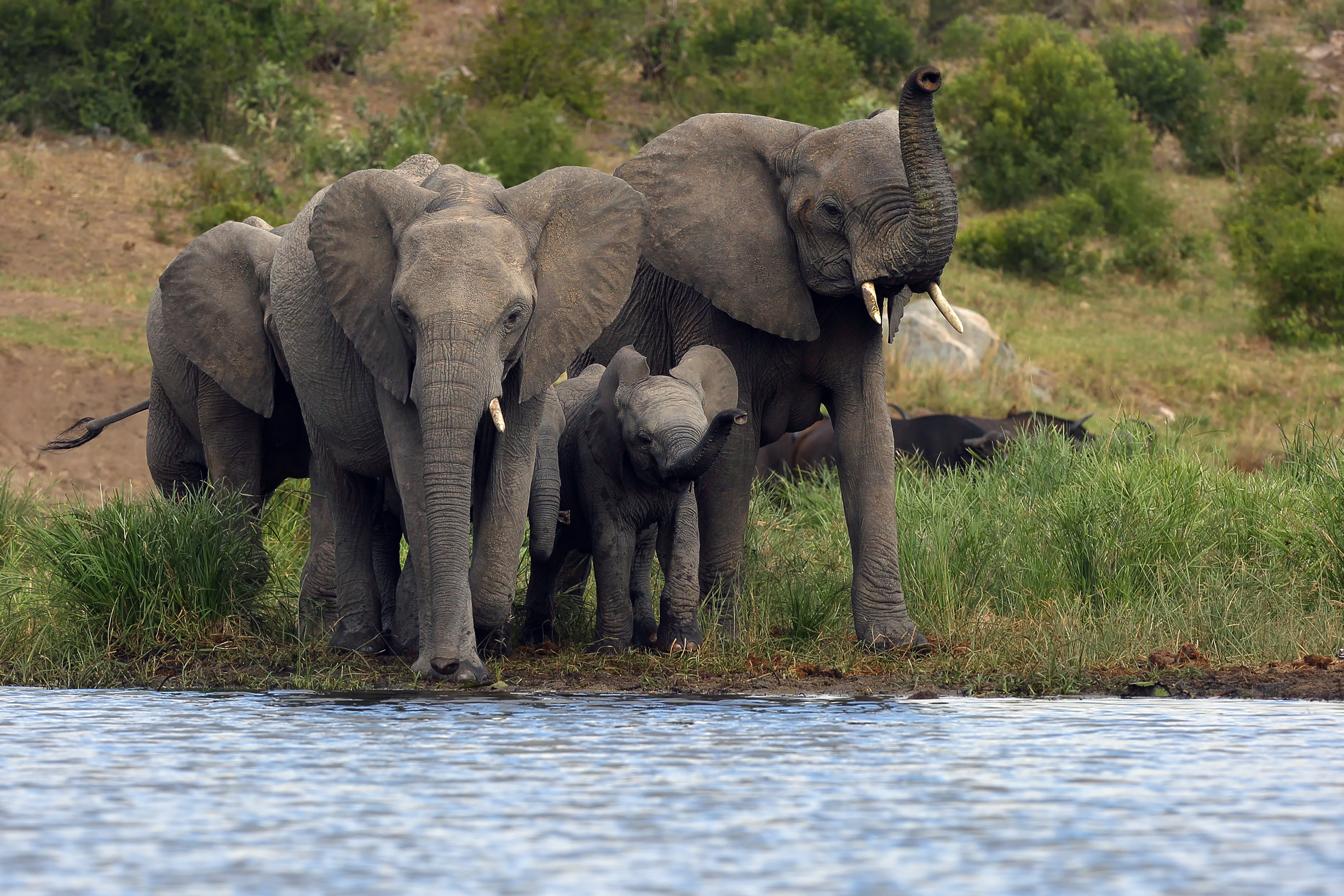 Arguably the Congo's most notorious poacher and wildlife trafficker, Guyvanho terrorized the Congo for over a decade, leaving more than 500 dead elephants in his wake. The poacher had many accomplices and their crimes were not just limited to poaching elephants for ivory. He was also hit with attempted murder charges for multiple firefights he and his men had with park rangers over the years. Guyvanho was first captured in 2018. However, while awaiting trial, he escaped and promptly returned to his poaching habits. This continued until he was captured again on July 20, 2019 after narrowly escaping another shootout with park rangers.
When he attempted escape a second time, authorities took no chances and moved him to a more secure prison until the trial. Previous poaching cases in the Congo were tried in civil courts, but by this time, the poacher had done enough to get the trial moved to criminal courts where the maximum prison sentence was higher. He will now serve 30 years at Brazzaville Prison. He was also ordered to pay $68,000 or 38 million francs in the case, which went to the rangers injured during the shootouts. This arguably makes this one of the biggest punishments ever handed down for any poaching case anywhere in the world.
Kurt Johnston Duncan, 90 Days in Jail, $36,240 in Fines and Restitution, Michigan
One of Michigan's worst poaching cases ever took officials with the Michigan Department of Natural Resources nearly 18 months to investigate. Authorities say he poached deer, turkeys, bobcats, bears, at least three bald eagles, and 18 gray wolves. He often did this with the use of illegal snares. He then sold parts of the animals illegally. During the investigation he sold wolf teeth necklaces and hides to an undercover DNR agent. When Duncan was finally arraigned, there were a staggering 125 wildlife misdemeanors in total. When authorities finally confronted him about his crimes, Duncan allegedly told them he poaches "because he could" and because he "likes to do it." He eventually took a plea bargain in Chippewa County District court where he pleaded guilty to seven crimes for the wolves and eagles. He was ordered to pay $36,240 in total with $27,000 acting as restitution. It goes without saying, but he also lost hunting and fishing privileges for life. He was also sentenced to 90 days in jail with 30 held aside in case of future parole violation.
Raymond Muse, $53,000 in fines, Colorado
The Colorado Parks and Wildlife Department said 50-year-old Texas resident Raymond Muse had a bicycling poaching scheme that made him almost impossible to catch. His crime spree allegedly went on for years as he poached five elk and one mule deer in Jefferson County during that time. The way he avoided being caught was to drive around suburban areas in the towns of Conifer and Evergreen looking for animals.Once he located a target buck or bull, he allegedly hid equipment and hunting clothing nearby. Then he'd drive away and park in a public location and return to the stash via a bike. This allegedly helped him keep a low profile during his poaching activities. That was until September 2018 when a homeowner caught him red-handed with a dead elk. Muse fled the scene, but investigators were finally able to put a name behind the poaching complaints because in his hurry, he left backpacks and a cell phone at the scene. A further investigation soon turned up the head of a 6x6 bull elk stashed by Muse in another area. And his cell phone showed other illegally taken animals.
In the end, Muse got hit with stiffer penalties under the state's "Sampson's Law" because many of the animals were trophy-sized. The judge stripped him of his hunting and fishing rights and Muse was ordered to pay $53,000 in fines plus an additional $500 to the CPW and another $500 to Operation Game Thief, Colorado's anti-poaching program
John Blick Jr., Over $300,000 in restitution, 14 Months in Prison, Kansas
The Kansas Department of Wildlife, Parks and Tourism saw one of their biggest cases ever come to fruition in early 2021 with the conclusion of a multi-year investigation into John Blick Jr, who allegedly poached 60 whitetail and mule deer. Authorities say Blick poached bucks in Barber and Harper Counties. He allegedly did so with the aid of artificial light, from a motor vehicle and without possession of deer tags. Game wardens say he also went grossly over the bag limit.
When the case finally got to Barber County District Court, the judge did not go lightly on him. Blick was sentenced to 14 months in prison with 12 months of post-release supervision for poaching 60 deer. He also lost hunting privileges for five years. The real kicker in this case was the fines. Blick must pay $310,234.68 in restitution. The case didn't end there though. He pleaded guilty to an additional 33 misdemeanors in Harper County where he racked up $17,407.04 in restitution and $15,000 worth of fines. During the investigation, authorities confiscated Blick's guns and countless deer heads. The antlers are slated to be destroyed.
Gregg Lambdin, 9 Months in Jail, $254,000 in Restitution, Wyoming
The Equality State's biggest poaching case ever is also an extremely strange one. The Wyoming Game and Fish Department only needed two months to investigate after neighbors started to complain that they had seen Lambdin shooting deer on his property. During a search, they found 113 whitetail carcasses and one pronghorn antelope carcass. The bodies had allegedly been left to rot. Authorities were able to remove at least seven bullets from six of them and 36 in total showed signs of having been shot. When authorities questioned Lambin's motives behind the killing spree, he allegedly told them the deer were breaching his personal space and ruining his "peace and isolation."
Lambdin eventually pleaded guilty in November 2019 in 4th Judicial District Court to 11 counts of wanton destruction of a big game animal. For the 36 deer that showed signs of being shot, Lambdin was ordered in 4th Judicial District Court to pay $4,000 in restitution each and another $110,000 in fines for a grand total of $254,000. Amazingly, he paid the fines on the spot via a check. He was also sentenced to nine months in jail. Lambdin allegedly blamed some of his actions on "internal turmoil" from abuse as a child, but it doesn't appear many Wyoming residents felt much sympathy for him after this high-profile case that was the talk of Sheridan for months after Lambdin's arrest.

For more outdoor content from Travis Smola, be sure to follow him on Twitter and check out his Geocaching and Outdoors with Travis YouTube channels.
NEXT: THE AXIS DEER AND HOW THEY'RE IMPACTING PARTS OF THE UNITED STATES
WATCH
Enjoy the outdoors?
Sign up for daily stories delivered straight to your inbox.