Plano gathered a good bit of attention with their EDGE Series of fishing tackle boxes a couple years ago, and it's tough to argue there's a better solution to a series of angler concerns. Whether you're a saltwater fan who's rigging jigs and soft plastics most of the day, a largemouth maniac with crankbaits and topwater lures galore, or virtually anything in between, the various selections in the Plano EDGE Series of storage containers will fit your needs. But until more recently, fly fishermen and women were left out. Now that there's an EDGE Micro Fly Box with Plano's patent-pending magnetic DropZone, it's easy to assume that every other fly box maker on the market is going to get a run for their money.
Favorite Features of the Plano EDGE Micro Fly Box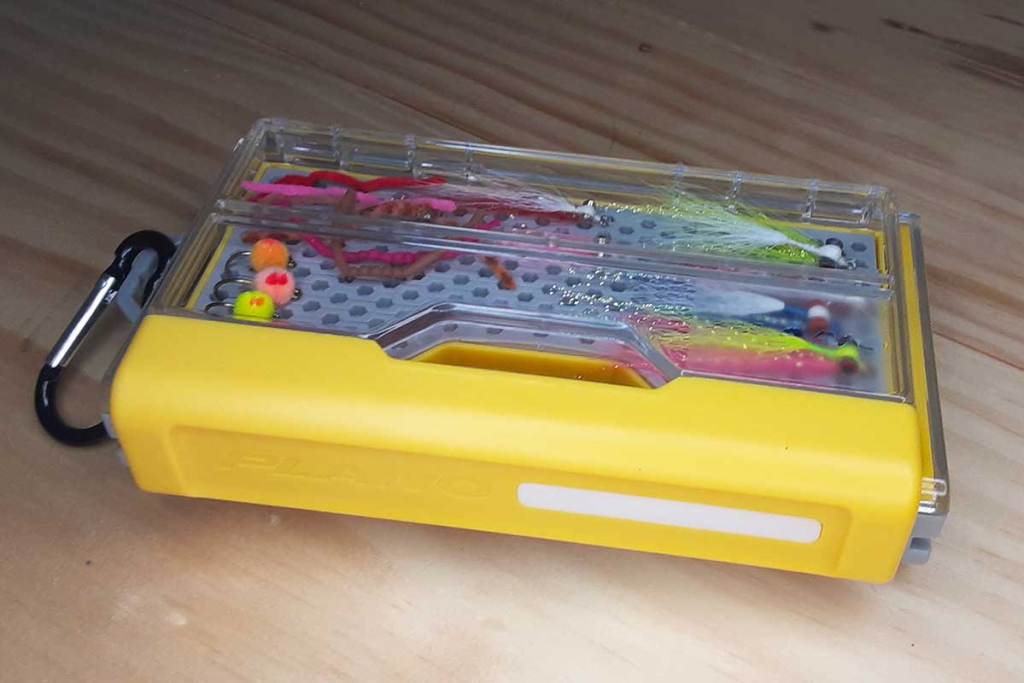 I've used this fly box for several months now, and I've never seen so many features packed into one seemingly-simple fishing storage tool. The unique layers of small tackle storage, which open like the pages of a book, makes sorting and organizing your flies a breeze.
Common across all EDGE storage containers, the EDGE Micro Fly Box uses Plano's Rustrictor technology for 360-degree protection from the kind of deterioration all anglers hate to see. There's literally nothing worse than going to tie on one of your favorite offerings and finding that the hook has rusted over since the last time you used it. Rustrictor is proven to prevent rust for five times longer than a typical fishing container, and for a fly angler, that's fantastic. There's even a special Water Wick divider with a reusable moisture-wicking packet, the sort of thing you find in packs of beef jerky. It's a smart addition to an already-great product.
Then there's the EZ Label system and clear polycarbonate Duraview lid, specific to Plano, which lets you know what's inside before you even open it. Speaking of, the opening process can be done with just one hand, and latches shut with an unmistakably strong closure. The Dri-Loc O-ring Seal uses a sturdy construction that assists those waterproofing efforts even more.
If that wasn't enough, there are other features exclusive to this fly fishing storage container that make it even more useful. A durable carabiner will let you easily attach it to the outside of a fly fishing vest or backpack for great accessibility, and the multi-level design provides more space in a still-compact system.
Best of all, the DropZone magnetic storage compartments are exactly what fly anglers have been clamoring for. They give you a spot for all those tiny, size 32 flies that literally would not fit anywhere else in a typical fly box. Set them in the DropZone, and you won't have to worry about losing them, even if the box gets flipped upside down.
If total ease of accessibility for all your flies (regardless of size) is your goal, then the Plano EDGE Micro Fly Box is for you. It's a bit pricier than a typical fly box, especially considering some are less than $5. But you get what you pay for, and Plano has delivered.
The entire utility box (when closed) is just 7 inches long, 4 inches wide, and 1.75 inches high, making it a minimal addition to your fly fishing gear. That's small enough to fit in the chest pocket of a pair of waders, and I've even stuck it in the pocket of my shorts for brief periods.
The Plano EDGE Fly Box has already started holding my most-used flies, meaning it's surpassed the rest of my fly boxes as the preferred storage for just about every trip out onto the water.
Enjoy the outdoors?
Sign up for daily stories delivered straight to your inbox.