Who's in the mood for some of the most delicious (and easy) meals made in a CanCooker? We've compiled our favorites.
A top 10 list of recipes is like a piece of straw in a haystack; it's basically all you'll find online and in magazines.
But we aren't sharing any old ranking in this exceptional list. Instead, it's focused on our favorite alternative method of cooking on a grill, campfire, or camp stove. The CanCooker, hands down, is the best way to branch out from the common ways of fire-prepared food in the great outdoors.
Instead of flame or heat from coals working to cook the food, it's the steaming effect that takes place inside the CanCooker that gives it such a unique collection of recipes it's perfect for. It's like a convection oven, but far more portable.
If you've cooked with one before, you already know the versatility of the CanCooker. If you haven't, you'll be surprised at some of the things you can create, all of them easy to make and easy to clean up afterward.
Using a combination of taste (obviously), ease of completion, uniqueness, and compatibility with the CanCooker, these are our 10 all-time favorite dishes to prepare.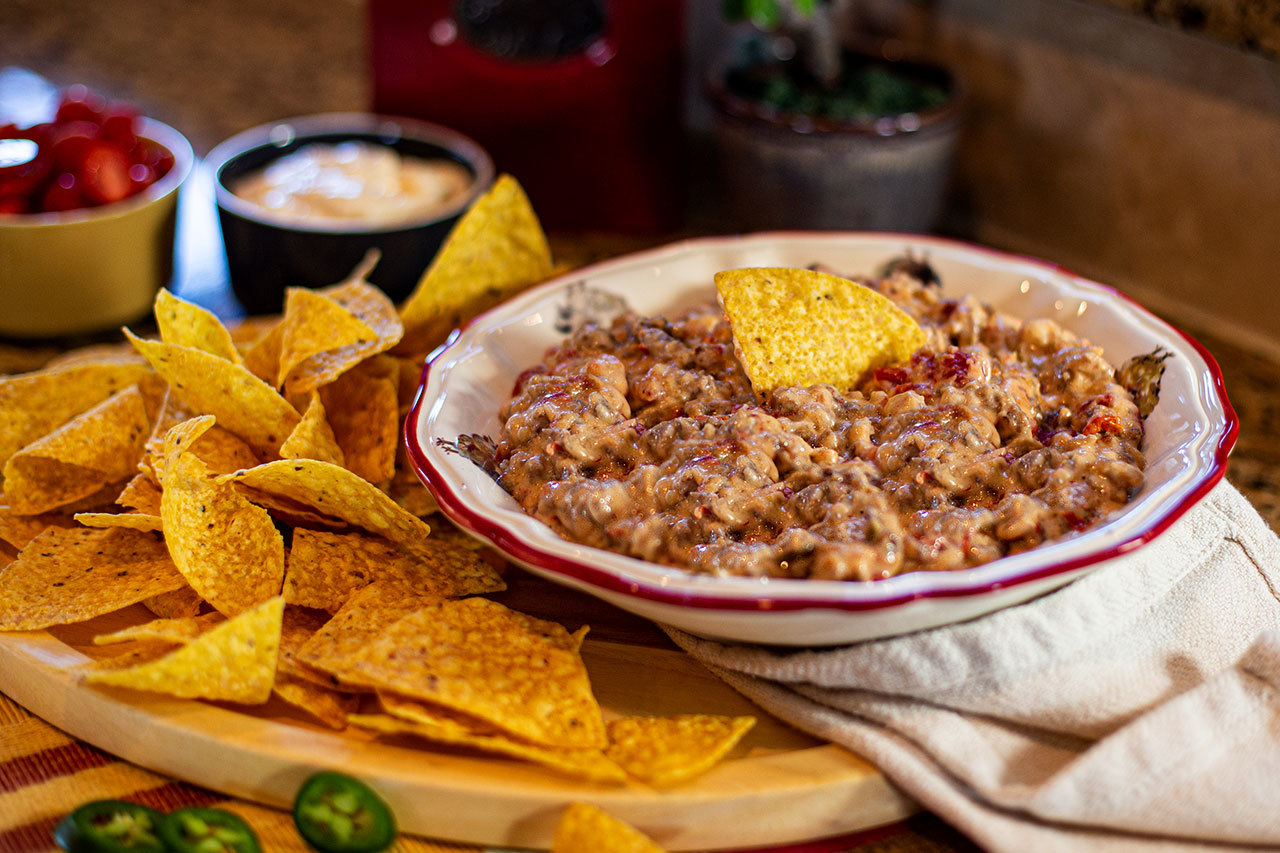 What can we say? This will rival some of the best cheese dip you've had, no matter what style you typically like.
INGREDIENTS:
1 lb ground pork sausage
1 lb ground beef
2 (10 oz.) cans diced tomatoes and green chilies
32 oz. block Queso pasteurized cheese
DIRECTIONS:
Add the 1 lb. of sausage and 1 lb. of beef to a non-stick CanCooker Junior or Companion.
Brown on low to low medium heat.
Add the 2 cans of tomatoes and chilies and block of Queso.
Cook until cheese is melted stirring occasionally.
Serve with tortilla chips.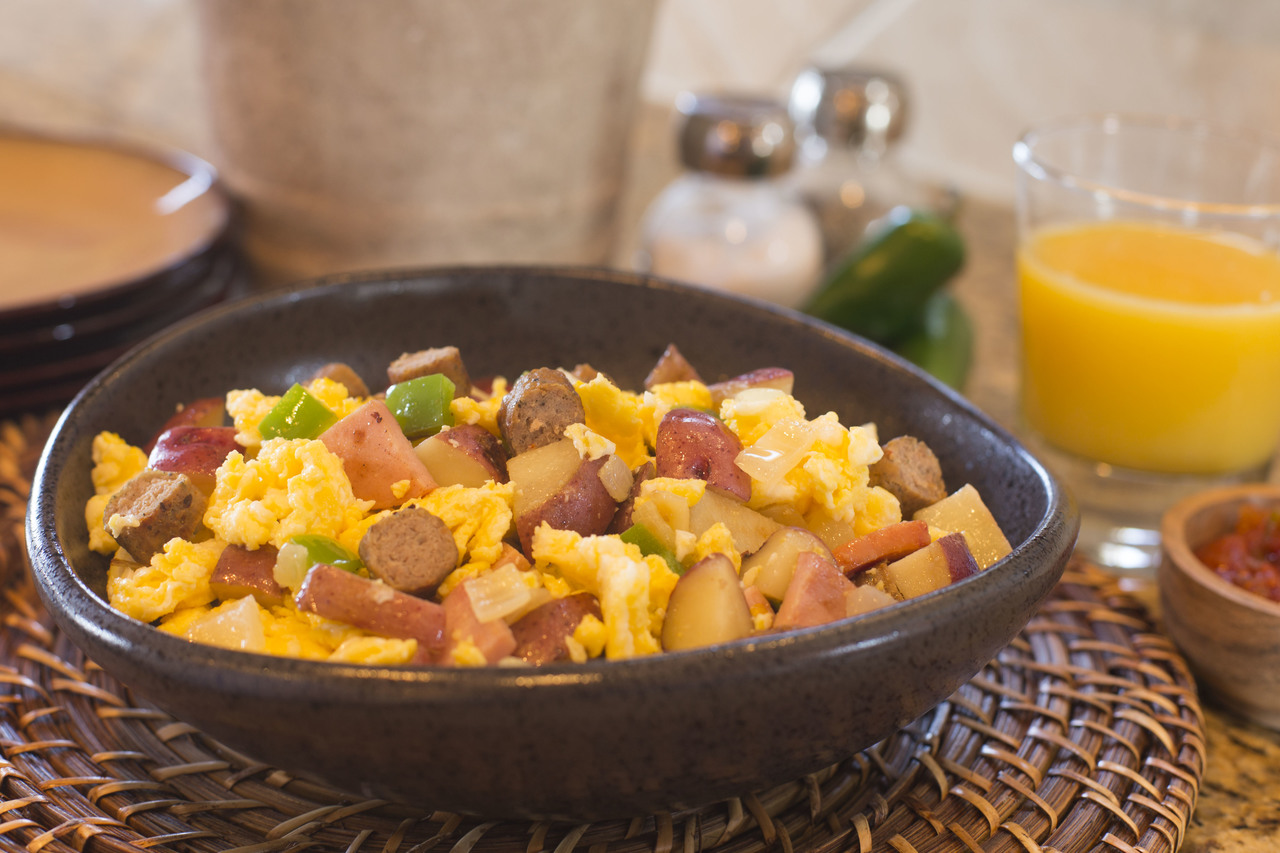 Yep, scrambled eggs, sausage, and cheese are just the beginning of this flavor-packed start to the day.
INGREDIENTS:
1 pound bacon
1 lb Spicy Johnsonville Italian Sausage
6 large eggs - beaten
1 bell pepper - remove seeds and dice
1 jalapeno pepper - remove seeds and dice
1 large sweet onion - diced
6 scallions - cut into ¼ inch pieces with green and white parts separated
1 heirloom tomato - diced
3 lbs new potatoes - sliced in 3/8 rounds
6 oz shredded mozzarella cheese
1 garlic clove - peeled and minced
Salt
Pepper
Olive Oil
Hot Sauce (optional)
DIRECTIONS:
In a non-stick CanCooker Jr. or Companion brown sausage and bacon until fully cooked. Remove meat from the CanCooker and set aside.
Add olive oil, green pepper, jalapeno pepper, onion, white parts of scallion, potatoes and garlic and cook on medium low heat for 15-20 minutes stirring frequently until the potatoes are cooked.
Add the bacon and sausage back into the CanCooker and stir into the vegetables.
Add the beaten eggs and tomatoes to the meat and vegetables; cook until done.
Remove the mixture from the CanCooker season with salt, pepper, hot sauce and green onions as desired.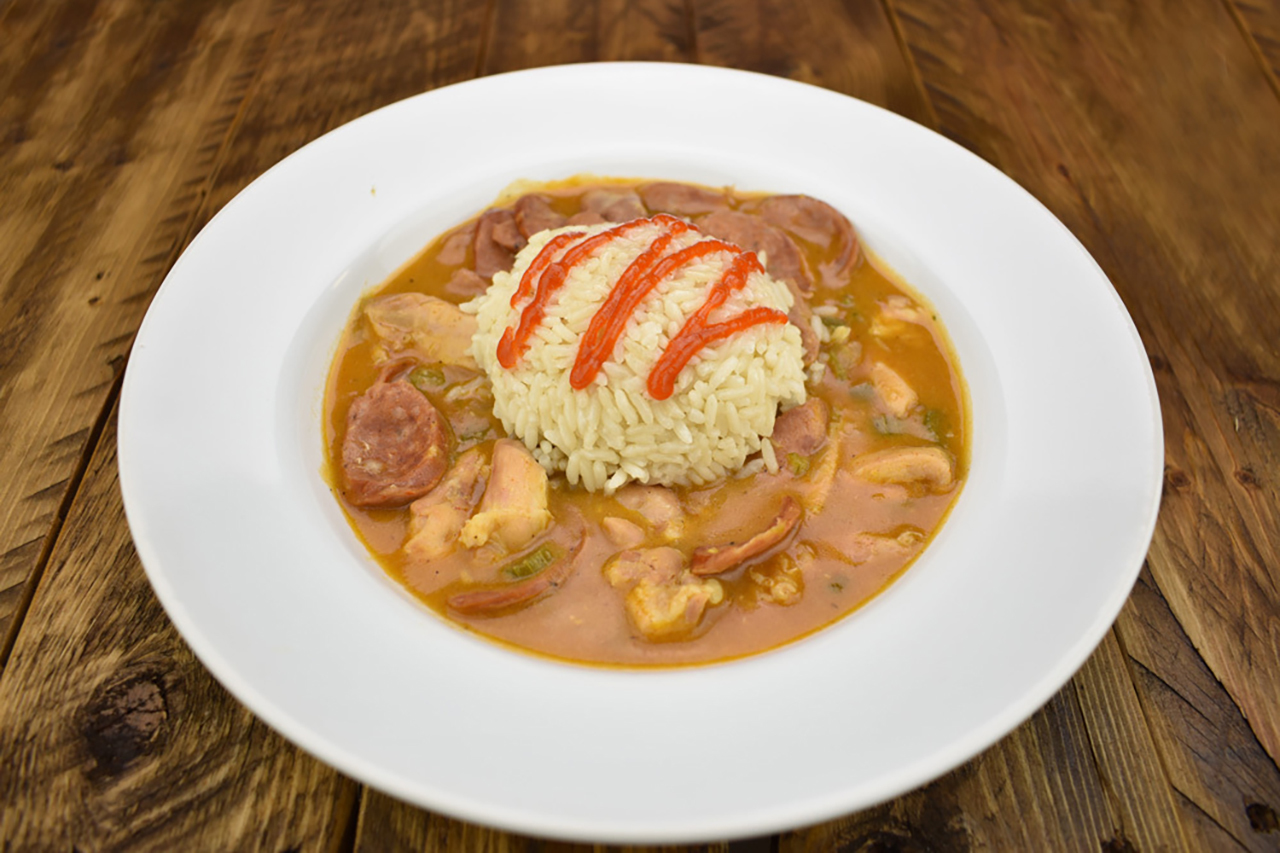 If you like it hot, then this Sriracha-based dish will spice things up.
INGREDIENTS:
2 lbs Chicken Thighs
1 lb Andouille Sausage
2 tbsp Olive Oil
1 cup Celery
1 cup Onion
1 cup Bell Pepper
2 tbsp fresh Garlic
1/3 cup all-purpose flour
3 cups Chicken Stock
1 tbsp Dry Mustard
4 tbsp CanCooker Original Creole Seasoning
4 tbsp Sriracha hot chili sauce
DIRECTIONS:
In Non-Stick CanCooker Jr. or CanCooker Companion on medium low heat, cook chicken thighs and Andouille sausage for about 5 to 10 minutes until fully cooked.
Remove chicken and sausage from CanCooker and place off to the side.
After removing meats from the Cancooker, heat 2 tbsp oil and add celery, onion, and bell pepper for about 2 to 4 minutes until slightly see through.
Add flour, dry mustard, creole seasoning. Stir everything together to create a roux.
After roux is a thick paste texture add the chicken stock, chicken, and sausage to Cancooker, and cover with the lid. Let simmer for 10 to 15 minutes.
Remove lid add the Sriracha and re-cover, steaming for another 30 to 40 minutes or until sauce begins to thicken.
Remove from heat and stand for 5 to 10 minutes.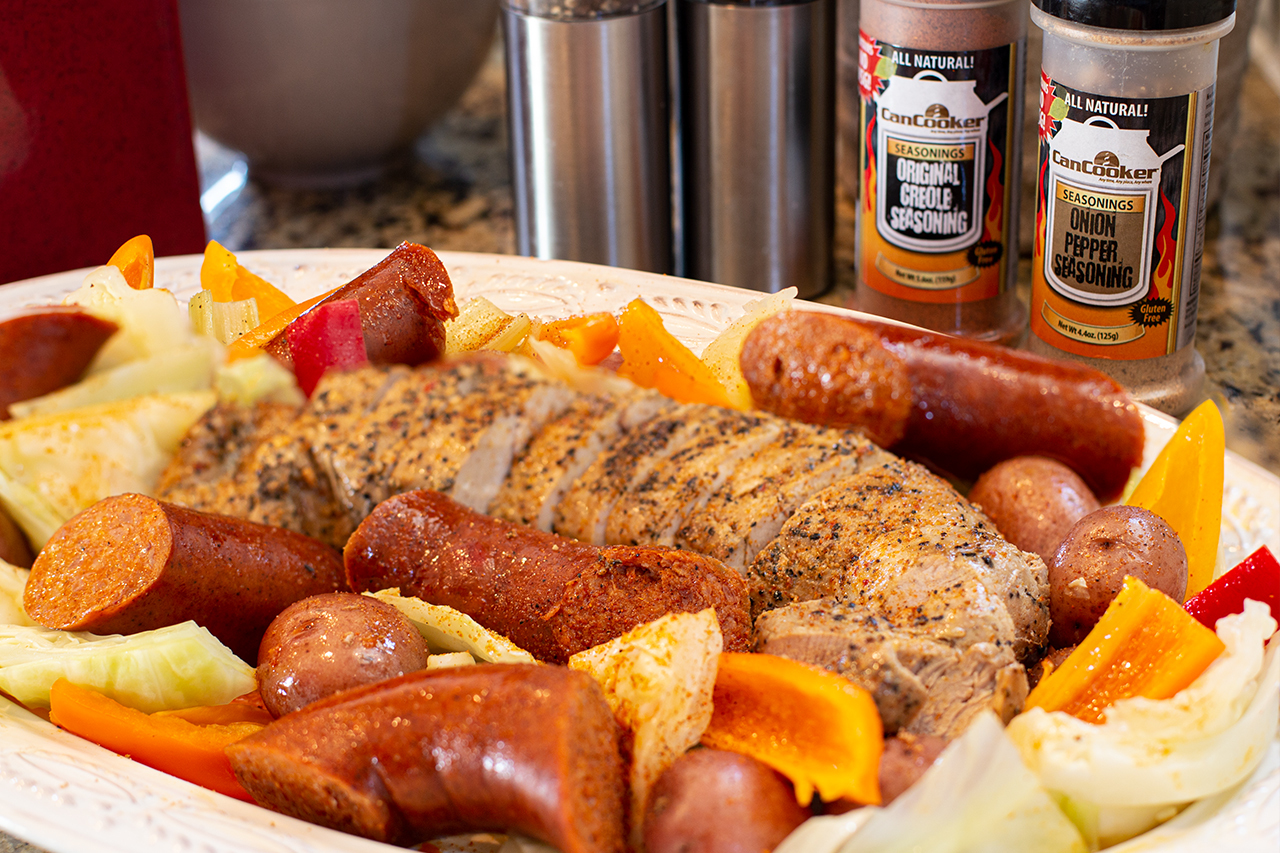 The Creole flavors in this pork loin meal are incredible, and the Mountain Dew adds a little something extra that brings it all together.
INGREDIENTS:
4 lbs pork loin, cut into quarters
1 package Cajun sausage
1 onion, quartered
10 sweet peppers, halved
12 baby red potatoes, quartered
1 cabbage, quartered
Can Cooker Original Creole Seasoning
Can Cooker Onion Pepper Seasoning
12 oz Mountain Dew
DIRECTIONS:
Place the 2 piece stainless steel rack on bottom of the CanCooker and spray the inside with non stick cooking spray. Add Mountain Dew. Add potatoes, onion, sweet peppers, cabbage, sausage and pork loin. Sprinkle with seasoning.
Latch lid and cook on low to medium heat. Steam for 50 minutes.
Remove from heat and let cool for 5 minutes. Transfer to a large serving dish and enjoy.
Note: You can increase or decrease the amount of ingredients in this recipe but make sure to use at least 12 oz. of liquid.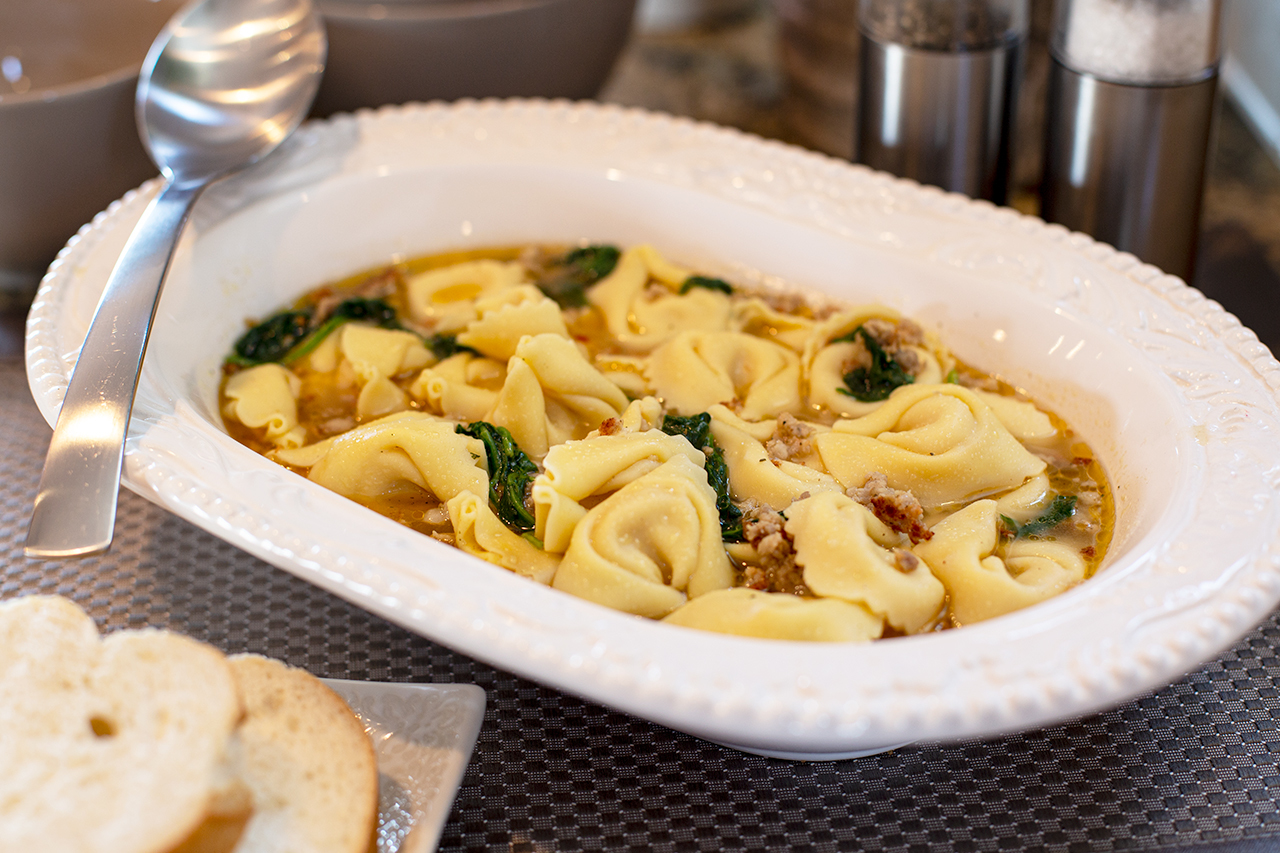 This soup is as easy as they come, and is great for a cold day spent at the hunting cabin or the ice fishing shack.
INGREDIENTS:
2 tbsp olive oil
1 medium onion, chopped
1 pound sweet Italian sausage, cooked with casings removed and broken into pieces
Kosher salt
48 oz low-sodium chicken broth
1 lb fresh or frozen cheese tortellini
5 oz baby spinach
Grated Parmesan, for serving
DIRECTIONS:
Add the chicken broth, olive oil, onion, cooked sausage and salt to the CanCooker.
Latch lid and simmer on medium/low heat for 10 minutes.
Remove from heat and add spinach and tortellini. Latch lid and simmer for an additional 10 minutes.
Serve topped with Parmesan.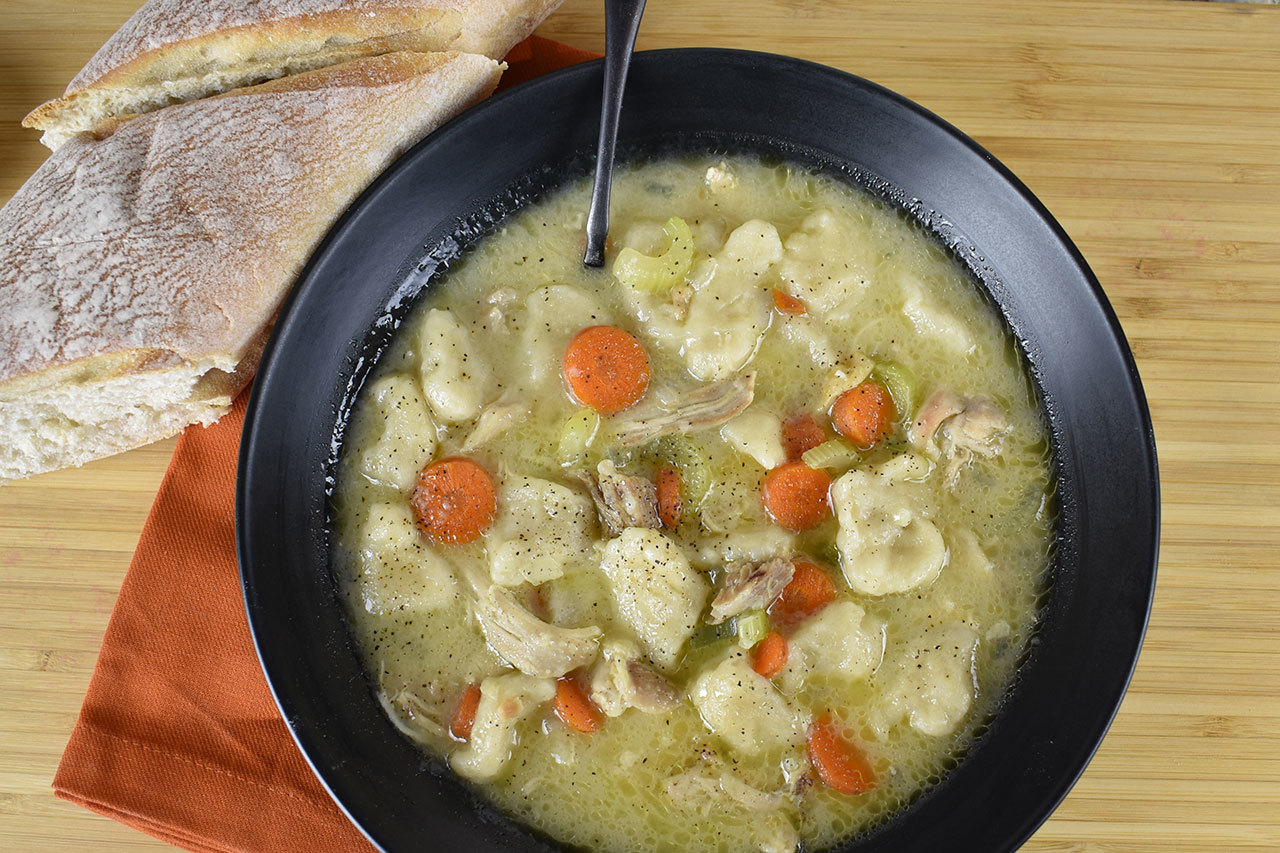 A traditional favorite is reinvented for the CanCooker and takes the number five spot on our list.
INGREDIENTS:
1 32 oz carton reduced-sodium chicken broth
6 boneless skinless chicken thighs
1 10 ½ oz can condensed cream of chicken soup
2 tbsp chicken bouillon
2 medium carrots, chopped
3 celery ribs, chopped
1 small onion, chopped
1 16.3 oz can home-style refrigerated buttermilk biscuits
DIRECTIONS:
Add chicken broth and thighs into non-stick CanCooker Jr. or Companion. Cook over medium/low heat for 20 minutes.
Remove chicken and let it cool. Shred chicken and return to broth.
Add remaining ingredients, except for biscuits. Cook over medium/low heat for 10 minutes.
Meanwhile, pat biscuits flat on a cutting board and cut into thin strips.
Drop strips one at a time into boiling chicken mixture. Reduce heat to low and continue cooking for 15-20 minutes, stirring occasionally to prevent dumplings from sticking.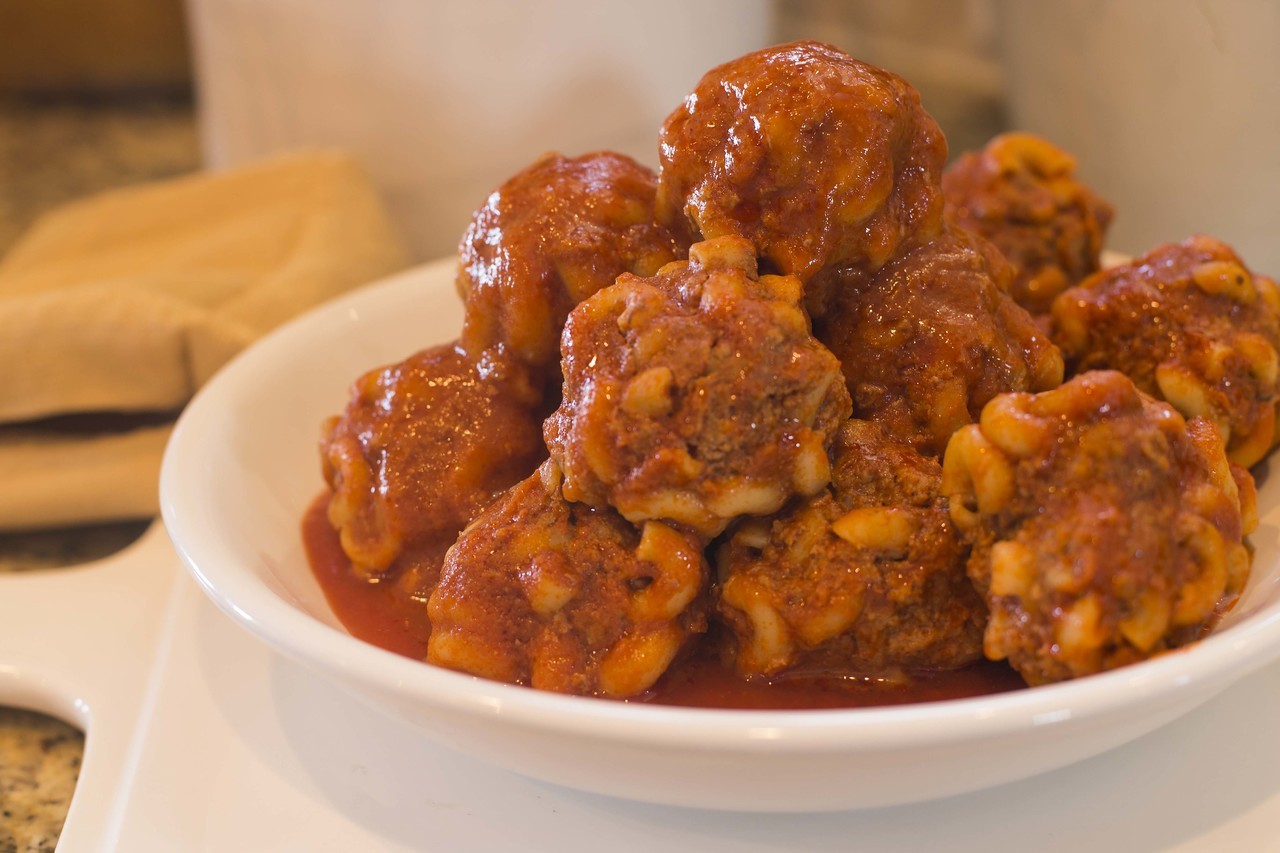 This one's a family favorite, especially for the kids. And though it looks like it might take a while to get them prepped, it's easier than it appears.
INGREDIENTS:
46 oz can tomato juice
½ cup brown sugar
¾ cup sugar
1 tbsp vinegar
½ tsp cinnamon
1 tsp salt
1 tsp pepper
2 lbs hamburger
1½ cups elbow macaroni
2 eggs
Onion flakes
CanCooker Garlic Salt
DIRECTIONS:
Mix tomato juice, brown sugar, sugar, vinegar, cinnamon and salt in the CanCooker.
Mix the remaining ingredients in a large bow and form into meatballs.
Drop the meatballs into the CanCooker. Cover and cook for 30 minutes on medium heat.
Remove from heat and let stand 10 minutes before serving.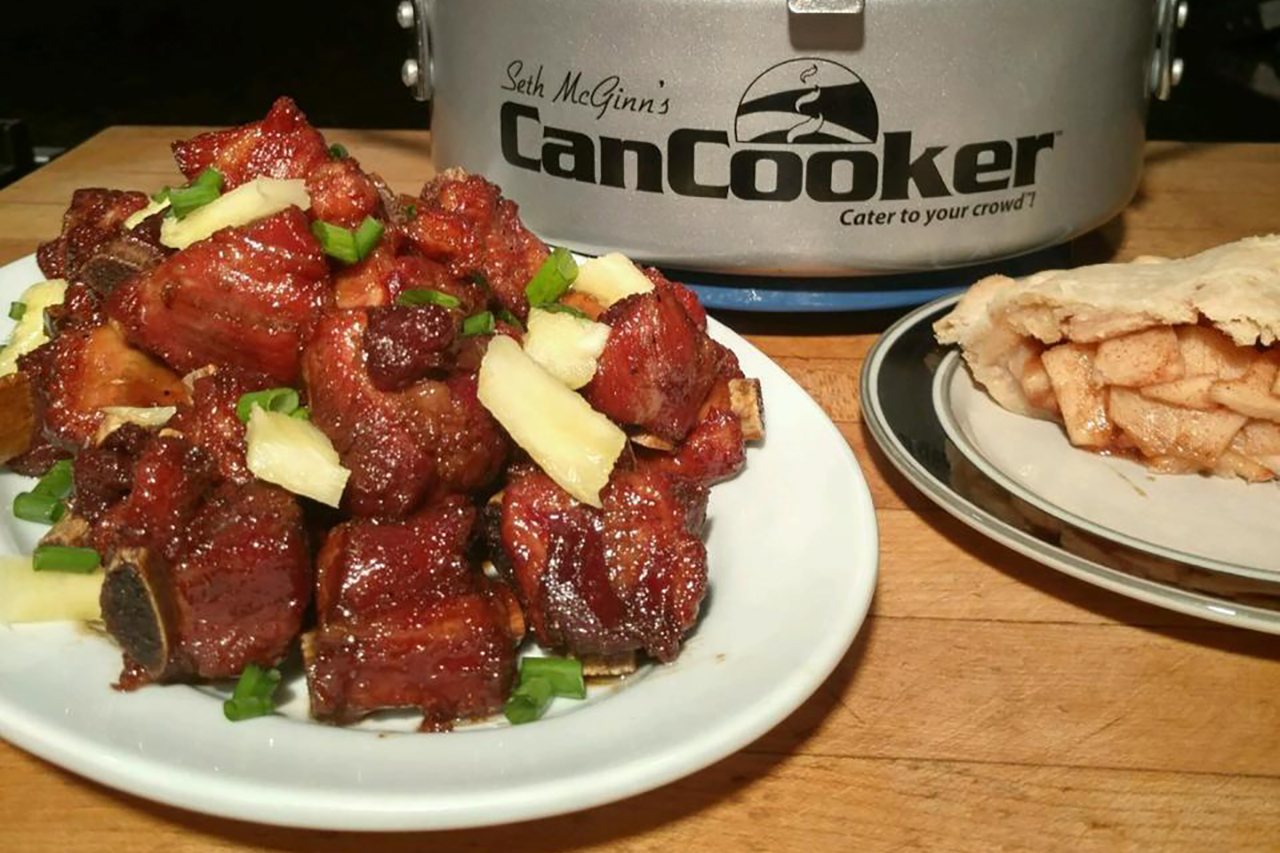 This was impossible not to include; BBQ-inspired spare ribs in a CanCooker are really something else.
INGREDIENTS:
2 slabs Baby Back or St. Louis spareribs, cut lengthwise into 3 strips, then cut into single riblets
1/4 cup water
3/4 cup sugar
1/4 cup red wine
3/4 cup soy sauce
2 tbsp white vinegar
DIRECTIONS:
Add the water, sugar, red wine and soy sauce to the CanCooker. Mix completely and bring to a simmer, stirring frequently.
Add the spareribs and coat them with the sauce.
Cover and cook on medium heat for 15 minutes. Remove from heat.
Turn the spareribs over and thoroughly coat them with the sauce.
Cover, return to medium-low heat and cook for 10 minutes. Remove from heat again. Turn the spareribs over and thoroughly coat with the sauce. Cover, return to low heat and simmer for 10 minutes.
Remove from heat. Turn the spareribs over and thoroughly coat them with the sauce one last time. Stir in the vinegar.
Cover, return to low heat and simmer for 10 minutes.
Garnish with pineapple and green onion.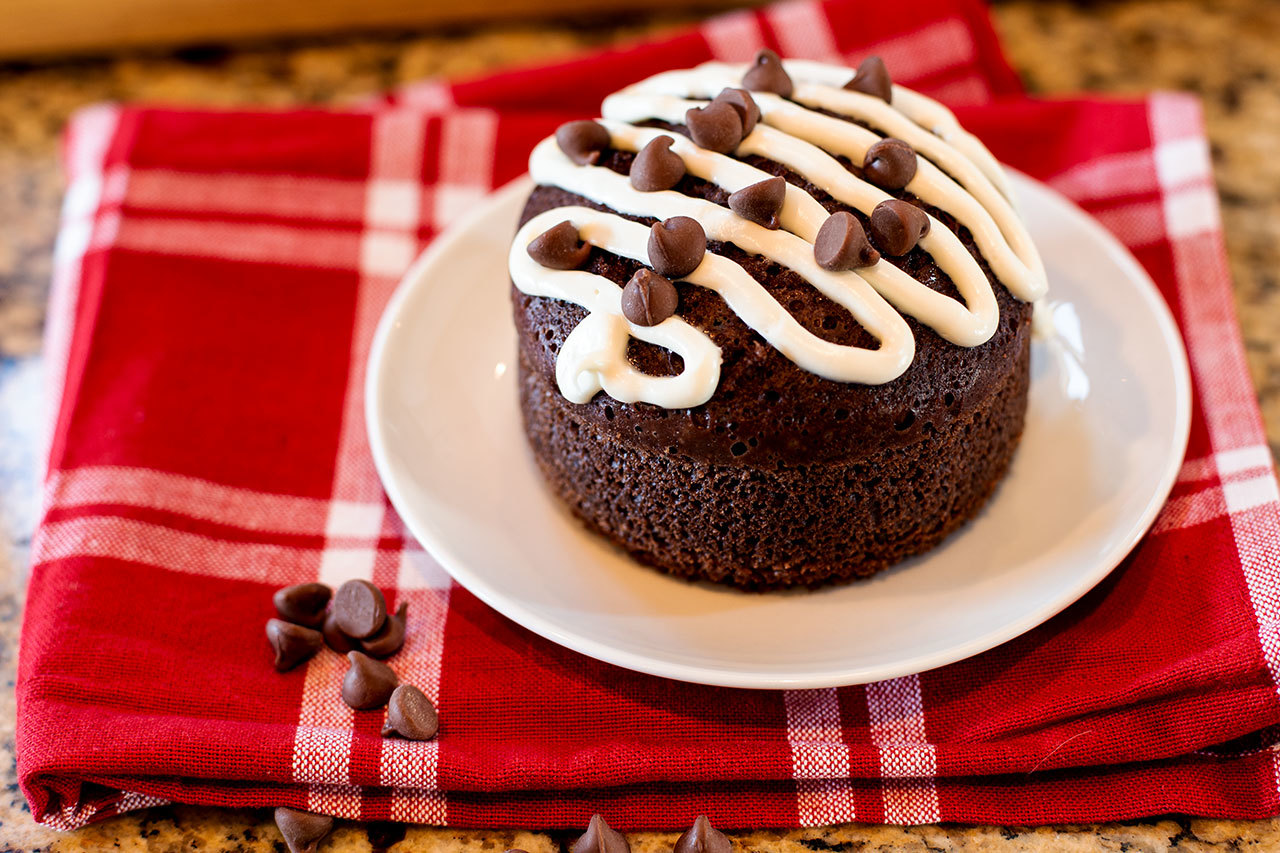 No top 10 list of CanCooker recipes is complete without this amazing cake, which is a far simpler to prepare than you'd ever think.
INGREDIENTS:
1 box Betty Crocker™ SuperMoist™ devil's food cake mix
1 1/3 cups buttermilk
1/2 cup vegetable oil
3 eggs
12 oz semisweet chocolate chips
1 cup caramel topping
1/2 cup Betty Crocker™ Rich & Creamy vanilla frosting
DIRECTIONS:
Coat the bottom of mini loaf pan with oil and coat with flour.
In large bowl, beat cake mix, buttermilk, oil and eggs with electric mixer on low speed 30 seconds, then on medium speed 2 minutes, scraping bowl occasionally.
Pour mix into pan. Sprinkle with chocolate chips; press gently into batter.
Place rack in Cancooker, add water up to the bottom of the rack. Place loaf pan onto rack. Latch lid and steam for about 20 minutes or until toothpick inserted in center comes out clean. Cool 30 minutes.
Spray meat fork or other long-tined fork with cooking spray. Poke warm cake every inch with fork tines.
Pour caramel topping over cake. Cool completely, about 1 hour.
In medium microwavable bowl, microwave frosting 15 to 30 seconds; stir until very soft. Spoon frosting into 1-quart resealable food-storage plastic bag. Cut tip off 1 corner of bag. Drizzle frosting across top of cake.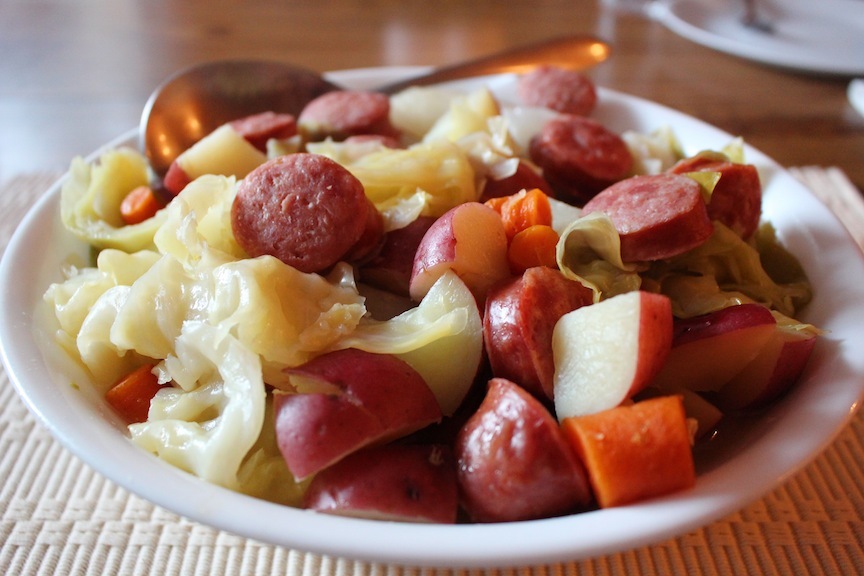 How could any top 10 CanCooker recipe list not include the Fan Favorite?! This brings it all together to let the food, and the preparation technique, really shine.
INGREDIENTS: (Original Size CanCooker):
5 lbs red potatoes, quartered
2 lbs baby carrots
1 small cabbage or 1/2 head large cabbage, quartered
1 onion, quartered
3 lbs (3 rings) of polska kielbasa
12 oz can of Mountain Dew®
DIRECTIONS:
Spray inside of the CanCooker with non-stick cooking spray. Place potatoes, carrots, cabbage and onion in the CanCooker. Place kielbasa on top of vegetables. Add can of Mountain Dew® (or 12 oz. water).
Latch the lid and place on medium heat.
Once the CanCooker begins to vent steam, cook 50 minutes.
Remove from heat and let stand for 10 minutes. Open lid carefully.
Serve in a large tray and enjoy!
Paring all our favorites down to a list of only 10 recipes was admittedly difficult. The sky is limit when it comes to CanCooker possibilities.
Do your homework, explore your options, and find something new to cook from their vast supply of recipes and inspiration.
You might add something new to your own top 10 list while you're at it.
NEXT: THE 10 BEST PLACES TO USE A CANCOOKER, RANKED