We all want our outdoor gear to perform well and last a long time. Nikwax has a whole line of products to help.
If you're like most outdoorsmen and women, your collection of gear is extensive. Some of it probably set you back a good amount of money, and taking good care of it should be high on your priority list.
It's easy to neglect the sort of steps that experts suggest, but if you really want to stay on top of it, we've discovered a series of products that goes above and beyond typical gear care. And it makes it really easy, too.
Nikwax has established the preeminent line of equipment care products that prolong their life and enhance their performance. Plus, they run the gauntlet of gear: you can waterproof your tent, clean your down jacket, and condition your leather hiking boots with the specialty offerings that Nikwax has developed.
We'll go through a collection of Nikwax waterproofing, cleaning, and regenerating products that we've used in the recent past to help you understand what they can do for you and your gear. Everything in the Nikwax lineup is water-based and free of fluorocarbons. In other words, it's safe for the environment.
But above all, we want to get the message across that Nikwax products have already earned the sort of customer ratings reserved for high-quality stuff, and we're fully behind that notion after using them ourselves.
Nikwax Tech Wash
For starters, we should all admit that our outdoor stuff gets, well, dirty. That comes with the territory. But if you're washing high-performance rain gear, a regular old laundry detergent won't really cut it.
That's where Nikwax Tech Wash comes in, the basis on which a lot of their meaningful gear care is built. Besides an efficient cleaning, the Tech Wash promotes breathability and extends water repellant properties. The Durable Water Repellency (DWR) on the exterior of a rain coat or other wet weather gear can begin to fade after time, but a dunk in a Tech Wash bath helps revitalize it.
The big factor here is you're bypassing the damage conventional laundry soaps can do to DWR, but still using the same technique (meaning you toss it in the washing machine; that's it). There's no tough-to-learn, exhaustive process that takes up a whole afternoon.
Cleaning waterproof gear with Nikwax is as simple it should be. But what about equipment that has lost its waterproof attributes? Naturally there's a Nikwax for that, too.
Nikwax TX.Direct Spray and TX.Direct Wash-In
Wet weather gear isn't that great unless it holds up its end of the bargain. When waterproof features start to fade, a lot of folks bite the bullet and ditch their gear for brand new replacements. Nikwax knows there's a better way.
Want the ultimate waterproofing solution to take care of it? The TX.Direct formula is just what the doctor ordered, especially if you're a fan of GORE-TEX.
After a good cleaning with the Tech Wash, Nikwax TX.Direct (which comes in both a washing machine solution as well as a spray-on) actually adds DWR back to a garment as it dries. Using the wash-in formula ensures that the treatment goes right through the garment, treating seams, tapes and cords, not just the exterior the fabric.
After applying the back-to-back Tech Wash and TX.Direct treatment, I've been able to notice a difference in the overall waterproof performance of a couple old jackets. I've also reinvigorated some newer garments, specifically a breathable rain coat that I've used on a few stormy days spent fishing. It was satisfying to know I was actively taking part in the care and longevity of the gear without a ton of effort.
Nikwax Down Wash Direct
Folks who spend a lot of time outdoors in colder climates know the value of down insulation, but there's never really been a good way to keep down gear clean without putting a dent in the fill power or water repellent qualities.
I have a sleeping bag and several extreme cold weather hunting systems made of down, and I honestly thought I'd never be able to wash them the traditional way. Then I tried Nikwax Down Wash Direct.
Since I'm not about to cut open the outer material and see what's actually happening to the down on the inside, this video is well worth watching to get the full idea.
I'm looking forward to more life out of my sleeping bag and down jackets and pants, and was pleasantly surprised how simple it was to take care of them.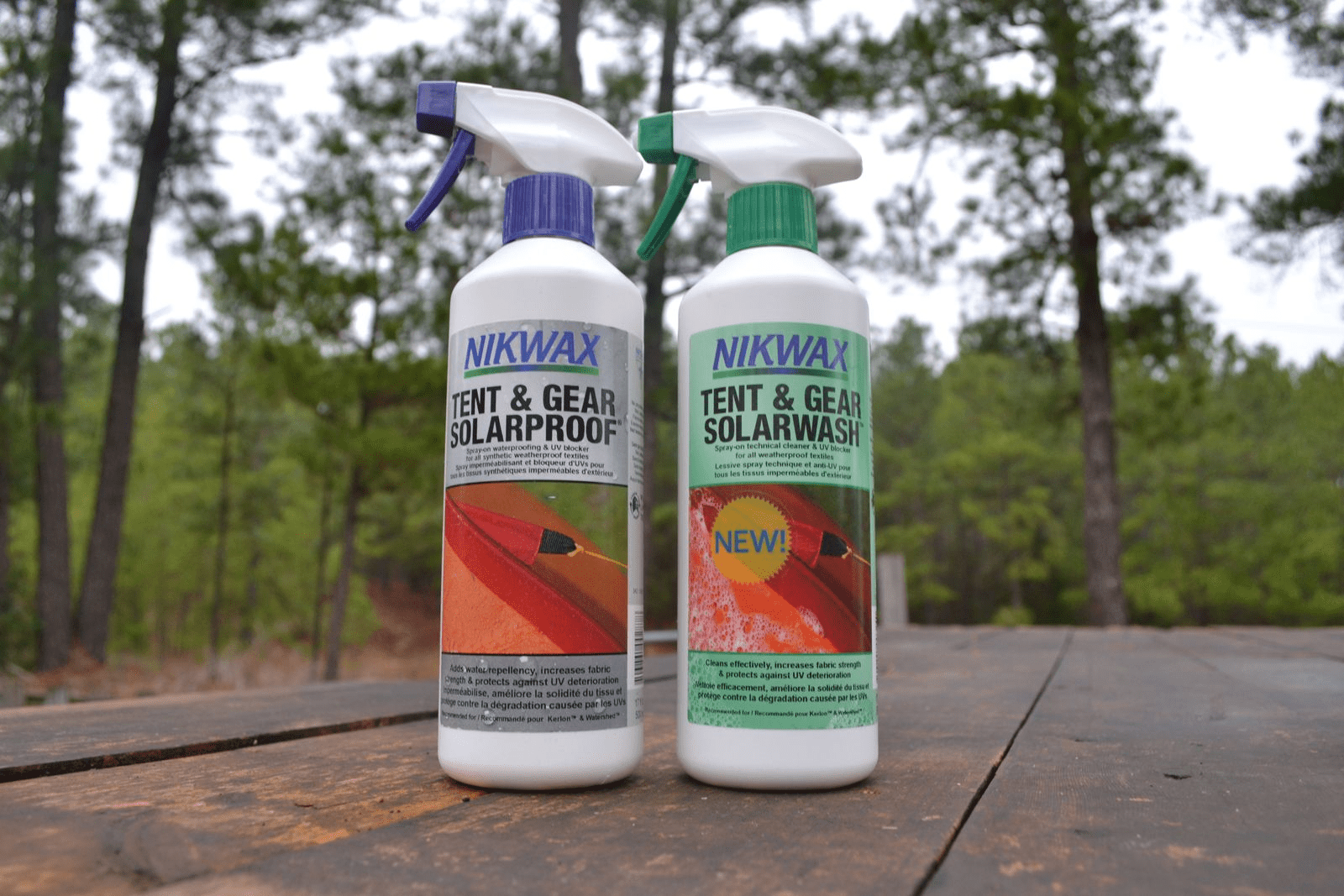 Nikwax Tent & Gear SolarProof and SolarWash
Knowing that my sleeping bag is taken care of, it was natural to look to my tent as the next candidate for the Nikwax treatment. They delivered with an easy spray-on formula called Tent & Gear SolarProof, which is best when used on brand new equipment.
The biggest advantage the SolarProof pray awards is the UV protection, which goes a long way if you're camping in even the most common of situations. You don't have to be spending weeks in the desert sun to see the effects that the natural elements can have on a tent over time. Using SolarProof will also improve the DWR features of whatever it's applied to, making sure you stay as dry as your tent intended from the day it was bought.
If you're looking for something that revives your already-used gear, then the Tent & Gear SolarWash is recommended, and it's applied the same way. The simple "spray and let dry" process will address the dirt and grime your gear has accumulated, and you can even spray it on while the stuff is wet. Follow it up with SolarProof, and you've taken the right steps.
Tents aren't the only pieces in your collection that can benefit from this combo; rucksacks, backpacks, camera bags, shade awnings... you name it, it could probably get great use out of the Nikwax SolarWash and SolarProof combo.
Nikwax Footwear Cleaning Gel
Nikwax eventually made their way down to the feet, supplying their Footwear Cleaning Gel for folks who are putting the miles on their hiking and hunting boots.
When they inevitably get dirty, boots and footwear will lose DWR and breathability. Like the rest of the Nikwax collection, the Footwear Cleaning Gel addresses those features and takes care of contaminants such as dirt and grease.
When you see water bead on the surface after a good cleaning, you know Nikwax has done its job. I took care of my entire set of hiking boots, hunting boots, and even my everyday shoes. It was like night and day; I hadn't even realized how dirty some of them had gotten.
Nikwax Fabric & Leather Proof
The Nikwax Fabric and Leather Proof formula is universal enough to work on just about any footwear material, including GORE-TEX. It's meant more for protection, but works in many the same ways in application and ease of use as the other products we've mentioned so far.
Sponge it on with the included applicator top, and let it dry naturally. That's it, and it translates directly to dry feet and durable footwear.
Nikwax Leather Waterproofing Wax
If it's truly high-performance waterproofing products you're seeking, then the Leather Waterproofing Wax is the answer to your call.
This stuff won't soften the leather it's treating, but instead provide instant DWR, maintain breathability, and replenish the tanning agents in most leather.
For what it's worth, the Waterproofing Wax comes in a liquid form, too.
Highly Recommended
Rarely do you come across such an extensive series of cleaning, conditioning, and waterproofing products. Nikwax makes it easy to both use their products and understand why they work, which counts double in a lot of ways.
The devotion to environmentally-safe, simple formulas matters, and it's both easy to find and inexpensive to buy.
If you think you could get something out of using Nikwax products, it's well worth it to give them a shot. Their Amazon Store often has a great selection, along with plenty of other online retailers. To find a dealer near you that sells Nikwax supplies, check out their website.

NEXT: EVERY OUTDOOR ENTHUSIAST NEEDS A SURVIVAL BANDANA
WATCH