If you have a need for speed, you'll want the new Abu Garcia Revo Rocket baitcast reel.
Abu Garcia has outdone itself again, this time producing a low-profile baitcaster that takes high-speed reeling to a whole new level. Available for purchase Sept. 10, 2018, the new Abu Garcia Revo Rocket baitcast reel is a must-have for folks who live for bass fishing.
Sporting an incredible 10.1:1 gear ratio, the new Abu Garcia fishing reel is as lightning fast as its name suggests, and boy were we itching to get our hands on one!
Let me break down that gear ratio for you. We're talking an incredible 41 inches of line retrieved with just a single turn of the handle. The applications are virtually limitless with this new high-speed reel.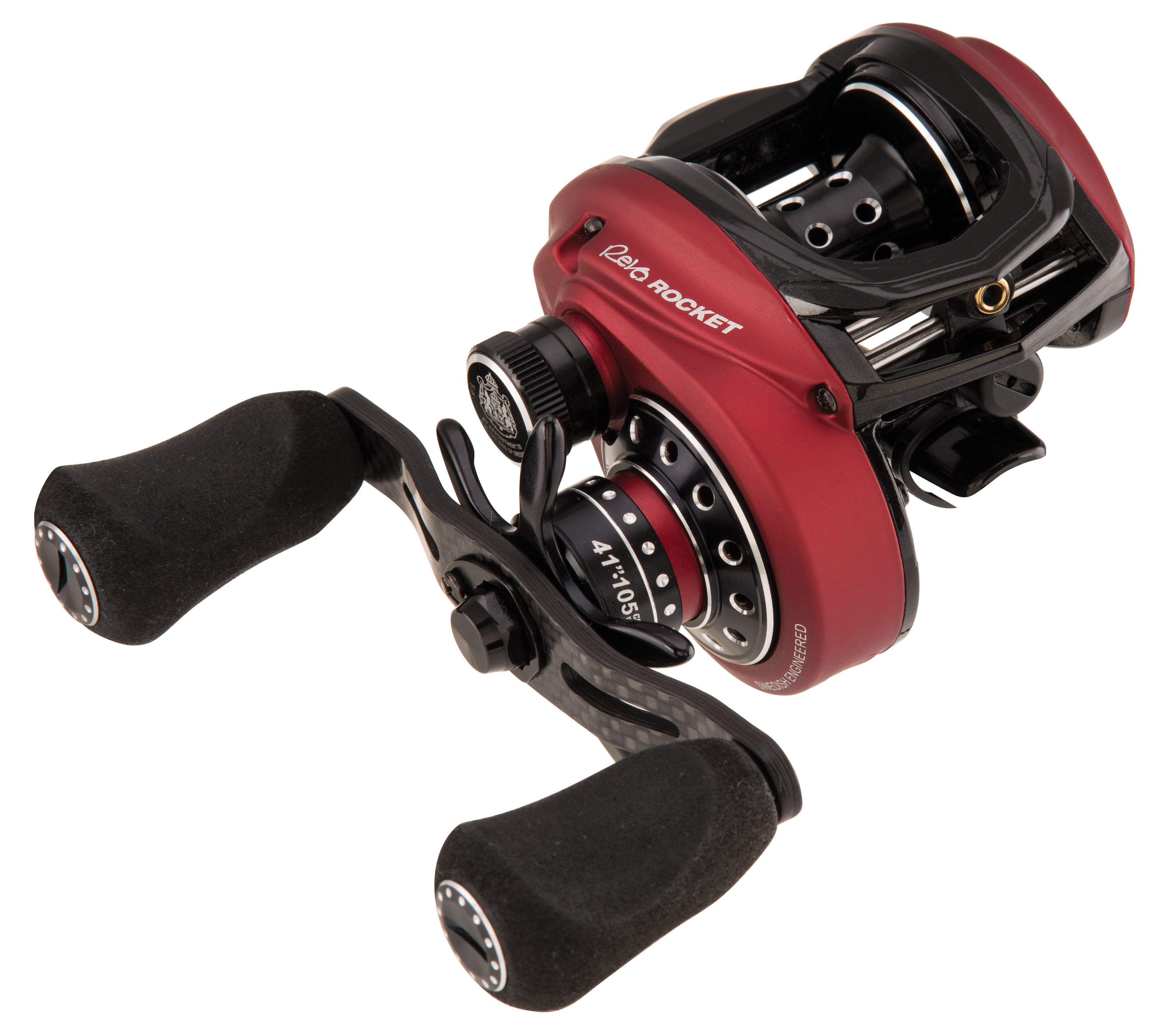 Although the insane line retrieval rate is the major win with this baitcast reel, other standout features make the Abu Garcia Revo Rocket a true contender.
Although the reel is compact in design, the extended handle with oversized EVA knobs make it a pleasure to use.
The new Revo Rocket sports a total of 11 bearings (10 stainless-steel HPCR bearings + one roller bearing) along with the Infini brake system and Infini II spool design. Add to that the power stack Carbon Matrix Drag System, all held within a X2 Cräftic alloy frame and sideplate, and you're left with a lot of bang for the buck.
The new Abu Garcia Revo Rocket weighs in at 7.34 ounces, has a max drag of 18 pounds, a braid capacity of 140 yards (30-pound test), and is available in both left- and right-hand retrieves.
Why Go High Speed?
There's a time and place for reels with lower gear ratios, but the advantages of a 10.1:1 gear design are varied and numerous. For burning spinnerbaits or buzzbaits back to the boat, this low-profile baitcast reel will be an absolute gem. No more wrist fatigue or playing catch up.
For those anglers who love to flip and pitch baits to bass, this high-speed reel will be an instant relief. If nothing else you'll notice the difference in just how many more casts you'll be able to make throughout a day of fishing. And, we all know the more casts we make, the more time our lures are actually in the water.
Have you ever had a fish run directly at the boat after being hooked? Slack line will become a thing of the past now, as one crank of the reel handle will help you quickly gain 41 inches of line. Catch rates will increase significantly.
Think of how quickly you can re-cast after a lure gets fouled with weeds or fails to land in the exact spot you wanted it to. That means more time in the strike zone for those baits now.
Here's BASS pro Hunter Shryock explaining what he loves about the new Abu Garcia Revo Rocket:
If you're in the market for a new fishing reel, look no further than the Revo Rocket. This fast-retrieve baitcast looks to be a definite winner.
The new Abu Garcia Revo Rocket low-profile baitcast reel retails for $299.95 and will be available Sept. 10, 2018. To learn more, click HERE.
Did you enjoy this post? CLICK HERE to view more article by Justin Hoffman. You can also check out his Photography Site Justin Hoffman Outdoors, as well as follow him on Facebook Justin Hoffman Outdoors, Instagram hoffmanoutdoors, Twitter @HoffmanOutdoors, or subscribe to his YouTube channel Justin Hoffman.
NEXT: 10 NEW BERKLEY TOPWATER FISHING LURES RELEASED FOR 2018
WATCH